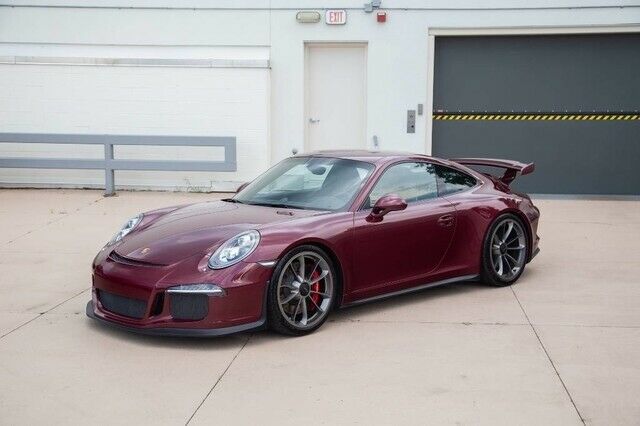 Fresh off last week's red car, I bumped into another car that just happened to be a much different shade of red. This 2015 Porsche 911 GT3 is finished in paint-to-sample Arena Red, which technically is a custom color on the 991 GT3, but this isn't this first time we've seen it on a 911. Arena Red was the launch color of the 993 Turbo and featured on the ironic Kills Bugs Fast poster that we all probably had a chuckle over when remembering it. It isn't a historic color like some of the other paint-to-sample options we've seen, but actually more modern as it launched in 1995 on the already mentioned 993, as well as the Boxster and very early 996 cars. Does it fit well on the 991 GT3?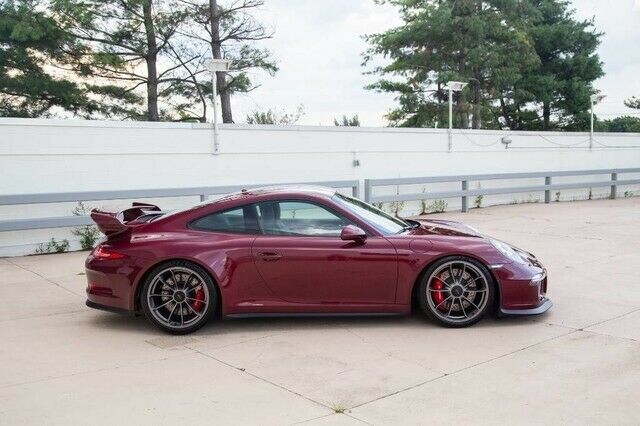 Year: 2015
Model: 911 GT3
VIN: WP0AC2A92FS189252
Engine: 3.8 liter flat-6
Transmission: 7-speed Doppelkupplung Automatic
Mileage: 3,515 mi
Location: Paramus, New Jersey
Price: Reserve Auction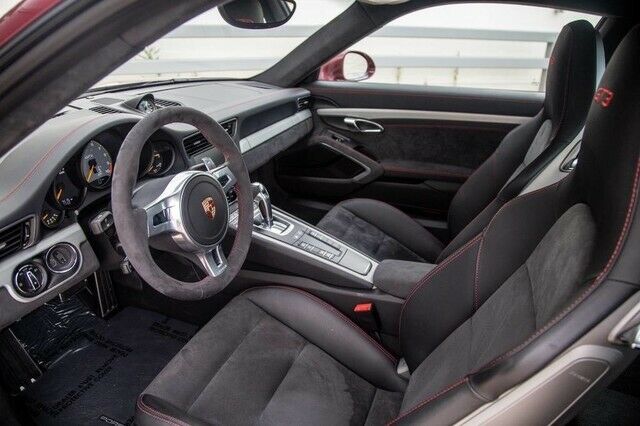 Lamborghini Paramus is proud to present our 2015 Porsche 911 GT3. For many, the Porsche 911 is absolute driving perfection. The Porsche GT3 was released in 2004, it was a track day and racing focused streetable race car. You could take your kids to school on Monday, take your wife to dinner on Friday and go to the track on Saturday. It was a car that did it all. The 991 GT3 is one of the best GT3s ever produced. This 2015 Porsche GT3 is the ultimate drivers car. Featuring a 3.8 Liter flat six engine producing 475 horsepower and 324 pound-feet of torque, this isnt your average 911. The engine is mated to a double-clutch PDK transmission producing lightning quick shifts and incredible track performance. Rear-steering is a first for 991 GT3 and improves handling. The interior is fantastic looking. This GT3 is equipped with Porsche Communication Management which gives you Bluetooth Audio, Sirius Satellite radio and Navigation. Reliability, serviceability and driveability sets the GT3 apart from the pack. Very easy to drive on the street and very competitive on the track, look no further for the perfect weekend track toy. This car is ready to be enjoyed for years to come. Our car comes equipped with: Arena Red (Paint to Sample) Metallic Leather Interior in Black/Alcantara with Stitching BASE 911 GT3 082 Extended Range Fuel Tank 24931 Exterior Paint to Sample 250 Porsche Doppelkupplung (PDK) 342 Seat heating (front) 431 20 GT3 Wheels 474 Front axle lift system 490 Sound Package Plus 583 Smoking package 602 LED Headlights incl. Porsche Dynamic Light System (PDLS) 630 Light Design Package 643 Sport Chrono Package incl. Porsche Track Precision App 68 Leather Interior in Black/Alcantara with Stitching in Red 690 SiriusXM Satellite Radio, NavTraffic, NavWeather and HD Radio Receiver 749 Leather interior package with decorative Red stitching 789 Code for exterior color to sample 810 Floor Mats 99 Exterior Paint to Sample, Metallic P13 Automatically dimming mirrors with integrated rain sensor P23 Porsche Communication Management (PCM) incl. navigation module ZAB Ornamental Porsche Crest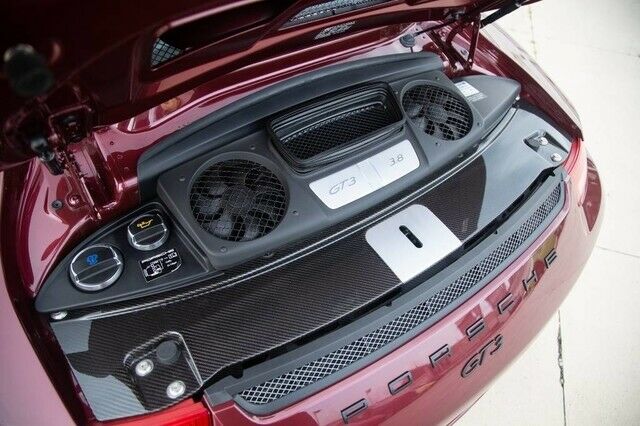 I personally dig it. It is different enough to be cool and isn't garish or even too "look at me." What is interesting is that the brake calipers are a standard Guards Red and the interior has a bunch of brighter red stitching, so there is a little bit a clash here. However, I don't think it is a big enough deal where it would be considered ugly, and I'm sure you can't really tell unless you are really focusing on it. This specific didn't look like it was showed off much as it comes in with just 3,500 miles from two owners.
Because of that, we find a $129,000 asking price by this Lamborghini dealer in New Jersey. That is probably right in line given the super low miles, as I think if this had the normal 15,000-20,000 on the odometer you'd be looking at about $10,000 cheaper. While it is a notable color, I don't think it demands a premium in the used market, even though the Porsche community is obsessed about colors. Cool to see something different here, just hope someone drives it.
– Andrew