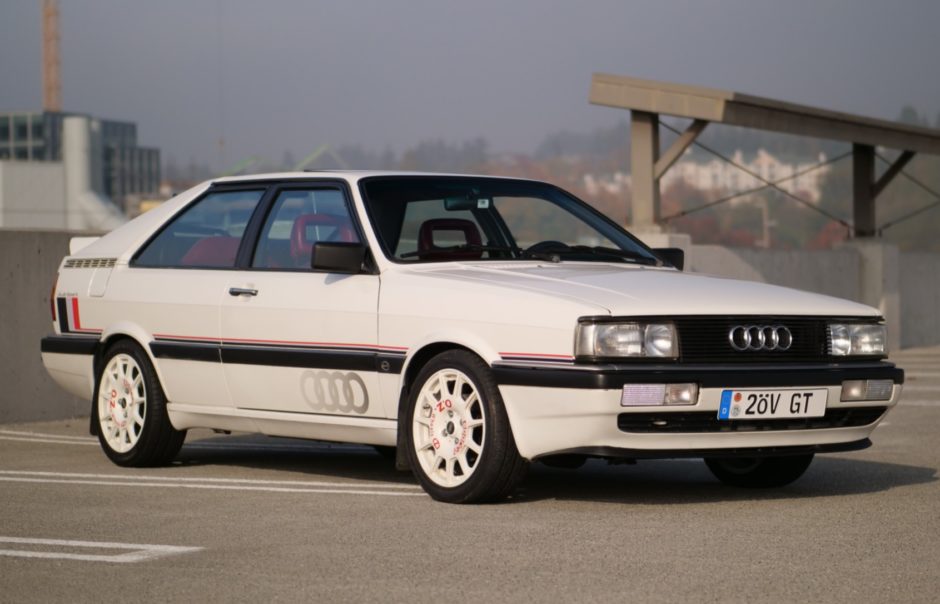 This Audi Coupe GT 20V sold for $11,900.
Yesterday's Jade Green '74 911 Coupe was for me a 'Greatest Hits' example. It was a great color on a great classic, with great wheels, great flares, a great interior and great graphics. While I'm certain it wasn't for everyone, the 911 market of today means that whatever genre your particular greatest hits are composed of you'll probably find what you're looking for.
The same cannot be said for Audi, especially when it comes to 1980s examples. Yet here, today, we have what I would consider to be a pretty good attempt to make the greatest Coupe GT. First off, there are some who like the early Coupe or Coupe GT models, but as I've had a string of them my heart beats to the later '85-up chassis. Couple the better looks with improved European headlights and you're starting off well. Make it one of the better colors for the GT – Alpine White L90E – and things are still great. Inside, the best interior to match that outside was the limited edition Commemorative Design "Mouton" red leather. You'll want the Nardi leather wheel to hold on to. Kick the wheels up a few notches to really make the GT look more purposeful, and while you're there, lower the ride height too.
But it's the go that really separates this GT. The stock KX is hard to develop, between the lack of parts, the CIS fuel injection, and the lack of parts. Did I mention the lack of parts? You can go the cam route and do a bunch of other goodies and once it's all done, you'll come out the other side with maybe as much power as the later 2.3 NG. Maybe. But since the GT is a one-wheel drive wonder, you won't want to overdo the power department. The solution is the short-lived 7A 2.3 20V DOHC motor found in the 1990-1991 90 quattro 20V and Coupe Quattro. Match the 164 horsepower, 7,200 RPM screamer to the 600 lb lighter chassis of the GT and suddenly you've got quite a stunner. And why not throw in some period graphics, too?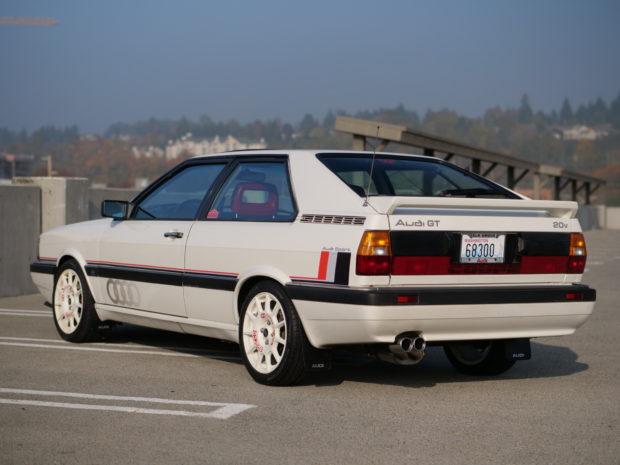 Year: 1986
Model: Coupe GT
VIN: WAUBD0852GA082182
Engine: 2.3 liter inline-5
Transmission: 5-speed manual
Mileage: 220,000 mi
Price: No Reserve Auction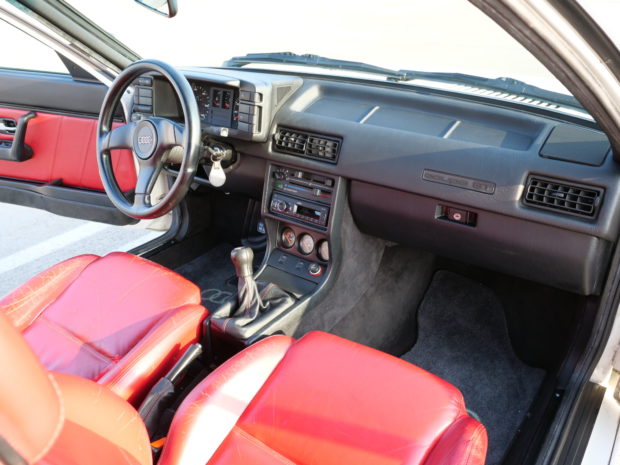 This 1986 Audi Coupe GT was reportedly kept by a single owner from new through 2014, when it was donated to a church automotive program and acquired by the seller from a friend shortly afterward. Subsequent modifications included a naturally aspirated 2.3L 20-valve inline-five, red leather Commemorative Design Edition interior, 2Bennett coilovers with Koni dampers, custom-painted Sparco wheels, ceramic coated header, stainless steel Fox exhaust, and more. This Coupe GT is offered with records and a detailed breakdown of the work performed as well as a clean Washington State title in the seller's name.

The exterior is finished in Alpine White with Audi Sport motif decals above the beltline trim and custom dot matrix-style indicia on the the lower doors and rear deck lid. The paintwork shows signs of age and swirl marks according to the seller, and several defects are pictured in the gallery. The car has been converted to use European-market aero headlamps, with the city lights wired as driving lights. Other exterior modifications are detailed in the gallery below.

A walk-around video is viewable above. Sparco Terra 16×7″ wheels are painted to match the factory Alpine White and wear carbon fiber-look Audi center cap decals and 205/45 Bridgestone Potenza Re760 tires. The seller notes that a few lines on the electric rear window defroster are not working.

The cabin features Commemorative Design Edition red leather seats and door panel accents contrasted by black plastics and carpets. Modifications include a 3-spoke S2 steering wheel mounted on a modified Nardi hub, a Bravo media receiver with red illumination, 6.5″ MB Quart component rear speakers, a replica Audi Sport shift knob, Audi logo floor mats, and VRG Parts billet sunroof pulls. Several splits in the seats have been covered with red tape and both folding cables are broken, with manual assistance needed access the rear seats.

Interior lighting has been converted to red LEDs with a Protizmo PWM dimmer, which reportedly enables operation from full to no illumination without cutout. The cruise control, gauges, and warning lights are said to work correctly, including the check engine light. Just under 220k miles are shown on the mechanical odometer, approximately 8k of which were added by the seller. The air conditioning system has been removed, though parts required for reinstallation are provided including a B3 compressor.

A naturally-aspirated 2.3L 7a 20-valve inline-five with electronic fuel injection from a B3 chassis Audi has been installed in place of the stock CIS 10-valve unit. The seller notes that the B2 and B3 chassis use the same fuse box, simplifying the swap and allowing the use of a modified factory wiring harness. Modifications include a chipped ECU, 034Motorsport injector kit and big-bore MAF, ceramic-coated header, and 2.5″ stainless steel Fox exhaust system without catalytic converters. The OBD-I setup has been retained including 2×2 adapters for checking and flashing ECU codes according to the seller. An leak is noted at the oil pump housing, and ticking can reportedly be heard at startup if the car sits for an extended period.

Suspension modifications include 2Bennett coilovers with 250 lb/in springs and Koni Sport yellow shocks, Mance/VAP billet front strut mounts, and a Jamex strut tower bar. The seller has also replaced the tie rod assemblies and front control arm bushings as well as performing an alignment. The front disc brakes feature Hawk HPS pads and StopTech slotted rotors, and the rear drums have been fitted with new shoes, cylinders, and wheel bearings. Rear disc brake components from a front-wheel drive B3 chassis car are included.

A driving video is viewable above, and a second demonstrating the exhaust note can be viewed here.

A detailed breakdown of modifications, work performed, and included spare parts is provided in the gallery, and invoices are available since the seller's 2014 purchase.

A VIN correction was reportedly issued to the seller by the Washington State Police due to a typographical error on the previous owner's title, resulting in a Carfax report beginning after the correction in 2015. Photos of matching VINs on the current title and chassis are provided in the gallery.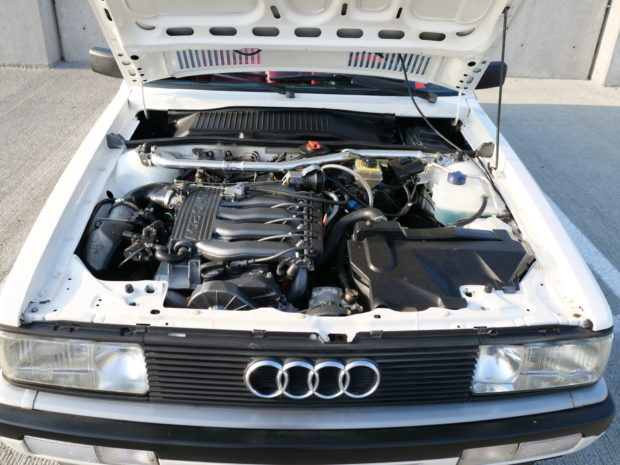 Execution overall here is excellent. The car is not perfect but isn't claimed to be either. What it is, though, is a very pretty, very unusual and very quick 80s icon. Of course, I speak from some experience – I had one of the first 20V converted cars in the country, and it really is a match made in heaven. There is literally no point when you're driving that you experience any downside to the 20V. And when you turn the volume up with a nice exhaust, you suddenly have Group B dreams on a shoestring budget.
With GTs heading up in value and a smart execution of some very rare parts here, the result is going to get some attention and it has. At the best part of $7,000 already with a few days to go, we should see a good number on this no reserve auction. But rest assured – unlike the 911 market, the dearth of clean and quick Coupe GTs out there means you'll always be marching to the beat of a different drummer.
-Carter