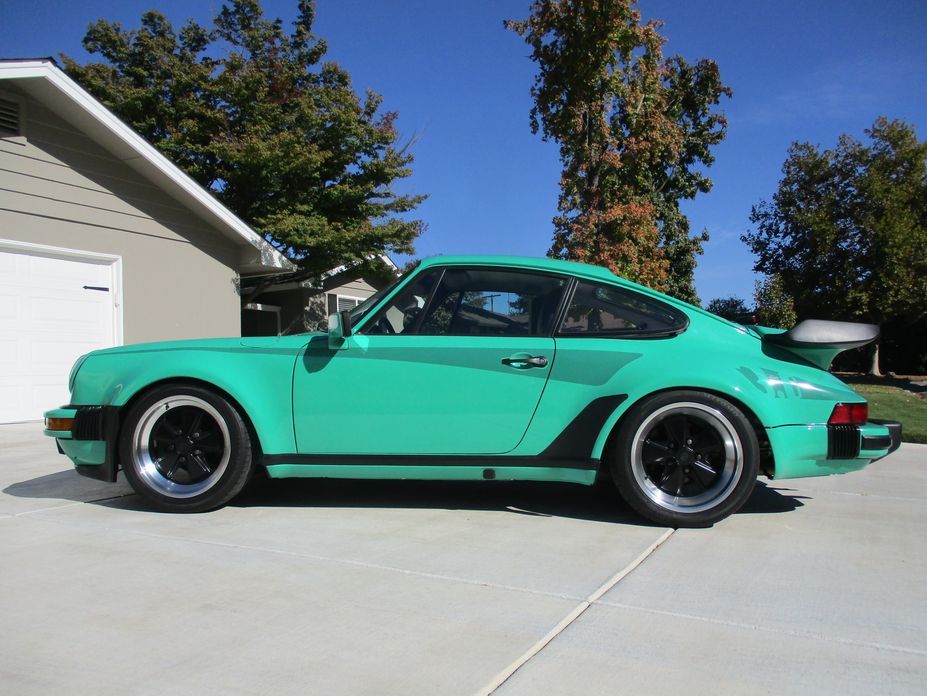 Sold and headed to Germany. Amount undisclosed. Good luck, Charles!
Here we have a Jade Green 1974 Porsche 911 Coupe. Anyone familiar with these 911s will recognize immediately that this one is not original. In fact, it's quite far from it. Jade Green is purported to be its original color though, which is nice!
So what do we have? First, it's undergone a Turbo-look conversion (I feel like this is becoming a theme of the cars I feature). The conversion, performed in 1987, utilized steel 930 rear flares and rockers, along with the usual addition of the 930 front and rear spoilers. The engine is now a 3.0 liter flat-6 from an early 911SC mated to a 915 5-speed transmission. Current mileage on the engine is believed to be around 20K miles post rebuild. The interior is a bit more standard for this car though the seats now come from a '87 3.2 Carrera and have houndstooth inserts. They look pretty great. Otherwise, it sounds like other than the radio and speakers the interior is pretty much original.
Obviously it is the appearance here that is going to attract notice and I think from the outside the combination of that very bright Jade Green exterior with the wide body of the 930 really makes for a head turner.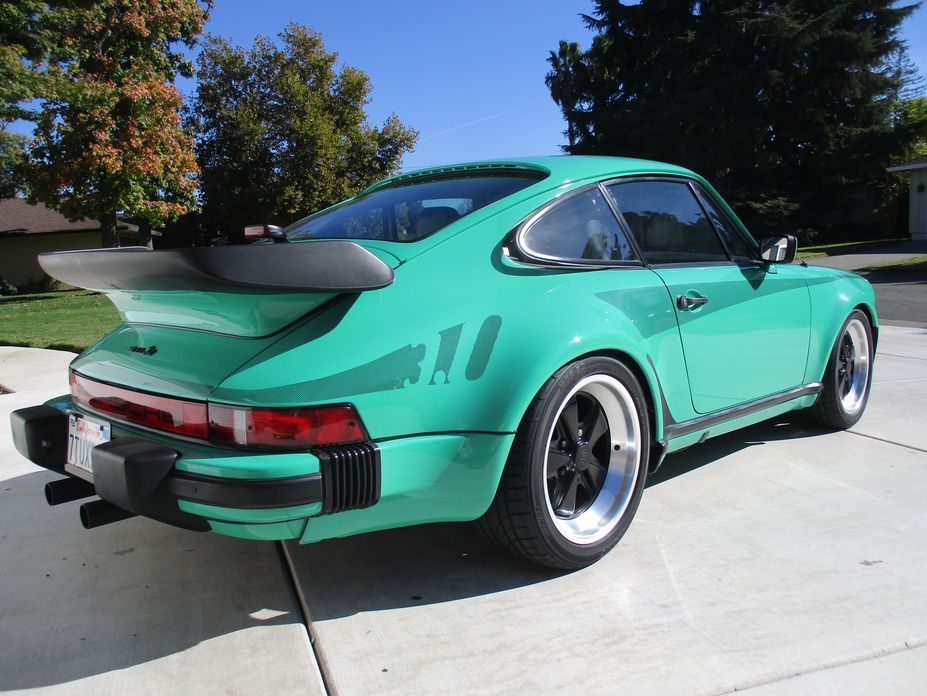 Year: 1974
Model: 911
VIN: 9114100486
Engine: 3.0 liter flat-6
Transmission: 5-speed manual
Mileage: 122,490 mi
Price: Auction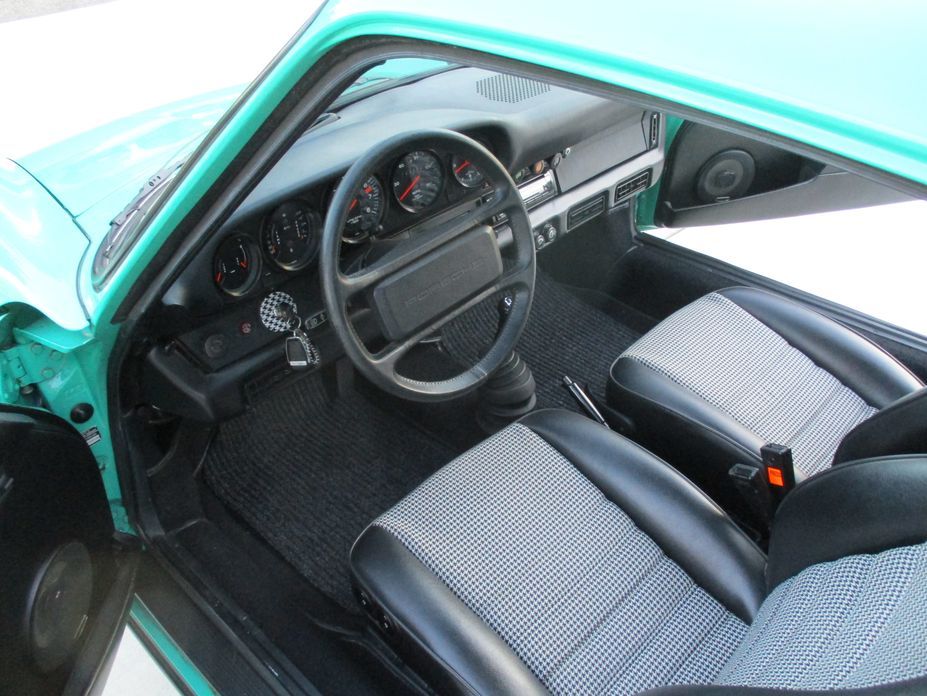 1974 911 CALIFORNIA JADE GREEN COUPE STARTING @ $1974 WITH NO RESERVE

This outstanding 74 911 has never been restored. It has simply evolved over the years into this stunning hotrod…survivor, if you will.

Always garaged, never fell into neglect or disrepair.

Bought new here in Sacramento, CA @ Lasher Porsche/VW.

Build date: 09/73.

Special Order Jade Green #227.

No sunroof coupe.

In 1987, the original owner commissioned the professional installation of the OEM steel 930 flares, valances, spoilers & rockers along with a windows out, original Glasurit application of original color (dated poloroids included).

Motor/transmission transplant came later with a coveted, 78/79 (type 930/06) large port 3.0L, #6591455, accompanied with it's 915 gear box (type 915/61) #7198032.

Motor has pop off valve, carrera oil fed chain tensioners, SSI stainless heat exchangers and a 2 in 2 out exhaust. Runs outstanding and sounds amazing. No leaks. Believed to have apporx. 20K at this point on a rebuild of an originally low mile unit.

Transmission, also believed to be low miles. Also does not leak. New flywheel and clutch in 2016.

Original owner eventually sold to a collector a few years ago. Car was then consigned @ Luxury Motors and I (DRD Motor Trade) bought it from them earlier this summer.

Amazing condition in and out. No rust. No accident trauma. No excuses in or out.

Power windows work fast and smooth. All glass in excellent condition including the rear pop out windows.

Power locks with key fob remote (nice system, professionally installed recently along with alarm).

Exceptional body and paint work. The car has survived 3 decades and still looks fantastic. Other than age related nicks and chip touch ups here and there, I really consider it to be a survivor. So many of these cars were built hastily on less than average example cars. The color and condition of this car, both before and after the modifications, make it quite the unicorn.

Reconditioned Air conditioning. New lines, rebuilt compressor, and charged recently. Works excellent.

Excellent interior. Very tidy and well aged. Custom houndstooth centered 87 front seats and steering wheel. Uncracked period replacement dash. Original carpets. Original rears seats. Very nice, original Ivory headliner. Excellent gauges. Good seals, low to no wind noise. New Stereo head unit with upgraded door speakers and working power antenna. Everything works. Both doors have the lovely Porsche 'ping' when you shut them. Excellent gaps, lines and seams throughout.

The condition of this car is what sold me, but the color is what attracted me. I can't put into words, or pictures, just how stunning this color is. You really need to see it in person to absorb it. Picture yourself driving down the freeway in the fast lane in your Red, Black, Silver or White 911, …then imagine it being bright glowing green…It's crazy fun.

Once I got the car, I had adjustable rear spring plates with new bushings installed @ IPB Autosport. Then lowered it for proper 'posture' on it's new 17″ custom Fuchs with new Sumitomo tires package. It then got a 4 wheel alignment @ Radial Tire Service.

Custom period correct 'turbocarrera' style body striping was designed and supplied from Car-bone in Poland. I just love the finished product and think they complete/compliment the period look of this car and it's color perfectly. They are vinyl of course though, and easily removable.

Owners, maintenance and warranty manuals, jack, spare, partial records and some fun period accessories all included (pictured @ bottom).

Pre purchase inspections welcomed and encouraged…you just gotta see this one for yourself. You can't not fall in love with it. Instant crowd favorite where ever it goes. Feel free to contact me anytime for more info.

DRD Motor Trade is a licensed, bonded, California dealer. Sales tax and Registration fees due only to buyers taking delivery in CA.

Cold start, warm up video here: https://youtu.be/My9ad-cQzzw

170+ pictures below, enjoy.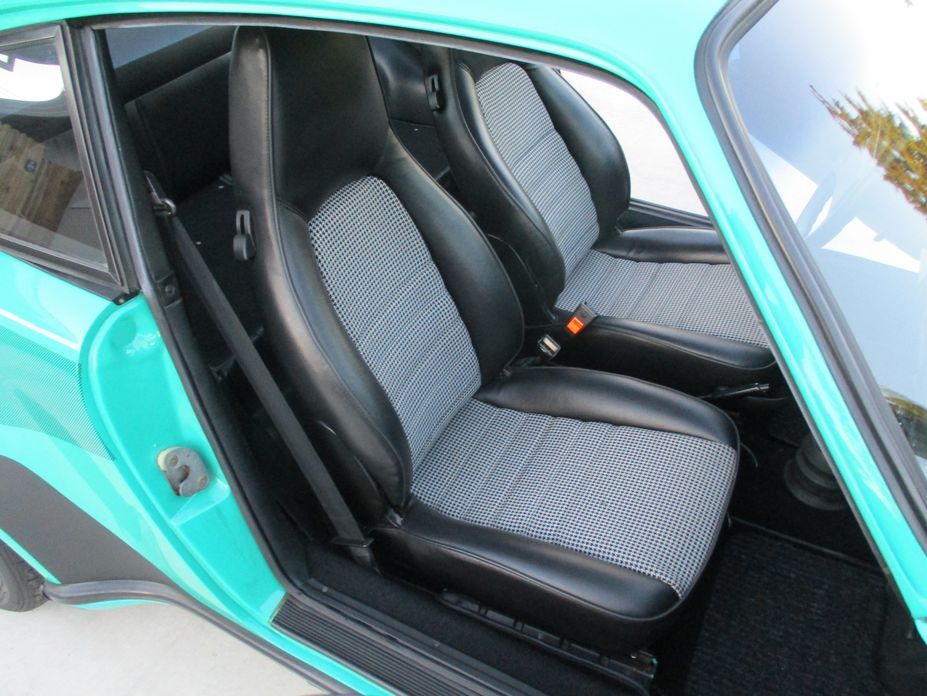 For what it is this is a really good-looking 911. Obviously you'll need to be a fan of the color, but the execution of this build looks quite good. The exterior shows in very good shape with barely a blemish to be seen. It was repainted during the time of the conversion, but the ensuing twenty years certainly don't show their wear. I'd have loved if they had gone with the whale tail from the Turbo Carrera rather than the later tea-tray, but that's not the standard for a Turbo-look so I understand why they didn't go that route. Given the 3.0 emphasis it'd have been cool though.
My only niggles are with the badging and graphics. While I like the "Turbo" graphics we see on early 930s I'm not sure I like the "3.0" version used here. I think I'd have just gone with the graphic stripe and omitted the 3.0 lettering. I'm also not a fan of the 911 3.0 badge. These are both fairly minor grievances on an otherwise pretty nice looking 911 and both can be rectified pretty easily.
The interior presents perhaps as slightly less great relative to the exterior, but really there isn't much to complain about. I like the seats a lot and they add some nice personality to what would be an otherwise pretty boring space. Given the exuberance of the exterior color a little excitement in the interior is needed. The houndstooth provides that, but without going over the top. Overall, I like this 911. A '74 911 isn't always the most desirable and this seems like a worthwhile manner of reviving a model that goes a bit unloved.
I also think it's great that it is up for auction with no reserve. We see a lot of interesting 911 builds with much too high pricing so this should avoid that. Bidding currently sits at $47,100, which if I'm honest is higher than I'd have expected. I'll be curious to see where it ultimately ends.
-Rob