Warning!
This post is in our archives. Links in this post may have been updated to point to similar cars available to bid on eBay.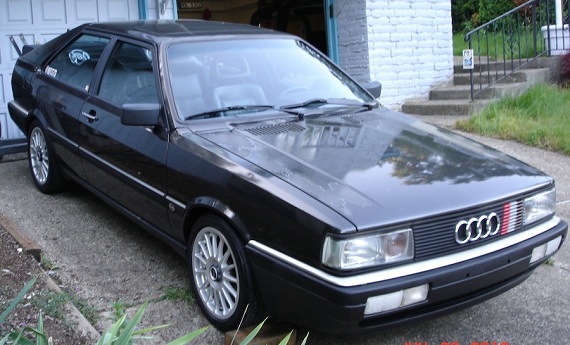 Another week, another rare Audi from the same seller in the Pacific Northwest. This time, unlike the 4000 quattro that had been subjected to a series of questionable modifications, the Coupe GT featured today was well built between the late 1990s and early 2000s to compete in SCCA competition. Featuring most of the upgrades of the later 1987.5 "Special Build" GTs, this GT was a favorite of the 4000/GT crowd long before the current seller got his hands on it. Since those days of the original builder, not much appears to have changed except the deteriorating condition of the paint and the skyrocketing price: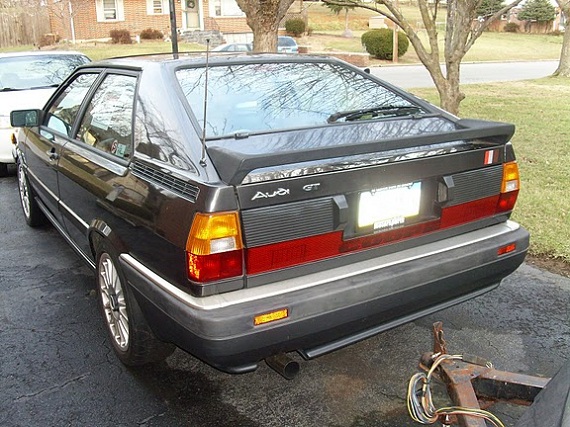 Year: 1986
Model: Coupe GT
Engine: 2.3 liter inline-5
Transmission: 5-speed manual
Mileage: 140,000 mi
Price: $4,900 Buy It Now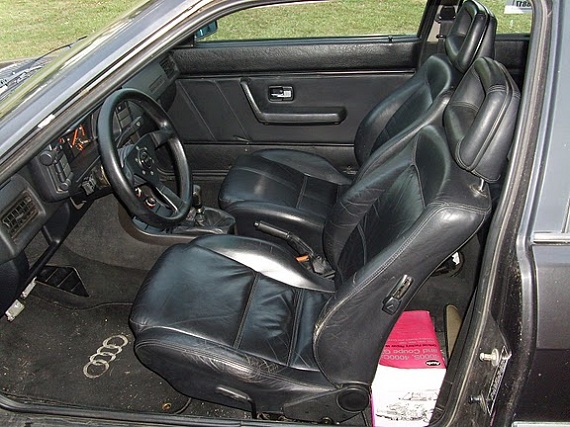 Selling my 1986 Audi Coupe GT. VERY RARE Color combination. Charcoal metallic and black leather. This car has a long history..Was built by Mongrel Motorsports in Pennsylvania about 10 years ago. 2.3L inline 5cyl, completely rebuilt with 43K on it. 140K on the car. Everything was done, it was built for scca track and had a roll bar in it at one time. Sport Suspension with Bilsteins, rear disk brake conversion from an 87.5 coupe, 4 wheels Disk brakes are amazing. This is not your average coupe. I drove this car 3000 miles home 4 years ago nearly 100mph most of it. Short shift kit, momo wheel and knob and pedals. 16″ Team Dynamics Wheels with brand new tread. Magnaflow exhaust. Tons of torque and tons of hp. Immaculate interior, carpet, dash, etc. Original paint is fading and clear is gone on top and hood. I have not seen another one this color for sale ever. Or will you find one with a build sheet like this one. will add more later. timing belt, w.p., and belts, head gasket, etc all done last summer with thermostat, radiator rebuild, plugs, wires, cap, rotor. resurfaced head. They told me there was thousands of dollars of work done to the head..Here is the link to the build. http://mongrelmotorsports.purpleflyingmonkey.com/pages/Audi.html I have factory headlights installed now, but will put euros back in for full price.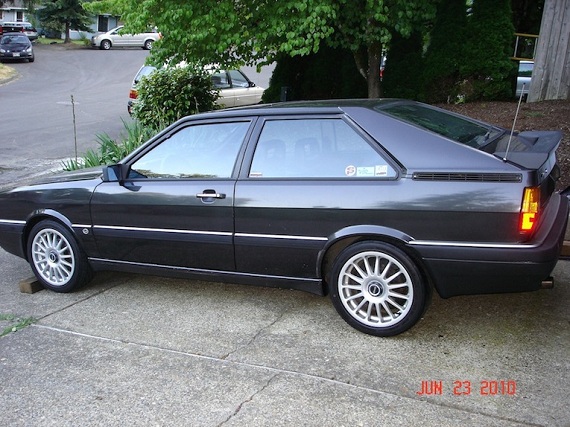 The seller is correct; the color combination is rare and black leather in any of these cars is hard to come by. The upgrades are the desirable ones for the GT; unrated suspension, engine and brakes make the GT a truly enjoyable and formidable package to run lesser competition events on. Despite that, it really doesn't have "tons" of either horsepower or torque – though it's more than adequate to motivate the GT's relatively lightweight chassis. As we've seen from this seller, the facts are often slightly overstated or incorrect; in this case, the color is more rare but more than one has come up for sale before, and I have only to look about 40 feet outside of my house to see a GT with an arguably more impressive build sheet. Still, it's not everyday that you run across a well sorted and setup GT. With the paint in the current state, I would peg the estimate of value around $3,000 give or take. At that value, this is a car that can really be enjoyed and driven hard for many years to come. Any more than that, and I'd probably hold out….
Thanks to our reader Rene for encouraging me to write up this car!
-Carter