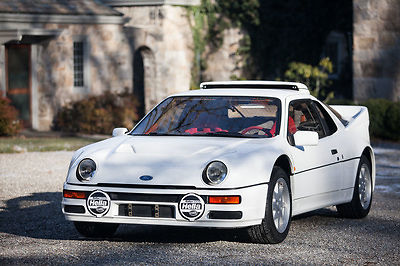 Now, before you start shouting at your screen that there's a blue oval appearing here, I'm aware that Ford is an American-based company. I could go into theatrics about how we're actually speaking a form of German to attempt to rationalize a Ford appearing on these pages, or I could point out that Henry Ford was awarded the Grand Cross of the Supreme Order of the German Eagle on his 75th birthday – the only American to ever receive this award. Of course, that and Ford's inclusion in Mein Kampf probably aren't highlights in the storied history of the family or the company. But it does point towards Ford's reach across the globe, and indeed the European branch of Ford is Ford of Europe AG, headquartered in Cologne, Germany. If that still isn't German enough for you, let's just say that once in a while something that's partly non-German pops up that we'd like to cover. While usually that's a Swedish car, today it's a Ford. But this isn't just any Ford, okay?
The RS200 was conceived in a world for a world that, by the time it came to fruition, no longer existed. Built to maximize the Group B rules, Ford spanned Europe looking for the best talent to make the RS200 a winner. The body of the car was Italian in design but assembled in France. The chassis and engine designs were perfected by Formula 1 aces in England. It was a winning formula that unfortunately was launched at an time of unprecedented speed and power in the World Rally Championship; a combination that proved deadly. Barely into competition, the FIA changed the governing rules in the WRC and immediately the RS200 was shelved. The result was a few hundred competition ready cars that were hugely expensive with nothing to compete in.
But like the Sport Quattro, 205 Turbo-16, 037 and Delta S4, the Group B cars have all experienced a resurgence in interest in the past decade and appreciation has gone from just a group of oddball, off-beat rally fans to the greater automotive community. The result has been spectacular pricing on models like this 1985 RS200: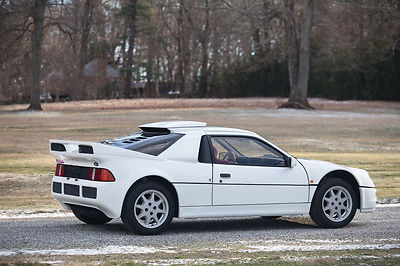 Year: 1986
Model: RS200
Engine: 2.0 liter turbocharged inline-4
Transmission: 5-speed manual
Mileage: 1,200 mi
Price: Reserve Auction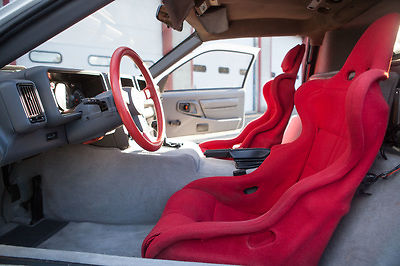 1986 Ford RS200

Chassis Number: SFACXXBJ2CGL00169

250 bhp, 1,803 cc DOHC Cosworth turbocharged inline four-cylinder engine with Bosch electronic fuel injection, five-speed manual transmission, four-wheel independent suspension with coil springs and shock absorbers, and four-wheel disc brakes. Wheelbase: 99.6 in.

One of 200 road-going versions, the last customer car delivered

Two private owners since delivery; extremely low mileage

A near time-capsule example of Ford's Group B legend

THE GOLDEN ERA OF RALLY

The Group B regulations fostered some of the quickest, most powerful, and most sophisticated rally cars ever built. This period of competition is often referred to as the Golden Era of rallying.

Tough less high profile than sports-car and open-wheel racing, modern rallying has attracted many discerning fans over the years with its point-to-point multi-leg format and highly modified, small-displacement, production-based cars. Such enthusiasts almost universally speak with glowing memories of the Group B era, when revolutionary all-wheel-drive chassis and turbocharged engines resulted in some of the most athletic cars to ever face a timer.

While Ford's European racing concern in Boreham, England, had dominated WRC competition in the 1970s with various iterations of competition-prepared Escorts, even winning the Manufacturers' Championship in 1979, america's oldest carmaker dropped out of the format in 1980 to develop something that could compete with audi's forthcoming Quattro and the mighty R5 Turbo from Renault. A new program was undertaken in 1983 to build an alternative to the conventional front-engine, rear-wheel-drive Escort, one that would prove to be a disruption of its own.

Formula 1 designer Tony Southgate engineered a brand-new chassis predicated on all-wheel drive and the mid/rear placement of a 1.8-liter turbocharged Cosworth engine. The motor was slated to produce 250 horsepower in street guise, though in race format it could develop a shocking 420 horsepower or more. The distinctive new bodywork was designed by Italian styling house Ghia.

As 200 raod-going examples were required to homologate the model for WRC certification, the new creation was dubbed the RS200, and it showed tremendous promise right out of the gate with a victory in its debut race. At its first WRC contest, the car came in 3rd, portending a great future. Unfortunately, the new Ford arrived to the party a bit late, with the model only debuting in the 1986 season after more than two years of development. Several tragic accidents compelled the FIA to cancel Group B classification after just four years, making the RS200 ineligible for the WRC after only one competition.

In terms of its Italian exterior design and F1-bred chassis, the purpose-built RS200 is almost completely unique to Ford's history, perhaps comparable only to their great GT40 endurance racer. Ghia's softly curved wedge design was copied in numerous road cars of the era, and the mi-engine layout was also soon imitated by other manufacturers. Though it took no racing titles, the RS200 was an incredible evolution of the everyday sports car. The RS200 remains a favorite of Group B enthusiasts to this day, likewise appreciated by design experts and performance connoisseurs for its disruption of the conventions of the day.

CHASSSIS NUMBER: SFACXXBJ2CGL00169

Chassis Number 169 is among the later RS200 examples built and is believed to be the last car delivered from the manufacturer's stock, reportedly sitting at the Boreham facility until August 1994. Acquired then by a Michigan-based enthusiast, the RS200 was treated to a pampered life while occasionally taken to motorsports events for display only, including the Daytona International Speedway in 2010.

Currently displaying approximately 1,983 kilometers, it is considered one of the lowest mileage examples in existence. It is titled in the United States, having been properly imported during the 1990s by its first owner. The automobile is currently among an automobile collection in its third owner's possession located in San Antonio, Texas.

Probably one of the most, if not the most, unused of the Ford RS200 examples produced, this car benefits from just three caretakers/ collectors over 22 years and has never been run in competition. The unusual racecar is a jewel of disruption, a sensational anomaly in the Ford production output that represented the legendary Group B rally cars. For rally connoisseurs or dedicated fans of the 1980s sports cars in particular, this superlative RS200 would make an imported acquisition to any collection as a notable example of one of Ford's most extreme racing creations. It is accompanied with its service/ parts manual binder, and records, including a very recent complete service by Motor Classic & Competition Corp. We are Automobile dealers in Texas, any questions please call 210 913 8353, International shipping arranged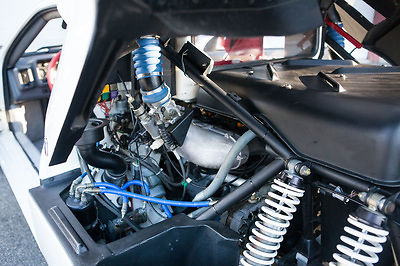 As a fair amount of these cars were snapped up and beaten to death in the post-B world, finding prime examples today for sale can be difficult. But like the other Group B cars, there's always been a very appreciative fan base that loves them and consequently it's possible to find perfect examples like this one. Of course, that means in today's rarified collector world that you're going to pay, and bidding on this RS200 is unlikely to meet the reserve at its current nosebleed $271,000 bid. Still that's only around half what the admittedly more evocative Sport Quattros have been trading for and compares to asks we've seen on Evolution II 190Es. Unlike some other rare exotic European models we've seen, this one is already in the U.S., too – so for the blue oval fan who also appreciates European flare and has a bank account capable of sustaining small African nations, this might just be the perfect car. It also can contend with the GT40, original Shelby GT-350R and 427 Cobra as the coolest Ford ever made, but that's another discussion for a different day.
-Carter