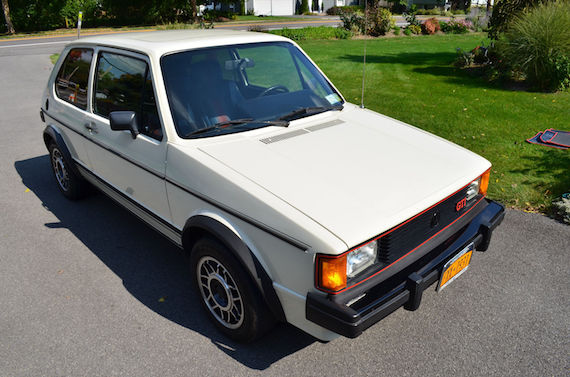 It's been 15 years since I traded in that piece of crap 2000 Volkswagen GTI. I haven't had the nerve to buy another Volkswagen since, but this isn't a problem since the Scirocco and Polo GTI are conveniently omitted from the US product lineup. I am convinced to this day that VW had hired away some Fiat assembly plant workers back in the dark days of the 1970s and would employ them on the line when the Germans went on holiday. There was no other way of explaining a car that would self destruct in front of my own eyes. It also made me pine for the simpler days of the car we see here, the original Volkswagen GTI. This 1984 GTI for sale in New York reminds me of the example fellow GCFSBer Brian owns, albeit in stock form. For a final year Mk1 GTI, rarely do they get this nice and it has just the right amount of mileage and patina that won't deter an enthusiast from using it as intended.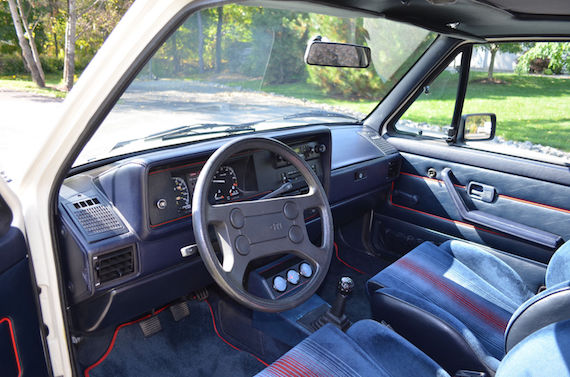 Year: 1984
Model: Rabbit GTI
Engine: 1.8 liter inline-4
Transmission: 5-speed manual
Mileage: 104,248 mi
Price: Reserve auction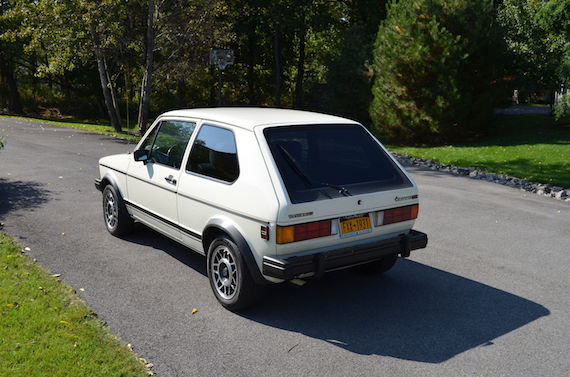 I'm the third owner, bought in 2012 with 103120 miles. The second owner, who worked at the shop which had always serviced the car, purchased it in 2006 from the original owner. It was a California car until I bought it and shipped it to New York, it's been garage kept its whole life. Maintenance by the previous owner includes struts and mounts replaced with BOGE units(oem) in 2006, rear brakes, shoes, cylinders, bearings, windshield and headliner in 2008, timing belt, tensioner and valve cover gasket in 2010, new clutch cable and left rear axle in 2011, also had new distributor, wires, fuel pump, filter, ball joints, starter, and new exhaust pipe and muffler(original also included). All I've done is changed the oil and put in a new battery.

The left front fender was hit in a parking lot sometime before 2006 and replaced with new and paint blended to the door, the rest of the paint is original and in good shape but not perfect. One of the tail lights has a crack in it but it comes with a set of correct(and hard to find) Hella lenses. The interior is in excellent shape considering the age and how these interiors usually hold up, has had a dash pad since new. Everything works, air conditioning blows cold, sunroof works, even the clock works. Also comes with original window sticker, delivery sheet, build sheets, owners manual and warranty book.

This car's not perfect or a restored showpiece, but is a very original, very clean 32 year old car. I think it must be one of the nicer original ones left. If you would like to see it, have it inspected or have any questions please contact me.

Sold as is where is without any warranty. I will cooperate with any shipping you arrange and pay for.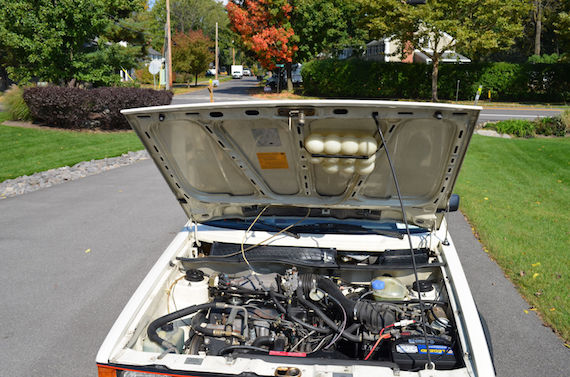 The bidding action is very strong on this car, so I tend to think the seller will eventually meet the reserve on it, wherever that price may be. We saw a 1984 GTI with 116,000 miles sell for $8,000 back in March 2015. Prices haven't exactly skyrocketed on these pocket rockets since then, but collectability is strong, so I wouldn't be surprised if we see bids approaching $10,000 on this example. Along with Brian's modified 1984 GTI, it's nice to see another Westmoreland built GTI stay true to its original form, namely the square headlights and crash bumpers. Too many have been converted over to Euro spec or modified which is a shame, because the few unmodified US market examples that are left should be saved for posterity.
-Paul