Warning!
This post is in our archives. Links in this post may have been updated to point to similar cars available to bid on eBay.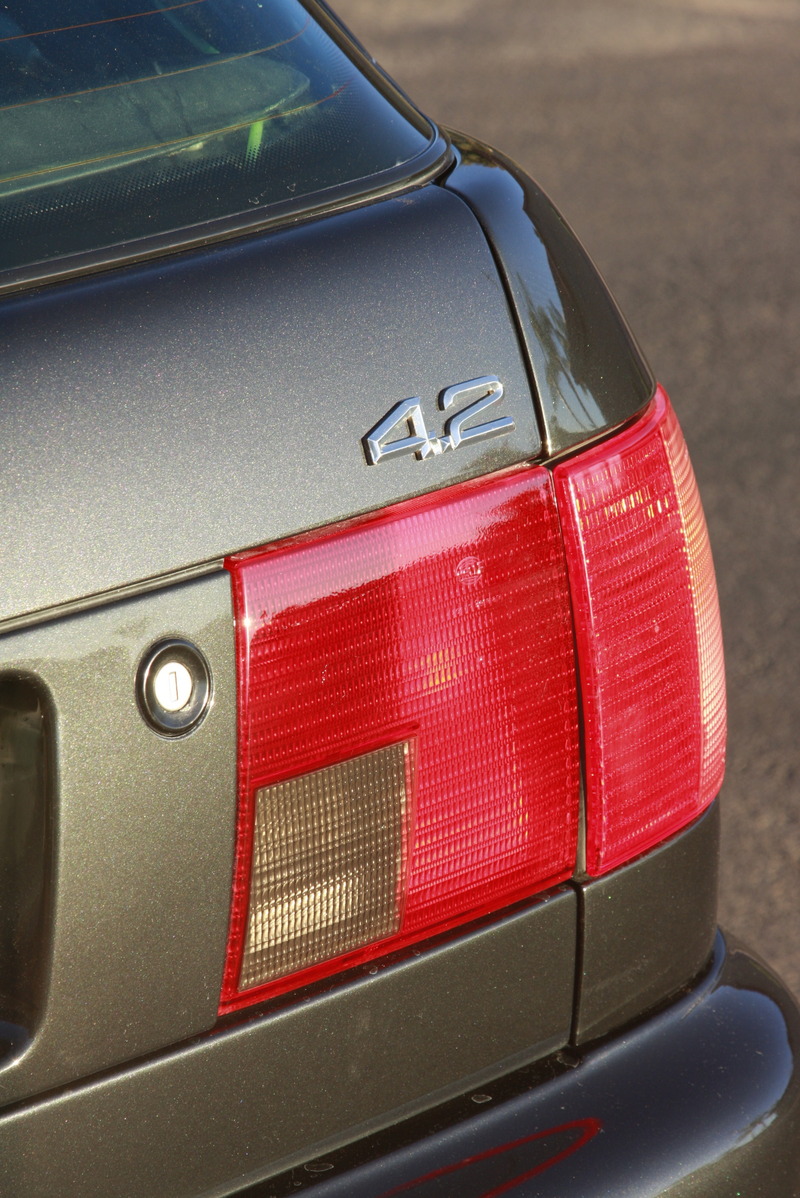 One of the more amazing custom vehicles I've come across in my time writing here is also one of the most discrete. Upon seeing this Volcano Mica Audi Avant, most would probably dismiss it as just another S6 – but the secret identity of this wünderwagon lies beneath the subtle exterior upgrades. Not only did it start life as a mild-mannered A6, but the conversion to an S car went one step farther than normal in mimicing the European-market S6 Plus. The creation is unique, impressive, and semi-inexplicably still for sale today, some 6 months after I originally looked at it:
The below post originally appeared on our site December 15, 2015: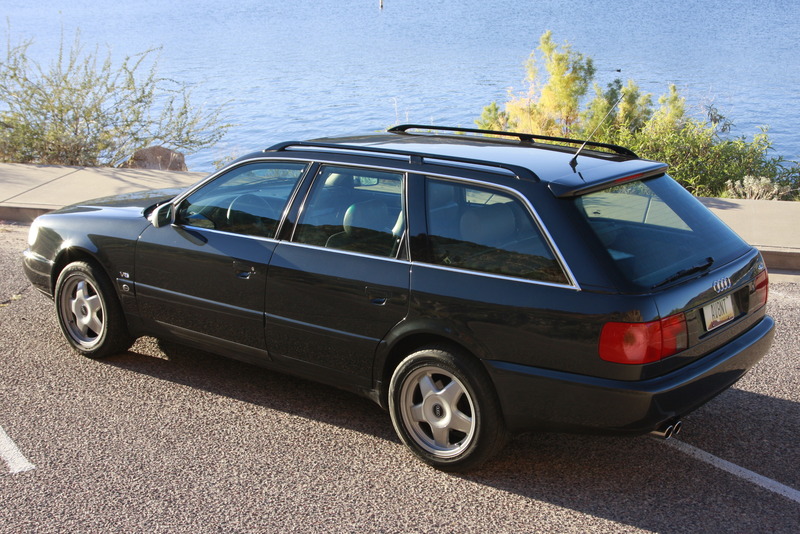 We all have dreams. In automotive terms, I can remember many cars that I've spent countless hours modifying in my head. "No one will be expecting this!" I'd laugh to myself, ignoring the sensibility of my plan. Hurdles such as the cost, the time invested, or even if the end result would be worth the hours spent not only planning but executing the plan were cleared as if I was Edwin Moses on route to another Olympic Gold. Indeed, I'd already be crowning myself champion of the mods as I slowly turned the image of a complete dream in my head at night, during breakfast, while walking or at work, and especially when driving. But then the realities of life set in, and the dreams so carefully laid out by many are dashed on the rocky shores of life. The plan wasn't economically viable or even possible, the car was too rusty or too far gone, the parts were too hard to source, or as is often the case, priorities changed and something newer and flashier came along. For every 1,000 cars dreamed to completion, my bet is that fewer than five make it to the light of day. When I had my V8 quattro, I was going to restore that and make it a manual. I truly loved that car, but the realities of owning it were too hard to continue on. Then I had my 200 Avant, and I was going to combine the bits from the V8 quattro and make a monster V8 Avant. That, too, was left on the planning board.
All of this is what makes such creations as this car so special. Who would look at an A6 Avant and think "I'm going to turn this car into a S6 Plus Avant"? Maybe one person would have that thought – but it only takes one. The result of what was undoubtedly one of the least likely builds has resulted in one of the most desirable Avants I've seen stateside: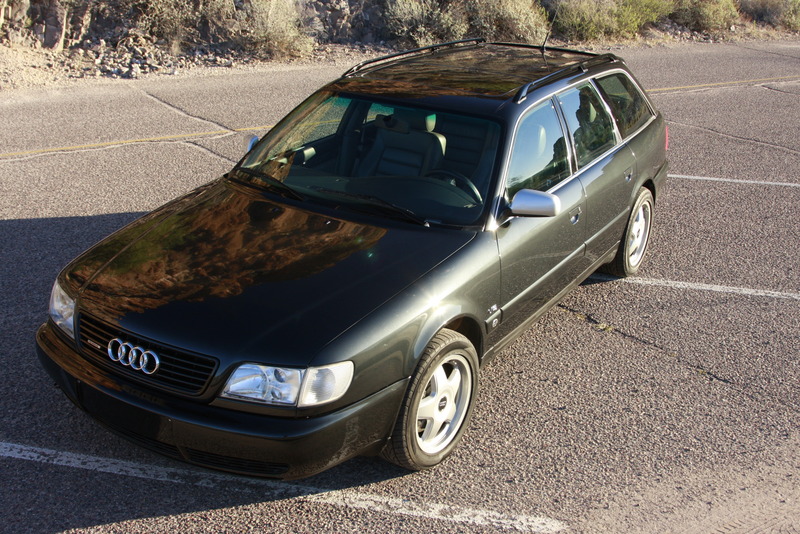 Year: 1997
Model: A6 Avant
Engine: 4.2 liter V8
Transmission: 6-speed manual
Mileage: 135,200 mi
Price: $14,500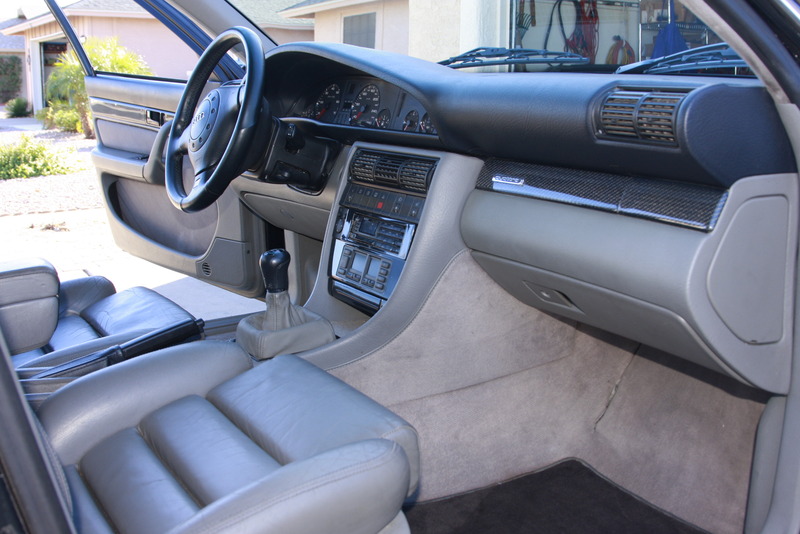 After 11 years of ownership the time has come to part with the best car I've ever owned. I purchased it in Oct., 2004 as a one-owner trade-in at Midwest Auto Group Mercedes in Dublin, Ohio with 49k. Originally a 2.8 V6 12v engine with 4 speed automatic. Dark grey Volcano Mica Effect with Platinum leather. 1997 was the last full year of the C4 chassis with the desirable later features such as one-touch windows and EDL.
Has spent its time with me in California and Arizona so no rust issues like many C4s. Approximately 200k miles on chassis.
As stock the car was not a turbo S and pretty sedate so after 6 years of ownership I decided to either sell the car or attempt to replicate the power plant of the limited edition S6 Plus cars from 1997. The Audi V8 has instant torque and the perfect engine for a heavy car like the C4. Thus began the quest to figure out exactly what the factory did and if I could build a reliable car and in the spirit of the Plus. Endless hours were spent on the internet cross-checking part #s and sourcing parts from Europe. 3 years and thousands of dollars later I had a running car. Now 2 years later and over 20k miles on the clock it is a reliable, powerful cruiser and deserving of an enthusiast to take her to the next level. There is an extensive build thread of the car on Project Pad here: http://www.theprojectpad.com/viewtopic.php?f=11&t=1097

Pics:

ENGINE: 4.2 ABH bottom end with early A8 ABZ heads. NOS ABH short block from Euro Spec Sport in Gilroy, CA. Probably the last remaining crate ABH engine in N. America. The heads were completely rebuilt, given a light port and polish/clean up of the intake tract. S6 Plus factory exhaust manifolds (Cermakrome coated), new NOS S6 Plus fuel injectors (191 cc/min) , S6 V8/Plus engine mounts, throttle cable, powder coated timing covers and intake manifold, all new factory engine gaskets (2 extra sets come with car), new Hepu water pump, timing parts, factory S6 V8 oil cooler, new L&R factory radiator, S6 Plus upper radiator hose, all coolant hoses are C4 V8 issue. Has a new factory a/c condensor, S6 V8 a/c compressor and proper lines from the S6 Plus. Factory S6 Plus air box and plenum (took 2 years to find!), NOS factory S8 engine cover, everything fits and looks like it belongs. Power steering rack was rebuilt by Jorgen and the factory S6 steering damper has been installed. Custom high-pressure hose by House of House of Spokane, WA. Redline PSF and the rack is quiet in all temps. Factory Avon-made C4 V8 mounts with additional 60 shore polyurethane for added firmness.

ENGINE MANAGEMENT: VEMS custom built by Marc Swanson of EFI Express. Has upgraded circuity and capacitor. Utilizes a factory S6 Plus engine harness. Dyno-tuned by Marc at Iroz Motorsport, Las Vegas in 2014. Estimated power of around 300-320 crank h.p. VEMS is the perfect platform for a future turbo installation if desired.

TRANSMISSION: 6 speed manual from a 2000 A6 2.7T. EDU code with .68 6th gear. Transmission had a locked 1-2 shift collar so it was completely stripped down and a new upgraded 1-2 collar and updated composite synchros sourced from Germany were installed with all new seals and o-rings. 1-2, 3-4 5-6 shift collars and large 1st gear were cryo'd (have receipts) for better durability. S6 shifter box, Apikol short shifter. S6 Plus trans mounts reinforced with 60 shore polyurethane. Pennzoil Synchromesh fluid just changed. Factory S6 V8 solid mass flywheel (27 lbs.) with a factory Sachs S6 V8 clutch. Flywheel was custom machined by 034 Motorsport to have a 60-2 tooth trigger wheel for the crank sensor. $600 worth of machining on that alone! S4/6 center prop shaft with new Powertrain Industries center bearing, Apikol rear diff.mount with blue street density bushing. S6 Plus-specified CKF rear differential with Redline fluid. Turns 2750 rpm at 75 mph on the highway and the car consistently gets 22 mpg at 75.

EXHAUST: Custom 2.25″ stainless down pipes with wide band 02 sensor into factory S6 cats and factory S6 mid-exhaust resonator. Iroz Motorsport custom x-pipe, 2.25″ stainless rear piping with Jetex/Simons rear muffler and Fox dual rear tips. New Vibrant flex joints installed in October.

BRAKES: Porsche Boxster grey front brakes with 312 mm Zimmerman cross-drilled rotors and Pagid pads, Apikol steel B5 brackets, stainless Paragon Performance lines. New Zimmerman Rotors and pads were installed in October, around 100 miles on them. S6 rear brakes with 269 x 20 rotors. Rear lines replaced in 2013.

WHEELS / TIRES: Factory UrS4 Fuchs 5 spokes with 225 50 16 Falken FK-452 tires. Wheels were powder coated in 2013 and still look good, tires new at time of conversion and have 20k+ miles on them and will need replacing (and alignment) in the near future.

SUSPENSION: Hyperco S6 Plus replica springs with factory Sachs Advantage gas shocks. 20 mm lower vs. stock. Front shocks new at time of swap, rears done in 2006 but still supple. S6 V8-specific red curved tie-rods, new subframe bushings with added poly. Rear suspension is original, I have Apikol rear subframe bushings and Energy Suspension rear triangle bushings in bags ready for install.

LIGHTING: European factory Hella rear blinkers (look pink, blink amber), A6 Euro center section painted body color with trimmed latch handle, front Hella clear corners, factory Euro headlights with new E code lenses in 2013 and light levelers wired in. 55w HID bulbs and ballasts.

BODY: Overall 8.5/10. Euro A6 front and rear bumpers, blacked out front grill, custom badges, roof racks and B and C pillars painted in gloss black enamel with pearl added. Original silver racks included. Car received minor rear damage on both quarters in 2014 so the body was professionally repaired and received new paint from the glass down in June, 2015. PPG Deltron with SPI Universal clear coat. Exceptional color match and bumpers and mid-door trims were removed and painted off the car.

INTERIOR: Overall 7.5/10. S6 front and rear seats, passenger seat is about a 9/10, excellent shape with functioning seat heater. The driver's seat has typical bolster wear but no rips and could be easily re-dyed. Seat heater has issues. Rear seats look great, one very small crack/rip on bottom cushion. Wiring for rear heaters has been run under carpet but not connected. Euro cloth striped door panels with restored CF trim and custom body color trim pieces and black powder coated door pulls. Euro cluster from an A6 with trip computer, reads in Kms., but odometer has been programmed back into miles but not accurate to the chassis. Lots of custom touches, carpet is good but typical wear, has been cleaned and looks very nice. GG Bailey front mats. Headliner is not drooping but could use a clean, I'm hesitant to do this because of the risk of sagging. The rear hatch surround trim was not reinstalled at time of pics but will be done shortly. I have some platinum rear door pillar and door opening trim pieces from Germany that I will include, present ones are a bit scuffed from general wear and tear.

AUDIO: Car was de-Bosed in 2006, older Sony HU with I-pod input and separate 10-disc CD changer in rear cubby hole. ADS PQ 10 amp, 4×40 watt bridged into 2 channels at 90 watts. Diamond Audio Hex 5.25″ separates with silk tweeters and matching mids in rear doors. Alpine V12 100 watt sub amp with Image Dynamics 8″ sub in custom removable enclosure, fits in rear hatch area. Nice punchy bass.

The car has been a labor of love and very well known on the Quattroworld forums. So much time and work went into this conversion, hundreds of hours of research, sourcing parts and doing the actual conversion. I have learned a lot about how the C4 V8s and the S6 Plus were constructed and have plenty of spare parts that will go with the car. These include an ABH short block with 127k miles, known good engine and has been cleaned and a great back up. 2 sets of factory engine gaskets, very expensive and possibly NLA now. One set has been opened and a few items used but one complete set is still unopened. All sorts of small engine parts, roof racks, interior parts, a long list will go with the new owner plus some special tools and manuals. I will of course do my best to guide the new owner on the unique features of the build and how things were wired, etc. It is not an exact copy of the Plus, certain compromises/modifications were made to make things work but the end result speaks for itself.

THINGS IT NEEDS: The car is of course a C4 and suffers from the usual creaks, groans and pops in the front suspension typical of the chassis. I replaced a ton of stuff two years ago during the swap but the issues never seem to go away for long. The rear suspension could use refreshing at some point, I'm including the new rear bushings and a rear sway bar would help things. For someone serious about improving the handling I'd say wheels and tires and coil-overs would be good things to consider. The a/c is hooked up but when we tried to pressurize the system the joints in a couple places were leaking. I haven't waded into it and it can probably be made to work properly. The cruise control does not work presently, never tried to fix it so could be simple. The body looks really great for its age, not perfect and if I had been able to pull the glass and had more time and money I could have done a complete re-paint but it wasn't possible. Rear driver's quarter has a gap mismatch from previous hit and run in 2007. Was repaired but not optimally. The front bumper was repainted but needs some attention, long story. The engine has a persistent small rear cam seal leak on the driver's side, drips oil onto the exhaust manifold and I'm still trying to figure out a solution but working on it and fixable. Little things of course but I'd have no hesitation to get in the car and drive it 2000 miles. It really is a fast, reliable cruiser that pulls like holy hell in 3rd and 4th gear. Puts a smile on my face every time.

The car is presently in the garage in Phoenix. I bought an Allroad in February and have gone to the dark side of C5 ownership. I really feel sad to be parting ways with this car but it's time and I'm incredibly satisfied with how it has all turned out. Has exceeded my expectations and always starts up and runs great. I've daily driven the car at times for weeks on end and though it really excels on the open road it can be driven around town easily. I am happy to answer any questions I can and it is an exceedingly rare vehicle. Only a handful of factory C4 V8 cars have made it to North America. I know of only a couple of C4 chassis V8 swaps and NO ONE has done a conversion to the level that I have done to this car. It truly is a unique vehicle, very different from a turbo S car and the torquey V8 is really the perfect engine for such a heavy chassis. You could never duplicate this car now for what I'm asking and no one should be that crazy. It was so much work, so much time but so worth it.

ASKING $14,500 including a spare short block and a ton of parts, factory manuals and special tools. Email: islingtonboy@hotmail.com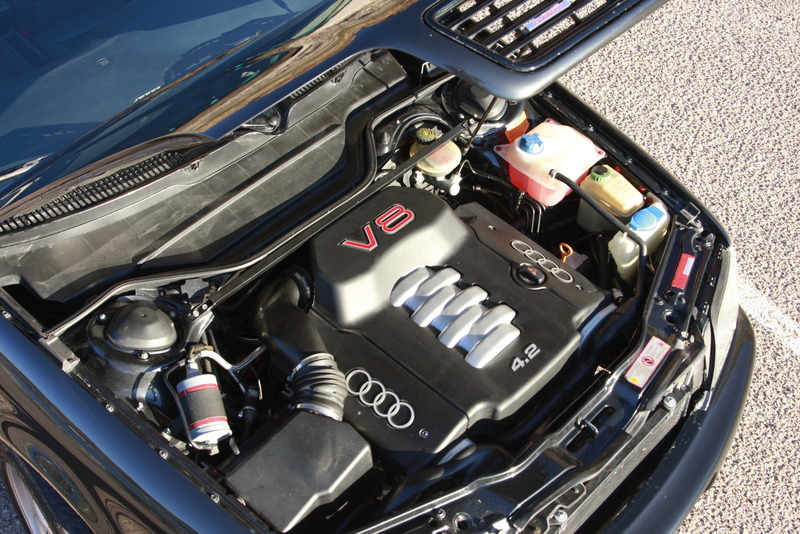 While there are V8 S cars kicking around the U.S. and having an original is probably what I'd prefer, I can't help but be completely taken by the execution of this car. From the number of S details that needed to be added to the drivetrain swap, the execution is top notch for an individual to undertake. If you know Audis, you know that none of these bits are off-the-shelf items; you could literally spend hundreds of hours just trying to locate all of the pieces needed to build this car, never mind to actually spend the time doing it. Performance is probably slightly lower than the factory cars were originally, but should be close – they were rated at 322 horsepower from the factory. Compared to the modern missiles coming out of Germany, that's poor performance and you could argue that a turbocharged inline-5 could offer much more power in basically the same package, and you'd be right. But would it make it more desirable than this creation? To me, no – this is one amazingly presented work of fiction that is so true to a dream as to outweigh the factory cars in some regards. You can get a faster wagon for the same amount, but this car and the owner is very deserving of being rewarded for such an incredible imagination and the wherewithal to make it happen.
Thanks to our reader John for an excellent spot!
-Carter