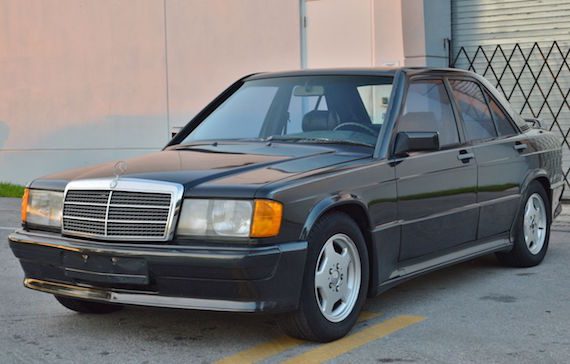 The 190E 2.3-16, Mercedes' competitor to the E30 M3, remains relatively under appreciated, with values struggling to climb higher than the mid teens for a nice example. (If you can find one. Many come to market in a sad state.) The upshot is that those looking for an 80s DTM-inspired hot rod can pick one up relatively cheaply. They're not all that fast by today's standards –  a humdrum Honda with a V6 would probably undoubtedly beat it in a straight line –  and the high strung four cylinder motor can be a bit finicky. But the combination of 80s Mercedes build quality, a cool aero kit, a chassis that inspires confidence and a dogleg 5 speed manual gearbox (first is down and to the left, leaving second and third directly in line) makes for a unique and enticing package.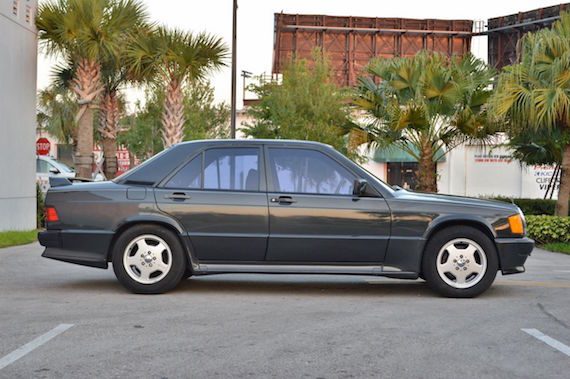 Year: 1986
Model: 190E 2.3-16
Engine: 2.3 liter inline-4
Transmission: 5-speed manual
Mileage: 137,800 mi
Price: $13,900 or Best Offer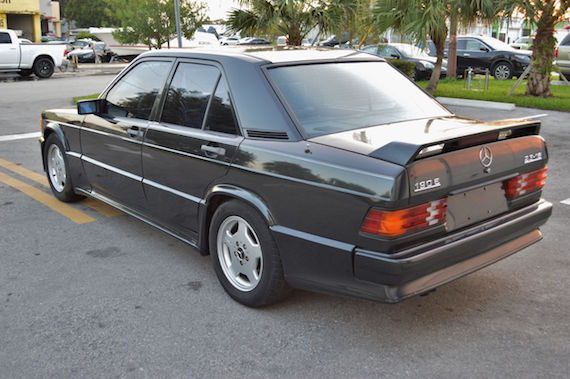 1986 Mercedes 190e Dogleg Cosworth 2.3L – 16V

Up for sale is a very original 190e in desirable black on black with a dogleg manual gearbox.

Car presents very well, interior is very nice and all original down to the radio. Dash has two small cracks but a 190e dash can be sourced if needed. Seats all remain in good condition and AC system is still working.

Exterior paint is presented as a nice driver with small chips, all original body panels, no accidents and a clean Carfax.

Engine and tranny run very smooth, no smoke on start up or unusual noises. Car pulls nice through the gears and transmission enters all the gears perfectly.

These cars are becoming very scarce on the market and usually don't come up for sale without bad history, neglecting, high mileage, automatic, or champagne.

INQUIRIES CALL: 305-988-3092 TONY or 786-291-3622 DANNY

FINANCING IS AVAILABLE w APPROVED CREDIT
TRADES WELCOMED BOATS, TRUCKS, RARE CARS
CAN SHIP WORLDWIDE IF NEEDED UPON REQUEST
CAR IS LOCATED IN MIAMI, FLORIDA 33156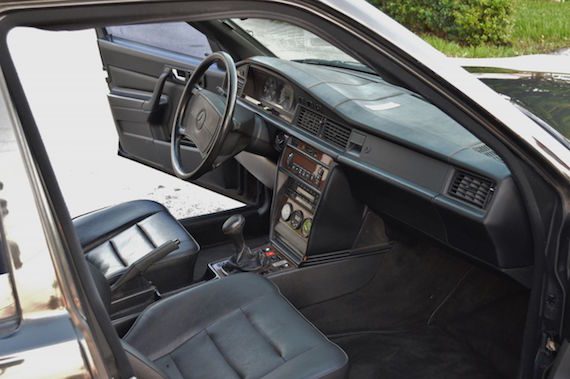 This particular example comes in 199 Blue-Black over a black leather interior and is described by the seller as a "nice driver." No garage queen, it does at least present nicely in the photos. W201s tend to scrub up well, so a closer look in person is absolutely necessary.
The dash is cracked, but that's not such a big deal since a replacement can be sourced from a regular 190E. The stock 15-hole "Gullideckel" ("manhole cover") rims have, sadly, been replaced with a set of slightly forlorn looking, later-period AMG rims. No information is provided about the state of the expensive-to-fix self-leveling rear suspension (though the car does seem to be sitting right, even if the tires look a bit donut-y). The purple window tint is a bit lame, but could be sorted fairly easily.
On the upside, the the interior looks to be in much better shape than you usually see on these. The dismal US-headlights have already been replaced with more attractive, Euro-spec units and the A/C is said to work properly. That's reassuring since the climate control system on the W201, like many Mercedes of the era, relied on a series of of vacuum actuated pods residing beneath the dash to direct air flow around the cabin. When these fail, repair and replacement is enormously laborious, and therefore expensive. Exterior panels look clean and straight and the paint looks decent, at least in the photos.
I think the asking price of nearly $14k is a bit high given the miles. If it checks out and passes a PPI, I think something a bit closer to $10k might be in order.
– Craig