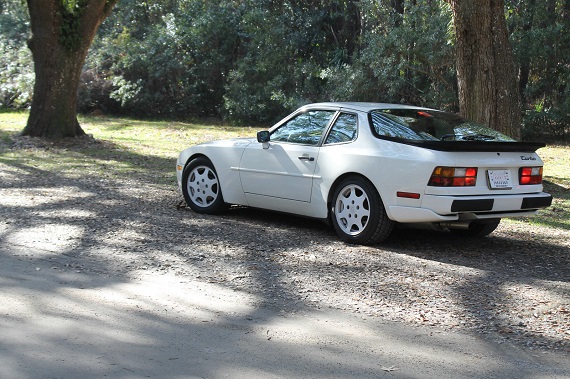 Following up on Rob's "presence" post about the 928, here we have the embodiment of presence and speed in the 944 Turbo S. But we have much more than that, too, in this particular example.
As I talked about at length in the last 1988 Turbo S post, there was a lot that made this car more special than the regular Turbo – and, arguably, more special than the 911, too. But the market on 944 Turbos has been all over the map, with nice examples struggling to break $10,000 at times and excellent examples three to four times that. So where does this Turbo S lie?
Well, we have a great combination of factors that make it quite desirable. First, it's one of the S models. Second, it's a claimed one owner car that appears to be close to 100% original. Third, it's got very low mileage, with only 37,700 accrued. But the coup de grâce that beheads the typical unrealistic asks in the Porsche world is that this is a no reserve auction. Rarely do we get to see all of these things combine and get a real feel for the market.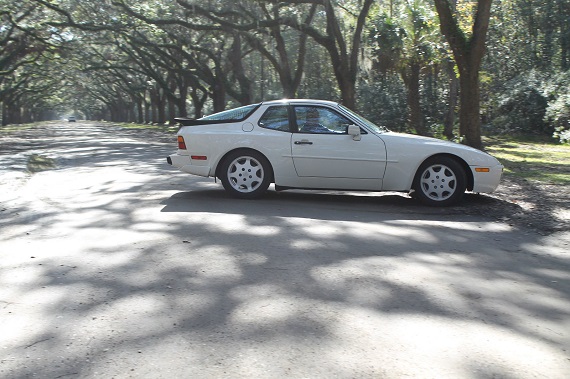 Year: 1988
Model: 944 Turbo S
Engine: 2.5 liter turbocharged inline-4
Transmission: 5-speed manual
Mileage: 37,700 mi
Price: No Reserve Auction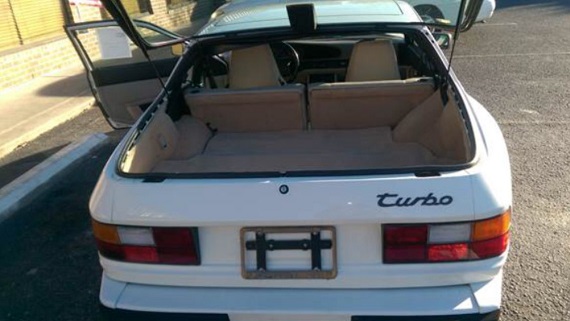 I have had a few of you guys are requesting a picture of the option code and Engine Number stamp. Please see the 2 pictures I just added of these items of you all's request

RARE and most likely the Only 1988 PORSCHE 944 TURBO Possibly TURBO S as it is a 1988 with the M44/52 Motor 1 OWNER 37,704 ORIGINAL MILES ALL ORIGINAL unmolested looks like it was in a Time Capsule. Needs very little attention to make concourse grade. a little interior work on dash and Dash Knee pads discolored leather needs dying. fog light lens on passenger fog light small crack needs, AC could probably be charged up Has been serviced and I just drove it from Wilmington NC to Richmond Hill GA with no issues.

I purchased this car a few weeks ago in hopes to use as a track car for HPDE events and eventually work up to the level I can take my GT3 out for track days. After driving car back to Richmond Hill GA from Wilmington NC, noticing the phenomenal condition and speaking to some enthusiast I was advised and soon realized that this car belongs to a Collector or some one wanting an asset investment and not appropriate for some one like me wanting a track beater as this model is becoming more and more Rare and escalating rapidly in value especially only 1 owner in which I am not going to title it therefore the winner of this bid will be the 2nd owner.

Car shifts, Stops, accelerates great with a very tight and rigid handling.

What I see this car needs in Order to be in "New Condition"

Dash needs Leather replaced and Dash Knee pads needs leather to be dyed or replaced as it is a little discolored.
Passenger side fog light lens has very small crack
AC could probably use a little Freon its cold but not like cold cold or maybe that's how cars where back then
Small place in Head Liner near back window could use a little attention maybe just some headliner glue.
Cruise Control was not functioning during my road trip maybe a fuse not sure.
Stereo comes on but I cant get a radio station
Pulls a little to the Left so maybe a front end alignment
Small crack about 1/2 an inch on Spoiler Passenger side.
Only has 1 key these are non chipped so inexpensive

This Rare investment opertunity is for sale Locally so I reserve the right to end auction at any time.

"Sizzle", was Motor Trend's Jeff Karr's most fitting adjective to describe Porsche's 944 Turbo S. Car and Driver's Tony Assenza ran his article with the heading "A bargain at $48,350." Automobile's Georg Kacher put it simply: "Move over, 911."

However described, the Turbo S represents the pinnacle of the evolution of the 944 series' genes, first established with the release of the 944 at Frankfurt in 1983. Universally praised, the S was officially the fastest 4-cylinder powered production car of its era, and possessed everything a true Porsche ought to: superior handling, an uncompromising power plant, and exterior lines whose form followed function. The 944 Turbo S fit that description superbly. Those who had never considered a 944 to be worthy of adorning the Stuttgart badge were silenced by a car which by all accounts not only outperformed the 911 Turbo, but set the benchmark for what a sports car could be.

The Porsche 944 Turbo had a North American production run of four years. For most of that time, the 944 Turbo enjoyed a 217 horsepower engine with a KKK K-26 #6 turbocharger. However, in 1988 Porsche unveiled the coveted 944 Turbo S, a retuned version of the Turbo which sought to inject staggering performance into Porsche's premium 944 model. The S version was claimed by Porsche to be based on the Turbo Cup car, a race version of the 944 Turbo which ran in a racing series of the same name. "I couldn't help but think," it was noted in the Rothmans Porsche Turbo Cup "Competitor's Information" in 1987, "that [the Turbo Cup car] would make a great street car… [with] all the power of the 911 Turbo, the behavior of a 944, the stopping power of the 928S4." It was therefore unsurprising that in 1988 a special S version of the 944 Turbo, based on Porsche's successful Turbo Cup spec cars, was unveiled.

The 2.5 liter power plant, based on the race proven European Turbo Cup engine, was "hand assembled in Zuffenhausen alongside the 911 Series and the 928 S4 engines". Although the S shared the same displacement as the standard Turbo, it boasted 247 horsepower thanks mainly to its larger KKK K-26 #8 turbocharger. Indeed, Porsche vastly improved the S's turbocharger technology. Along with the larger turbocharger unit, which subsequently increased boost pressure to 1.82 bar, output increased thanks to a modified DME system, improving air and fuel mixtures, among other things.

Resulting engine power translated into significant performance improvements. Said internal improvements prompted Car and Driver magazine, in 1989, to remind its readers that the 944 Turbo was "by far the most potent 4 cylinder engine in the world". Standing runs to 60 mph as well as the top speed of the car improved accordingly. On paper the performance variation between the Turbo S and the standard Turbo could not have been more obvious. In improving on the 944 Turbo's already respectable performance standings, the S relied on its horsepower and on its torque, which now reached 258 ft-lbs. The S's performance was thereby improved upon, especially in terms of standing acceleration and top speed (0-60, for example, now took 5.5 seconds as opposed to the 6.1 achieved by the standard Turbo).

However, the 30 minute factory bench tested engine was merely a portion of the race-inspired design of the 944 Turbo S. The car was undoubtedly similar to its Turbo Cup counterpart in other aspects besides engine output, and although it weighed significantly more than the Cup car, the Turbo S boasted the same race-bred genetic code. The famed suspension package, internally designated the M030 option, allowed the S to cut the road in ways that, by comparison, made the standard 944 Turbo appear sloppy. Although the package was different than the Bilstein setup used on the Cup cars, the S's Koni "yellow" height adjustable shocks, among other components, were designed to mimic its aggressive handling characteristics, although the setup took driving comfort into consideration whereas the Cup cars, obviously, did not.

With a combination of the M030 suspension package, lightweight Club Sport forged alloy wheels, and a larger 928 S4 braking system, which according to Car and Driver stopped the car seventeen feet sooner than the standard Turbo (169 feet compared with 186), Porsche rightfully proclaimed: "Not since the 911 Turbo has Porsche transferred a race car so directly into a road car." The strengthened transmission (engineers hardened first and second gear to accommodate the power increase) of the Turbo S was complimented with an external oil cooler "for longevity and reliability under very demanding conditions". The car's 258 ft-lbs. of torque was handled well by the car's new high friction clutch, which allowed for strong launches and quick, precise shifts unknown to the standard 944 Turbo. The car also received a limited slip differential (with 40% lockup), similarly necessary for managing the high output of the S.

Considering its special "limited production" status, the Turbo S was originally intended for a production run of no more than 1000 units. "The new "S" suffix", said Car and Driver, "denotes an options package added to a limited edition of a thousand 944 Turbos; 700 will be available [in the United States]." However, desirability, relative affordability, and blinding performance allowed Porsche to initially stretch its production figures to 1653 road going Turbo S units, most of which made their way to the United States. The Turbo S, in its original "1000-unit" form, was most notably distinguished by its burgundy "sport cloth" interior and exclusive silver rose exterior. It's unique Club Sport wheels, headlight washers, protective side moldings, and rear window wiper were all fitted as standard. These features were coupled with a host of premium options such as a powerful air conditioning system, and other creature comforts like power steering, electric windows, a central locking system, a ten-speaker stereo sound system, and individual folding rear seat backs, all of which Porsche admitted "belie[d] the racing heritage of this very exclusive Porsche."

By the latter half of 1988, however, it became clear that Porsche's intended limited run would not be sufficient in satisfying the growing demand for the undoubtedly superior Turbo model. It was foremost for this reason that Porsche decided to expand production of 944 Turbo S. Simultaneously, the model was opened up to the full range of Turbo options, which among other things no longer limited the Turbo S to its silver rose paint scheme and burgundy cloth interior. At the same time, Porsche essentially ended production of the standard Turbo; for the rest of the 944 Turbo's production run (1989 in North America, and 1991 in Europe), the "S" package became standard equipment. For the rest of the 944 Turbo's production run, the car was known simply as the 944 Turbo; the Turbo's "S" designation, however, was dropped after the Turbo S was fully integrated in 1989.[*]

Although the 944 Turbo S is visually identical to its 217 bhp predecessor, the results of Porsche's retuning of the already superb 944 Turbo are undeniable. "The 944 Turbo S is merely a rolling testimonial to just how effective the right improvements can be in transforming an already excellent car into something genuinely remarkable." The performance of the car significantly increased on all fronts; the S was truly a thoroughbred, and a world-class sports car whose performance was undeniable. The genius of its design is in the minute details which ensure dynamic, unparalleled spontaneity during high performance driving, but which do not betray the subtle nature of a truly comfortable sports car. Few super cars can lay claim to such duality, to comfort and styling with virtually no sacrifice to bleeding performance. The 944 Turbo S is one of those uncompromising sports cars.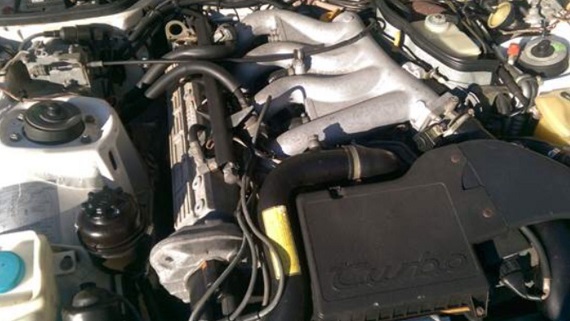 While the seller is a little unclear exactly if he has a true "S" car, a look at the build sticker quickly confirms the package: Option M030 is the first listed, and is the Club Sport package. 220 follows and was the mandatory Limited Slip. 288 is headlight washers, 437 and 438 are power seats, 454 is Cruise Control, 490 and 494 is the Blaupunkt sound package, 573 is Air Conditioning, 593 is Anti-lock Brakes, 650 is the Sunroof, and 946 is Leather. In all, it's a pretty standard option package for the 88/89 M44/52 cars.
Condition is not shown well in the photos. Somewhat surprising is the torn shift boot, and importantly no photos of the seats or carpet are disclosed. Mileage is quite low, but the seller does have a bit of a laundry list of items that need attention and doesn't disclose any maintenance performed. However, he has put the car up in a no reserve format, leaving the market to decide what the package is worth. And, they've answered – so far, at time of writing bidding has surpassed $24,000. To me, that's a bit surprising, given that the more collectable Silver Rose car I wrote up a few weeks ago has dropped in price to $28,000 at last look. Arguably, that one, though it has a few more miles, was a better candidate to pursue. But, the seller of that car hasn't had much luck with their bidding despite much better photography, condition, and the desirable package. It will be very interesting to see where this one ends up!
-Carter