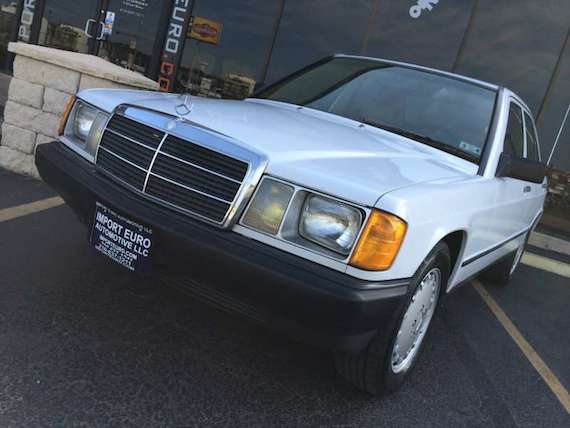 With gas prices on the rise again, consumers are once again turning their eye to more fuel efficient vehicles. Some people prefer the hybrid or electric route, but for me, I've always been a fan of the tried and true diesel engine. Mercedes-Benz was a pioneer in diesel powered passenger vehicles, with their first model, the 260D, appearing at the Berlin Motor Show in 1936. Fifty years on, and we find this car, the W201 190D with a 2.5 liter inline-5 diesel. The W201 was still rather new in the lineup for 1986, but with a diesel offering, it catered towards those who had grown to love the oil burners from Stuttgart. This example for sale in Texas appears well cared for and comes equipped with a 5-speed manual gearbox, helping to make the most of its 94 horsepower.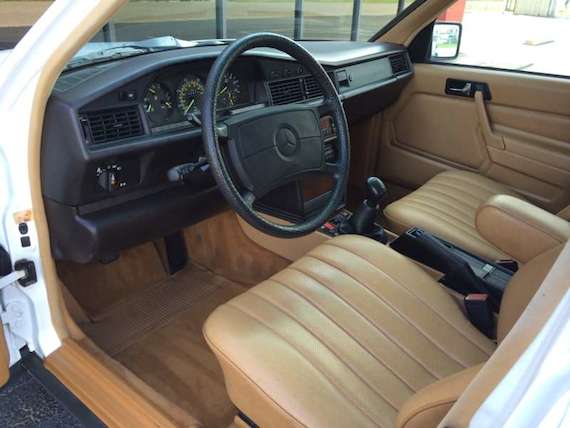 Year: 1986
Model: 190D
Engine: 2.5 liter inline-5 diesel
Transmission: 5-speed manual
Mileage: 145,935 mi
Price: No reserve auction
This is the one you have been waiting for! Your search ends here! Read the ad and you'll see why!

1986 Mercedes-Benz 190D – 5-Speed Manual!
2.5 liter Inline-5 Cylinder Diesel Engine!
Non Smoker, Texas Car! Rust Free! Garage Kept!
Incredibly Low Mileage! Only 145,935 Original Miles!
Very Well Kept! This is as nice as they get!
Cold A/C! Power Sunroof, and more!
RARE – 5-Speed Manual Transmission!
A collector's item!
Mercedes-Benz Enthusiasts, This one is for you!

This is the one you have been waiting for!

Well, here it is. Here is the one you have been waiting, and hoping for! You knew somewhere, someplace there was a 190D Diesel sitting in someone's garage that is still in impeccable condition and still being maintained to the high standard that Mercedes-Benz set for this car in 1986. Of course as the days, weeks, months and possibly years go by and your search turns up absolutely nothing. You begin to wonder if any such car exists, or have all the old classic Mercedes-Benz Diesels been driven and worn out? The answer is no, not all of them. We managed to locate a survivor. An unmolested, non-smoker, wonderfully maintained, bona-fied example of a 1986 Mercedes-Benz 190D Diesels that appears to have not been fazed by the 28 years that has gone by since this car rolled off the showroom floor.

This Mercedes-Benz 190D has proven itself an instant classic, and you'll enjoy pulling up and making an impression with this car. I personally have never seen a car with a personality that even comes close to this car's. Every time I have parked this car I have found myself doing one thing over and over again. Once I've walked about 20 or 30 feet I'll turn around and take a second look at the car and marvel at how beautiful it is. Then I remember that the car is mine! It's a great feeling to have over and over again, and with this car you can have that! This car proclaims status and class anywhere it is driven. There aren't many 28 year old cars that you can still drive around this day and still make an impression. This car has a timeless body style which will always have the place in many people's heart no matter where automotive design decides to go in the future.

Here is a very rare chance go get a highly desired and very hard to find example of one of the best cars Mercedes-Benz ever made! Up for auction is a 1986 Mercedes-Benz 190D Diesel! This 2.5 liter Inline-5 cylinder diesel engine is regarded by most Mercedes-Benz enthusiasts as the best diesel engine ever placed in a Mercedes! You'll really fall in love with this 2.5 liter diesel engine! The mileage on the ad was not a misprint. This car really has 145,935 actual miles on it. We have checked around and under the car and have found absolutely no rust! Not to mention this car is a diesel! Now if that wasn't an accomplishment in itself, this car still runs like new! I kid you not. The car's owner had a great standard in caring for the car which has kept it running and looking very nicely! This car still handles like new. The car is incredibly great. The owner of this car treated this car with the level of care that I have never seen before. This car is at its infancy. Mercedes-Benz diesels have earned a reputation for being some of the most reliable engines ever produced. They're EXPECTED to go 500,000 miles without any major work meaning if you make an effort to keep the car well maintained they can last even longer! You've probably noticed that when you look at the older Mercedes-Benz models you seldomly see the gas engine cars still on the road from the 70s and 80s. For the most part, they're diesels! That should tell you something. Of course the car's condition agrees with that as it's far too nice to have been passed around between owners. The car has never, ever been smoked in!

The car has what most people consider to be the best color combination ever offered on one of these cars, White on the outside with Beige leather on the inside. The color combination is incredible, and really makes this car look elegant! The exterior finish on this garage-kept car is in very good shape and shines well. The paint and body look fantastic with very few flaws to be found, even under close inspection. The car's body is straight. The car appears to have never been in an accident. The body lines are straight and true. You'll really be impressed with it! The front lights are in good shape, and the headlight surrounds, and grille are clean and virtually as new. You'll really be impressed by how nice everything looks on the outside and especially the inside. It's like stepping back into time. This really is the opportunity of a lifetime!

What will really impress you is the condition of the car's interior. You'll be amazed by how nice it is! It really is impeccable inside! The seats are still in fantastic condition. Just look at the pictures! The front and rear seats look like they've hardly been used much less been around for 28 years! The car's interior is everything you'd expect for such a low mileage, well preserved car! I'll let the pictures speak for themselves. You'll be absolutely impressed by the car's interior condition. You have plenty of room in the back for the entire family. The trunk has plenty of room for whatever you'd like to place back there with a full sized spare in the back. All the car's features are standard. It came with everything! The power windows, power locks, and power mirror works just fine. The power sunroof still works great. It opens and closes quickly! You won't be using the power windows much thanks to the car's cold a/c! The heat is also working great! The stereo system works great and provides great sound. There are no blown speakers! Of course the car's never ever been smoked in! The instrument cluster works just as it should, none of the warning lights remain illuminated on the car. You'll really be impressed with the inside of this car!

If the looks of the car didn't already impress you, then getting behind the wheel and driving the car will take your breath away! This is where you really see how well this car has really been kept! After driving this car it seems silly to spend big money on a newer one when you can get a quality pre-owned Mercedes that has plenty of character and a highly desired, much more reliable diesel engine for so much less! The glow plugs heat right up, and the diesel fires right to life with a smooth and friendly clatter. The engine accessories turn quietly and work well, with the AC compressor keeping the inside very cool and the alternator keeping the battery well charged. The undercarriage of the car is very clean. Under the hood is very clean. The steering is tight, smooth and easy. The suspension feels to be in good shape. Keeping you snug on the road is a very good set of tires! They are matched to a beautiful set of the original Mercedes-Benz alloy wheels which still look great! You won't have to worry about tires for quite some time with this car! The car provides more comfort than most modern new cars could ever hope to provide! It handles very well. You can tell that this car was maintained to the highest standard and has received only the best care and the most careful driving since it was new. The car simply would not run and handle this well at 28 years old if this wasn't the case! Simply incredible! The 2.5 Liter 5-Cylinder Diesel engine, while very comfortable and smooth has the ability to get up and go whenever you need it to! You'll be very pleased to know that even while getting incredible gas mileage the car can get up and go when it needs to! The 5-speed manual transmission still shifts just as it should. The clutch feels great! When you need to get this car stopped, the brakes will do it just as they are supposed to do, stopping the car evenly and effectively.

If you are looking for a safe, strong and very clean W201 diesel sedan with most of the life left in it, this would be an excellent choice. Diesels get excellent fuel economy while delivering smooth power and legendary engine life. This one feels solid, quiet and tight at highway speeds as a Mercedes should, and is a joy to drive around town. If kept on a proper schedule of regular maintenance, this car will deliver another 300,000 miles or more without requiring anything more than routine service.

With all that said you might ask, "well, how much?" We honestly don't know what to ask for this car because there really isn't anything quite like this on the market so we can't price the car accordingly. So we put the car up for auction and we'll let you decide how much you'd like to buy this beautiful Mercedes-Benz 1986 190D Diesel for! Bid to win, and rest assured you are not wasting your time! We are aware that most dealers stick their cars online with unrealistic reserves, we aren't one of those! We will be selling this one at the close of the auction! Have a wonderful mini vacation by flying down, visiting beautiful San Antonio, Texas and driving this car home!

This may be your only chance to acquire a high quality 190D Diesel in this nice of shape! Don't miss this chance to own your dream car! Yes, true you may end up paying a little more for this car, but if you think about it you are really getting a true bargain. This is a very rare and hard to find car that features one of the most reliable engines ever produced! You never have to worry about a shortage of buyers whenever you decide to part with this car! This is a great investment that will still prove good even years from now! Any Mercedes-Benz enthusiast will tell you that this is the car to have! This may be your last chance to get a car like this in this kind of condition. There just aren't any of these left that are this good! Bid early and follow the auction to the end, don't let another bidder with a couple of quick clicks of the mouse in the final minutes of the auction take your dream car away from you! Don't settle for second best. Get the car of your dreams! Don't miss your opportunity to own this beautiful car! You will not be disappointed!

If you have any questions about the car don't hesitate to call 210-637-1211.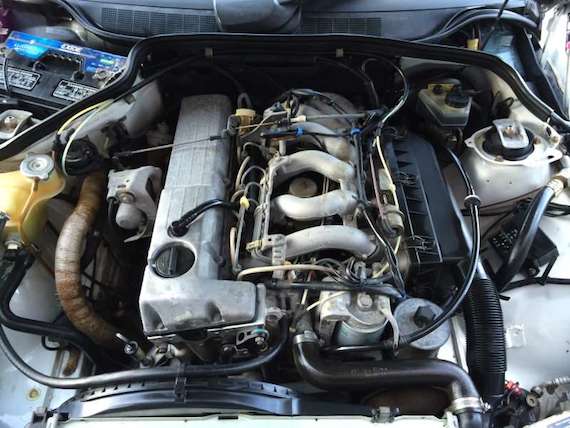 Offering this car at no reserve, it's possible that someone may get a bargain. The color combination isn't too dated and the 5-speed manual will appeal to those looking to get the most economy out of their diesel rig. I'd suspect bidding will probably land somewhere in the $4,000 to $5,000 range, given where early W201 prices are these days.
-Paul