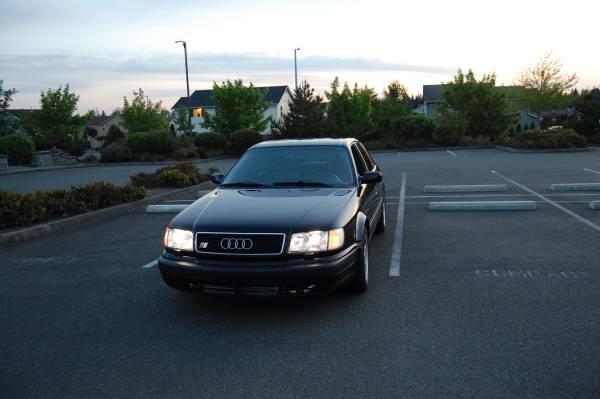 If you missed out on last week's S-Fest II, have no fear. Our reader John has been on patrol and recently sighted this great looking 1992 Audi S4. The 1992 has some nice advantages in stock form over the later run cars; however, this particular example has been further modified with turned up boost, suspension and some European market goodies. In rarer-to-see black over grey leather, it looks like a pretty tidy package: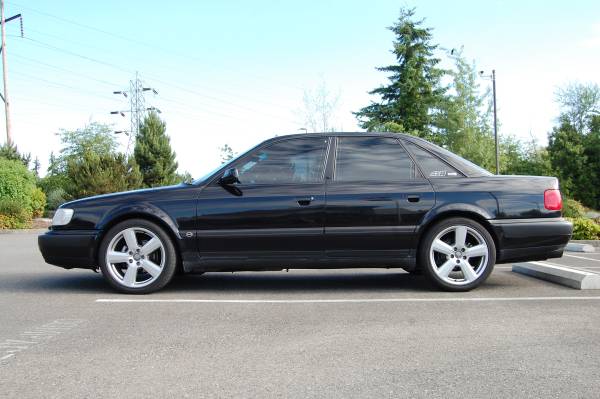 Year: 1992
Model: S4
Engine: 2.2 liter turbocharged inline-5
Transmission: 5-speed manual
Mileage: 170,000 mi
Price: $8,500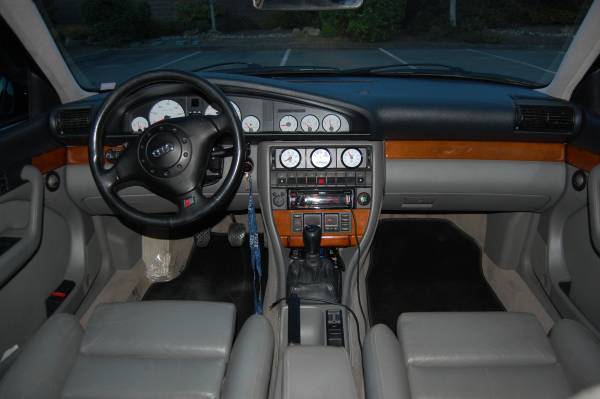 Up for sale is my 1992 Audi UrS4 (S4). This car has the legendary Audi 2.2L inline 5 cylinder Turbo'd engine that was first introduced when Audi started to make rally cars. This engine gets to breath good, with a Front Mount Intercooler (FMIC). You also get to hear the wonderful 5 cylinder sound that this engine make through a 3″ Magnaflow Straight pipe. In addition I got an ECU chip from Europe to give this car a bit of extra power. All this power is going through a 5 speed manual transmission and an AWD Quattro system with a Torsen differential.

This Audi has only 170,XXX miles and a clean title.

It has a few tasteful exterior modifications:
Euro tail lights to fit the custom long Washington license plate (Legal)
Audi C5 RS6 wheels

Performance Modifications:
Stage 3 clutch
3″ Magnaflow Straight pipe
7a Camshaft ( 044 Bosch fuel pump, 034 fuel pressure regulator)
ECU chip PRG from Europe (pushing 310 hp)
New Timing belt Set
New spark plugs and spark plugs connector
FMIC
Vacuum brake booster from an Audi A6
Aftermarket power steering radiator
H&R springs
All new front suspension (new front and rear bushings, struts, strut mounts)

Interior mods:
8″ JL sub with custom Alpine speakers and amplifier
AEM gages, EGT (exhaust gas temp), boost, and wideband (Air to Fuel ratio), Audi S4 B5 steering wheel

do NOT contact me with unsolicited services or offers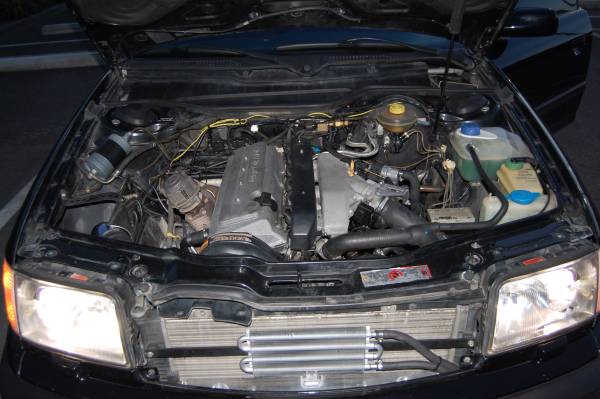 Overall, condition of the car appears to be very good though it's tough to tell from the not particularly revealing or good photographs. Maintenance seems to be up to date, including suspension and timing belt. That suspension is upgraded with the notorious to break H&R springs, and unfortunately it's unclear if the original 92-spec springs come with the car or if they were discarded. The Magnaflow exhaust is generally a good sounding one, though I think the Stromung and Milltek exhausts sound better. Up front we have a front mounted intercooler and upgraded chip helping to push a reported additional 90 or so horsepower out of the turbocharged inline-5. Horsepower numbers are generally so ridiculous on these cars that 310 sounds low; trust me, it's plenty in this platform and enough torque to push you back in the chair when you hit the loud pedal. I haven't heard of the company that has produced this particular chip, but there are plenty of options available if you want to change. The interior looks overall quite good, with the B5 steering wheel giving an updated look. By far my favorite feature of this car is the taillights – the European setup just looks so much better than what came to the U.S. on the C4. Otherwise, I hope that the original Fuchs also come as pictured; I'd happy forgo the likely replica RS wheels. Pricing is probably a tad bit optimistic given the miles, but it's not a crazy asking price for the package.
Thanks again to John for a great spot!
-Carter