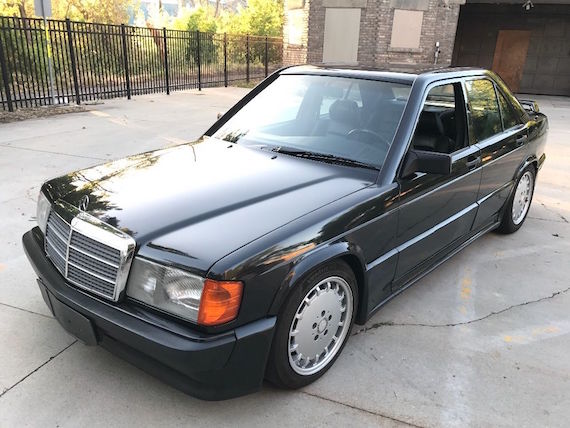 The more I stare at the 2.3-16, the more I realize just how right Mercedes-Benz got it with the design of this car. The starting point was already a good one. The stock 190E, with its restrained, angular good looks and taut lines, brought Mercedes's design language out of the 70s and firmly into the 80s. But the flared wheel arches, revised valences and rear deck spoiler found on the 2.3-16 turn the staid W201 into a car that looks ready to go racing. Which it did, first as a rally car and, when that didn't work out, at the DTM. Power came from a version of the M102 2.3 liter four pot engine – later enlarged to 2.5 liters in the European market – breathed on by British tuning company Cosworth. But despite the looks and pedigree, the 2.3-16 has never attracted the same kind of attention or following as its obvious competitor, the E30 M3. The market for these is pretty spotty. They don't appear very frequently and when they do, many of them have been battered and broken by neglectful owners. Still, every now and again a really nice one pops up.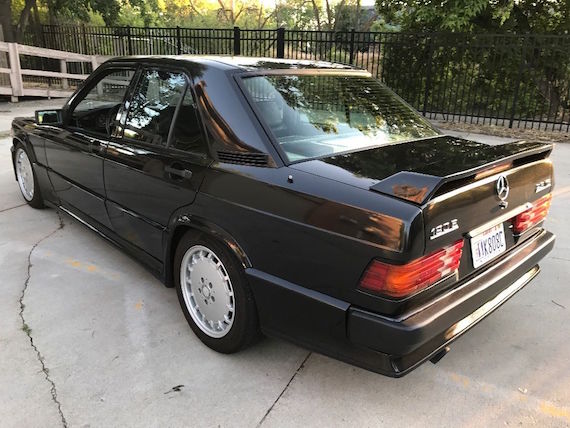 Year: 1986
Model: 190E 2.3-16
Engine: 2.3 liter inline-4
Transmission: 5-speed manual
Mileage: 109,000 mi
Price: Reserve auction

I am selling my 1986 Mercedes-Benz 190E 2.3-16 Cosworth with 109,XXX original miles in Blue-Black Metallic (199)/Black leather color combination. This car has the Getrag dogleg five speed manual transmission. This car has zero rust and is in immaculate condition.

History
I purchased the car in September 2016 from Portland, Oregon with 107,XXX miles. This car was originally sold new in Hawaii. I am selling because I am looking to consolidate some of my cars into just three cars. I collect modern classics and this car is sharing a garage space with my three aircooled 911s, and a 97′ Mercedes-Benz S500 Coupe, hence the low miles since I owned it. This car has never been wrecked, stolen, and has clean title.

Maintenance and Repair
After I purchased the car, I had it dropped off at German Car Service, a Mercedes-Benz specialist in Salt Lake City. The reason why I chose this shop was because Melvin, the owner/lead mechanic is a long-term 16V Cosworth owner and knows them very well. I asked the shop to completely overhaul the fuel system, which is a weak point on Mercedes' of that era. I approached this with the mentality of keeping this car for a very long time and wanted everything to be perfect or very close to it.

Here is what was done to the car since I took ownership:
– Fuel system rebuild (injectors, spark plugs, wires, fuel pump, fuel filter, ignition coil, etc) $1,433
– Fuel Distributor rebuild $595
– New tires on all corners $850
– Clutch slave and master cylinder $360

Exterior
The car had a very high quality oem-like repaint in the same factory color. There are no faded area/run off anywhere on the body. All of the body panels are straight, true and never damaged. The only issue I noticed was a cracked paint on the rear spoiler.

Interior
The black leather interior is not perfect but is still very presentable. There are three minor cracks on the dashboard and driver's ac vent. There are also tears on the upper portion of the rear seats (common among 16V). The driver's and passenger's front seats are free from tear. The sunroof does not work. AC has been converted by Mercedes dealership to R134, but it currently only blows hot air. Power Windows works, Power Seats works, Power Door Mirror works.

Mechanical
The car runs well and starts right up. Temperature is consistently at 85 Celsius at the hottest even in summer stop and go traffic. Recently, idle became slightly higher than normal at 1100 rpm, but I have not had it looked at yet. It still runs very smooth and the clutch and gear engagement are silky without any synchro issue.

Modifications
The Self Leveling Suspension has been deleted and it is slightly lowered at -1 inch for more aggressive looks. The car is also running 16X8 190E Evo 1 wheels with Mercedes Laurel center caps. The wheels are in perfect shape with no curb rash on all corners. Tires are new with less than 2000 miles them. Spotless Bosch OEM glass Euro headlights have been installed to replace the US market sealed beams. Muffler has been replaced with Magnaflow.

Please do not hesitate to let me know if you have any questions. Clean title on hand.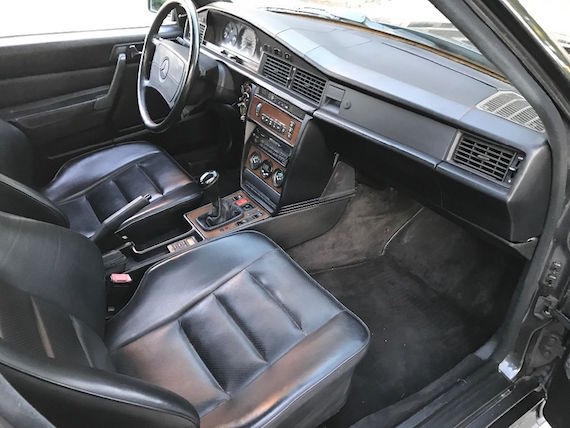 This particular example checks all the right boxes. It presents very nicely with a neat-looking exterior in Pearl Black, a black leather interior that seems (mostly) to have stood the test of time pretty well, and that all important manual gearbox with its infamous dogleg configuration, putting first down and to the left. The car is said to be in immaculate condition and looks remarkably clean in the photos, having benefitted from a respray in the recent past. Some recent work has been performed to the finicky KE-Jetronic fuel system and the car has new tires.
The Euro-spec headlights, slightly lower than stock ride height (courtesy of an SLS delete) and 16″ wheels give the car an even more aggressive look, making for a very attractive package overall. Sadly, the A/C system is not functioning  – potential buyer's will want to budget around $1,500 for the repair (that seems to be the standard cost of an A/C overhaul on a Mercedes of this era – ask me how I know).
With relatively modest miles (109k), I expect this will sell in the $15k region.
– Craig