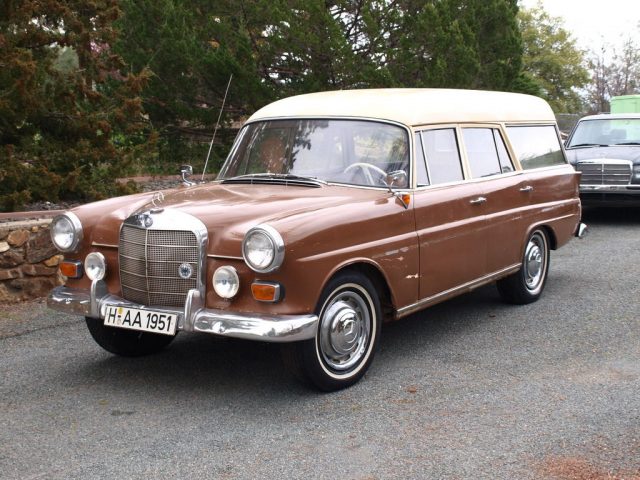 Continuing on my run of custom coachwork-built cars, this one might be one of the most practical and something that is actually has a mass appeal, as opposed to something like a hearse. Today's vehicle is a 1963 Mercedes-Benz 190Dc Kombiwagen, a custom conversion by Binz Karosserie off of the W110 Fintail chassis. Surprisingly, this unique wagon resides in California where it awaits a restoration and a chance at many more miles of utility. Of course, I have to ask, is the time and effort worth it?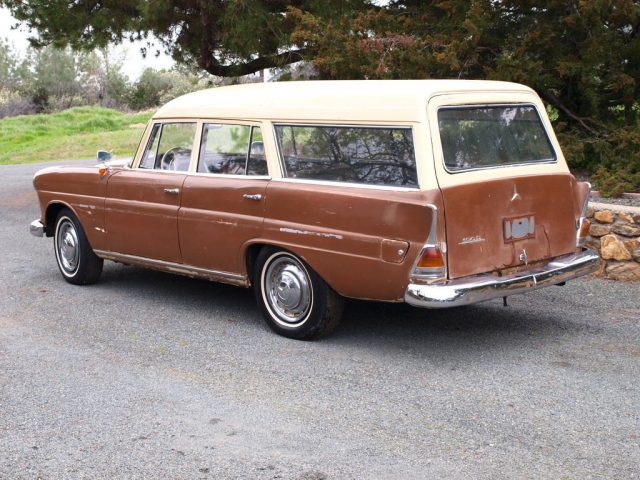 Year: 1963
Model: 190Dc Kombiwagen
Engine: 2.0 inline-4 cylinder
Transmission: 4-speed manual
Mileage: 226,000
Price: Buy It Now $10,000
1963 Mercedes-Benz 190Dc Binz Coachbuilt Fintail Station Wagon

Kombiwagen

VIN# 11010110071379

Binz Karosserie Nr. 2096

And now for something completely different….

Up for offer is a running, driving and solid example of an extremely rare Mercedes-Benz 190Dc Kombiwagen built by German coachbuilder Binz & Co Karosseriefabrik. There are less than 15 surviving examples of the Binz kombiwagen (non-ambulance) version w110 fintail "heckflosse" known to exist in the world today.

Binz Karosserie in Lorch/Wurttemberg Germany has been working with Mercedes-Benz building custom variants of different models over the past 80 years. These models include ambulances, hearses, taxis, and the rarest of the rare, special ordered kombiwagens (station wagon) models built for private use as seen here. Other coachbuilders of the period included Miesen of Germany and IMA of Belgium, whose "universal" wagons are well known as over two thousand examples were built using several variations of the w110 chassis. Binz Karosserie was known for their quality build and high top roof design. The kombiwagen version seen here is actually the lowest of the different roof configurations offered by Binz for this series.

Image result for small mercedes logo

This Mercedes 190Dc Binz Kombiwagen has spent most of it's life in California, so the rust issues are less than normal in the scope of fintails. After inspecting the car, the only "problem areas" discovered were minimal and in three spots; a 3" area at the front section of the LH rocker, a 1" area at the front of the RH rocker, and a small soft spot in the LH rear floorboard center. Aside from surface scale throughout the body from failing paint, the car appears to be actually very solid and complete. Door bottoms are very good along with frame and suspension mounts. Cargo area floor, body panels, wheel arches etc. all appear solid – all jack points are solid as well. Engine compartment is solid around battery and master brake cylinder. Spare tire well is clean with only some surface scale. The original Binz hand fabricated roof is solid and straight with no rust holes. Although the car still presents itself well, the paint has failed in multiple areas and there is some surface rusting (scale) throughout as seen in pictures. Portions of the roof have been treated and re-coated. Rear tailgate opens and stays upright with no problems. Tailgate had some body filler which has cracked in multiple spots. Tailgate appears solid with no problem areas around window seal or bottom lip. Tailgate retains Binz Nr. 2096 stamp at bottom left. Minor crease in passenger front door. All chrome and brightwork is uniformly aged, and all looks to be 100% original. Excellent panel fit and door gaps. Excellent door closure. All door handles function properly. Hood opens and latches closed properly.

The car fortuitously retains its factory fitted set of five w186 "Adenauer" 15" wheels as ordered and 4 hubcaps. The 75 series whitewall tires look to have low miles and hold air, but are over 10 years old and should be replaced. Remnants of possible dealer installed "Kuhlmeister" air conditioner are present (condenser and receiver dryer). Vintage Hella driving lights in good condition. Original Becker Europa TG radio is present but non functional. Original fender mounted Hirschmann manual antenna. Original VDO dash clock is present and non-functional, but still shows the correct time twice daily, a true testament to German engineering. The period "Allgemeiner Deutscher Automobil Club" ADAC grille badge proudly displays a half century worth of patina.

Seats are in good condition with no tears. Upholstery appears to have been originally red MB vinyl, but at some point have been professionally re-dyed brown. Springs and padding are intact and have retained integrity. Carpet appears to be aftermarket and is faded but presentable. Door panels have been recovered and are intact, but cards have some warping from moisture and age. Dash pad is heavily cracked from the California sun and will require replacement. Missing LH rear door panel topper. Windshield is replacement with no pitting. All other glass is excellent original Sekurit, aside from RH front vent window which is cracked as seen in pictures.

Comes with 3 large bins of extra parts. Mechanical, interior and exterior trim pieces are included.

Documentation included with the sale includes owners manual, MB dealer parts receipts, a reprint of the original Binz w110 brochure, historical photographs, spec sheets, production figures and the original Mercedes-Benz build sheet for this car.

Little is known of the history of this car, but receipts indicate that the car lived in British Columbia before being relocated to Sacramento, California in the early 1980's with the same owner. Receipts also show that the car received a restoration at that time with new paint in a handsome two-tone brown and almond paint scheme, and some interior work including new headliner, door panels, and carpet. The repaint quality looks to have been very good, but after 35 years is tired and will benefit from a complete repaint. The car had been in storage since 2010, when it's last owner passed away. 5-digit odometer reads 26xxx which is most likely 226k miles.

Mechanically the car is sound and has just been serviced. It starts, drives and stops. The 4 cylinder OM621 naturally aspirated diesel engine starts up and runs well, both hot and cold, and the engine appears to be very healthy with no oil leaks. Exhaust smoke is minimal and as expected for this era diesel engine and there is no indication of any serious mechanical flaws. Engine operates at normal temperature and shuts off properly with vacuum switch. Gearbox shifts smoothly in all gears, clutch engages properly. All mechanical aspects of this car look very original and unmodified. Recent work done includes;

Oil Change and Filter (DELO 15w40)

Valve Adjustment + new valve cover gasket set.

New Motor Mounts

New clutch master cylinder and hydraulic fluid flush.

Brake fluid flush.

Cleaned cooling system and new coolant + all hoses.

New fan belt.

New gearbox linkage shift bushings.

New soft fuel lines + filters.

The car is part of a warehoused private collection and stored serviceable with a California "non-op" registration status with no back fees due. It is started and driven short distances on my property regularly. I cannot certify it as a "reliable daily driver" as I have never taken it on a long trip. I'd recommend new buyer to transport the car to it's new home.

Sold as-is with a clear California title in my name. This car is an ideal candidate for a full restoration.

Please feel free to contact me with any questions. While I have made every attempt to represent this car to the best of my knowledge, I still encourage potential buyers to inspect the car prior to purchase.

Car is located in Auburn, Ca. About 30 mins east of Sacramento just off I-80.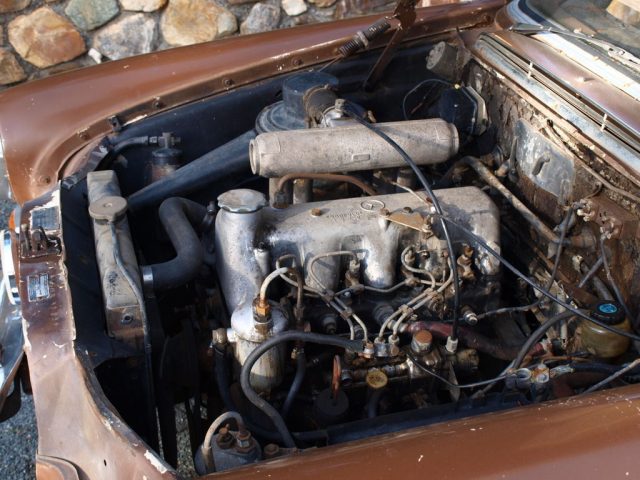 First off, props to the seller for thoroughly explaining this car and all that it entails. This is a unique vehicle with an interesting history and everything is laid our perfectly as to what you are signing up for in terms of condition. This W110 needs some help in the cosmetics department both inside and out, but by the looks of it rust doesn't seem to be a major problem. You are dealing with the typical dents, dings, scuffs, scratches and fading variety on the exterior while the interior needs some serious work on the dash as well as the door cards and headliner. One thing I love about this car is that it has the 15 inch wheels from the Adenauer that most Mercedes people (myself included) would die for to get for their classic Mercedes. That extra inch makes all the difference over the standard 14 inch wheels that were standard for decades. The hatch area has a surprisingly large amount of usable space for not being a large car and the over 220,000 miles this Fintail shows proves that it was not afraid to be used.
The price on this odd-ball is $10,000 and in my opinion, that is totally fair. The real dilemma is what to do after you pay that $10,000. If you were undertake even a small restoration, you are probably looking at close to another $10,000 which probably doesn't make this a $20,000 car despite the simple math principles. For a long time, $10,000 would buy you a nice 190Dc all day so sinking a ton of money into this doesn't make a whole lot of sense. If I were buying this wagon, I'd make sure everything was stable and continue to drive it as-is. I think the beauty of this car is that is was a workhorse for a long time and it shows. The OM621 will keep on chugging (very slowly) as long as you take care of it and I see no reason not to do so. This is one of those vehicles where scars don't hurt the appeal one bit and I say continue to do so.
– Andrew