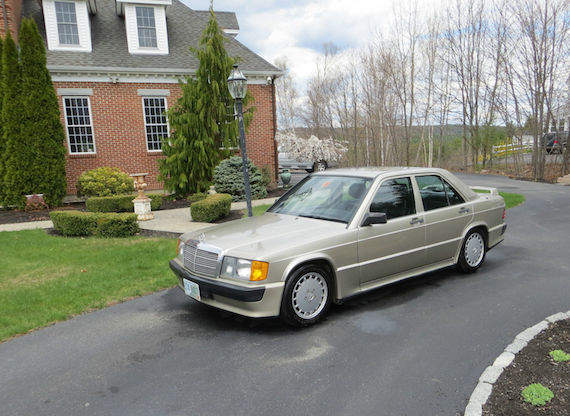 Our friends over at BlythBros. featured a piece last week regarding a road trip they took in their own Mercedes-Benz 190E 2.3-16 on a road trip to Canada. Ever the most resourceful enthusiasts, they packed their tools along with their bags and set off to visit our northern neighbors in this Cosworth legend. What struck me is how reliable and well suited it was for such a trip, considering its age. It really is a testament to how well made these cars were. If you are seeking to make some road trip memories of your own, this 190E 2.3-16 for sale in New Hampshire is worth a look. It has passed through three owners and has seen light usage, clocking only 55k miles over almost 30 years.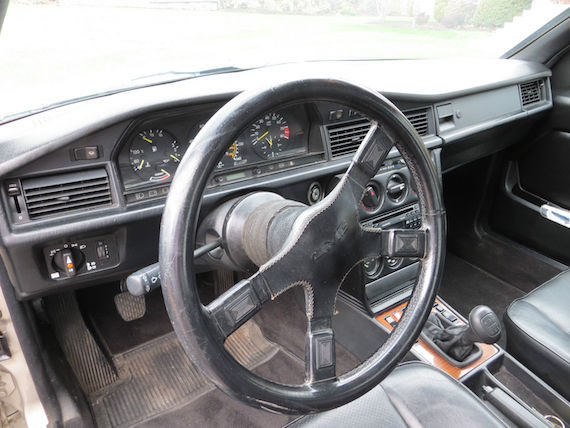 Year: 1986
Model: 190E 2.3-16
Engine: 2.3 liter inline-4
Transmission: 5-speed manual
Mileage: 55,700 mi
Price: No reserve auction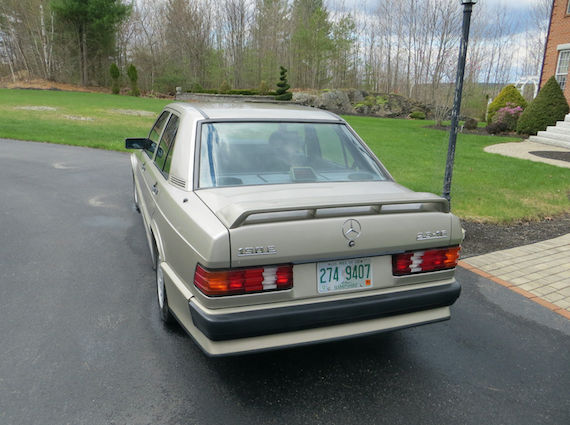 This is the one, what a dream boat! Beautiful and fast Mercedes 190e 2.3-16. 16 valve Mercedes Cosworth from 1986. I am the 3rd owner, have owned it for the past 12 years and it has only 55k original miles. I bought it from the 2nd owner in 2002 and drove it more often when I first bought it but now only drive it once a month on nice days. No winters, only the occasional sunny day. Garage kept. It was a third car so I just enjoyed it here and there. It's fast and runs like a top!

A little history about this car: It's a 1986 and was imported brand new to the US in December of 1985. My paperwork from the DOT says it arrived in the US on 12/28/85. I bought it from the 2nd owner. It was the wife's car, she was a stay at home mom, and didn't use it much. When I bought it, she had a baby's car seat in the back! It is European with the faster engine and it shows. It has more horsepower and it's a blast to drive. I have a ton of paperwork with it. Service records from the past 15 years for tune-ups, etc for around $6,000. A lot of service was done at Mercedes of White Plains in NY.

Condition: Great! I'd say it is an 8 out of 10. It's fast and runs like a top. It has a 5 speed transmission, the dogleg transmission. The exterior is probably an 8. It's all original paint, etc., but it has a couple chips and a couple scratches. There is no rust and the car is extremely good but not perfect. There are some buff swirls on the rear spoiler. The very bottom part of the side skirts have a couple spots where the black is worn off. That's about it. The wheels are mint, the spare wheel is mint. They are the original factory wide wheels. The tires only have a couple thousand miles and the spare tire has never been used. The interior is also about an 8. It is excellent but not perfect. The leather seats are extremely good but there are a couple of tiny wear spots, no rips or anything. One of the rear seat belt buckles is broken but works fine. The window molding on the back two doors are coming up a little. The display isn't working on the stop watch in the dash. That's about it. The rest is just about in excellent condition. I believe the A/C needs a freon charge. The radio and rear speakers were updated in the early 2000s but I have the original beckers radio if you want it. I forgot to picture it. All gauges work great. Dash is nice. It has an AMG steering wheel which was on it when it was imported to the US. It has the original manuals and tools. No leaks.

I bought the car because it was in excellent shape with very few miles. I did a carfax when I purchased it in 2002 and I still have it. It's clean with no issues. I can provide a copy if you email me. The car is extremely nice. I have the NY state title. I'm not a mechanic so I don't know all the technical stuff but please email me with questions and I'll try to answer them as best as I can. This is a beauty!!! And there is no reserve so the highest bid wins! The car is located in Amherst, NH. Feel free to email if you want to see it/test drive it.

Again, please email me with any questions. I'll try to answer them as best I can and can take more pictures upon request. Thank! I've never had it professionally waxed or detailed. I'm sure it would look fantastic if it was.

The vin is WDB2010341F175434. I posted pictures of the clean Carfax. I also have a copy of the carfax from 2002.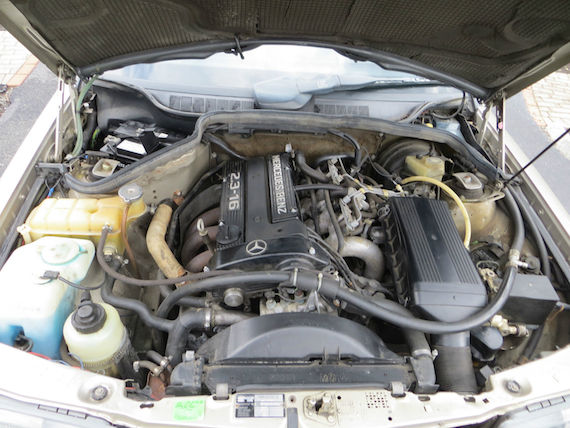 The BlythBros. story got me thinking that the 190E Cossie version is perhaps not just for the odd track day. These can be capable road trip cars if called upon. While they are derided for being slow or not quite as good as their contemporary, the E30 BMW M3, these homologation specials are worth snapping up while they are attainable. A car such as this that needs a bit of work but nothing too extensive should bring in the region of $10,000 to $15,000. At no reserve, this will be a prime car to watch to see where values are currently settling.
-Paul