The 2.3-16 is more than just a W201 in a fancy bodykit. Developed by Mercedes-Benz to go rallying, it was redeployed in the DTM instead when it became clear that it stood no chance against the Audi Quattro. Powered by a willing four cylinder, 16v motor with a head provided by British racing firm Cosworth, it has nonetheless struggled to move out from underneath the shadow of the E30 M3. While the M3 has now attained legendary status amongst enthusiasts, with eye-watering prices to match, the 190E has rather languished. True, it's not quite as fun or as fast as the M3 (especially in US specification). It's not that fast at all, in fact: many modern day, entry level cars will pull away from it quite easily. Still, these 190E Cosworths are great  because they retain all of the admirable qualities of the W201 (a confidence inspiring, over-engineered chassis, indestructible build quality) while dialing up the fun.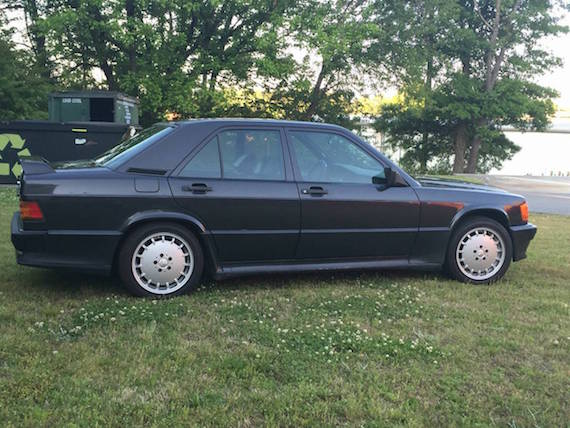 Year: 1986
Model: 190E 2.3-16
Engine: 2.3 liter inline-4
Transmission: 5-speed manual
Mileage: 153,000 mi
Price: $16,500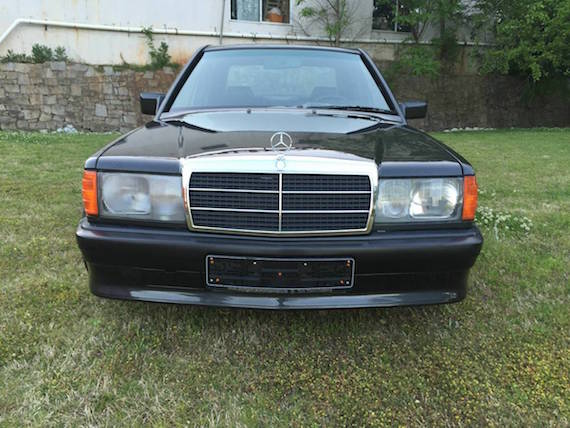 This is a great example of a well maintained and preserved 2.3-16. I have owned the car for about a year which it has served as a fun car/daily driver. The interior is well preserved and includes a few Euro model upgrades such as driver's knee bolster, auxiliary gauge panel (black) and Euro 7k rpm tach. The radio is an Alpine unit and supports Aux in function.

Everything functions as it should including power door locks, Air Conditioning (still R12), cruise control, power windows, power seats and mirrors. The sunroof however DOES NOT work and did not when I purchased the car, it was diagnosed as needing a motor as it can be moved manually. Seats, carpet and mats are all clean and stain free. The dash is crack and warp free. The headliner is free of tears and staining, map and overhead lamps work as they should as well. Door panels are all warp free except for the driver's which I have attempted to reglue with no luck. Wood paneling is all in good shape and included is a NOS piece for the upper climate control. The shift boot was replaced with a genuine Mercedes NOS piece.

The suspension received an overhaul a year ago. This included new Bilstein front struts, top mounts and bump stops, new steering linkage, new 500e front lower control arm assemblies, new rear subframe bushings, genuine Mercedes self leveling rear shocks and accumulators as well as self leveling adjustment linkage and rear knuckle bearings. When I purchased the car it had been lowered on H&R springs. These were not to my liking so I replaced them with a set of new genuine Mercedes 16v springs. The ride as you would expect is sporty but comfortable. Brakes were replaced at all four corners with genuine Mercedes pads and rotors a year ago.

A major service was performed @ 142,750 miles which included oil and filter, air filter, fuel filter, original Bosch copper plugs, trans fluid (Mercedes), diff fluid (Mercedes LSD), brake fluid flush, coolant flush, power steering filter/fluid and valve adjustment. The clutch was replaced by the previous owner at 140,000 miles and it works very well. At this time the shifter bushings were also replaced/upgraded with Delrin pieces for a more direct feel over the sloppy factory shifter. I have also replaced a few of the common engine electrical connectors that tend to degrade with time with new Mercedes connector housings. The over voltage relay has also been replaced proactively.

The body is straight but does have a few cosmetic blemishes. There is one ding on the passenger rear door and it is the size of a nickel and not very deep. The other flaws are scratches that are on par with a daily driver. The spoiler has the common cracked paint but the third brake light DOES work unlike most. Paint is starting to fade on the trunk. I will also include a spare set of side skirts, body cladding and spoiler that I rescued from another 16v. To be clear the paint shows well but DO NOT expect concours quality.

The car remains stock with the following exceptions which I have performed. Headlights are Bosch Euro pieces along with amber corner lamps. Wheels are 16 R129 wheels and the car comes with a full set of 5. Tires are 225/45/16 Dunlop star specs. The original and functioning catalytic converter was replaced with a Stromung high flow downpipe and 50 state legal cat converter. Sound is stock as it runs into a stock exhaust which was also replaced with a new genuine Mercedes exhaust at the same time. However, the factory converter assembly is included in the sale. At 148,000 miles I installed a set of CAT CAMS sport camshafts, valve springs and followers. At the same time the timing chain and tensioner were also replaced/upgraded with genuine Mercedes parts. The cams give a nice power increase with no sacrifice to idle quality or drivability. If I had to guess I would say the car now makes the same power as it's Euro counterpart or an E30 M3. A recent compression test was performed and all cylinders were at least 180 psi.

Again this is a fun and well sorted daily driver that has received a lot of care when needed. It was originally a northwest car so it has NO rust and that even includes around the jack pads where it is most common. If you are looking for a perfect concours car this is not it but if you want a car that is well taken care of and that you can enjoy instead of parking in a museum then this is a great choice. Car comes with a parts horde I would say 5K in OEM and NOS parts NLA Spark plugs Valve shim kit, extra spoiler ceramic coated header powder coated subframe lowering springs the list goes on and on. 3 sets of wheels R129 on car Stock 16v wheels with new tires and a set of TSW wheels with high performance track tires. Very extensive records folders with all services and receipts going back the the 90's. Not interested in trades unless it is a PORSCHE Lotus ,G Wagon or Series Land Rover, would consider trade up or down.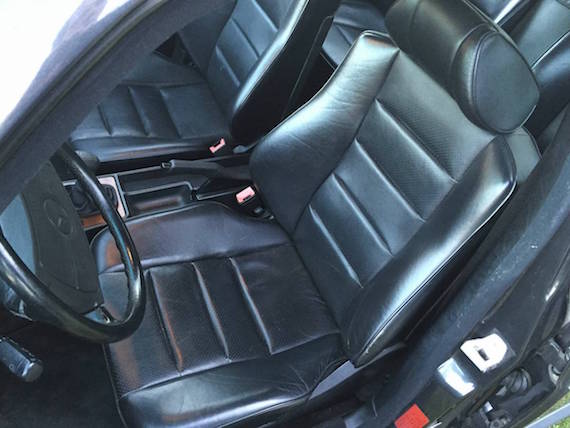 Cosworths that show up on Craigslist are often basketcases. So it's refreshing to find one that has clearly been well cared for by an enthusiast who knows what he is talking about.
Finished in Pearl-black over black leather, this '86 example with a manual gearbox looks extremely tidy. The exterior is very presentable and set off nicely by some subtle upgrades: Euro spec headlights and corner lamps (a darker amber than US-spec turn signals) and 16″ wheels from the R129, which look identical to the 15″ "manhole cover" rims supplied on these as stock. These wheels are wearing 225/45/16 tires – the correct size for this application, but hard to come by. That's a sign of a fastidious owner.
The seller says there are some cosmetic blemishes to be expected of a daily-driver quality car, mostly some scratches and fading paint. Still, the car presents nicely in the pictures. The interior looks remarkably clean and free of most of the major defects you commonly see with these, like cracked dashes and worn seats. The sunroof does not work, but everything else apparently does.
The seller lists a fairly extensive amount of maintenance work undertaken on most of the major systems on the car, including work to the suspension, exhaust, motor and gearbox. This is reassuring since the Cosworths can be a bit finicky and require work to keep them in tip top shape. The $16,500 price tag is high given the odometer shows 155k miles, but isn't too outrageous once you factor in the maintenance work and extra parts that the seller is willing to throw in with the sale.
– Craig