One of my automotive guilty pleasures is a base spec version of any particular model of vehicle. I find something appealing about a vehicle in its purest form with minimal frills. Such is the case with this Mercedes-Benz 260SE for sale in Germany. The lowest form of W126 S Class the US received at the time was the 300SE, with a larger version of the M103 inline-6 that we see here. But while our cars came with everything from automatic gearboxes and climate control, this S class is equipped with cloth seats, hubcaps and a 5-speed manual gearbox. Seems out of place in a large luxury sedan such as this, but for some who lament the decline of three pedal cars, it makes this über cool.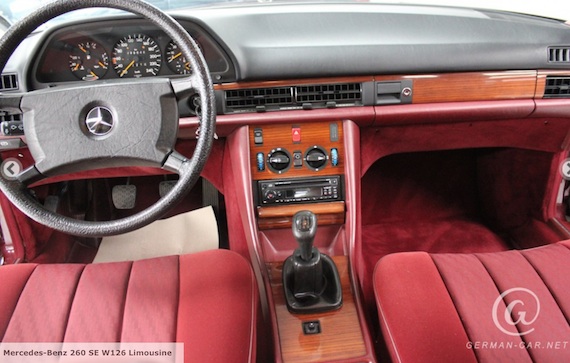 Year: 1986
Model: 260SE
Engine: 2.6 liter inline-6
Transmission: 5-speed manual
Mileage: 99,500 km (~ 61,826 mi)
Price: €8,900 (~ $12,103 USD)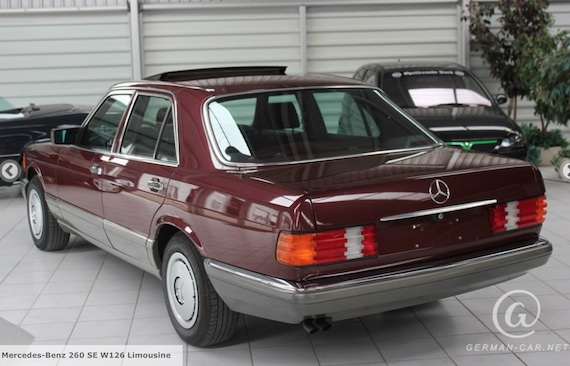 This beautiful and very original 260 SE classic S-Class Mercedes-Benz presents itself very unique and due to its low option list and rare color combination in red over red it shows character of its own. The milage is now 99.500 KM and the options are:

260 SE Limousine
Paintwork: 587 Pajettrot – Metallic
Upholstery: 077 Fabric medium red
470 Anti-lock braking system ( ABS )
400 Folding armrest in the rear
240 LED daytime running lamps
451 Speedometer
876 Interior light package
428 Steering-wheel with gearshift keys
875 Windshield washer heated
412 Panoramic glass roof with MAGIC SKY CONTROL
590 Heat-absorbing glass, wrap around
466 Central locking system
260 Debadge name of model

service done at

Auslieferungsinspektion 26,06,1986

1403 km

5376 km

31610 km

47610 km

65000 km

95264 km

96134 km

All work done exclusively by Mercedes Benz in Koblenz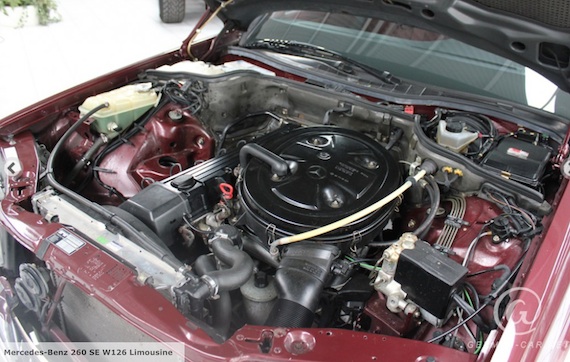 The matching interior and exterior colors on this 260SE are a bit much for my tastes. A more subtle gray cloth would probably help break things up a bit. Otherwise, I would leave this car as is. It's look is a neat alternative to the later, facelifted W126s we received here stateside. Given the mileage, the asking price for this one is not too far out of the realm of reason, considering W126 prices have been creeping up a bit over the past few years. The manual gearbox and base spec may hold this one back from fetching big dollars, but for certain enthusiasts like myself, someone may come along and be smitten.
-Paul