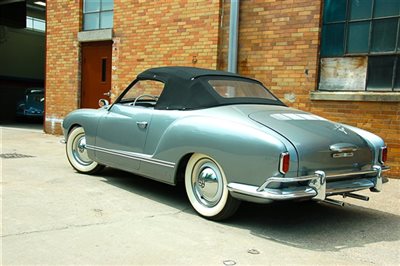 The car enthusiast community is a pretty fickle bunch; take a fairly slow, swoopy 1958 convertible with classic lines, just the right amount of chrome and enough charisma to make you smile. Put a Mercedes-Benz star on it and call it a 190SL, and it's a $150,000 – $200,000 car with a well-heeled following; put a Volkswagen badge on it and it's a $20,000 – $40,000 car with a cult following. But appreciation for the Karmann Ghia is growing, and these early "low light" early models are the most desirable. With a clean restoration and the right classic color combination, I'm left wondering why anyone would choose a 190SL over this: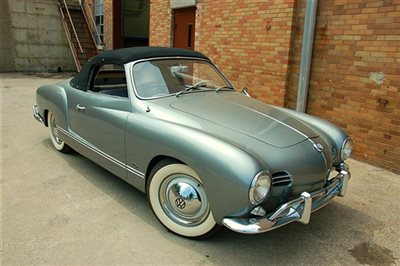 Year: 1958
Model: Karmann Ghia Convertible
Engine: 1.2 liter flat-4
Transmission: 4-speed manual
Mileage: "341" mi
Price: Reserve Auction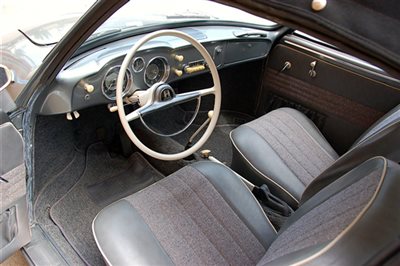 ***Due to the recent activity of fraudulent second chance offers on eBay, we strongly urge you call us at 914-217-4817 to verify any second chance offer.***

For more than a quarter of a century, Hunting Ridge Motors and Mark Starr have built a reputation as one of the country's premier new and pre-owned luxury and exotic automobile dealers. It began in 1980 when Mark began importing Mercedes Benz, Porsche, Ferrari and race cars from all over Europe, and has now expanded to include many other makes such as Land Rover, BMW, and Audi.

A proud and well respected member of the Lotus community, Hunting Ridge Motors has become one of the most respected performance car dealerships in the Northeast. The organization's reputation for providing quality vehicles and top- notch service is the reason why Hunting Ridge Motors continues to be at the forefront of the automotive enthusiast and collectors market.

You deserve only the best should not expect anything less. We promise to provide you with the best buying experience available. Feel free to call one of our sales associates with any questions. We are here to make your automotive dreams come true.

1958 VW Karmann Ghia Low Light Convertible. This is the first year of production for the Italian designed Ghia Convertible. The early " Low Light "versions are the ones to collect. The Karmann Ghia was the jewel in the VW lineup. Made in the Osnabrueck factory, body panels were welded and not bolted on. Panels were hand made and needless to say, the build quality was exceptional. This Diamond Grey Convertible has recently been restored to an extremely high standard using top notch materials throughout. All chrome has either been replaced or refinished, the interior has the correct materials for carpets, headliner and seating and the canvas soft top is also of very high quality. The car drives flawlessly and you'd be hard pressed to find a nicer example anywhere. We are firm believers that these rare Low Light Coupes and Convertibles are currently under valued and offer tremendous room for appreciation. Drive or show this stunning example and love every moment of ownership. It comes with a fully rebuilt drivetrain with a four speed manual transmission, original period correct AM radio and totally rust free body. It is priced to sell. Serious inquiries should be directed to Mark Starr @ 914 217-4817.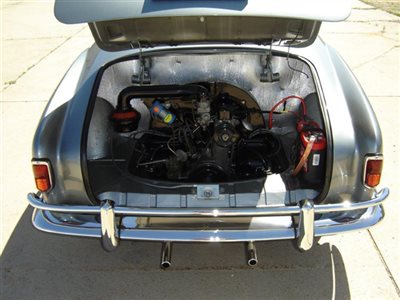 I really love how these early Ghias look; they're just downright pretty and well proportioned. With a recent restoration, the condition is absolutely top and that color combination is just perfect. The engine has been rebuilt, and this appears to be a no excuses Volkswagen – a hard thing to find, especially when talking about a nearly 60 year old one. For that luxury, you're likely to pay top dollar; Hagerty places top value on the early Ghias at around $40,000, and I'd expect this car's reserve is close to that. That's a lot of money for a Volkswagen, but in terms of classic appeal there isn't much that compares at this price point. A 190SL would be pushing $200,000 in this condition – aside from the prestige difference of the 3-pointed star, you'd be hard pressed to show why it's worth 5 times what the Ghia is.
-Carter