It's rare that you see a Mercedes-Benz 300E with the 5-speed manual gearbox (a short-lived option in the US market). We saw this W124 back in July and it's up for sale again, with a few hundred more miles on the clock. If a 500E is a little to rich for your blood but you prefer to row your own gears, this E-class could sate your appetite.
The below post originally appeared on our site July 23, 2015:
The W124 Mercedes-Benz E-class had big shoes to fill when it debuted for the 1986 model year. After all, it was taking over the mid-sized mantle from one of the most legendary and durable Mercedes models of all time, the W123. The W124 became an icon in its own right, expanding the lineup into product niches the W123 never touched, such as a four-place cabriolet and a wicked fast super saloon, the Porsche built 500E/E500. When the W124 first arrived in the US, it could be optioned with a 5-speed manual gearbox, as we see with this 300E here for sale in Florida. The option would be pulled in short order, as there were few takers for an E-class without an automatic gearbox.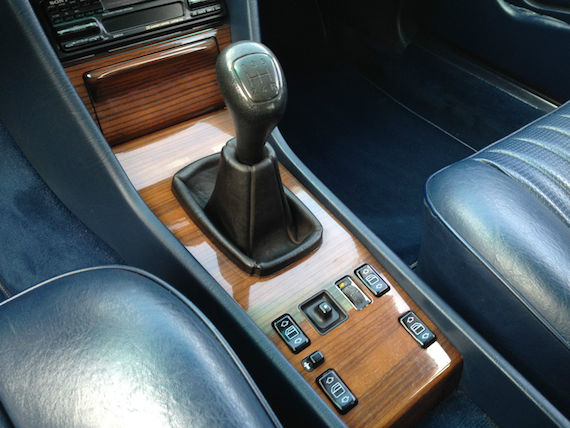 Year: 1986
Model: 300E
Engine: 3.0 liter inline-6
Transmission: 5-speed manual
Mileage: 95,200 mi
Price: $8,495 Buy It Now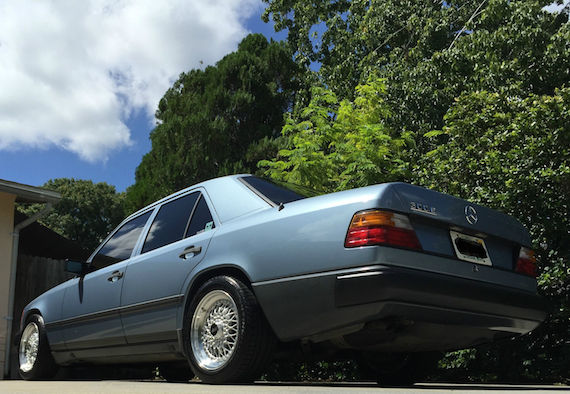 This is my Blue on blue 300E. It is a rare factory 5 speed manual transmission car. Very few imported into the USA. Under 100K original miles. Cold A/C, runs and drives great. No problem driving this car anywhere.

Recently (under 500 miles ago) re-did the suspension with BRAND NEW factory Mercedes OEM parts (have around $2k in receipts from Mercedes). The only thing not factory is the springs, shocks and wheels. In the front end we did all new H&R springs (lowers car 1.5″), Bilstein Sport shocks, spring pads, shock mounts, shock dust cover rubber boots, upgraded to largest front sway bar avail. from a W124 limousine (imported from Mercedes parts Germany), new front sway bar bushings (inner and outer), and last but not least upgraded to the new updated thicker sway bar brackets.

In the rear end, everything was done including H&R springs, Bilstein Sport shocks, spring pads, upgraded to largest rear sway bar avail. from a 500E, rear sway bar bushings, upgraded metal sway bar links from W124 wagon (sedans use plastic links) , new differential bushings, wheel carrier bushings, control arm bushings, sub frame bushings ( upgraded to Sportline). We also did new torque arms, camber arms, thrust arms, and tie rod kit. To top off the suspension and handling of this car, we added the widest possible wheel/tire combo with a set of very rare and hard to source 16×8 BBS RS wheels imported new from Germany. The BBS wheels are wrapped in brand new Continental DW tires (205/55/16 fronts, 225/50/16 rears) ordered from TireRack ($2500 in wheels/tires).

We did the Euro headlight conversion using the factory Mercedes/Bosch parts including the headlamps and darker factory euro amber corners. The bulbs we used are German Osram "Night Breakers" both in the H4 headlights and the H3 fog lights. This set up is a great improvement over the factory US headlamps both in looks and illumination. We also chose to do the headlamp wiper delete using factory Mercedes delete panels painted to match the car. We installed new factory front and rear bumper impact strips to clean up the look of the bumpers. The car was tinted with Llumar 80% tint all the way around including windshield. Also did synthetic oil change, Mobil 1 tranny and differential fluid change. I only run ethanol free gas in my old cars including this one. I have all receipts along with all of the original parts and will include if wanted. Parts such as factory 15″ wheels/tires, factory front and rear springs/shocks and sway bars. All is there if you wanted to return this car to its original set up. All manuals, tool kit, spare keys, first aid kit are included with the car.

The car is a blast to drive with the new suspension combined with the factory 5 speed. The M103 inline 6 cyl. engine is surprisingly peppy. It has no problem keeping up with modern day traffic. The car does have its typical 30 year old issues, mostly cosmetic. A few small cracks in the dash, some small door dings on the passengers side, nothing major. The rear passengers window doesn't open. Needs a hood pad. Has a aftermarket radio. All in all the build quality of this Benz is very apparent! Clean carfax, no accidents. I'm moving on to another old Benz project so this one needs to go.

Title in hand. Ready for delivery. Test drives welcome. Email to discuss payment options.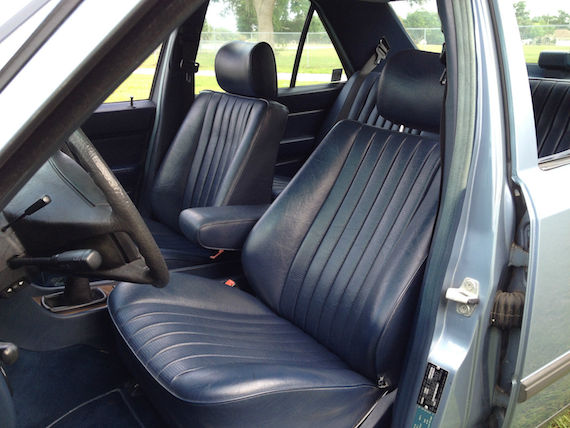 We've seen a handful of these manual equipped W124s appear over the last couple of years, but this is the nicest one I've seen yet. There's little to be addressed with this car, other than the dashboard cracks and a few blemishes, but for a car closing in on 100,000 miles, that is to be expected. With a starting bid of under $5,000, this car certainly will attract some bidders. These cars don't come up for sale too often, so those who have been waiting for one would be wise to get their bids in. If I was a betting man, I'd suspect this car will probably fetch somewhere in the $6,000 to $7,000 range, but if the right people come along, we may see higher than that.
-Paul