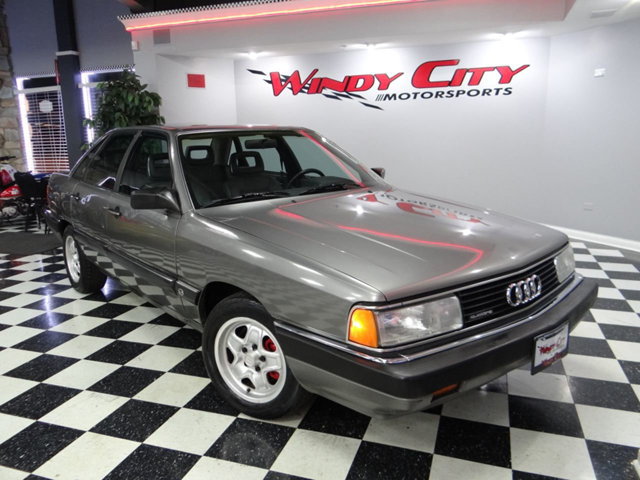 A sleek aerodynamic design, modern electronics, luxurious appointments, all-wheel drive and available small displacement turbocharged engine. This is the recipe that nearly every luxury automaker has taken on in the past few years, but in the 1980s there was only one available car in this configuration – the C3 Audi. Okay, it's taken the best part of 30 years for that blueprint to be the go-to design, and the market has changed in many ways since then, both from a buyers prospective and from the regulations that govern cars. But to say that the Audi Type 44 was an advanced car in its day was no leap – it really was about as technically sophisticated as cars got in the mid 1980s. Under the aerodynamic and efficient body lay a rally-bred drivetrain which was robust enough to carry the torch after the Group B cars had extinguished. Indeed, it was the Audi 200 quattro (5000CS quattro in the U.S.) which went on in 1987 to win Audi's next major rally – the Kenyan Safari Rally – where the luxury sedan went 1-2 with Hannu Mikkola and Walter Rohrl. Not satisfied, Audi then took the large sedan racing; first in 200 quattro form in the Trans-Am championship, then later in the modified D11 V8 quattro DTM car. It was an unconventional race car which was very successful – something Audi excelled at, historically. But nearly extinct are the road-worthy versions of the early 5000 quattro; the complicated pattern of electronics and hydraulics systems, originally its strength, being the downfall of many. Today I have the three rarely seen variants of the 5000 that were available in the mid 1980s; 5000CS quattro, 5000CS quattro Avant, and 5000S quattro. Which would you want to take home?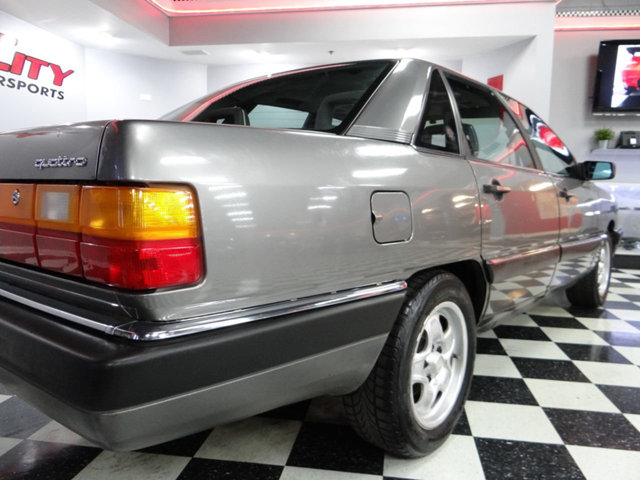 Year: 1988
Model: 5000CS quattro
Engine: 2.2 liter turbocharged inline-5
Transmission: 5-speed manual
Mileage: 158,000 mi
Price: $3,900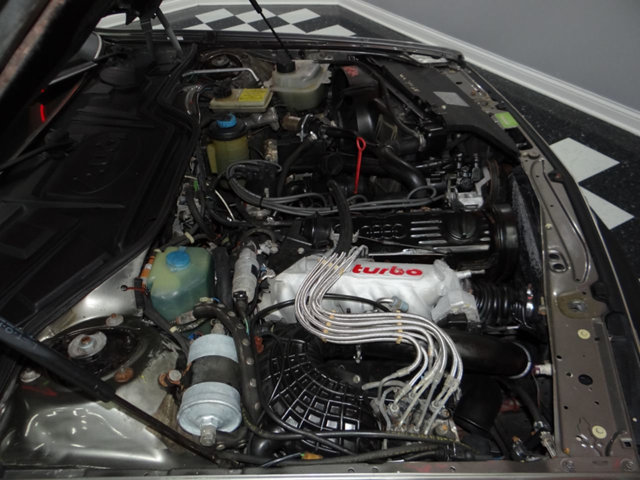 We at Windy City Motorsports are very pleased to offer for sale this hard to find 1988 Audi 5000 CS Quattro sport sedan.

***Legendary Quattro All Wheel Drive System

***5 Cylinder Turbocharged Powerplant

***Hard To Find 5-Speed Manual Transmission

***Heated Leather Seats

***Power Sunroof

***Panasonic Detachable Face CD Player W/Remote Control

***Enthusiast Owned & Very Well Maintained

***Fires Right Up & Runs & Drives Great

***Carfax Certified Vehicle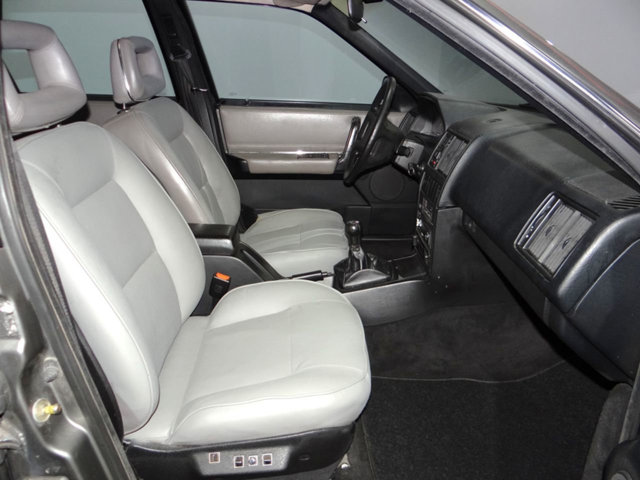 The 1988 models are instantly distinguishable because the badges changed that year to the new all-chrome layout from the flatter black/silver plastic of earlier models. That was really the only change along with a minor dash reconfiguration for 1988 models, which retained the MC1 turbocharged inline-5, manual differential locks and had the same body. Presented in Stone Grey Metallic, this car was optioned with the Fuchs-made forged 15×7 wheels, heated seats and leather interior. Condition overall is far above average, though there is some rust peeking through in the door trim area. It would appear that this car had a previous enthusiast as an owner, as there are several details like the accent painted engine, red calipers and SCCA sticker – none of which were stock, but the above average presentation would lead me to think it was previously well cared for. Out of place is the updated radio, and unfortunately the sticker price. $3,900 isn't much money for a 1980s anything in this condition, but low residuals still on the faster 200 20V or overall better C4 S4 models mean that for about the same amount you can get into a newer car. That's an unfortunate reality which I hope someone looks beyond to get into this neat sedan.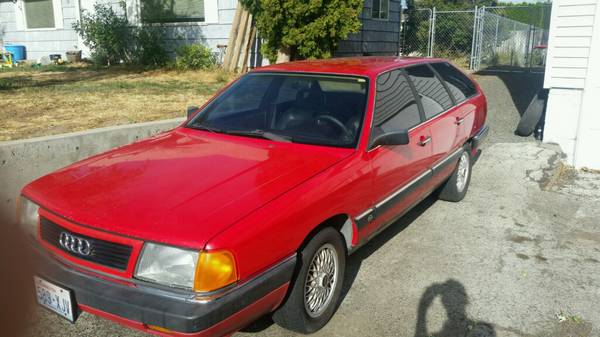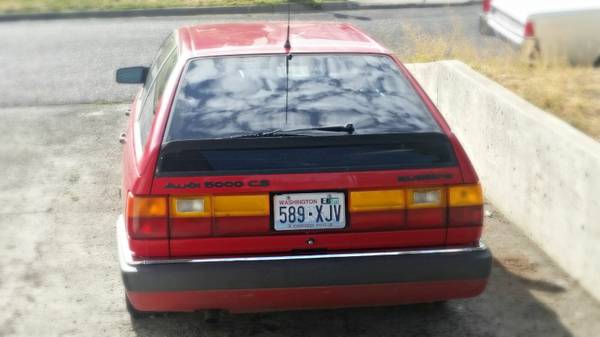 Year: 1987
Model: 5000CS quattro Avant
Engine: 2.2 liter turbocharged inline-5
Transmission: 5-speed manual
Mileage: Undisclosed
Price: $2,850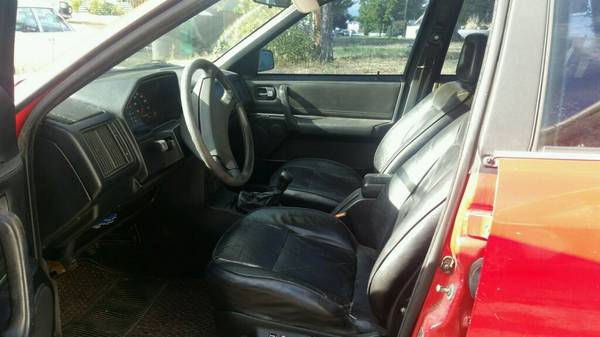 I'm selling my Extremely Rare 1987 Audi 5000 CS Quattro, Turbo AWD Station Wagon, Very few made. Low Miles and Loaded, Moon Roof, A/C, Power Steering, Power Windows, Power Seats, Power Brakes, A.M. F.M. Cassette, 5 Speed, Leather Interior. The ultimate station wagon, sporty fast and Red. Very nice car. needs minor brake work. Asking $2,850.00 or best offer, I may consider part trade.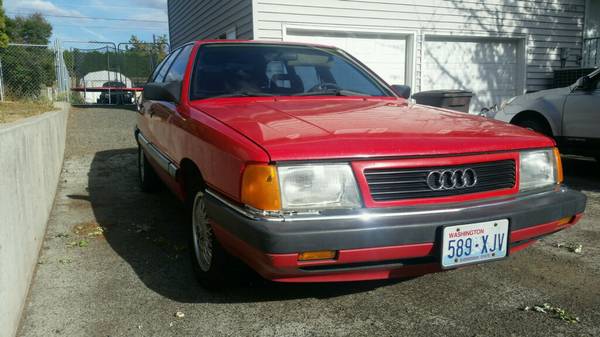 After the removal of the Quattro from the U.S. model range, in 1986 the 5000CS quattro Avant became the most expensive model offered. Underneath, the Avant shared the mechanical bits with its sedan brethren, but the slick fastback Avant was able to carry a much greater load and became the defacto ski resort transport for well-to-dos in the 1980s. This example is presented in Tornado Red with black leather and appears to be in overall good condition. The lights have been changed to European 100 models – visually a let down, but practically an upgrade. The grill is I believe from Kamei and while period correct isn't my favorite. The BBS wheels are from later 1989 – 1991 100/200 10V models, and are generally an upgrade as they're lighter than the "aero" wheels the car originally wore. It's interesting that this car doesn't have roof rails, as most did. Minor brake work can get expensive on these cars, as collapsing brake hoses and an increasingly large number of NLA parts means you'll do some hunting to sort it out, but this car is well priced for a 10V model.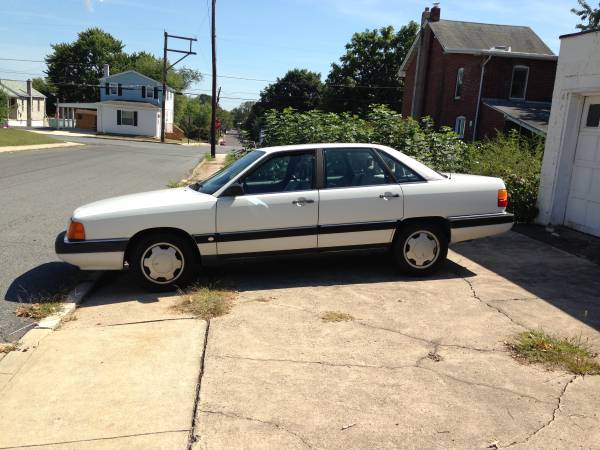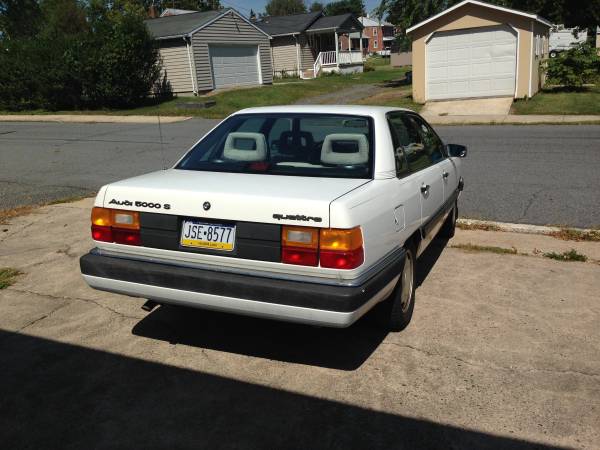 Year: 1987
Model: 5000S quattro
Engine: 2.3 liter inline-5
Transmission: 5-speed manual
Mileage: 78,000 mi
Price: $2,000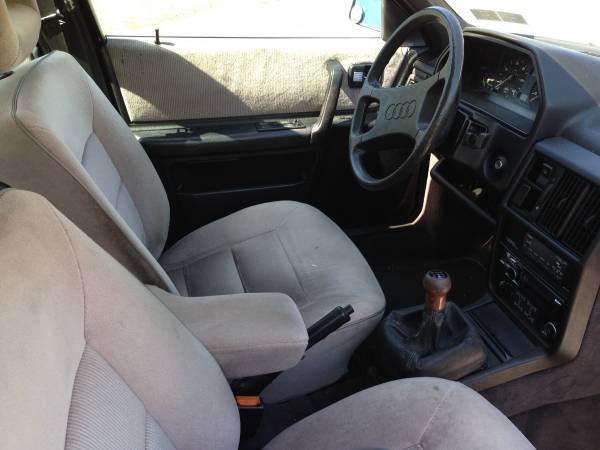 Low mileage 1987 Audi 5000 for sale. The body is in excellent condition with almost no rust whatsoever. The engine itself is strong, but the car does have some gremlins that need to be sorted out. It starts very rough in the cold weather, and it is quite temperamental until it is warm. It is the right car for someone with some knowledge about old CIS fuel injected engines and is willing to spend the time. The car is currently inspected and runs and drives. I am firm about the price. I would rather hold onto the car than take any less for it.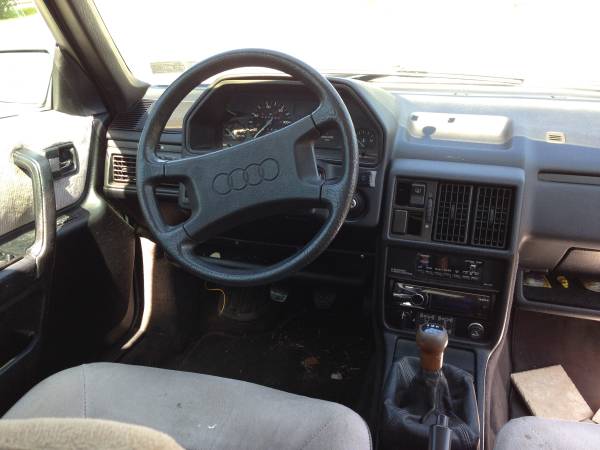 The lesser known and generally less exciting variant of the Type 44 quattro was the 5000S quattro. Introduced in 1987 as a lower entry price to the large executive all-wheel drive market, it featured the NG/NF 2.3 inline-5 found in the Special Build Coupe GT and all later non-turbo 10V Audis. That was good for 130 horsepower – most of what the turbo offered, though no one would accuse the S or its later replacement 100 quattro of being "fast". It was, though, a robust highway cruiser and they're still popular today for the simplicity of the non-turbo drivetrain. Presented in Alpine White with Quartz Grey Velour, this is the lowest mileage of the trio and looks to be overall in good condition minus the cold-start issues. For someone with some mechanical knowledge, that shouldn't present too much of a problem and at $2,000 you can't find one like this cheaper.
Having done the Avant route before with a 200 quattro Avant, I'd be most likely to look at the non-turbo 5000S as a winter driver. Sort the cold start valve and running condition, and this should be a sled which will get you through anything for the next decade in style and cheaply. Which would you choose?
-Carter