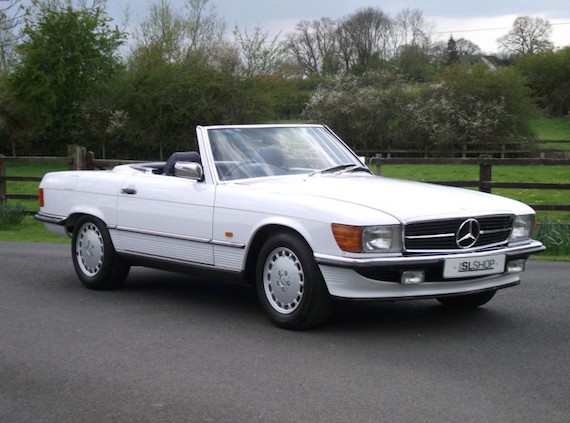 Even after all these years which I've been involved with GCFSB, a car will come across sometimes which I had no idea existed. Such is the case with this 1986 300SL with an AMG tuned 3.2 liter inline-6. First off, the 300SL is rare on US shores, as we only got the 560SL in our market from 1986 through 1989. Secondly, someone went to the trouble of optioning an R107 with an AMG engine and not much more to denote its bump in horsepower. The ultimate sleeper, then? You decide…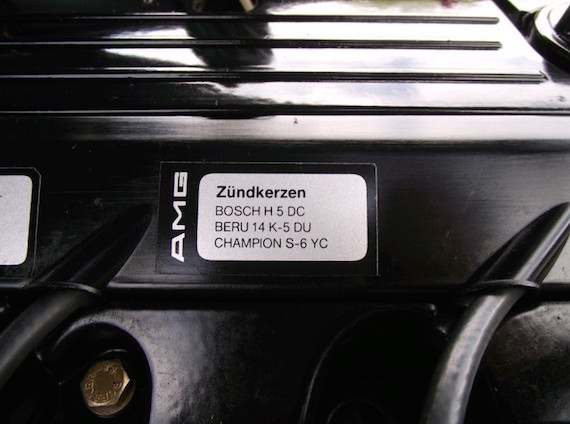 Year: 1986
Model: 300SL
Engine: 3.2 liter inline-6
Transmission: 4-speed automatic
Mileage: 40,000 mi
Price: £40,995 (~ $63,038 USD)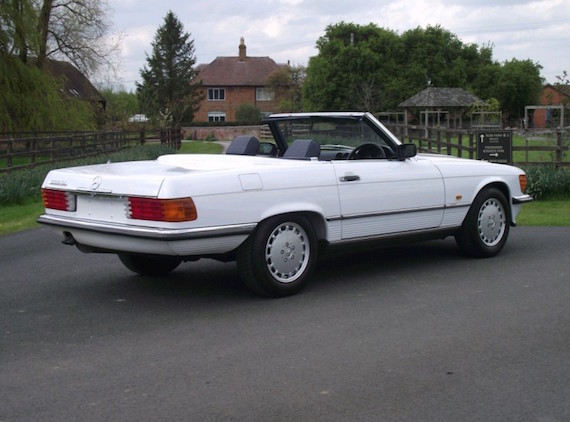 Ultra rare 3.2 litre AMG engine with 245 bhp |

3 Previous Owners | Cruise Control

4sp automatic transmission with Sport/Economy modes. Cruise Control ABS. 15 hole alloy wheels. Central locking. Electric windows. Heat insulating green glass. Graduated tinted windscreen. Front fog lamps. Power steering. Factory hard top, blue soft top.

This is a very, very rare motor car.

Manufactured in 1986 this is of course one of the last 107's with galvanised body, improved suspension and brakes and a 4 speed switchable automatic gearbox.

The first owner Mr Robertson added cruise control as a factory option when he ordered the car in the summer of 1986. Mr Robertson kept the car for 2 years and 13,000 miles having her serviced at the supplying dealer in Liverpool.

In May 1988 ownership passed to Mr L Skelton in Cheshire. And in June 1988 Strattons of Wilmslow, one of the only AMG approved Mercedes-Benz dealers were commissioned to fit the approved 3.2 AMG engine upgrade at an eye watering £9129.99 including VAT.

A complete file documenting Mr Skeltons options and final invoice accompanies the car. With hindsight it was a wise decision not to opt for the various aerodynamic body parts one could have had fitted at the time. I guess at the time his friends must have thought him bonkers to pay such a high price for a conversion and not shout about it through the fitment of an AMG body kit but here in 2012 we think it was an informed decision.

AMG took the engine from a 124 300 (M103) and fitted a "7 bearing crankshaft, light alloy pistons, optimised combustion chamber layout, polished inlet and exhaust valves, cross flowed the cylinder head and fitted a custom camshaft". Power rose from 188HP to 245HP. With a noticeable increase in torque the 0 – 60 time was reduced by 1 second and top speed rose to over 150 mph.

Mint low mileage 107's will come and go but we have never seen a 107 as special as this.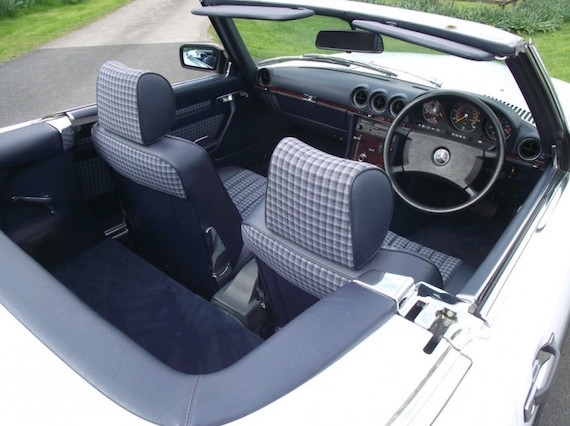 About the only thing that would have made this R107 tastier for me would be if it were equipped with – you guessed it – the 5-speed manual gearbox. Even still, the car looks great in white with the classic blue chequered cloth interior. At over $60,000, this is a very steep ask for a 300SL of this vintage, even considering the AMG lump under the hood. Back in April, we saw a similar white 1986 300SL approaching 100,000 miles sell for $16,500. Considering the rare engine option and lower mileage, this one should have no problem pulling twice that amount in the current market, but at over $60,000 USD, this will be a difficult sell. I have no doubt these SLs might bring these sums in the future, but we're not there just yet, at least for the six-cylinder variant.
-Paul