The 1970s and 1980s saw a lot of gray market Mercedes-Benzes come stateside. Many of these were high performance models, but more pedestrian models were also brought in as well. This was partly a result of the disparity in the Dollar to Deutschemark exchange rate.
The C126 SEC coupes produced from 1981 through 1991 came in two different flavors in the US. The earlier 380SEC and later 560SEC models. One of the rarest SECs sold outside of the US was the 420SEC, with the smaller M116 V8. A little over 3,600 were produced in a six year time span, and few, if any, made their way to the US. Clean, low mileage SEC coupes are becoming rare these days, so this particular coupe is quite unique.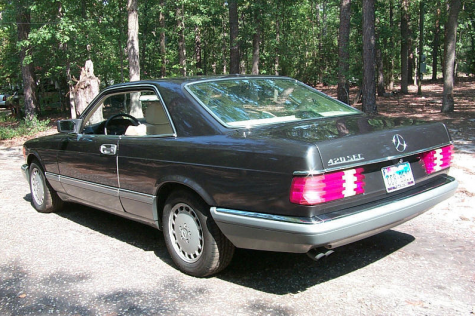 Up for auction is a 1986 Mercedes-Benz 420SEC 2-door coupe. Low 70,000 miles, 4.2L V8 gasoline engine, W126.046. Dark midnight blue (almost black), moon roof, new Michelin tires. Excellent vehicle, inside and out. Everything original. Interior is fawn tan, with leather seats. Interior has no wear at all.

I have been selling on eBay for several years and have over 700 positive feedbacks. This is my personal vehicle. I bought it one year ago from a Tyler business man who special-ordered it for his wife while in Germany. He had it shipped to Houston, Tx., to be delivered to him in Tyler. There is a plate inside the door that states "Damler Benz AG WDB1260461A193845 (VIN) 1986 Imported by (Owner's Name) Stuttgart, W. Germany." All maintenance was done at the Mercedes dealership in Tyler, Texas.

1986 was first year the 420-SEC was made, through 1991. There were only 3,680 total made during those years, therefore it is quite collectable. I have the Mercedes-Benz insured for $25,000 with an antique vehicle insurance company.

For pickup only at Holly Lake Ranch, Hawkins, Texas 75765. 30 miles North of Tyler, 100 miles East of Dallas.
With around four days left, bidding hasn't started at a price of $14,500 with no reserve. The car is now 25 years old, so even though it appears that this car was federalized from the start, any scrutiny by the government would be a moot point since the car's age exempts it from any emissions or safety standards. Hopefully this car goes to a good home and one more example of Mercedes-Benz's flagship coupe will be preserved.
-Paul