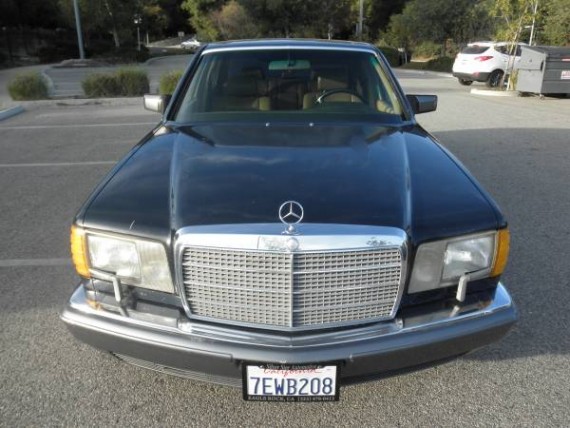 To round out my week of posts I thought it would be appropriate to post the top dog of the W126 lineup, the 560SEL. I found a couple pristine examples with rather lofty prices that I considered writing up but in the end it was this example that needs a bit of cosmetic love that captured my imagination. The seller notes that they've handled a number of issues and that the only concerns are the state of the hood, top and trunk paint and the A/C system needing service. Other than that, this Bavarian living room on wheels is ready for a whole lot more use, either as a daily driver or weekend warrior.
Year: 1986
Model: 560SEL
Engine: 5.6 liter V8
Transmission: 4-speed automatic
Mileage: 165,000 mi
Price: $3,250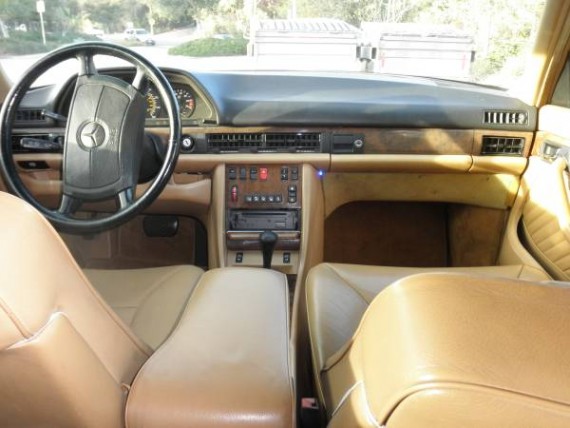 This 560 SEL is a very reliable, safe, and luxurious car. The best of its era. The motor is still very powerful and the transmission works perfectly. There are no oil leaks or hidden engine repairs needed on this excellent vehicle, which is both a daily work horse and an elegant night cruiser.

Long-wheel base, full-size sedan. Deluxe cabin power systems. 5,547 cubic centimeter V8 engine. Bosch KE-Jectronic Fuel Injection. Four speed automatic transmission. Power output of 295hp at 5,000rpm and 336 foot pounds of torque at 3,750rpm. Capable of accelerating from Zero to 60 miles in 7.1 seconds, and, can still accelerate safely up to 130 mph

New battery; new alternator; all new front engine belts; new front oxygen sensor; aftermarket high-polished aluminum wheels, new tires, and front and rear alignment; refurbished hydraulic rear and front shocks and maintenance; upgraded and refurbished Palomino leather seats; new idle and air intake hoses and air filter; new spark plugs, new distributor cap, and rotor, and; recent rocking arm and valve cover maintenance; new internal engine oil seal; upgraded instrument console; recent fuel injector service; new front transmission flex joint; and tinted windows. Recently serviced sunroof system. And new SONY CDX –GT575UP Compact Disc Player (Sirius XM, Pandora, USB iPod front AUX ready) and all around speakers. New aftermarket independent alarm system.
The vehicle needs hood, top, and trunk polishing or repainting; and, it needs air conditioning service. Breaks are sufficiently good and safe. Vehicle has approx. 165,000 miles.

$3,250 OBO was $5,500
Please contact Jaime at (818) 405-3491
All reasonable offers will be considered.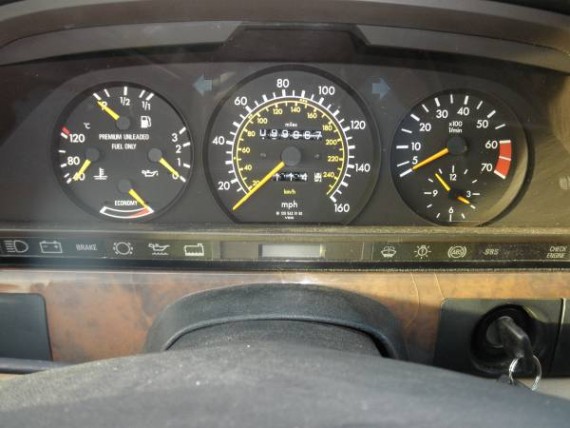 Right off the bat I'd pull the god awful Sony head unit in favor of a period correct unit. There is just no excuse of having such a system installed in this vehicle. If you feel you really must have Bluetooth audio (which I can identify with) there are a number of ways to get it without having a tacky faceplate ruining the atheistic of the center stack. There are units that can be installed out of sight in the glove box or even in the center arm rest though I think that space is best left available for storing cigars for you and your friends. Next up I'd pull the wheels off and swap on a set of classic AMG wheels to give the car an overall more aggressive look. I'd be sure to replace the badges that someone felt it necessary to remove and replace the window tint with mirrored limo grade film in the rear and 35% tint up front. I'm not usually an advocate for tint on classic cars but with these long wheelbase vehicles I think it fits the vibe and ups the curb appeal.
This W126 has a very attractive price, especially given how clean the refurbished interior looks. The rear seat foot rests are even included, something I've not seen with a number of high dollar/low mile SEL examples. Speaking of mileage, the seller says this car has approximately 165,000 on the clock, so I'd want to know as much about why there is a discrepancy between the odometer and what's actually been driven. Still, for the money and the overall appearance of the package, I don't think the precise mileage being unknown is a deal breaker. The seller has recently taken care of a number of common W126 issues so I think you could buy this car for what they're asking and certainly get your moneys worth. After all this was a top dollar car for its time and the luxuriousness of the 560SEL paved the way for the insanely plush S-Class we have today.
-Andrew