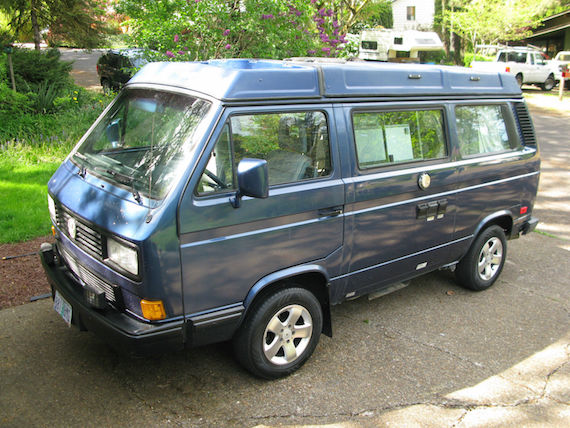 I like older cars that are loved, maintained, and well-used in the manner they were built for. This means that high mileage is, to me, a badge of honor, and replaced and upgrades parts are more a sign of perseverance and attention than decay. Like my old cars, this '91 Westy appears to me as a shining example of just how good 200k+ miles can look. Sure, there are some stone chips and patina, and the engine and transmission have had to be replaced, but from the wheels to the tent and all through the inside it looks a great, functional adventure van. Instead of the 2.1-liter gas engine, it now has a 1.9-liter TDI conversion that was truly done right, with some nice engine mods along with a re-geared transmission and a Peloquin differential to resist those annoying one-wheel spins in traction-deficient situations. The condition and upgrades more than offset the high odometer reading, so the auction is starting at a strong $29k.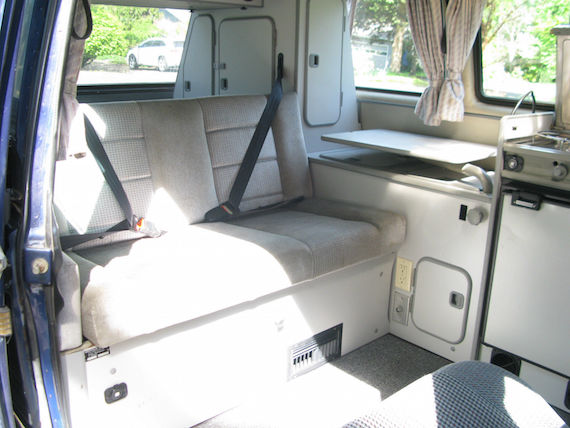 Year: 1991
Model: Vanagon Westfalia
Engine: 1.9 liter turbodiesel inline-4
Transmission: 5-speed manual
Mileage: 233,640 mi on chassis, 200 mi on engine, 10k mi on trans
Price: Reserve auction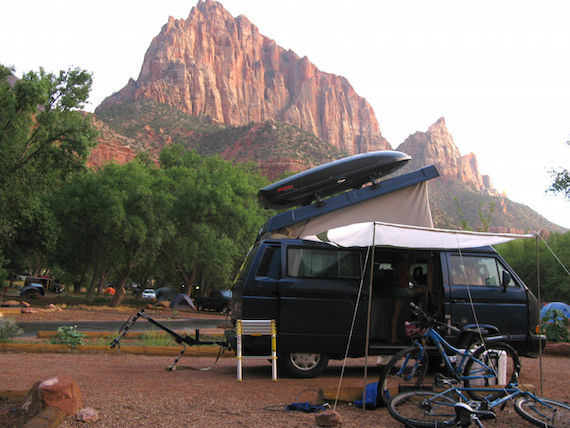 FOR SALE: Well cared for and upgraded '91 VW Westfalia Vanagon Camper with recent eTDI diesel conversion. My wife's medical condition dictates need to sell our beloved Westy because she cannot drive a standard shift any longer. We bought a pickup and pop-up A-frame trailer so she can spell me on long road trips. Our family has obsessed over this van and relied on it as our base camp vehicle for many backpacking trips to Utah and up and down the west coast. It will be very hard to see this vehicle go but hope we can pass it on to the next owner who can enjoy it as much as we have.

YouTube walk-through:


The TDI conversion was performed professionally by Justin at GreaseWorks and the transmission rebuild/regearing with Peloquin TBD by AA Transaxle in 2013. The TDI contains a Malone Stage II chip for added performance and the transmission has been plumbed with all the necessary fittings for a future transmission cooler if the next owner desires.

History
On April 15, Independent Auto Werks in Corvallis completely replaced the engine with a new AHU longblock along with all necessary components including K03 turbo. The new motor has less than 100 miles on it. I have all receipts for work professionally performed by GreaseWorks and Independent Auto Werks. I have spared no expense in replacing the motor throughout this operation. This van is running strong and smooth and I would not hesitate to use it as a daily driver or major road trip machine.

I have lived on The Samba for years and participated in many threads about upgrades to the camper. While I have left all engine and transmission work to professional mechanics, I have performed many improvements to the camping experience myself, including additional LED lights, Propex cabin heater, TruckFridge AC/DC fridge and auxiliary battery system, to name a few.

CURRENT MILEAGE: 233,637 miles, less than 200 miles on brand new engine. Transmission has about 10,000 miles.

No accidents or rust issues. PNW van. Overall condition good to very good with normal wear and tear for a vehicle this age. Inside is very good.
Full kitchen with 2 burner propane stove, sink, 13 gallon fresh water tank
Clothes closet and galley cabinets
Sleeps 4 adults
Full eTDI diesel conversion – 223,000
50 deg install – no raised engine cover
0.50 mm bore, new pistons, ARP head studs, K03 turbo, oil pump, water pump, alternator, Bosch starter, PP520 injectors
Chipped to Malone Stage II
K03 turbo with Saab 900 air-water intercooler
Wiring harness professionally adapted
Transmission rebuilt by AA re-geared with 1.08 3rd and 0.70 4th, oiling plates, case/brg reinforcements, fittings for aux. cooler, and Peloquin TBD for true 2WD in snow and off-road.
Cruise control with OEM stalk controls
ScanGauge II
EGT gauge mounted on left side of dash
Block heater

New AHU longblock and rebuild – 233,569
new oil pan, rebuilt K03 turbo, #3 glow plug and injector

VanCafe Carrot 15″ alloy wheels with Nokian WRG3 tires
VanCafe 2WD lift springs
Koni Shocks
SA front mud flaps
Quality MES after-market remote electronic locks on front and slider doors
Power side mirrors
Intermittent wipers
GoWesty 2-piece carpet kit
Rubber front mats
VanCafe headlight alarm
After-market stereo with SAT and AUX capability
Leather-wrapped steering wheel
New GoWesty-Designed Pop-Top Tent with 3 windows -just installed
New Bus Depot pop-top seals
Pop-top lift assist HD gas struts
Yakima artificial rain gutters
GoWesty blue LED dash lights
Headlight relay kit
Day-time driving lights with stock dash switch wired to ignition
TruckFridge AC/DC TF49 fridge
Stock fridge door moved to rear cabinet for easier access
ShurFlo faucet
Aux. battery system with Yandina 100 combiner/isolator. BlueSeas fuse panel under sink wired to Trojan 100A/hr battery installed in small galley cabinet.
On-board battery charger powered from stock AC hookup
LED light strips installed over kitchen sink, rear bench seat and between front seats. LED bulbs in stock galley and map light fixtures.
Propex HS2000 propane cabin heater installed under fridge
Reflectex insulation panels cut to fit inside the pop-top
Deluxe Extend-a-Stay kit to allow backup propane bottle to keep stove and Propex running when main tank runs out.
Colgan Bra
Dynamat sound deadening with layer of closed-cell foam applied to front and middle floors, rear deck and engine lid, front and slider doors, and rear hatch.
New 3-point seat belts for rear bench (both sides) and drivers seat.
Rear facing jump seat and brackets with 3-point seat belt to allow extra passenger (total of 4).
New clutch master and slave cylinders
New GoWesty water refill hookup
City water hookup converted to marine grade 12V socket and Anderson power pole connector for high amp operation
Rear hitch with GoWesty trailer light harness
GoWesty third brake light
Double-layer curtains
Skylight replaced 3 years ago with smoke color
Window tint on rear hatch window to cut down on glare from headlights at night
Terry Kay front heater shutoff valve
Rear cabin heater core and valve replaced
4 extra wheels – Nokian tires, two studded with only one short season on them

ISSUES
Front body panel above headlights is chipped and cracking and will need attention.
Tachometer does not work reliably. ScanGauge performs this function well but I had plans to install the new GoWesty Printed Circuit Board Replacement Kit at some point but haven't.
A/C needs to be recharged.
Side mirror and rear window defrosts do not work.

A lot of care and consideration has gone into the conversion and upgrades to this Westy over the 8 years we have owned it. Everything done was to make it a more capable base camp vehicle for our family vacations off-grid. This van is roadtrip ready and we would not hesitate to take it on another long voyage if it still fit into our lifestyle. It has been a well-cared for and we hope someone else can continue the tradition.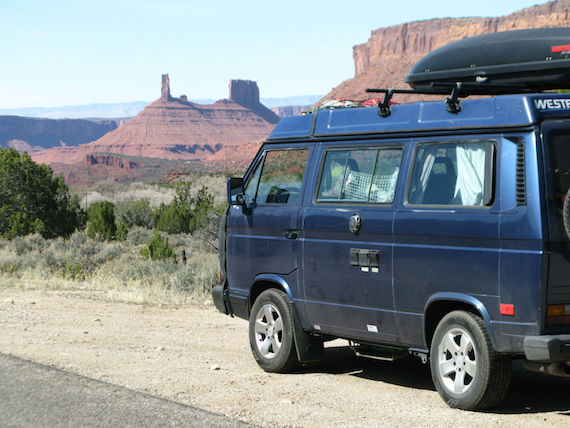 The adventure shots aren't just pretty; they reinforce that these Vanagon owners have properly used their Westy and undertaken some serious projects to make it a highly functional, practical, and comfortable machine. They're well acquainted with GoWesty but haven't simply asked for every item on the website; they've addressed any issues or improvements with the best solution. This is the kind of van that deserves to find new stewards and adventure partners as it ticks past a quarter million miles and gets ready for the next quarter.
-NR