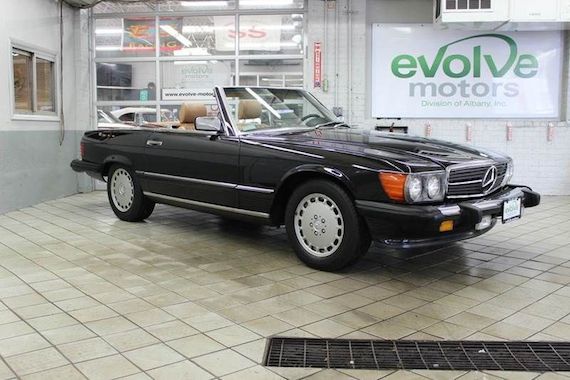 While running errands the other day, I came across a 560SL in signal red, parked, with its top down. These late model R107 roadsters are finally getting their due in the marketplace, which isn't surprising. Classic lines combined with features that still make this roadster feel modern are the usual hallmarks of Mercedes-Benzes from the 1980s. This 560SL for sale in Illinois comes to us by way of our friends at Evolve Motors. This car represents the first year of the 560SL, with barely over 40,000 miles on the odometer.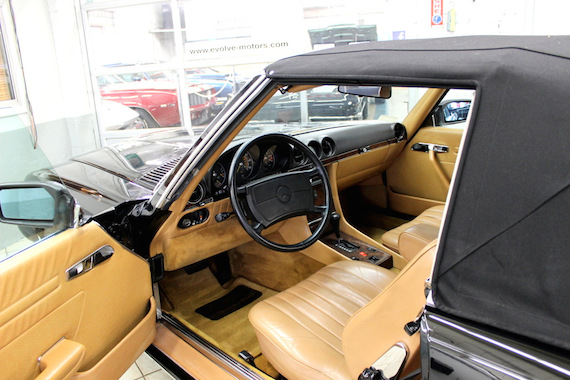 Year: 1986
Model: 560SL
Engine: 5.6 liter V8
Transmission: 4-speed automatic
Mileage: 40,724 mi
Price: $23,200 Buy It Now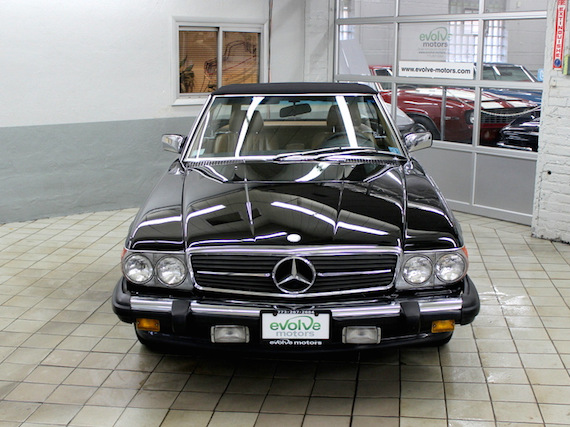 Evolve Motors is pleased to present our gorgeous 1986 Mercedes-Benz 560SL Roadster!

Born in March of 1986, this Mercedes was shipped to Decatur,GA straight out of Jacksonville,Mississippi. Making it's way to Chicago in the Early 90's with service records dating back to 92′.

We purchased this car from a customer of oursNever having been in an accident, The body and paint look fantastic with only very minor blemishes throughout, as to be expected with a car 29 years young. We put our digital paint guage to the car and all signs point towards the original paint job still on the car. We only detected one repair spot as noted below on the wheel opening on the drivers rear quarter panel.

This 560 is in fantastic running condition. It fires up nice and easily and idles smooth and quiet. We did a mechanical inspection on it and determined that it has been well cared for and properly maintained. It drives like a dream, accelerating nicely and stopping straight. As you can see the under hood pictures show a nicely maintained engine area without any signs of neglect. It also shows some nice patina, to boot!

The chrome, trim, glass, and brite work all look excellent. There are a couple light pitting spots on some of the chrome bezels but very minor. The paint is a fine gloss black that is very deep and shows very nicely. We just completed a 3 stage buff on the car so it looks fantastic in it's fresh coat of wax.

The car shows no signs of major prior body repairs as far as we can see. We do detect a previous dent repair on the left rear wheel opening and the repair is acceptable. There are a few very minor blemishes in the paint as you can see in the pictures. We note some very light paint bubbling around the windshield washer nozzle on the passenger side of the hood (penny sized) as well as the very front edge of the driver side of the hood (smaller than a dime). Any way we cut it this car is a 3+ all day long and possibly a low 2 based on mileage and overall condition.

Both the hard top and the soft top are present, and in excellent condition.

This MB has been retro-fitted with a Pioneer GEX-P920XM radio receiver AM/FM/XM/CD with IPOD connectivity through the glove box.

The interior shows is in fantastic condition The seats are free of cracks, stains or holes still retain their plush and willowy softness. (It has been noted the trim next to the stick has receded a little). The drivers side bolster show some slight wear but overall it looks outstanding. No interior odors were detected and this car was clearly never smoked in. The dash shows nicely as do all the gauges and switches. This car will not dissapoint.

The underside of this car is very solid, the rockers showing no rust. The underside with very minimal to no surface rust!

This car cost over was originally $52,300 retail in 1986!

We are here to answer any questions that you may have. We would love for you to come see the car in person but understand that many of our buyers are out of state or international. Please do not hesitate to call us and have one of our sales representatives do a 'walk around' with you on the phone. It is our goal to do everything we can to make you comfortable with your purchase and to ensure that no questions are left unanswered and that you are 100% satisfied with your purchase.

Call today! 773-267-2684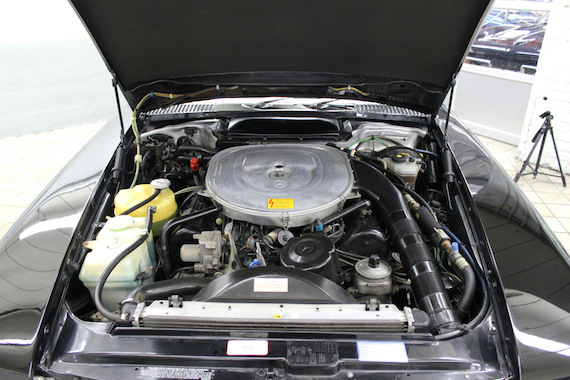 While this 560SL has low miles, there's a few minor issues I noticed, but nothing too off-putting. First, the antenna is sitting at half mast. This is common for many German vehicles from the era and easily remedied with either a replacement mast or some lubricant. Second, the wood trim around the shifter and center console is a bit cracked, but again, this isn't a terribly difficult repair. The last 560SL we saw that sold was a 1989 example with under 20,000 miles. That car pulled $40,000. Given this car is an earlier model with higher mileage, it will certainly be valued a bit less, but at the current ask, this is a decent value for what is rapidly becoming a collectible classic.
-Paul