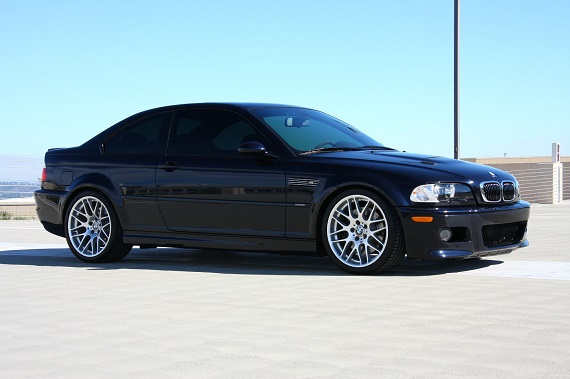 My ongoing search for a clean E46 M3 continues, and despite the relatively high number produced it does indeed seem more difficult to track one down than it probably should. Early cars are typically more suspect, with many owners, dubious modifications and higher miles. Additionally, my criteria for getting into an M3 is admittedly limiting. The car must be a manual gearbox, and given that I have a preference for some of the more expressive colors like Laguna Seca Blue and Phoenix Yellow, that seems to be more difficult. But in my search I happened upon an unexpected gem that threatened to turn my head from the Crayola-toned early examples; for the most part, I've ruled out the later M3s because they demand higher asking prices and there seem to be less in wild colors. This car stood out for not only being the last model year of the E46 M3, but also because it was a ZCP car. Though I've sworn I'd never voluntarily buy into another black car, the ultra dark midnight blue hue of Carbon Black Metallic is compelling enough to consider. Add low miles, careful ownership and some discrete modifications from the best in the business to the recipe and this appears to be one of the nicer E46 M3s on the market.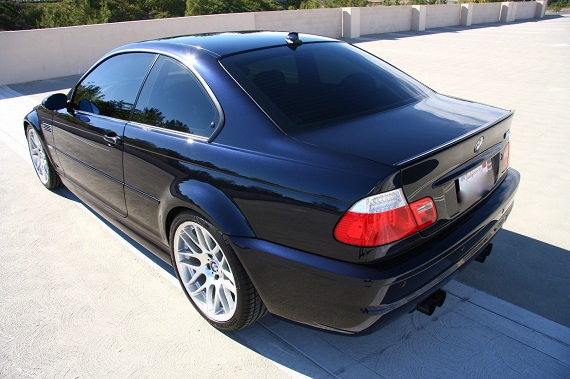 Year: 2006
Model: M3 Dinan S3-R
Engine: 3.2 liter supercharged inline-6
Transmission: 6-speed manual
Mileage: 49,987 mi
Price: $36,000 Buy It Now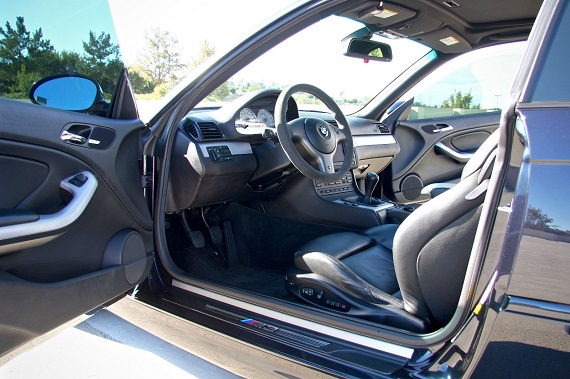 Dinan Supercharged S3-R Package Competition (ZCP) M3. Very Rare. Less than 120 E46 M3's equipped with a "new install" S3R Package. 462 hp with 328 lb-ft torque. 6-speed manual transmission. I am the 3rd owner, I've only owned this car for about 3 months. In that time, I've only put 600 miles on the car, most of which was spent doing the "drive cycle" required to set the monitors for smog test, the rest of the time was spent bringing this car to mint condition. Around $4,000 invested over the past 2 months.

Unfortunately, I planned on keep this car forever (yes forever, like I'd be buried in it), but a growing family has forced me to sell the car way to soon. This car is such a pleasure to drive and runs perfect. It's a turn-key car, it does not need anything. Car has 49,987 miles. Car is covered, in the garage and on a BMW storage charger. Original window sticker along with complete owner's manual, 2 keys, 1 valet key, and all OEM, Original Parts all included with vehicle. All service history since new included. Car is fully loaded with practically every option from the factory. Over 100K invested. Clean examples of this car are harder to find every day.

Few things that make this car unique.

1. 2006, the last year the E46 M3 was built

2. ZCP Competition Package.

3. 6-Speed

4. Recognized by Dinan as serial numbered S3-R. (Dinan has documentation of all parts installed on this car.)

5. Dinan no longer offers this supercharger system.

6. Under 50,000 miles.

Recent Work:

The entire intake plumbing has been ultra-sonic cleaned

The throttle bodies were removed, cleaned and all seals were replaced.

Air rail and fuel rail were removed and ultra-sonic cleaned.

Injectors were professionally sprayed and flowed.

The PCV system has been serviced.

The fenders, and undercarriage has been cleaned and most of the cosmos line removed.

Paint has been polished and sealed.

Interior has been cleaned, carpets extracted, and leather has been treated.

Vehicle Description:

WBSBL93426PN63921

2006 BMW M3 Coupe (09/05 Build Date)

Carbon Schwartz Metallic on Black Nappa Leather

6-Speed

(2) Keys w/Remote (1) Valet Key

All owner's manual/documentation

Original Window Sticker

Binder of receipts since new

CA Registration Exp Apr/2016

Included with Competition Package (ZCP):

– CSL Compound Cross Drilled Rotors With Larger Front Rotor Diameter Of 13.6 In (Vs 12.6 In On Standard M3)

– Factory 19 Inch BBS Forged Wheels

– CSL Quick Ratio Steering Rack 14.5:1 Steering Ratio (Vs 15.4:1 On Standard M3)

– M-Track Mode Button On Steering Wheel (Changes DSC Parameters Optimum For Track Usage)

– Alcantara Steering Wheel And Parking Brake Lever

– Cubed Aluminum Trim Specific To Competition Package M3's

Cold Weather Package:

– Heated Front Seats

– Retractable Headlight Washers

– Ski Bag

Premium Package:

– Power Lumbar Support

– Power Glass Sunroof/Moon roof

– Power Seats W/Driver Memory

– Nappa Leather Upholstery

Additional Factory Options:

– Rear Sunshade

– Park Distance Control

– Xenon Headlights

– Navigation System

– Harmon-Kardon Premium Sound System

Dinan S3-R Package (Factory Authorized BMW Tuner, Dinan Accessories Are Sold In Authorized BMW Dealerships Across The Nation):

– Dinan S3-R Intercooled Supercharger System With 462 Hp And 328 Lb-Ft Of Torque (Vs Factory S54 Engine Produces 333 Hp And 262 Lb-Ft Of Torque)

– S3-R Engine Software Tuning

– Dinan Larger Capacity Aluminum Radiator

– Dinan Larger Capacity Oil Cooler

– Dinan Exhaust

– Dinan High-Flow Throttle Bodies (Larger Internal Bore Diameter)

– Dinan Front And Rear Strut Tower Braces

– Full Dinan Suspension Along With Adjustable Front Sway Bar

– Dinan S3 Serial Numbered Plaque With Rear Deck Lid Dinan Badges (Not Installed Still In Glovebox)

– Dinan Short-Throw Shifter

– Dinan Floor Mats

Misc

– Dice Audio Integration

The Following Are Some Magazine Articles About This Particular Dinan Configuration:

– Car and Driver

– Autoweek

– Bimmer Magazine S3-M3 review

New Parts installed within the past 2 months:

– (2) 245/35/19 Continental Extreme Contact DW Tires – Front

– (2) 285/30/19 Continental Extreme Contact DW Tires – Rear

– (6 Quarts) BMW Engine Oil & (1) BMW Filter

– (1) BMW Cabin Filter

– (1) BMW Fuel Filter

– (1) OEM Sharp Navigation Screen

– (2) BMW Rear Deck Speaker Covers

– (1) BMW Windshield Cowl Cover Kit

– (1) Dinan Air Filter

– (1) BMW ZCP Steering Wheel Trim

– (6) OEM NGK Spark Plugs

– (6) OEM Bosch Ignition Coils

– (1) BMW Ashtray

– (1) OEM Bosch Idle Control Valve

– Lumar 15% Window Tint

– (1) BMW Suction Jet-Pump

– (1) BMW Air Shut Off Valve

– (4) BMW Wheel Lock Covers

– (1) BMW Bumper Grille

– (1) BMW B-Pillar Cover Left

– (1) BMW B-Pillar Cover Right

– (1) BMW Headlight Lens Cover Left

– (1) BMW Headlight Lens Cover Right

– (2) BMW Headlight Gasket

– (1) BMW Center Console Trim

– (1) BMW Rear Ash Tray Assembly

– (1) BMW Kidney Grille Left

– (1) BMW Kidney Grille Right

– (1) Continental AC Belt

– Bluetooth Audio Integration.

– LED Interior Bulbs

– LED DRL, Fog Lights and Reverse Lights

I have experience in shipping vehicles, so if you have any questions regarding vehicle shipping, please ask.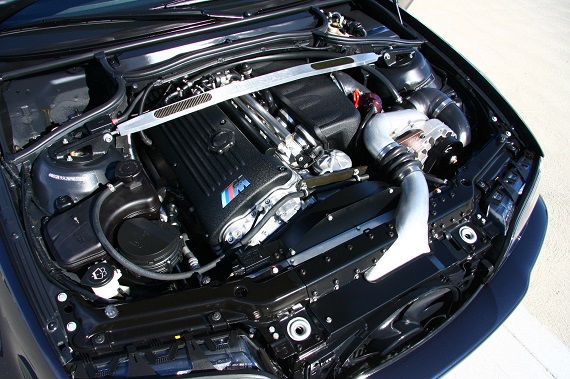 I don't think you could ask much more from a seller; the car is perfectly described, excellently photographed, and in near perfect condition. Let's remember, this car is already 9 years old, but compared to how some come to the marketplace, it's a revelation to see such a great advertisement for a stellar model. Mileage is below 50,000, and despite the hefty assortment of Dinan equipment that has been added you would never know it from the outside as the car appears completely stock. Carbon Black is such a difficult color to photograph properly and get the subtleties of the color, yet this seller has managed to hint at how beautiful the shade can be in direct light without washing it out. Admittedly, this is not my favorite color combination; swap a Cinnamon interior in there, and to me this car would be staggeringly beautiful – but it's more than acceptable in its current configuration. The work correcting the minor faults by the current seller have resulted in a car which appears in top condition, and with arguably the most desirable (and expensive) Dinan modifications, this is one collector-status package. Despite that, pricing isn't outrageous by my thinking – $36,000 is certainly top dollar right now for a clean E46, but less than the asking price of similarly equipped S3-Rs I've seen previously. If I had the money, this is one pretty incredible package that I think is likely worth the premium – both short and long term.
-Carter