Warning!
This post is in our archives. Links in this post may have been updated to point to similar cars available to bid on eBay.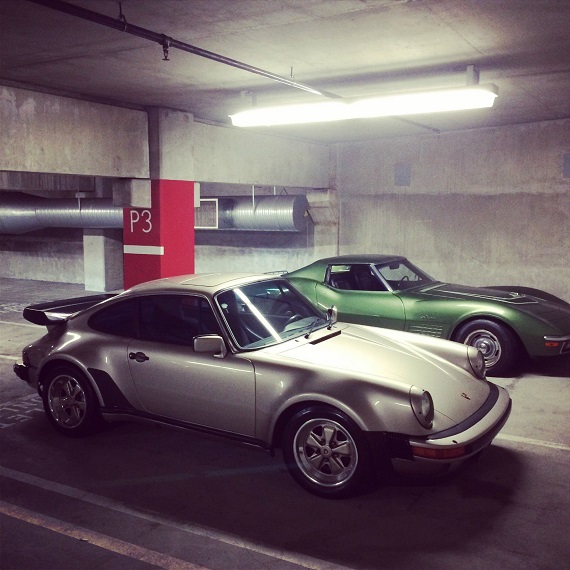 Every time I see one of these cars I remember why I love them. By appearance the 930 is very clearly a car from the '80s and it should make no apologies for that fact. Every angle provides an interesting perspective that showcases the 911's iconic shape. Add on an interesting exterior color, such as the White Gold Metallic of the car seen here, and you can linger over its curves for quite some time. This 1986 Porsche 911 Turbo appears to have had a peculiar beginning to its life (more on that below), but after that it seems to have been a well-driven 930, which had an engine rebuild at just over 100K miles performed by Andial.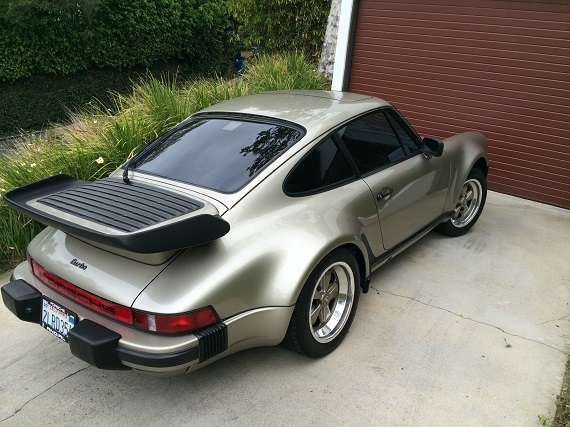 Year: 1986
Model: 911 Turbo
Engine: 3.3 liter turbocharged flat-6
Transmission: 4-speed manual
Mileage: 104,540 mi
Price: Reserve auction (Buy It Now $79,000)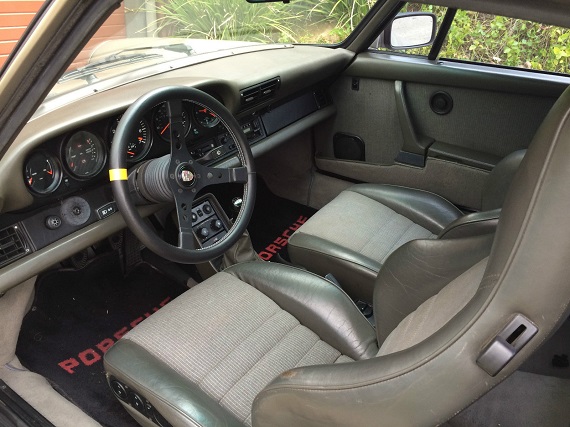 Condition:

Exterior: 90% original paint. Clean CarFax, no accidents. When I acquired the car in December of 2013, the car was very original and solid, but was lacking the final "polish" to show well. So I gave it to to my favorite paint/body guy with the brief to "brush this up this slightly where needed, but maintain the originality above all." Work completed included full detail, blending some new paint around the flares (stone chips and the such only, no dents or body work) and front spoiler and rockers, the wheel lips were polished and any curb rash was repaired (all four 16″ Fuchs are original to the car). A couple door and sun roof seals were replaced as were a couple old cloudy light lenses and light gaskets. But, this car is VERY original, no body work ever. Total bill was about $3,400.

Interior: Like the exterior, the car just needed some polish. I ordered and installed a new custom carpet kit from Classic Carpets in Belgium ($661 Euros + shipping), that looks absolutely Factory NOS, re-upolstered and re-clothed the driver's seat (wear from 27 years of an ass on that seat), cleaned the original leather and swapped the worn steering wheel for a NOS vintage Momo Prototipo ($1,000). The headliner was also tightened in the few places it was sagging. Total interior bill, about $4,800 w/ carpet kit and wheel. If you PREFER the factory wheel, I'm having that restored in Florida, so you could have that instead when done, but then I keep the vintage MOMO/get it back.

Mechanical: The legendary Andial re-built the motor at about 101,000 miles (car has a little over 104,000 now), re-did the brakes, etc. I will post the work order. I let my mechanical guys at the car, and they could not find a thing to fix, short of replacing a light bulb in the left driving light and a couple other interior bulbs.

Known issues: A small stain on the cloth rear passenger side seat (see picture), slight wear on the leather sport seat bolsters (see pictures) and usual marks from 27 years of low miles used per year (averaged 4K a year driven). The cassette player is also missing the dust cover door.

Overall: This car was owned by the same guy in Southern California from 1988 to December 2013 when I bought it. It was his dream car and it was never parked outdoors overnight. While it was used sparingly (to the average of about 4K miles a year), it is a VERY solid, very original, very well kept car. I have the window sticker from the Porsche dealer where the 2nd owner bought it in 1988, they had it Federalized. It's passed smog every year except for one year (pre-engine re-build) and it's currently registered and smog-cleared. This is a no-excuses 930 that matches the window sticker and the Porsche COA I had ordered in every way.

So, you've got a car with a window sticker from the Porsche Dealer who sold it as a used Gray market car in 1988, a Porsche COA issued in December of 2013, an single owner history of 27 years, $40,000 in work receipts done over the last 3,000 miles driven, including an Andial engine rebuild (Google them, they are legend for Porsche engines). It's also a very unique color combo, very period, very European, and not something boring you'll see ten of at the next Porsche owner's event.

VIN decode:

W = Germany
P = Porsche
0 = sports car
J = G model turbo coupe
B= G model turbo engine
0 = no air bags
93 = 911
9 = checksum digit
G = 1986
S = Stuttgard built (right plant for 911)
050065 = serial #

So, a "WP0" car was built for any market that was not the US or Canada. Thus, "Gray Market" imported (again, not an issue at all as long as there is a clean title and smog, which there is). Some collectors prefer US cars as they are "100% as intended" and some collectors prefer the Euro cars as they – generally – have more power (less smog stuff) and cleaner bumpers/turn signals.

At 101,677, Andial rebuilt the engine, the front and rear brakes and did a number of small items for $19,013.46 and $2,756.77. The car also comes with all the service records and owners manuals going back to the 80s.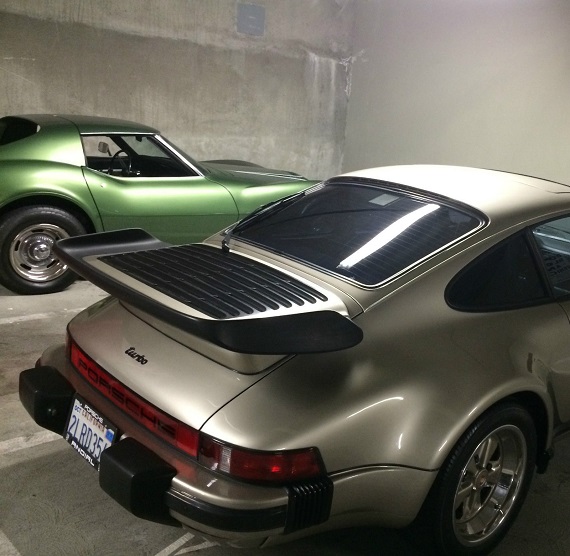 I do not claim to be a specialist on Porsche VIN numbers, but the number given here appears to be a US VIN, which may be fine given that the car was apparently sold in the US in 1988, even though it's a 1986 model (the VIN does at least verify that, as does the CoA). A RoW car should have ZZZ in the VIN after WP0. So I'm not sure about the gray market status of the car, at least as deduced by the VIN. Anyone who might understand these matters slightly better, please don't hesitate to comment and clarify. The auction itself will suss out the significance of those details with regard to price, but overall this 930 strikes me as more suited to a buyer interested in having a good driver-quality 930 rather than a collector, which might mitigate some of the fuzziness surrounding the origins of the car. All that said, this is a pretty great color combination that is striking without being too showy and the engine work should be top notch. Those are the sorts of details that could make this a fantastic driver!
-Rob