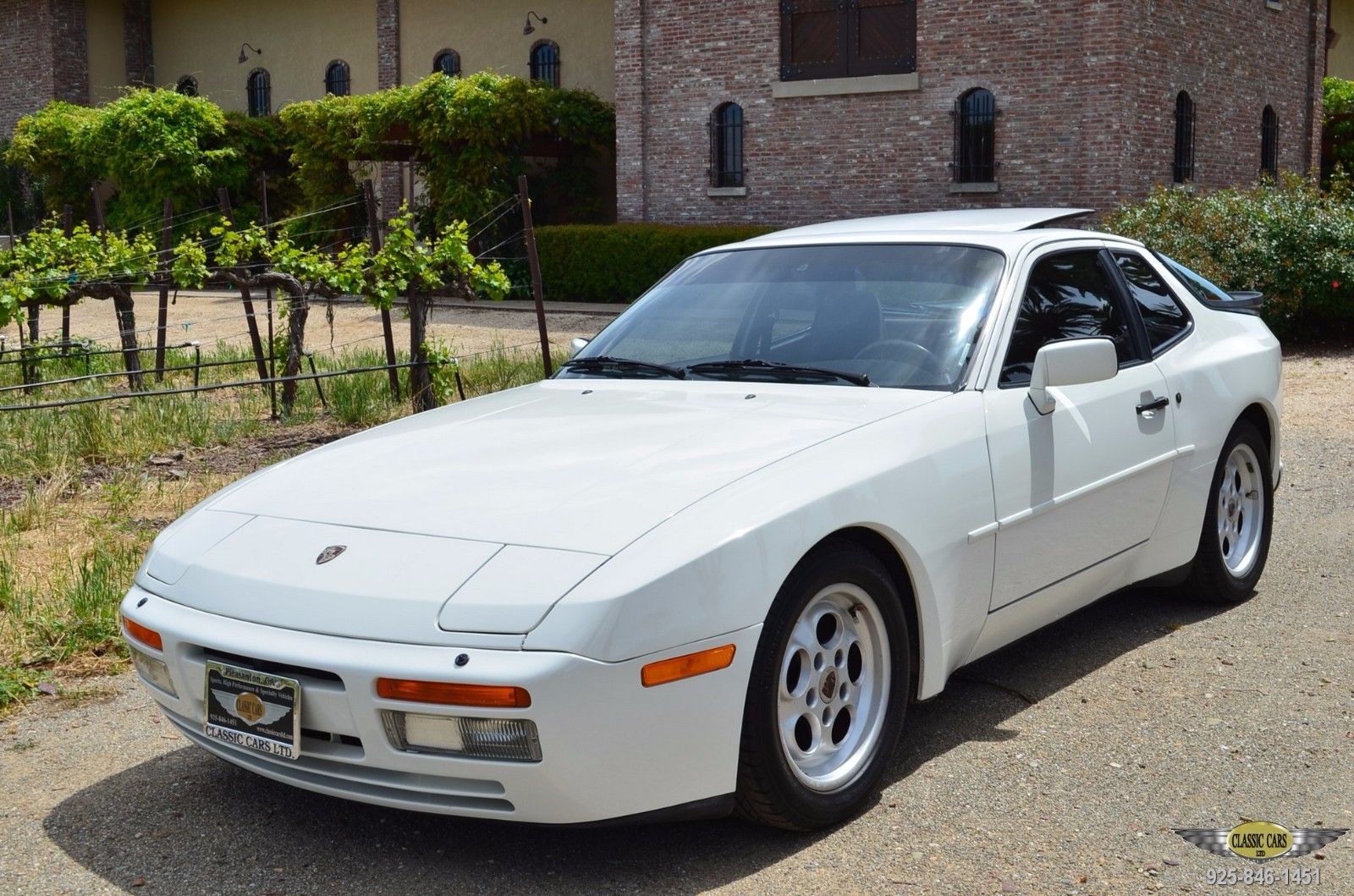 The market rage surrounding BMW's M products and their lesser stablemates and all things Porsche air-cooled continues to mask one of the best all-around performers of the period – the Porsche 944 Turbo. This was the car which brought supercar performance to the masses in a package that was both reliable and practical. Perfect balance meant you could approach the limits of the chassis, and it rewarded you for doing so. Over 200 horsepower gave you super-human acceleration normally reserved for small-batch thoroughbreds. And there was even a race series to give the 944 Turbo the credentials to back up the Stuttgart crest on the hood. They were exceptionally well built using high quality materials, and quite a few people who owned them treasured their foray into the exclusive world of pioneering Porsche forced-induction. The original purchaser and steward of this 951 appears to have done just that: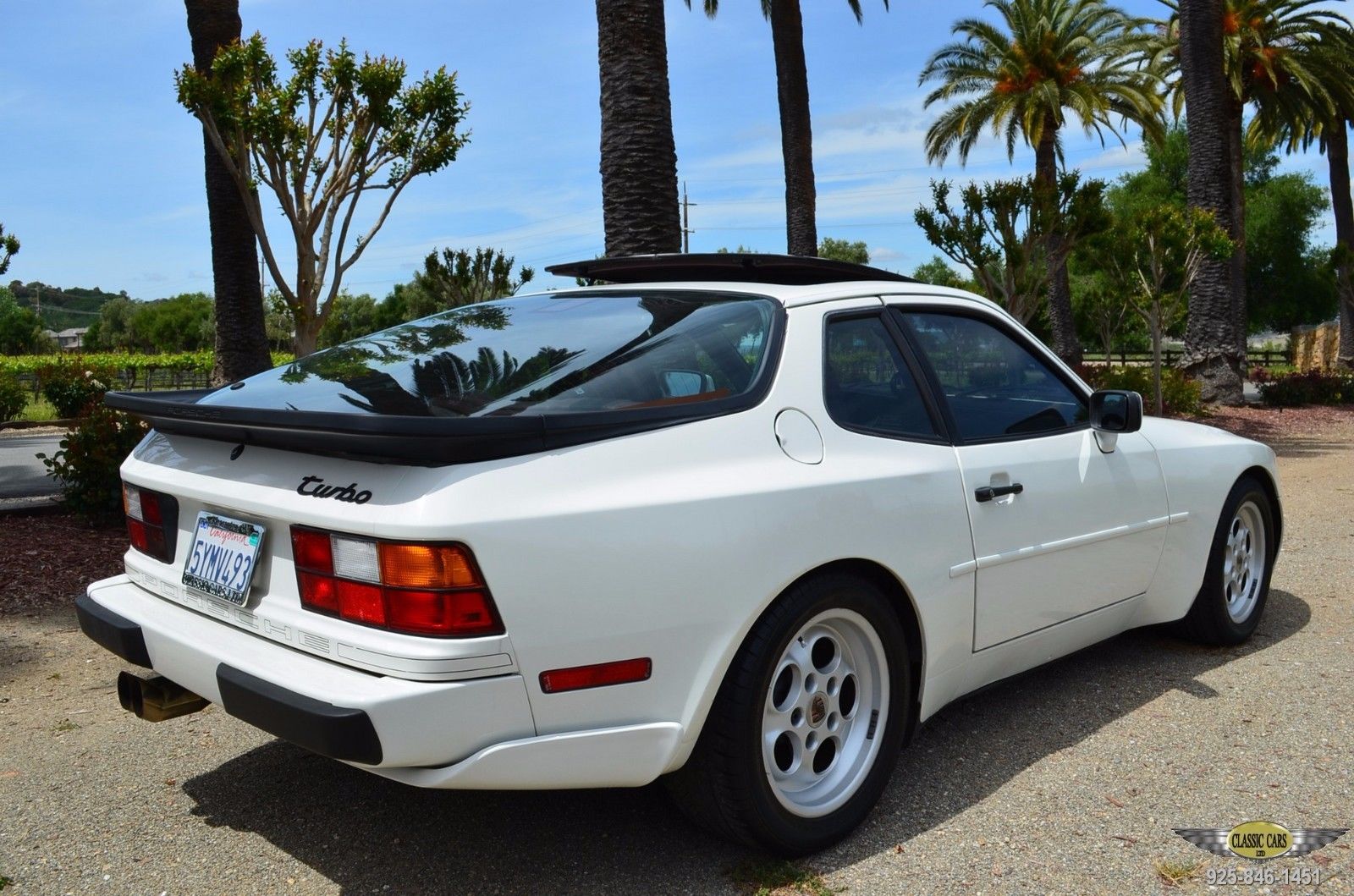 Year: 1986
Model: 944 Turbo
Engine: 2.5 liter turbocharged inline-4
Transmission: 5-speed manual
Mileage: 76,745 mi
Price: No Reserve Auction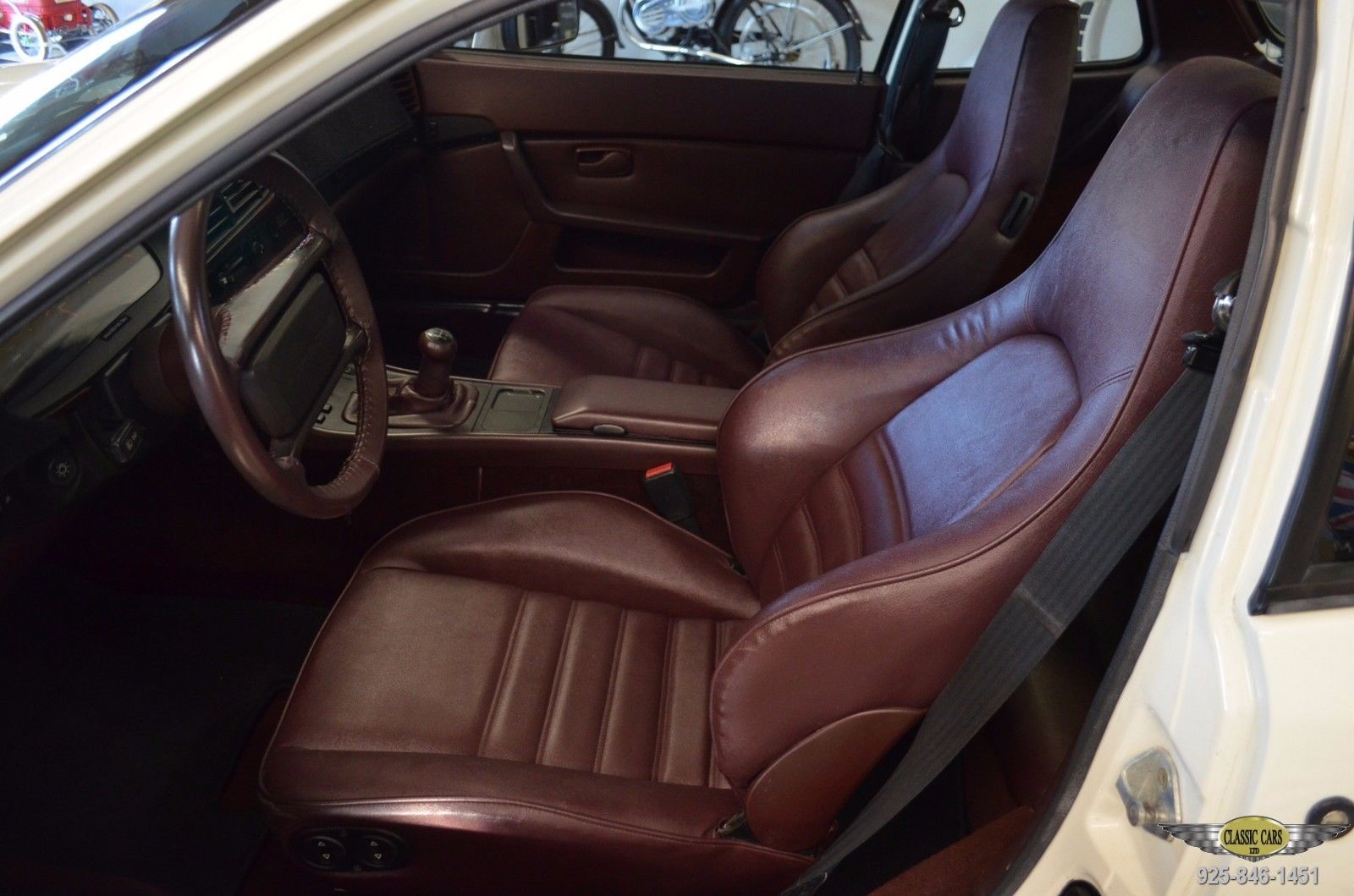 1986 Porsche 944 Turbo

Finished in Striking Alpine White / Burgundy Leather Interior

76,724 Documented Miles – Totally Clean CarFax

Professionally Porsche Maintained – Beautiful Example of an
Increasing Desirable Porsche "951" 944 Turbo
___________________________

NOTE: Our listings are lengthy. They not only describe this particular car but also some history of the make/model, considerations in buying a classic car and facts about our firm. However, we continually hear from out-of-state / out-of- country buyers (many of our clients) that they prefer the level of detail that we provide. However, if you are not prepared to read the full listing, please scan the DETAILS below along with viewing the PHOTOGRAPHS at the bottom. If you'd prefer, please call us at 925-846-1451 and we'll gladly discuss the Porsche and answer any questions over the telephone, including our "Buy it Now" policy. Yes, the Porsche can be purchased prior to the end of the eBay auction.

PHOTOGRAPHS

PLEASE NOTE: EACH TIME WE LIST A VEHICLE ON eBay WE RECEIVE COMMENTS THAT THERE ARE NO PHOTOS OF THE INTERIOR, ENGINE, UNDERCARRIAGE, ETC. OF THE CAR. THERE ARE CLOSE TO 100 PHOTOS OF ALL AREAS OF THIS PORSCHE, BUT WHEN YOU REACH WHAT APPEARS TO BE THE LAST PHOTO, YOU WILL NEED TO SCROLL DOWN ON eBay TO VIEW THE REMAINING PHOTOS. IF YOU ARE STILL UNABLE TO SEE THEM, PLEASE CALL US AT 925-846-1451 AND WE WILL PROVIDE A DIRECT LINK. NOTE: IT IS A VIOLATION OF eBay POLICY FOR US TO LIST THE URL ON THE eBay LISTING. PLEASE LET US KNOW IF YOU WOULD LIKE ADDITIONAL PHOTOS OF ANY PART OF THE PORSCHE. ALL OF OUR PHOTOS ARE TAKEN IN NATURAL LIGHT AND WE DO NOT "PHOTO-SHOP" OR TOUCH-UP THE PHOTOS IN ANY WAY.

INTRODUCTION

This car is offered at a realistic price and, unlike bidding on cars in an auction environment, you will have the benefit of extensive information and history on the car prior to making a buying decision. Equally as important is the fact that Classic Cars Ltd. has been in business for 24+ years and enjoys an excellent national / international relationship with over 930 positive eBay feedback responses.

Please keep in mind that we will gladly…

1. Answer any questions over the telephone and take the time to guide prospective customers through the buying process (925-846-1451).

2. Assist with locating a quality, suitable transporter at very competitive prices.

3. Provide proof that we are licensed, bonded (for the financial transaction), fully insured, and operate from an established showroom environment.

4. Provide feedback from previous buyers, and specific references for vehicle purchases in your area (we also ask that you view our detailed eBay feedback by clicking on the number to the right of the eBay user name)

5. Offer additional information including specific photographs or clarification of any part of our description of the vehicle

Thank you again, please let me know if I can be of assistance.

Happy "eBaying"!

Paul R. Wankle, Pres.
Classic Cars Ltd.
Pleasanton, CA
925-846-1451

DETAILS – THIS PARTICULAR 1986 PORSCHE 944 TURBO

The VIN is WP0AA0953GN150956 and the Porsche is currently licensed and registered in California through October, 2017. The current odometer reading of 76,724 miles is documented by maintenance records, and supported by the CarFax report. Considering the mileage, the collectors / enthusiasts that have owned this example have used it an annual average of under 2,500 miles. The Porsche is in beautiful condition and presents as a considerably lower mileage, newer example.

DECODING THE NUMBERS

The factory trim/option sticker remains in place and, on the Porsche Turbo "951" is located in the rear trunk area near the spare. The photos in the listing show the tag along with the totally straight, damage and rust free rear trunk area. The factory original spare and jack are included. The tag decodes as follows:

VIN TAG DECODING

Type 951: 944 Turbo

Paint Interior: L90E (Alpine White Exterior) L90E (Burgundy)

Options:

CO2: Catalytic Converter

F39: ?

187: Asymmetric Headlights

474: Sport Shock Absorbers

533: Factory Alarm

650: Electric Sunroof

666: Without lacquer or chrome protection

900: Tourist Delivered

946: Leather Seats

EXTERIOR

• Excellent Alpine white factory correct color paint

• Complete high quality trim removed re-paint in the original color within 3 years

• No door dings on sides

• Very straight accident free body

• "German quality" fit of all body panels

• Large power sunroof with rear flip up

• Excellent glass all around

• Front bumper area and lower valence are good

• Both black rear bumperettes and exterior trim in beautiful condition

• Dual factory outside rear view mirrors

INTERIOR

• Factory burgundy leather interior presents a nice contrast to the Alpine White

• Burgundy leather front seats both in fine condition with no of the typical wear to the driver's side seat bolster – Free from major imperfections

• Rear jump seats w/ folding backs in good condition

• Factory 3-point front seat belts

• Factory 2-point rear seat belts

• Color coordinated burgundy carpet throughout in very nice condition

• Contrasting gray floor mats with Porsche logos

• Dash covered with dash mat – Some crazing from heat that developed subsequent to the installation of the dash cover

• Nice black door panels

• Matching sun visors w/ vanity mirrors – free from warping and fading

• Headliner is excellent condition, including sunroof

• Steering wheel covered with thicker leather wrap

• Rear window defogger

• Both doors and both compartment lids open/close solidly with perfect gaps

• After market Alpine CDE-HD138BT9847 AM/FM CD stereo w/ MP3 and WMA playback

• Rear storage compartment is clean with very nice carpet and includes storage bag for sunroof

• Factory spare tire

• Very clean engine compartment supporting excellent maintenance – no leaks

COSMETIC CONDITION

The overall cosmetic condition of the car is excellent. The Apline white interior and desirable burgundy leather is a striking combination on the 944 Turbo. The excellent paint was re-done by a local, high quality body shop within the past 2-3 years with trim removed and finished in the factory original / correct color of Porsche Alpine white. Since the complete respray, there has no partial repainting and the car is free from any accident damage with only minor cosmetic imperfections that are noticed only upon a close, critical scrutiny and do not detract from the appearance of the Porsche. There are no door dings. Both the front and rear bumper areas are in good condition and the front spoiler is free from cracking and damage. The removable sunroof top is in very nice condition including the underside of the top. Glass is free from damage and the power windows are fully functional. The unique factory "telephone dial" Porsche factory 944 Turbo wheels are in excellent damage with no major curbing, or damage. The premium Bridgestone tires are very nice with even wear and considerable remaining tread.

The interior shows beautifully. The leather seats, carpeting, and door panels are all in very nice, stock condition, reflecting the car's low mileage and excellent care over the years. The dash has some cracks but is covered by a custom fit dash cover. The rear area under the hatchback glass is very tidy with excellent carpet that is devoid of fading or damage.

The Porsche is "California" clean, free from rust, and shows absolutely no signs of accident damage. The Car Fax supports the car's totally clean history and lack of flood, theft, salvage and other negative history.

OTHER

• Passed the California required safety inspection for working wipers, turn signals, lights, brakes, etc.

• Includes color original dealer brochures and literature (refer to photos)

• Owner's Manual and Warranty & Maintenance Manual

• Receipts / maintenance file included

• Clear California title and currently California registered

• Original tool kit

SPECIFICATIONS OF THE 1987 PORSCHE 911 CARRERA TARGA

ENGINE

• TYPE: Inline 4

• INDUCTION: Turbocharged

• COOLING: Water-cooled

• VALVETRAIN: Single overhead camshaft

• INJECTION: Port injection

• BORE X STROKE: 3.94 in/100.0 mm x 3.11 in/78.9 mm

• DISPLACEMENT: 151.22 cu-in./2,479 cc

• HORSEPOWER: 220 @ 5800 rpm

• TORQUE: 243 lb-ft. @ 3500 rpm

• MAX RPM: 6500

• COMPRESSION RATIO: 8.0:1

TRANSMISSION

• OPTIONS: 5-speed manual

CHASSIS

• TYPE: Front-engined, rear-wheel drive

• CURB WEIGHT: 2,722 lbs.

• HEIGHT: 50.20 in/1,275 mm

• GROUND CLEARANCE: 4.92 in/125 mm

• LENGTH: 166.54 in/4,230 mm

• WHEELBASE: 94.49 in/2,400 mm

• WIDTH: 68.31 in/1,735 mm

• TRACK FRONT: 58.15 in/1,477 mm

• TRACK REAR: 57.13 in/1,451 mm

• DRAG COEFFICIENT: .33

• WHEEL SIZE FRONT: 16 x 7

• WHEEL SIZE REAR: 16 x 8

• TIRE SIZE FRONT: 205/55VR-16

• TIRE SIZE REAR: 225/50VR-16

BRAKES

• CALIPER FRONT: Fixed 4-piston

• CALIPER REAR: Fixed 4-piston

• DISC TYPE FRONT: Ventilated discs

• DISC TYPE REAR: Ventilated discs

• DISC SIZE FRONT: 11.73 in/298 mm x 1.10 in/28 mm

• DISC SIZE REAR: 11.77 in/299 mm x 0.94 in/24 mm

PERFORMANCE

• 0 TO 60: 6.5 SECONDS

• TOP SPEED: 152 mph
Fuel

• MPG CITY:

• MPG HIGHWAY: 25

• MPG COMBINED: 22

• FUEL TANK CAPACITY: 21.1 U.S. gallons

• REQUIRED OCTANE: Premium unleaded (91+)

HISTORY OF THE PORSCHE 944 TURBO

In 1985 Porsche introduced the 944 Turbo, a higher-performance variant, known internally as the 951 (952 for right-hand drive models). This had a turbocharged and intercooled version of the standard car's engine that produced approximately 220 hp at 6000 rpm. The turbo was the world's first car using a ceramic portliner to lower temperatures inside the engine. The Turbo also featured several other revisions, such as improved aerodynamics, a strengthened gearbox, wider wheels, and up-rated suspension. Major engine component revisions, more than thirty in all, were made to the 951 to compensate for increased internal loads and heat.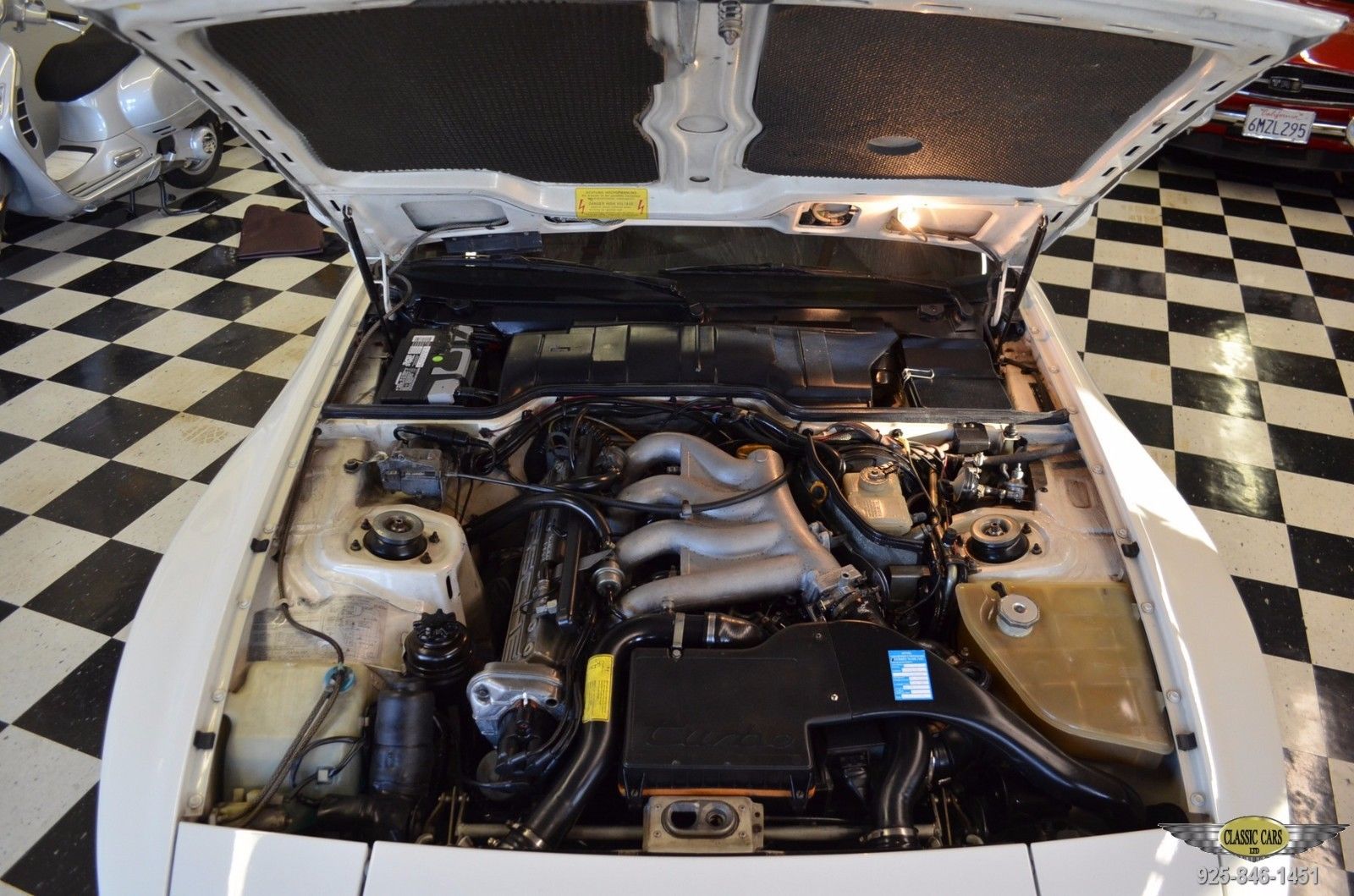 Finding a pristine 944 Turbo isn't as hard as, say, finding a pristine Quattro. However, there are more cars with a lot of needs than there are lower mileage, clean original examples on the amrket at any given time. Since the residual value of the 944 Turbo has remained low for so long, it hasn't been viable to restore the cars, though the market has begun to swing upwards. Still, your best bet is to find the best condition, most original example you can right now as it's still cheaper to do that (generally speaking) than to buy a wreck and start over.
Is this the one to buy? A lot depends on what you're looking for. Though the '86 model isn't as potent as the later (and arguable more collectable) S model, it can usually be had at a lower price. Miles aren't outrageously low, but again that makes this one more affordable, while they're also not so high as to be problematic. The color combination of Alpine and Burgundy is great, and the big plus are the sport seats. The options indicate to me that the buyer was an enthusiast of good taste; not only did they select M474 (Konis), but they also chose to pick the car up in Germany (M900 – Tourist Delivery) at a time when it was less in vogue. There's a stack of receipts, and no surprise, a PCA sticker attached to the window.
However, there are a few things I found off about this car. First is the cracked dash; unfortunate, but not uncommon. Second is that the seller, while they include a lot of "information" in their listing, doesn't really go heavily into detail about this particular example even though they've got the documentation to. It's also a bit strange to me that the car, though well somewhat enthusiast optioned, didn't carry options 393/395 (Fuchs forged wheels), 220 (Limited Slip), and – though they're present – options 383 and 387 – sport seats – are not indicated on the build. Lastly, the "DTM" inspired exhaust looks out of place.
Despite these things, this is still a very nice driver-quality, occasional show Turbo. Mileage isn't so low that you can't drive it, but condition is certainly good enough to be proud of. Bidding is recognizing this opportunity, and with a few days still remaining on the no reserve auction it is at $14,500. It will be very interesting to see where this car ends as it's a bell weather to the market and a litmus test for where clean examples are heading.
-Carter