Warning!
This post is in our archives. Links in this post have been updated to point to similar cars available to bid on eBay.
We've all heard the stories about the little old lady from Pasadena, who owned a piece of classic American iron but rarely ever drove it. Well, how about die alte Dame aus Stuttgart ? What would she drive? Apparently a Volkswagen Polo MkII, like this example for sale in Deckenpfronn, southwest of the city that Mercedes-Benz and Porsche made famous. The second generation Polo bowed in 1981 and was available as a two door estate, two door notchback, or the 2 door hatchback, known as a coupe, such as our feature car. Offered were a variety of petrol and diesel engines, ranging from 1.0 liter to 1.4 liters.
Two interesting powerplants were offered during this generation. First, the was the supercharged 1.3 liter engine with 113 horsepower as seen in the Polo GT G40. This was a precurser to the later G60 engine that would appear in the Corrado and Golf. Second, there was a high fuel economy version called the Polo Formel E. This car featured longer gearing and a higher compression 1.2 liter petrol four cylinder engine. In a display of Volkswagen's technical prowess, the Formel E also introduced start stop technology when it was released in 1983. If the engine idled for more than two seconds, it would shut off and automatically restart when the gear lever was moved from neutral. This function also had an override in the form of a switch on the dashboard.
From the description, this Polo appears to be a GL model with the 1.2 liter four cylinder engine, as it is stated as having 55 horsepower, which is close to the original 60 horsepower listed for that engine.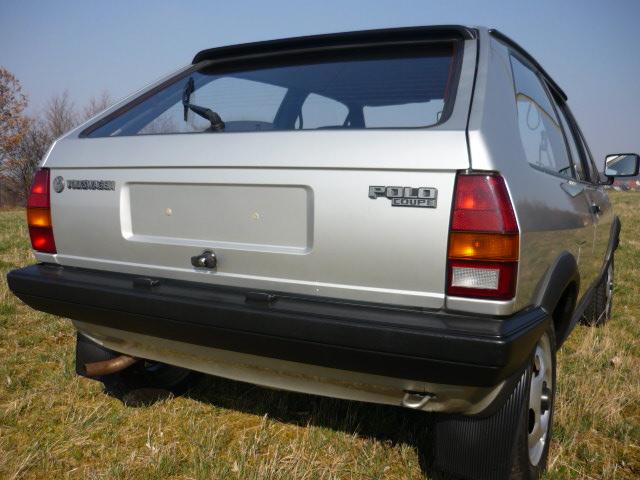 1986 Volkswagen Polo. Built in 1985. ORIGINAL 23,900 km driven by older lady until August 2011. Garage kept. Retrofitted catalytic, E-pollutant code no. 03. ORIGINAL, absolutely unused vehicle. TÜV August 2013 Checkbook (not complete) available. Vehicle in top condition, but because of age as a collector vehicle, offered without warranty.
At approximately $4,800 USD, this could be considered cheap for such a high quality vintage Volkswagen or pricey for what was the entry model Volkswagen of the era. While under 15,000 original miles is certainly impressive for any 1980s subcompact, one has to consider just how collectible a car like this is. If this were a Polo GT G40, it would certainly be more desirable. If one could procure this Polo for around $2,700 to $3,000, it would leave enough room for a rabid Volkswagen enthusiast to ship it here to the US and be the talk of the next show they went to.
-Paul