One of the most iconic BMWs (second only to its successor the 3 series) the BMW 2002 has to be one of my all-time favorite cars. Light and nimble these cars were the inspiration for the hot hatch movement almost a decade after.  Out of the box, the 2002 sported a 1.9l 4 cylinder, with 108bhp, not a muscle car by any stretch, but in a chassis that weighed just a tick over 2200lbs, it was enough to make this car a blast to drive, and a motorsport favorite.
This 1976 2002 in Colorado Springs, CO spent a good part of its life on the track, which is evident by the list of modifications. With the built 2.3l on ITBs and Haltech management, this 2002 is closer to 200bhp, than the 100bhp that the 1.9l put out. To make use of all of the power, the chassis and brakes were upgraded, making this BMW the total package. Whether you're looking for a car to use on the track, or just a fun driver, this car would be happy to oblige either.
1976 BMW 2002 on pelicanparts.com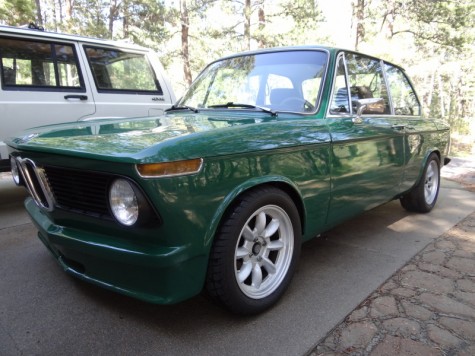 I bought this car in June 2007 from the prior owner in New Jersey who used the car primarily for DE and autocross events. At the time, the car was stripped down for lightweight advantages and only contained the bare essential performance upgrades and safety equipment needed for performance at the track.
Though my goals for the car were for more street use, it came in great shape and had most of the go-fast parts already installed. First, I removed the roll cage, replaced the solid suspension components and mounts with urethane, and removed the EPO switch. Then I went overboard with the engine and driveline, upgrading from it's already potent condition with a hot cam and twin Weber 40 carburetors to a fully rebuilt, stroked and bored (2.0 to 2.3L), beast.
The rest is sort of unfortunate, as I never got it fully sorted out and tuned. Then I moved from FL to CO, where I had even more trouble with the finances to support the re-tuning and sorting out some bugs. I just now finally got it sorted. The major culprit ended up being too much voltage, which was cured by replacing the ignition control module. It now purrs like a kitten, but needs further tuning to unhide the beast within. The timespan between the rebuild and now stretches back about 4 years, and have unfortunately just lost emotional interest and have already moved on to a '91 Porsche 964. I can only afford one car, so this one has to move on to someone else's care.
I'm not selling a perfect car, but a car with lots of goodies and tunability, so I've priced it to reflect this. I haven't added up the receipts yet, but it's probably nearing $25k in total. It's a little finicky when starting cold, but once warmed up, it runs great. Depending on your desires, I believe it can be fine-tuned for much better performance. It handles like a dream. I love the suspension and how it feels in the corners. The fully rebuilt motor has approx 3,000 miles.
Details of work and upgrades are listed below:
Motor/Driveline: – TWM individual throttle bodies – TWM intake manifold – TWM throttle body spacers – TWM airbox – TWM fuel rail – TWM air horns – S14 crank – JE pistons (machined by Eric Kerman) – E12 head – Bosch fuel injection pump – Haltech E6X EFI
– IE aluminum radiator w/overflow tank – IE stainless intake/exhaust valves – Schrick valve springs – Schrick 304 cam – Aluminum alternator pulley – Used 320i 5-Speed – Aardvark 5-Speed Conversion Kit
– New clutch (can't remember type right now)
Brakes: – Dual Tilton custom remote master cylinder (boosterless) – Interior brake bias adjustment valve – Volvo discs/VW calipers
Exhaust: – Stahl header
– Magnaflow exhaust and muffler
Suspension: – Urethane rear subframe mounts – Rear subframe mount inserts – TEP rear strut tower brace
Electrical: – new EFI with nicely sorted engine wiring – Battery relocated behind rear strut brace
Interior: – Esty carpet – E21 cloth rear seat – Rear seat belts – E30 rear view mirror – 5-speed shift pattern stickers
Exterior: – E-code headlights – Plug for former EPO switch hole on c-pillar – Door handle gaskets – Door seals – Recently fixed a few dents, dings, and paint scrapes; freshly painted engine bay
Wheels/Tires: – Superlite GTR 15″ wheels – Sumitomo HTR-Z tires
I am asking $13,000. The title is free and clear. It's been in one stop light rear bumper bender that I'm aware of, but I had that fixed perfectly. The registration has expired, but there are plenty of nice winding neighborhood roads to take it out for a test drive. Unfortunately the expired registration may cause an issue for getting it to a mechanic for a proper PPI. There's one close by that I'd risk driving to, but it's not a European car specialist and I have no history with them.
I can be reached for further information at the email address below. I'm fairly quick with my email replies, so that's a good way to reach me. Then if needed, we can exchange phone numbers and go from there. The car is located at my residence in north Colorado Springs, Colorado. Personal visits and test drives are welcome.
Thanks,
Michael mrnvgtr@gmail.com
Youtube Vid: 1976 BMW 2002 For Sale.m4v – YouTube

 
What I like about this car is that the seller is not out in the stratosphere with price.  At just $1,500 over average retail, this car is priced to sell at $13,000.  While not an all original museum piece, this is an exceptional driver with just the right amount of upgrades to make it a blast, but not so many that it's overly needy.  This is a prime example of a car that was loved by the owners, but as in many relationships, it becomes time to move on.  With good looks and turn-key readiness, this car would be a great addition to any garage, but if it were me, it would spend as little time in the garage as possible, and more time tearing up the back country roads.
-Brian