I think it's clear at this point that I look at the removal of the E30 M3's S14 motor like removing the harmonies from early Beatles music; most of the popular pieces are still there, sure, but it's missing the soul that made it special. This is especially true when it comes to the overdone S50/52 swaps from E36 M3s. I see those in normal E30s and think "damn, fun!" I see them in M3s and thank "damn, shame." Today's swap, while tending towards the overdone side that most swap projects lean, takes a different tack by eschewing the second M3's inline 6 for one that's bigger, badder, and more rare. An evolution of the near-and-dear-to-me S38B35, the E34 M5 got the B36 and B38 models, pushing out 315 and 340hp respectively while making that heavenly sound. So while it's still an overwrought E30 M3 project with a swap, I appreciate the more obscure engine choice setting this one apart.
1990 E30 M3 w/ S38 swap for sale on eBay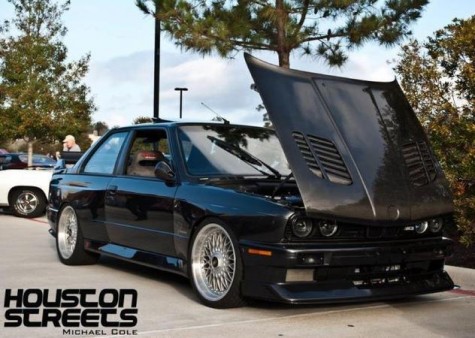 From the seller:
up for sale is one of a kind very rare in beyond excelent condition 1990 bmw m3 with a clean clean Texas car title never accident and all factory vin # sticker remain on every panel including bumpers and side skirts never had accident & 100% rust free. This m3 was taken for a car show project event, project was done at one of the 5 star shop specialist in Houston TX. www.royalcollision.com,

Job started late Nov 2010 started on the engine swap we have dropped in 1992 BMW ///M5 S38 3.6l engine. *not e36 m3 * We striped this motor all the way down the block and converted to 3.8l stroker, ported the block for stroker build high compression all new parts pistons, lifters, valves and cams by vac motorsports and a used polished crank 3.8l from germany and much more, the head exhaust outlet is ported and intake inlet is also ported and polished so engine is like brand new. Also hand build custom air intake box with custom vilsty stac in side of the box and finished with spowder coat in textured ferrari red. 40 pound fuel injectors and a custom fuel rail and with high pressure stainless steel hoses AN fitting with fuel regulator and also a new getrag 280 transmission 5peed with stage 3 clutch and a custom build differential 3.46 at 50 lock with custom polished lsd, custom build headers, mid pipes and super sprint race exhaust, custom radiator, cooling system with high pressor hose end AN fittings, car dose not have a/c.

Ground control coilovers suspension with custom sway bars on the back.

Interior has recaro front seats custom build dashboard trims with brushed smoked aluminum and Kenwood navigation system NDX9990HD with Focal speakers and kenwood amp, headliner is done in black suede, and also the door panels in charcoal suede with red stitching to match all interior seats back and front seats also in charcoal suede with red stitching, new carpet quick release sparco with black suede steering wheel and a sparco shifter & E brake with suede boot.

EVO III tail light from germany and smoked Xenon headlights

Carbon fiber evo side mirrors, carbon fiber hood, carbon fiber front eyebrows, carbon fiber EVO III rear spoiler 3 way adjustable, carbon fiber rear license place tray and ofcourse a beautiful front carbon fiber front lower lip.

18in staggered 2 peices BBS style 5 with yokohama tires 255/35/18 back & yokohama 225/35/18 front

Car is very beautiful there is alot to list car drive and handle very nice great suspension knowing its lower that are no tire rubbing great engine soft sound perfectly build barely a 1000 mile on this engine have one of the most beautiful exhaust sound over $70,000 was invested in this car all recites invoices are avaliable have a 4in thick file of invoices. as you see in the photos, how its rebuilded inside outside under the body so unique cleaner than my e92 m3
And i have seen clean stock E30 m3 4il that sold on ebay for $35, $45, and $50, i am very sure i'll get what i am looking for $$$ for this car there is nothing, absolutely NOTHING WRONG WITH IT Its ready for home to a collector person and to enjoy it…….
So it's not really an B38 but a stroked B36… so it goes. If you can get past some of the typical overkill – louvered hood, Nurburgring sticker, removable steering wheel – what lies beneath is a gorgeous M3 Evo with a unique engine swap. I'll take my classics original, but I appreciate the use of the S38 and big Style 5s on this extreme M3.
Despite being the tuner type of perfect from bumper to bumper, the seller is going to have a tough time getting even his starting bid of $40k, and the Buy-It-Now of $50k isn't happening. He's going to have to accept that a *cough* reasonable price is somewhere in the $30s.
-NR