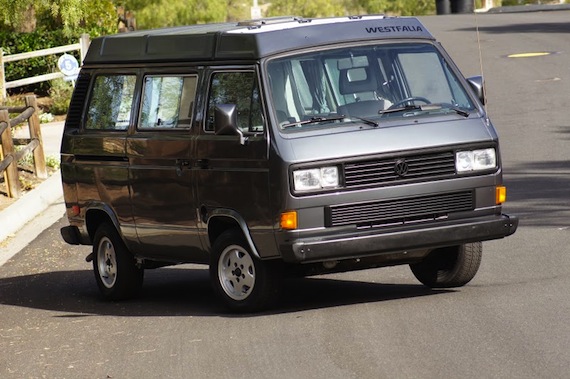 Westfalias and Syncros go for insane money (especially when it's both), as I have documented here over the past few years. Today's Westy reminds me of the one my friends' family had, down to the perfect Wolfram Grey Metallic. A new 2.1l and a clean Westy interior make this a quietly hot commodity. The asking price is Westy-high, but it's been loved for its 98k and makes me rethink my recent appreciation for solo life and desire some little kids to show the country to.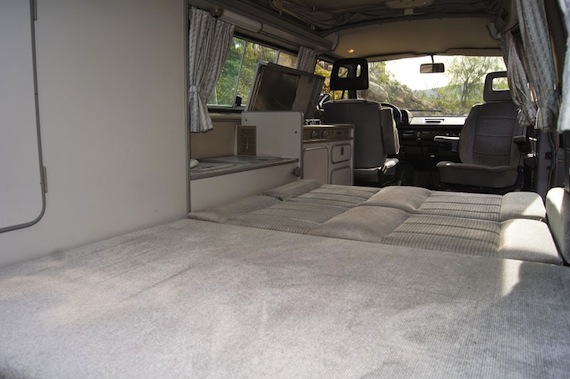 Year: 1987
Model: Vanagon Westfalia
Engine: 2.1 liter flat-4
Transmission: 4-speed automatic
Mileage: 98,000 mi
Price: $26,500
87 WESTFALIA, RESTORED, REDUCED and FREE SHIPPING Price: $26,500
FREE SHIPPING SEE INFO BELOW

1987 VOLKSWAGEN VANAGON WESTFALIA GL WOLFRAM GREY METALLIC
FULLY LOADED AND COMPLETELY FUNCTIONAL
NEW MOTOR
NEW TRANSMISSION
RESTORED TO ORIGINAL WITH TASTEFUL UPGRADES
MANY PICS TO SEE (CHECK OUT LINK BELOW)

Thank you for your interest in our 1987 VW Vanagon Westfalia GL, otherwise known as a FULL WESTY. There comes a time when you come across something so special that it's simply impossible to pass up or to even think of altering. This is the case with this Amazing Westfalia.

We purchased this Westy 4 months ago from a Charity Auction. She came to us in the original condition with only 98K miles and was owned from day one until we acquired her by the same owner, so yes folks this is a one owner Westy which means you will be the "SECOND" owner in her life. When we received her, the motor was partially disassembled and from what we can tell it might have been a head gasket issue. Once we did a thorough overview of the overall condition of the vehicle as well as the originality, we quickly decided that she needed to be revived back to the original glory and that included a REBUILT MOTOR By Tuttles VW Engines out of Los Angeles (warranty included) and also a REBUILT TRANSMISSION as well. Take a look at the extensive photo album detailing the process from first arrival to final completion. Simply put, this Westfalia is a time piece. Come over for a test drive and once you crack open the door for the first time, you'll quickly feel like you are at a dealership back in 1987 opening the door for the first time, she is that well-kept and preserved.

This Westy is fully finished, including a 1000 mile road test which included the motor break in period. Currently she has 99,400 miles. The revival process included many other aspects as shown in the pictures. She underwent a full paint job, including the pop top. The pop top seals were replaced. The interior we decided to leave as is simply because we had never seen a cleaner and well preserved 27 year old vehicle. We gave her a full detail interior wise, and added the necessary GO WESTY LLOYD MATS and few other accessories. Rounding off our project we upgraded the wheels to the Original VW Alloy Wheels, had them refinished and installed the NEW tires which now have 1000 miles due to the break in period. She has already had her first oil change in compliance with the necessary maintenance and break in procedures requested by the engine builder. In the past, we have customized our Westys and Vanagon Projects with larger wheels and rugged off road style tires, but it would have been a shame to not keep this beautiful Westy as original as it can be. The motor starts up and simply hums, like factory new, the transmission shifts flawlessly and all the components work just perfectly. The previous owners decided to remove the original AC System including the components in the rear of the vehicle, a closer look at the pictures will show that the AC has been removed and turned into a storage unit. Unfortunately we do not have the components, but we are sure that "THE SAMBA" Family would more than likely assist the new owner in locating these parts if he/she would choose to reinstall the AC.

Take her for a test drive and one will appreciate the condition and quality that she is in, let's put it this way, even the window seals that are notorious for leaking air and making a whistling sound as you are driving, are in such good shape that when on the freeway, it is simply quiet. Yes it's that good. Lastly, we have a full CARFAX History Report for this Vehicle and we will gladly forward it to you upon request.

Below we have detailed the condition and also the components that were either replaced or restored.

Mechanically – she is in GREAT to EXCELLENT condition

Exterior – She has a brand new paint job and refinished trim pieces with new seals as well

Interior – she is ORIGINAL and still in EXCELLENT condition

OVERALL – She is ready today to drive cross country with her new owner and we'll even fill up the tank for your trip back home.

New component List.
• 2.1L H4 Motor By Tuttles VW Engines
• "094" 4 Speed Transmission Rebuilt
• Water pump
• Fuel pump
• NEW GO WESTY MAF with Syndrome Fix
• New Temp Sensors
• Thermostat
• Cooling hoses and belts
• New fuel lines and injector hoses
• All new temp switches and sending units
• Factory Alloy Wheels, refinished
• New Pop Top Seals

Upgraded Components
• Factory Alloy VW Carat Wheels, refinished with new tires

The following original components are fully functioning
• Stove
• Sink
• Fridge
• Rear Heater
• Front Heater
• Water Faucet
• Electrical Outlets
• Factory Curtains
• Factory Front Privacy Curtain
• Factory Sky Window Curtain
• Factory Bug Netting for the rear
• Factory Pop Top Tent with one tiny pinhole
• Factory Radio with Safety Code
• Factory Keys with Key Codes for Dealership Reproduction

HERE IS A LINK TO MANY HI RESOLUTION PHOTOS

https://picasaweb.google.com/117722123439430616484…directlink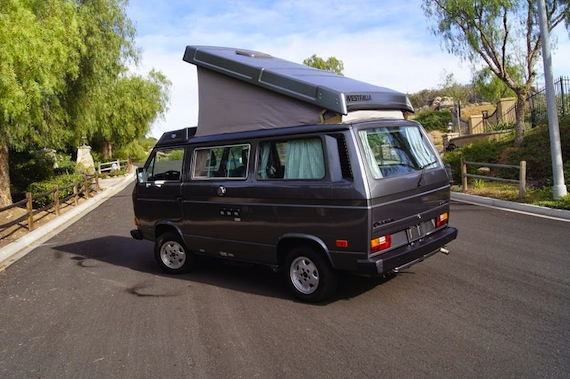 If I were ready to buy my oft-written about LifeVan, I might forego the audacious lifted suspension and AWD of the Syncro for the classic standard Vanagon look available here. And compared to other Westies, the price is completely reasonable. Alas, I'm not there right now, but someday, I want something like this. Considering how much of North America my friend Matt has covered in his 2-wheel drive Westy, I could forego the awesomeness factor of the Syncro to save something like 60 GRAND.
-NR