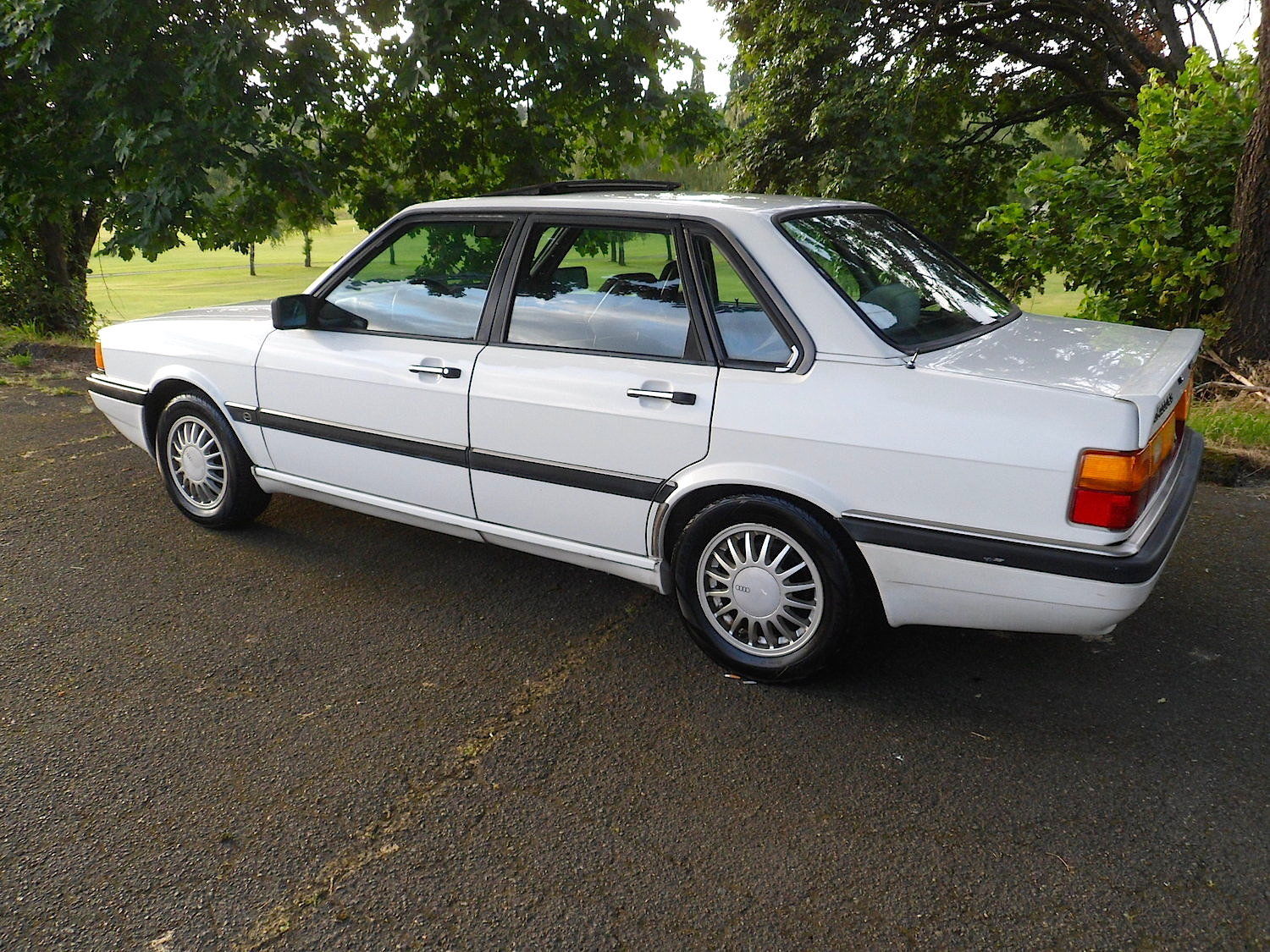 If you really want to stand apart from the E30 crowd and don't have a ton of money, one of the best ways is the B2 Audi. Like the E30, it was available in many forms and brought interesting and innovative technology and designs to the small luxury market. There was the stylish and sport Coupe GT, the economical 4000S, or the fan-favorite, do anything 4000 quattro.
Okay, you're not likely to win a drag race against their Bavarian countrymen unless the weather is quite inclement. But build quality was great, they're all fun to drive in their own unique ways, and each one of them really makes you feel special – especially the growling inline-5. These Audis are universally loved by their owners and misunderstood by nearly everyone else.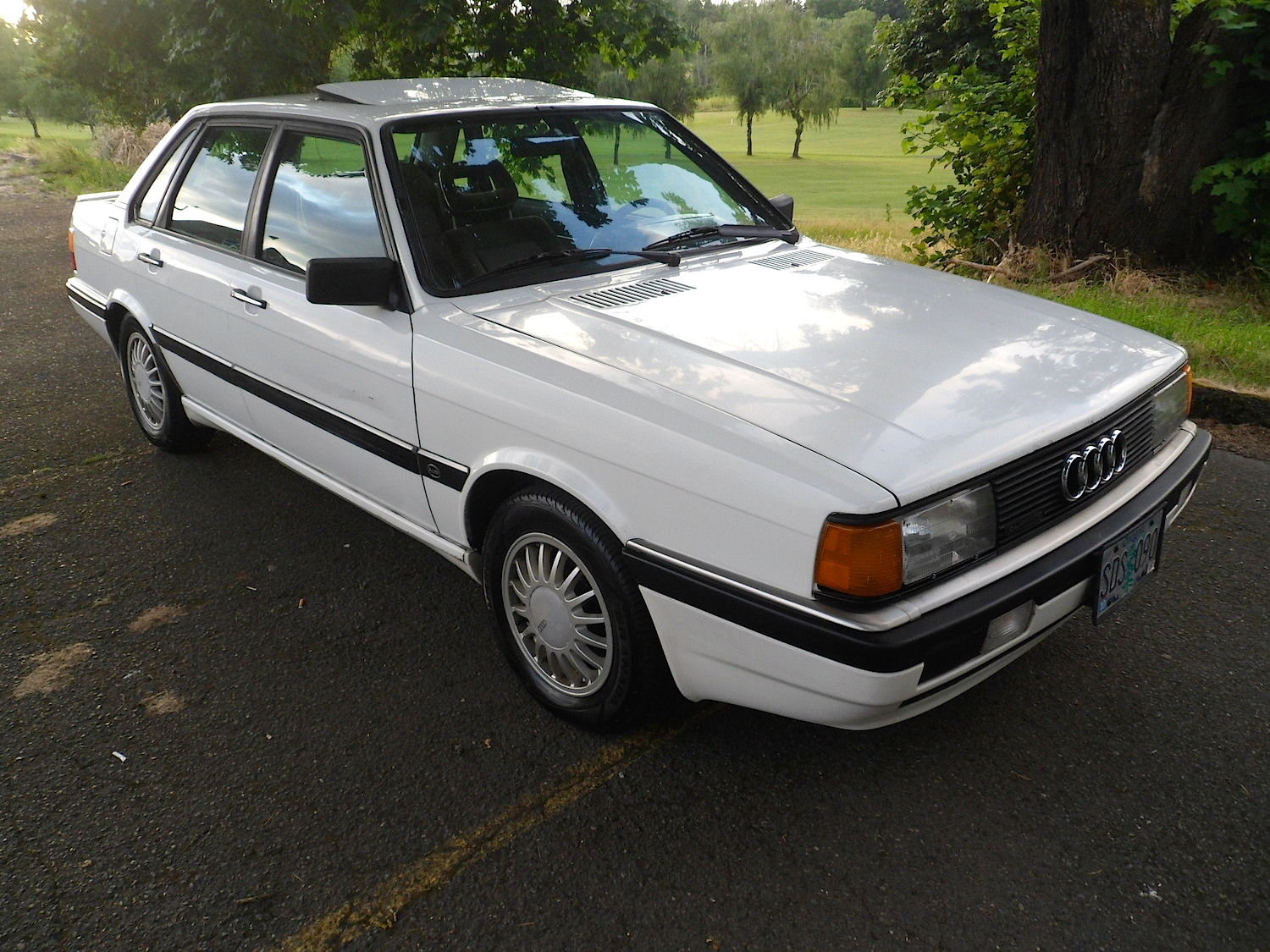 Year: 1987
Model: 4000CS quattro
Engine: 2.2 liter inline-5
Transmission: 5-speed manual
Mileage: 317,800 mi
Price: No Reserve Auction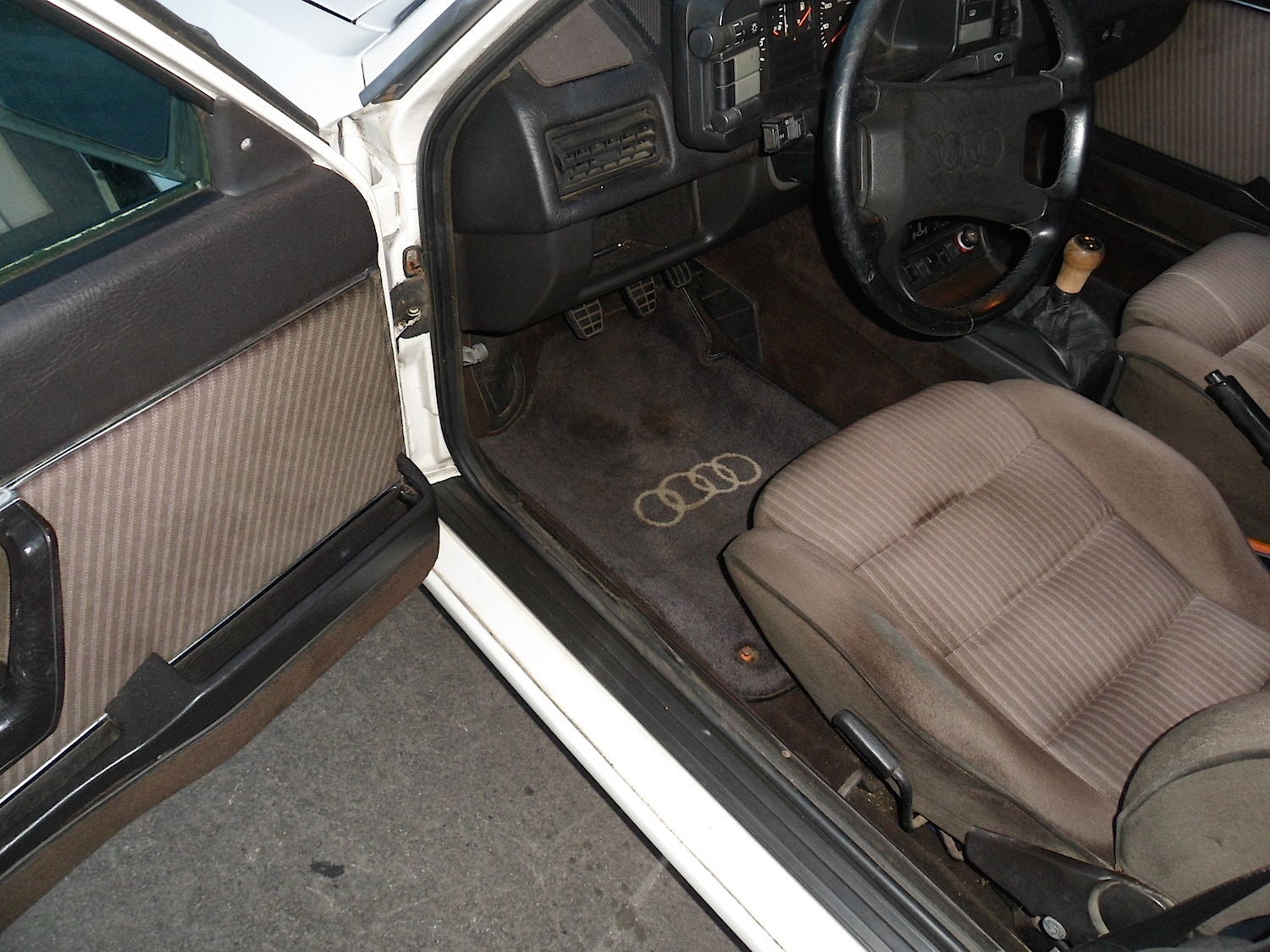 1987 Audi 4000 CS Quattro Alpine White with brown velour interior. I do not have room for this car and there is no reserve on this auction. This is a one owner from new car who passed away last year and it was passed along to me thru a family friend. The car was meticulously cared for and maintained. EVERY single thing that was done on the car since brand new is documented and done either at the dealer or a local well respected shop. He drove this car for nearly 30 years and it has 317k on it. It looks and runs like it has less than a 100K on it. He had anything fixed immediately and this car has never been in an accident and is completely original in every way including the paint. There is a small ding on drivers door, and a scrap dent on passenger door. I do not see any other dents or dings. All door handles work, power locks work, all power windows work, Power sunroof works. A/C needs a charge, but is intact and does work. power mirrors do not work.
This car has the rare heated seats option and computer. both work like they should. Original Ronal R8 wheels are still true and have matching tires 195/60/14 in excellent shape. Trunk is clean and comes with original spare tire, jack and tools. Rear trunk lock seal needs replacing.
E-Brake works well and brakes work very well too!
Seats, Carpets are in really nice shape!
No cracks or chips in any of the glass or tail lights or headlights. This has the 87 year only ostrich skin dimple dash.
Car was bought new at Sunset Audi in Beaverton, Oregon and has been at only one address since new. Has every record and original owners manuals, both original keys.
I would not hesitate to drive this car anywhere. It runs incredible, has zero valve noise at startup and sounds like new. runs buttery smooth and has incredible power. I have driven a few of these and this has more power than any I have driven and it has 317K. shows just how solid these cars are if you drive them and maintain them. I will do a compression test this week.
Original Purchase price was $15,500, Maintenance from new total is $23,000.
There are a few things that a 30 year old car like this has issues, but not many.
door ding driver door, and dent scrape passenger door.
water temp gauge isnt working, fan works. need replaced or temp sender?
Power mirrors dont work.
A small rust bubble on sunroof.
Rear floor mats are blue, but correct for the car. He must have lost them at some point and found these?
clutch pedal needs a little help at top. maybe clutch master?
one dash light is out on cluster.
Struts in front are soft and one is pretty bad. no clunking but over speed bumps you can tell its bad.
looks like passenger outer CV boot is starting to fail.
alternator belt squeals at start up sometimes. needs replaced probably or tightened.

Recent maintenance:
02/2016-New Interstate Battery-$160 (317,088)
09/2014-Rear Struts, Major Tune up, Flush clutch fluid-$961 (315,016)
09/2013-T.Belt,water pump, thermostat, tensioner, all belts, new lifters & valve cover gasket, sunroof seal/gasket, oil/filter-$1500 (306,206)

Every single thing done to this car including winter and summer tire swaps is documented and only Audi Sunset Porsche/Audi, Hillside Imports, Les Schwab, and occasional jiffy lube have ever touched this car.
Super clean underneath and no rust. very minor surface rust you can see in the pictures.

All in all this car is straight and solid. starts right up every time.

I have about a hundred pics and a video of it running as well. Only allowed 24 on here, so ask and I can email them or I will try to get them on here.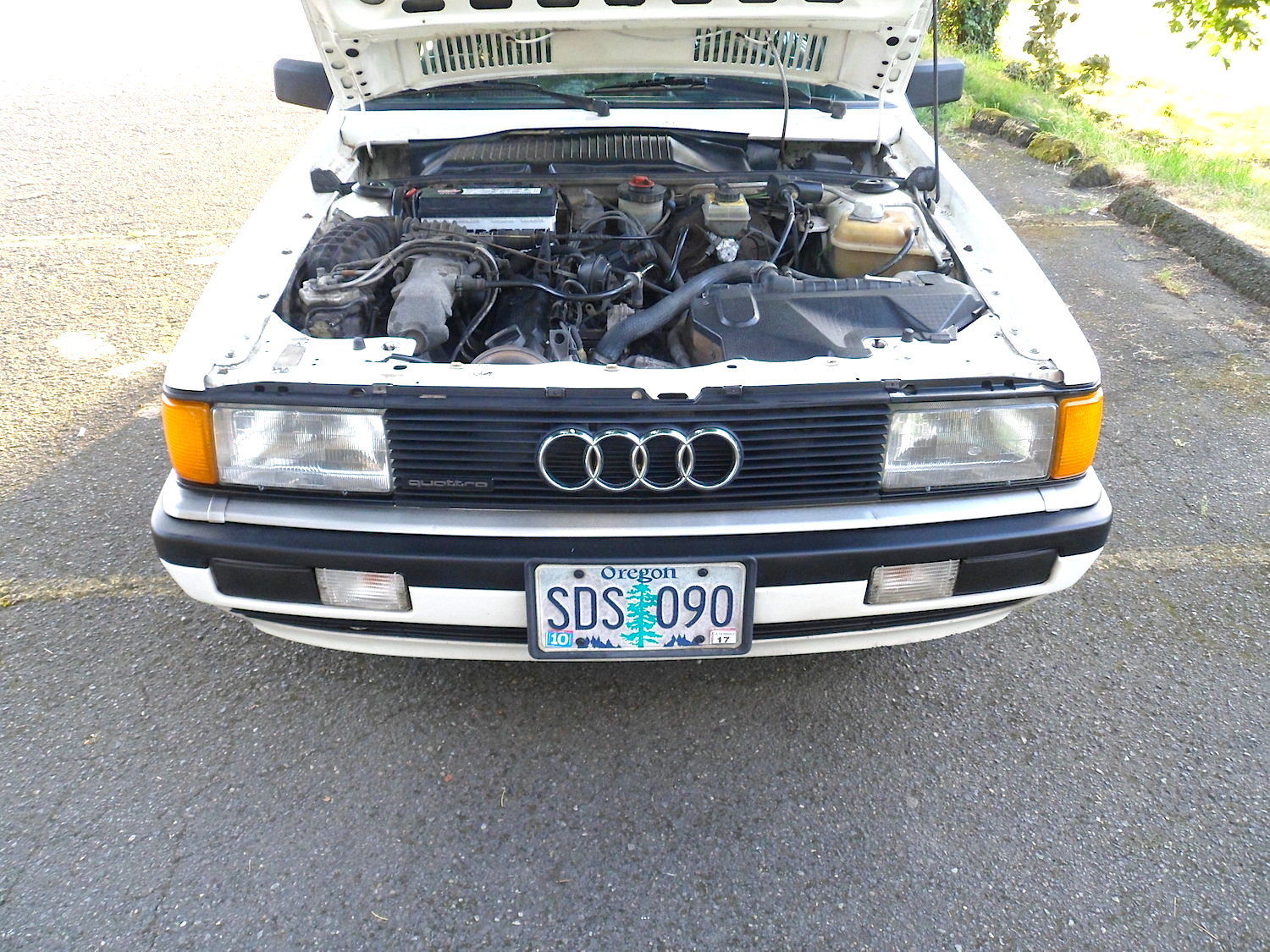 This Alpine White example is one of the 2,929 1987 4000CS quattros sold in the U.S.. A single owner piling some 300,000 miles onto one of these cars tells you all you need to know about their reliability and sturdiness; but unlike most at this mileage level, this car still shines and shows the care of that owner. That said, it's far from a new car – the most notable evidence of wear is the bashed passenger door and pitted front end; the reflectors are missing, the wheels are in need of a refinish, and the interior shows 30 years and 300,000 miles of wear – admittedly well, but it's still there. This car had some neat options; the trip computer and heated seats are less frequent options to run across. The only remaining one would have been leather interior.
The seller is upfront about the needs of the car, but then at the same time makes some typical and unfortunate "seller stretches" of the truth. It's NOT a one owner car if you're the second owner, and as usual the A/C likely needs much more than a charge. With the mileage, you'd expect the car to have some quirks as it apparently does, but I think the overall presentation is fairly remarkable. A look into the engine bay shows the side cardboard for the radiator shroud still in place, for example, and all the trim (minus the front reflectors) is in place and in good shape. With a day remaining, bidding is a bit surprising at almost $3,500 – where I'd previously have expected this car to top out. However it is getting harder to find reasonably clean examples of this chassis, and while this isn't one you'll want to bring back to showroom condition, it does represent a nice way to enjoy a B2 on an affordable budget.
-Carter