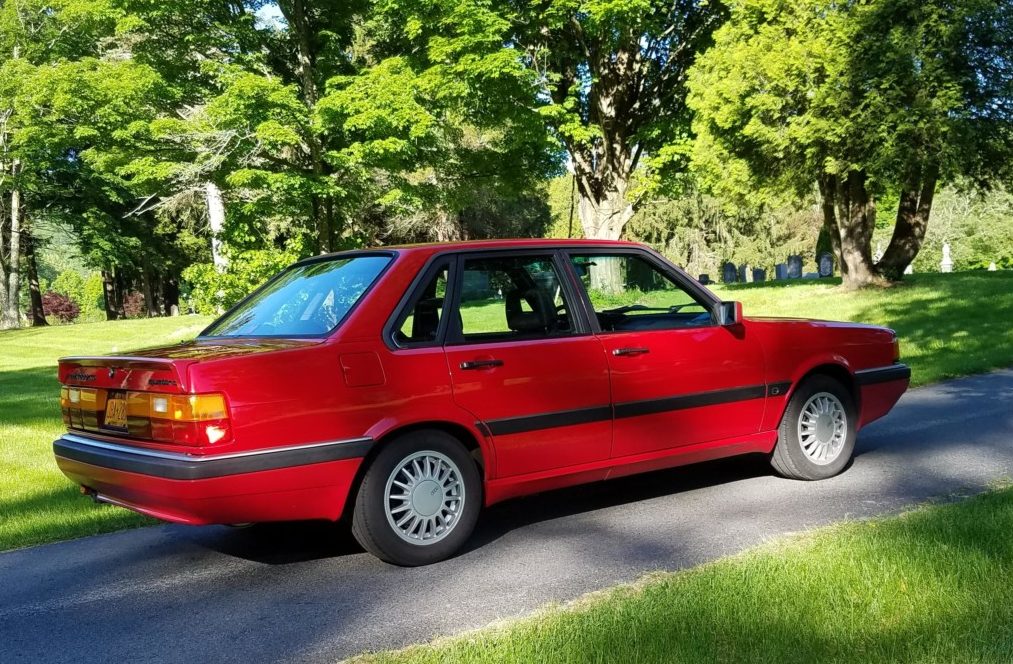 The Audi 4000 quattro was like a Sherpa to thousands of European car enthusiasts; a steadfast winter standby with slick styling and Rally-bred sure-footedness. On paper, looking back today the 4000 was probably a bit dull; nearly 2,900 lbs of brick-on-brick design with a measly 115 horsepower motivation from the slow-revving oddball inline-5 hanging entirely in front of the forward axleline. But numbers don't tell the whole story of the B2 Audi, because in any configuration it's a great handling car. The quattro, however, had some special features that would have been headline items for any sports sedan until very recently; four wheel independent suspension with a large front sway bar and four wheel disc brakes. Couple that with the first all-wheel drive system fitted to a small car, sprinkle some luxury items in and cut the price of the exotic Quattro in half, and it didn't matter that it wasn't particularly fast.
What the 4000 quattro was, though, was one solid all-around performer. The subtle changes from the front-drive sedan resulted in a car that felt more grown-up and refined, yet still pushed you to do silly Hoonigan things. 4000 quattro owners that I've talked to almost always have the same proud story; the time that they managed to get their 4000 quattro stuck. Normally, that would be a cause for embarrassment, but such was the grip of the plow-through-anything small sedan that it became a badge of honor when you outdid the car's twin-locking differentials. The secret, of course, was just to make sure all four wheels were in the air! But because of this type of silliness-inducing competence coupled with dropping residual value and a second or third tier of ownership that didn't always repair or maintain the cars, few are left in good condition. But once in a while one pops up that has you seeing red…LY3D Tornado Red, in this case: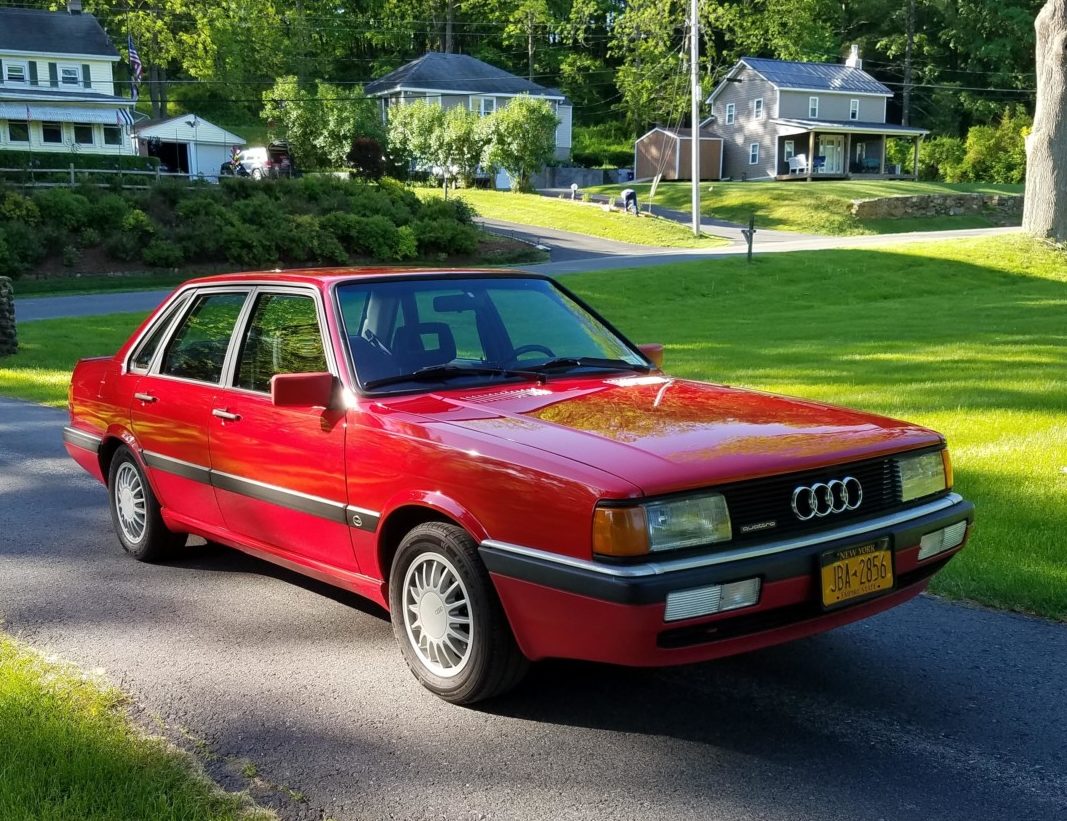 Year: 1987
Model: 4000CS quattro
VIN: WAUFB0852HA024355
Engine: 2.2 liter inline-5
Transmission: 5-speed manual
Mileage: 90,000 mi
Price: Reserve Auction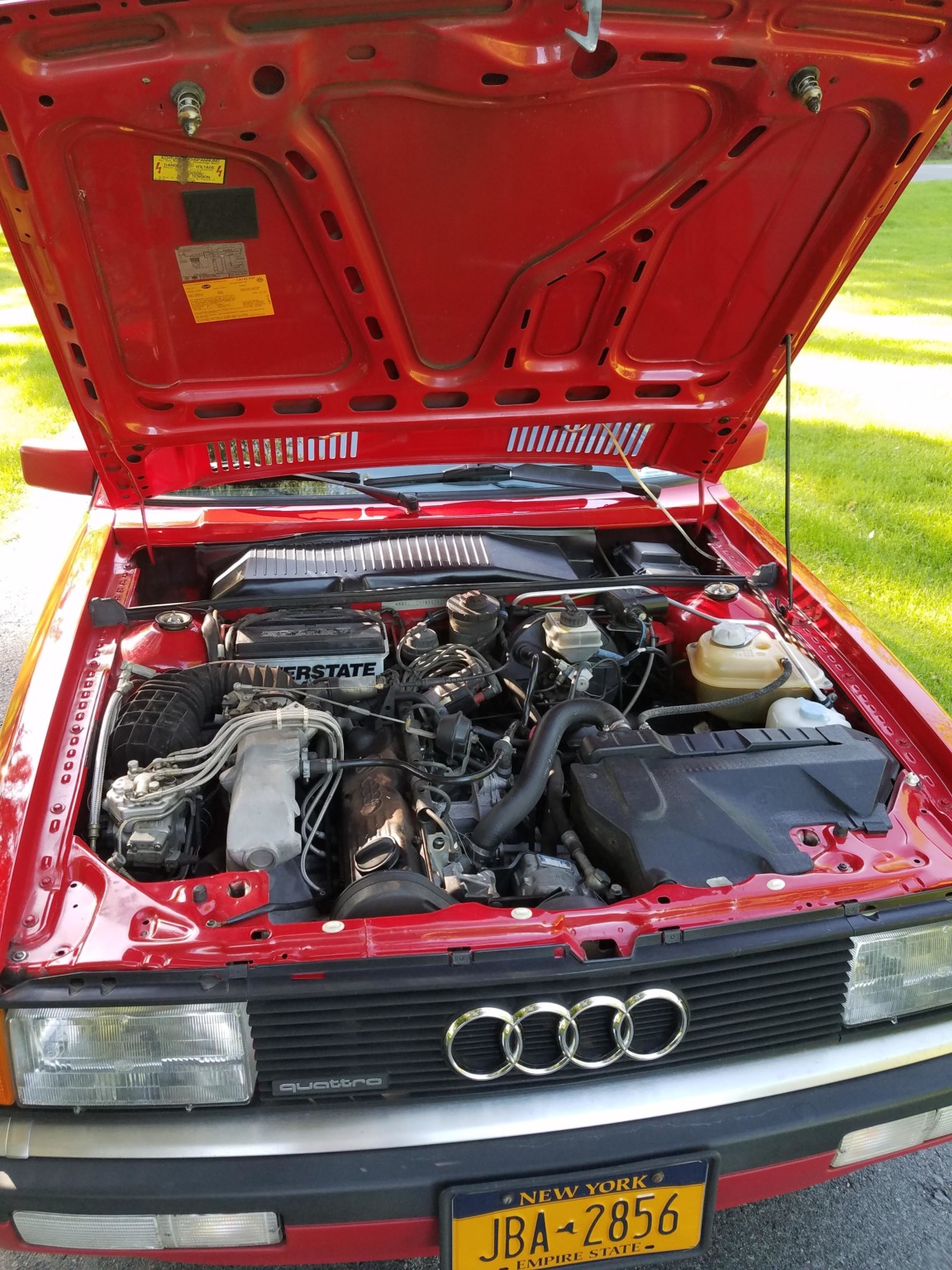 This 1987 Audi 4000 CS Quattro is powered by a 2.2L inline-five mated to a 5-speed manual transaxle and all-wheel drive. The car is finished in red with a black cloth interior and previously spent time in Oregon and New Jersey. It was acquired five years ago by the seller, the former proprietor of an Audi speciality shop. Work under current ownership has included replacement of the timing belt, water pump, wheel bearings, shocks, and more. Now showing 90k miles, this B2 Quattro is being offered with a clean Carfax report and a clean New York title in the seller's name.

This example is finished in red with a matching rear spoiler, a reflective rear panel, and Quattro badging on the rear windows. The seller notes that the car originally had a single stage finish, but the right front fender now has clearcoat. No accidents or damage are noted on the accompanying Carfax report.

The suspension features Koni adjustable shocks, which were installed by the seller at the same time as the replacement wheel bearings. A four-wheel alignment was also conducted. Each 14? wheel is shown in the gallery wearing an Audi center cap and wrapped in 195/60 Ultra GT rubber.

Inside, the cabin is upholstered in black with fabric manual front bucket seats featuring Quattro-branded inserts. The controller for the locking differentials can be seen in the center stack, and the seller reports the air conditioning utilizes R134 refrigerant. Issues include poor radio reception and a sticking power antenna.

Just under 90k miles are shown on the mechanical odometer, with 13k added by the seller over the past five years.

Power comes from a 2.2L inline-five mated to a five-speed manual transaxle and all-wheel drive. The seller reports that the timing belt, water pump, and starter were replaced under his ownership.

The rear muffler was replaced in May 2019. Additional underbody images are provided in the gallery.

The Carfax report shows no accidents or other damage and lists registration in Oregon, New Jersey, and New York.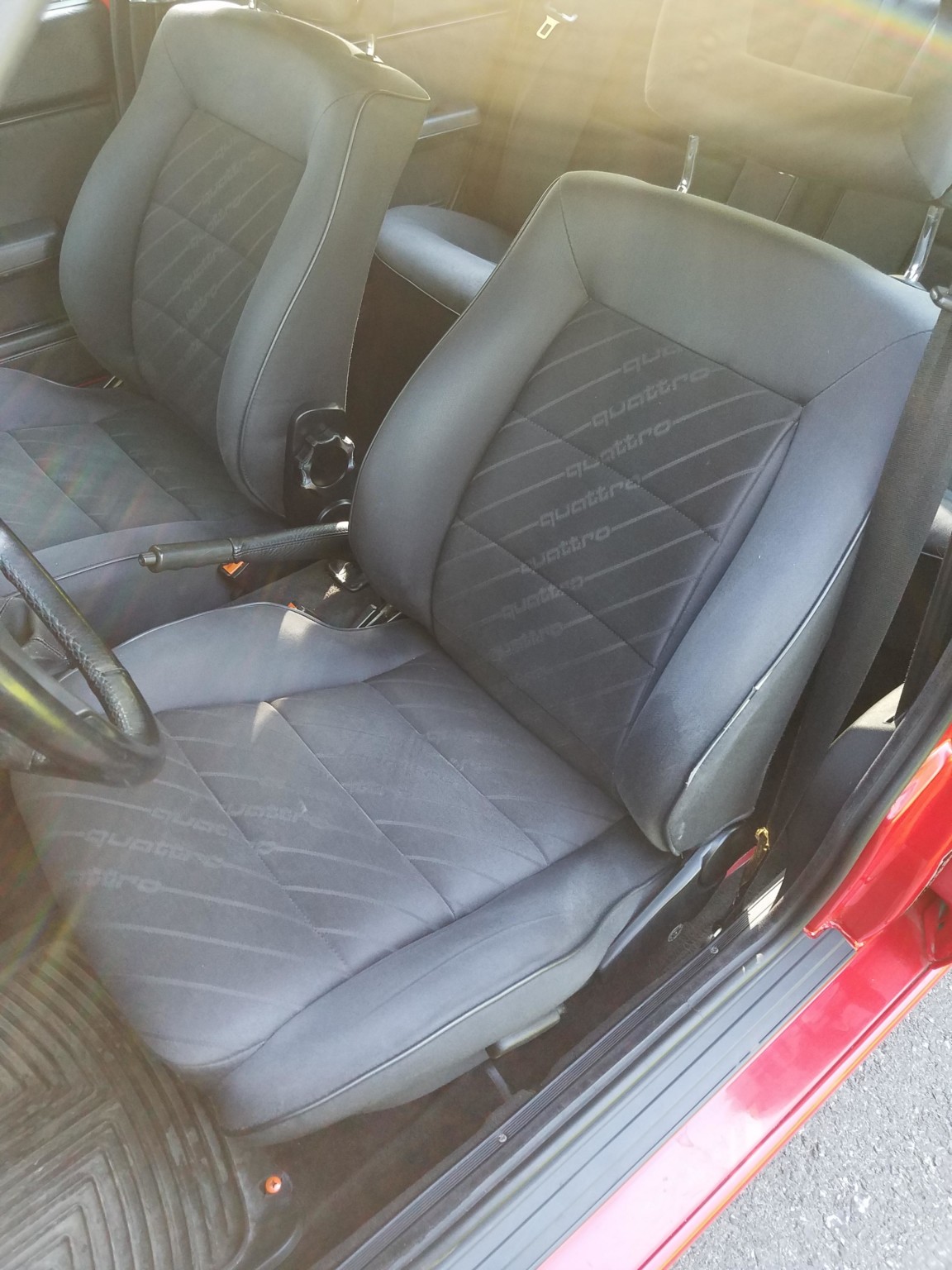 Full disclosure: this example comes from a friend of mine, Greg Haymann. To be honest, though, I can't imagine someone I'd rather buy a car from. Greg's company Autofirme was one of the best regarded Audi-specific shops on the East Coast, and he and his family are long-time Audi enthusiasts, having owned (and still owning) some beautiful examples. Comments on this car have already indicated the obvious; it's a special example. It was more highly optioned as many late examples were; trip computer, Jacquard quattro-script cloth, heated seats, along with the normal power accessories all late quattros came here with. But then there's the condition – nearly unheard of at this point of life specifically because of all those stories former owners have. And on the East Coast? Check out that undercarriage in the gallery. I wish my Coupe GT looked like that.
If you want to get super picky, there's some wear showing on the piping of the driver's seat, the silver has worn off the badges in back, the engine bay could be tidied up, the Ingolstadtmeister-kink has lost its matte black coating, the centercaps are a bit worn and the Kelly tires are forgettable. That's about it, and frankly these are minor issues you'll find on any example of this chassis if it is original. The rest of this is about as good as it gets today if you want one of these cars, and the already $7,500 worth of bidding shows how unique this opportunity is. I'd expect this car to hammer between $13,000 and $15,000 if the right people are in the room, because if finding a GTI 16V is hard, finding a 4000CS quattro in this shape is the Everest of 80s Audis today. You may get in line and there may be more opportunities, but you'll definitely have to pay.
-Carter