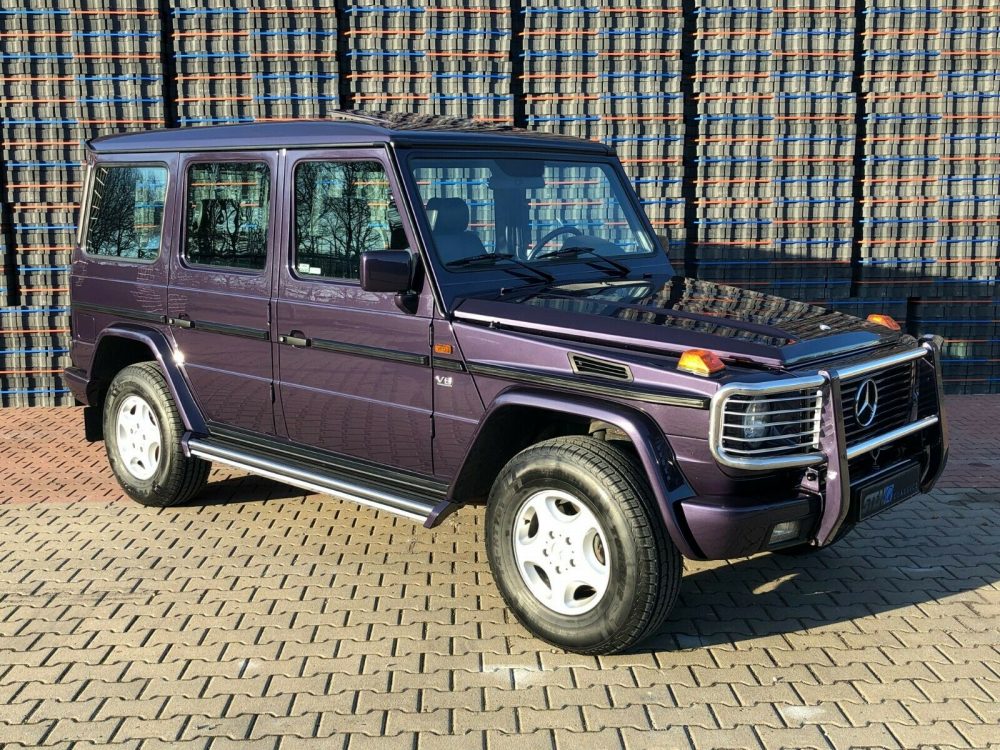 Be still, my beating heart. One of my favorite vehicles of all time in one of my favorite colors. This is a 1993 Mercedes-Benz 500GE. You are probably saying "500GE?", and yes, that would be correct. Somehow Mercedes stuffed the M117 V8 into the engine bay of the G and drove Mercedes technicians insane. The 500GE is extremely rare, and believe it or not, was only offered in one color: Amethyst Blue Metallic. There is nothing really blue about it, this G is purple. It is a much darker purple than Bornite Metallic and that is totally fine with me because I love it. This example for sale up in The Netherlands comes in with 135,000 miles and looks like it has about half that. The price? About what you'd expect.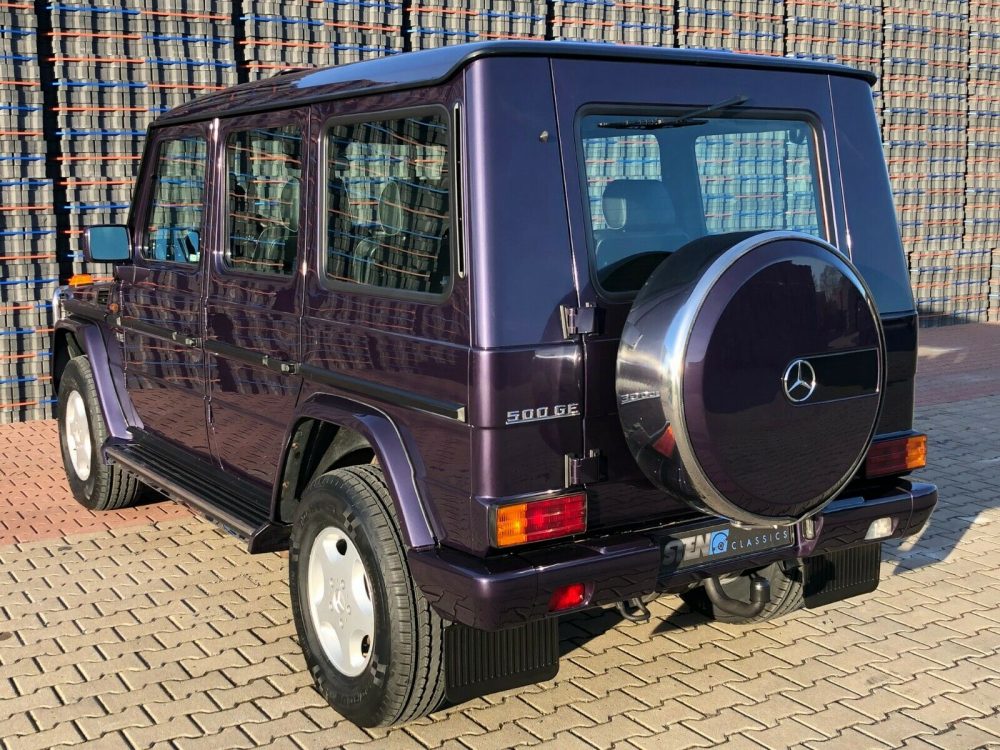 Year: 1993
Model: 500GE
VIN: WDB46322817092371
Engine: 5.0 liter V8
Transmission: 4-speed automatic
Mileage: 217,429 km (135,104 mi)
Price: $54,950 Buy It Now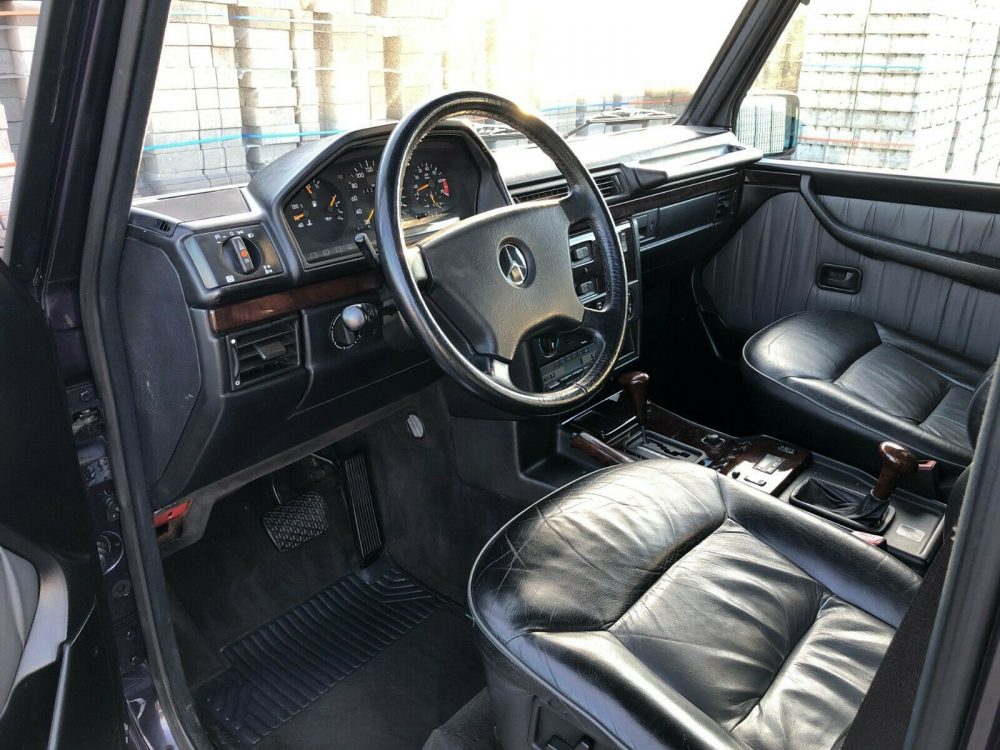 Please contact us to make us a Fair offer!!

Up for sale is a very rare and iconic Mercedes 500GE MY1993, one of only 446 produced 500GE's. Don't miss this out!!

The 500GE was a limited edition model only produced in 1993 and the beginning of 1994. It was the first G-Class with a V8 engine. Mercedes used the M117 engine out of the w126 and r107 chassis. In the 500GE the engine produced 241Hp and with that amount of power it was the strongest G-Class as that time. Only from 1997 and newer, Mercedes offered the v8 as a production model as the G500.

The 500GE was only delivered in 1993 and beginning of 1994. Only one color was available. DB338 Amethystblau metallic. The interior was delivered by Mercedes in a full leather dual tone with Anthracite and grey inserts. The 500GE was packed with all luxury feature from that time like, Air conditioning, 4 power windows, central locking, Leather seats with heated seats in the front. Both front seats were fully electrical adjustable. Cruise control, Radio/cassette connected to a 4 speaker system with fader button, Burl wood wooden inlays in the interior, Electric tilting and sliding sunroof, trailer coupling, chrome bulbar with headlight protectors, Bumpers in car color, Aluminum wheels and many more nice features.

The car that is up for sale now is in a very nice partial restored condition. The car is from 1993 with only a mileage of 135.000 miles (217.000km's), The Vinnumber from the car is WDB46322817092371.

Since this is a European car the VIN was not recognized by the ebay vin system and i had to put a wrong vin in the listing.

The car received new paint with a perfect flat and glossy finish in the original color DB338 Amethystblau. The interior is in great shape. The car is in a good driving condition. Engine and transmission work perfectly. The electric components like, power windows, locks, power seats, cruise control, airconditioning work properly. The AC got a new charge, all engine belts were replaced and the engine got a full service with new oil and filter. 4 brand new tires and a new battery.

This car has the rare factory option with the Webasto auxiliary heater to preheat the car in cold winters to have a comfy interior temperature and a warm engine.

This is the full option list:

· A02 Ball-and-socket heads, chromium-plated

· A11 Axle ratio i = 4,38

· A52 Wider track

· B02 Anti-lock braking system (ABS)

· C27 Front springs stronger degree I

· D27 POWER SLIDING ROOF WITH LIFT FUNCTION

· D39 Socket strip

· E08 Rear loudspeakers

· E21 Battery(ies) higher voltage

· E43 Socket, 13-pin, 12 V, external at rear

· E69 Automatic antenna and Loud speakers

F46 HEADLAMP WIPER/WASHER

· G40 Automatic gearbox

· G75 Differential gear speedometer

· H02 Air conditioning, manual

· H10 SEAT HEATER FOR DRIVER AND FRONT PASSENGER

· H12 INDEPENDENT HEATING

· H20 Heat absorbing glass

· J65 Outside temperature display

· K89 Emission control sys. with closed-loop catalyst

· M19 Tempomat/cruise control

· P37 Wider wings in vehicle colour with met. paintwork

· Q55 TRAILER HITCH, BALL HEAD

· R78 Light-alloy wheels (7Jx15) for wide tyres

· S34 Head restraints in rear

· S37 Armrest for driver's seat

· S38 Armrest for co-driver's seat

· SB5 Left front seat electrically adjustable

· SB6 Right front seat electrically adjustable

· U46 LEATHER EQUIPMENT

· V18 INTERIOR TRIM IN BLACK DUAL TONE

· V35 INV* LEATHER STEERING WHEEL + LEATH. SELECT. LEVER

· V51 Electric window lift, 4 windows

· V56 TRIM, BURRED WALNUT VENEER

· V63 Luggage nets on front-seat backrests

· X32 VEHICLE REGISTRATION BOOK FOR INDIVIDUAL ACCEPTANCE

· X59 Central locking

· Y16 FIRE EXTINGUISHER

· Y45 Warning lamp

· Y49 Replacement bulbs in box

· ZB6 Scope of delivery 500 GE

· ZC8 Stainless steel package

This is a very rare and sought after model and you can imaging with only 446 units build, you won't find them for sale very often. And if, not in the very good condition. The car is in great condition ( see the pictures yourselves) for it age.

The car is located in the Netherlands /Europe. We offer worldwide shipping from door to door with fair prices. So for non- expierienced buyers, we can provide a full service even with the 3% US import fee . Ask our staff if you want to know more about shipping at sales AT stenautomotive.com.

Some shipping price examplesa are:

Newark NJ, Baltimore MD, Charleston SC en Brunswick GA $1300 All incl.

Jacksonville FL $1280 All incl.

Houston TX en Davisville RI $1350

Long Beach CA / Port Hueneme CA $1550 All incl.

Tacoma WA $1825 All incl.

I described the car as honest and complete as possible. Please keep in mind that this is a used car with an age of 26 years. If you have further questions please email me or call us at my cell phone 01131 6 51163317 ( European time) or use this phone number for WhatsApp messages. My email is info@stenautomotive.com

See my 100% positive feedback and buy with confidence.

Some more technical details of the car:

Engine:

Combustion principle four-stroke Otto (with manifold-injection and emission control device with 3-way catalyst)

Configuration front, longitudinal; vertical

Engine type M 117 E 50 / 117.965

Number of cylinders / arrangement 8 / 90° V

Bore x Stroke 96.5 x 85.0 mm

Total displacement 4973 cc

Compression ratio 10

Rated output 177 kW / 241 hp at 5000 rpm

Rated torque 375 Nm at 3500 rpm

Number of valves / arrangement 1 intake, 1 exhaust / overhead

Valve operation 1 overhead camshaft per cylinder bank

Camshaft drive double roller chain

Fuel system manifold injection, mechanically-electronically controlled~(Bosch KE-Jetronic)

Fuel tank: position / capacity under load compartment floor / 96 l

Chassis and drivetrain:

Frame design box-section ladder-type frame / steel unit body

Front-wheel suspension rigid axle; 2 trailing arms, 1 wishbone (Panhard bar)

Rear-wheel suspension rigid axle; 2 trailing arms, 1 wishbone (Panhard bar)

Front springs coil springs, supplementary rubber suspension, torsion bar stabiliser

Rear springs coil springs, supplementary rubber suspension

Shock absorber front/rear telescopic shock absorbers

Steering recirculating-ball power steering

Brake system (foot brake) hydraulic dual-circuit brake system with vacuum booster and antilock system; internally ventilated front disc brakes and rear drum brakes

Parking brake (hand brake) mechanical (manually operated), acting on rear wheels

Wheels sheet-steel wheels (light-alloy wheels optional)

Wheel rims 7 1/2 J x 16 H 2

Tires 265/70 R 16 112 H

Driven wheels permanent four-wheel drive on front and rear wheels

Drivetrain from power divider via single-piece cardan shafts on front-axle differential and rear-axle differential

Transmission and performance:

Gearing 4-speed automatic transmission

Availibility as standard

Shifting central floor gear shift lever

Clutch dry single-disc clutch

Transmission type planetary gear system

Gear ratios I. 3.87; II. 2.25; III. 1.44; IV. 1.0; R. 5.59

Final drive ratio front/rear: 4.38; transfer case: road 1.05 / off-road 2.16

Maximum speed 175 km/h

Acceleration 0-100 km/h 10.5 s

Comments acceleration by shifting through from 0 – 100 km/h (2 occupants)

Demensions and weights:

Wheelbase 2850 mm

Front / rear track 1475 / 1475 mm

Length 4670 mm

Width 1810 mm

Height 1963 mm

Kerb weight 2370 kg

Gross weight 3050 kg
General data:

Units produced 446

Prices DM 178,250.00 ( more then 100.000 USD in 1993)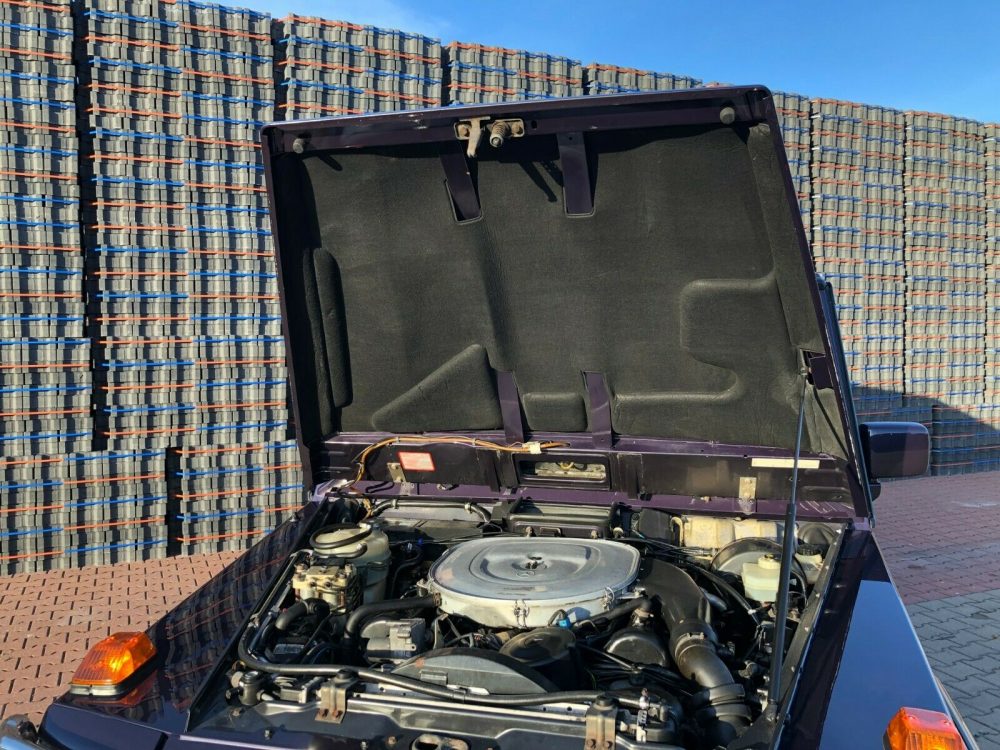 Oh how I wish I had $55,000 to spend on a 25 year-old G-Wagen with a bunch of old technology stuffed inside it. By "old technology," I mean the M117. By 1993/1994, the old iron lung had since been replaced with the much smoother and more efficient M119 in a neat package. I can't imagine fuel efficiency is better than single-digits in the city, but you are driving around in a $55,000 G-Wagen, fuel prices don't matter to you. As far as actual condition goes, this one is really nice. I'd be curious to see what the underside looks like as it does have over 130,000 miles, but I don't think I would be too surprised.
So is this worth $55,000? If G-Wagens are your thing, I'd say so. This thing is rare as can be and is now fully a "classic", plus it has worldwide appeal. I don't think it would be anyone's daily driver, but could certainly be so if you had someone willing to slice their hands up to work in this engine by when needed.
– Andrew