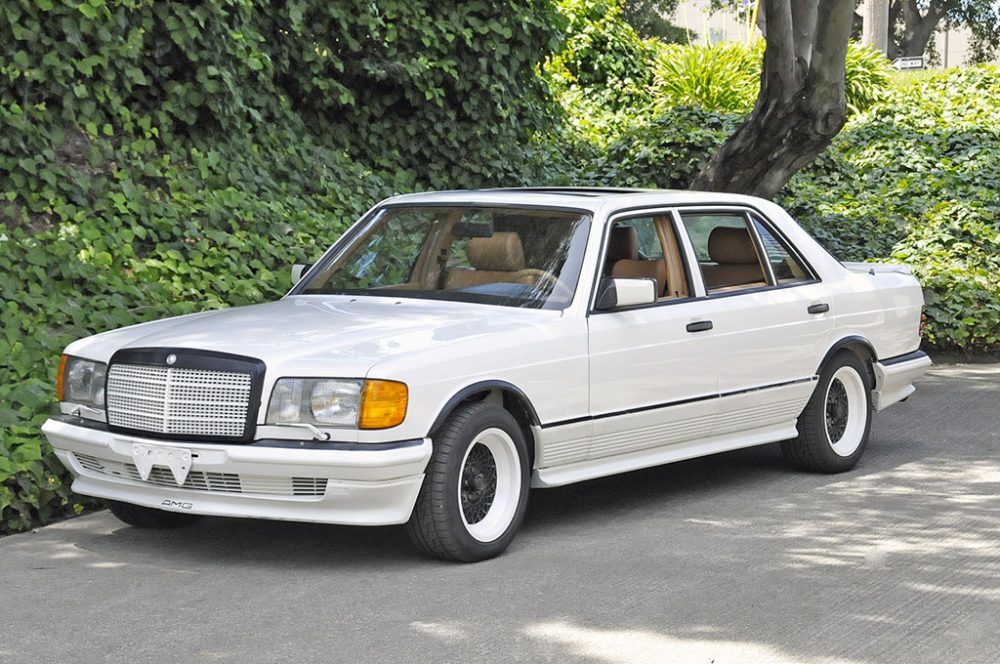 Just when you thought you've seen it all. Well, this 1982 Mercedes-Benz 500SEL has it all. This W126 had a life of excess and has all the paperwork to prove it. The story goes the car was ordered as a grey market import by a private owner in Chicago with a boat load of options then immediately shipped to AMG for more special touches. Those "special touches" you see above aren't the work of a 17 year-old who bought this car from a Buy-Here, Pay-Here lot and a couple cans of spray paint. No, that is the work of AMG. I'm sure they were scratching their heads a little when this work order came in, but when someone offers up $20,000 (in 1982 money, mind you), you do what they say. An AMG body kit was added, all the chrome was painted black, the wheels were replaced with Rial alloys, the interior needed more leather, and the engine gained roughly 50 horsepower for the small price of $11,000. Total cost for this entire car, modifications and all? $62,656. For those keeping score at home, that is $164,234 today. I hope this owner loved this car.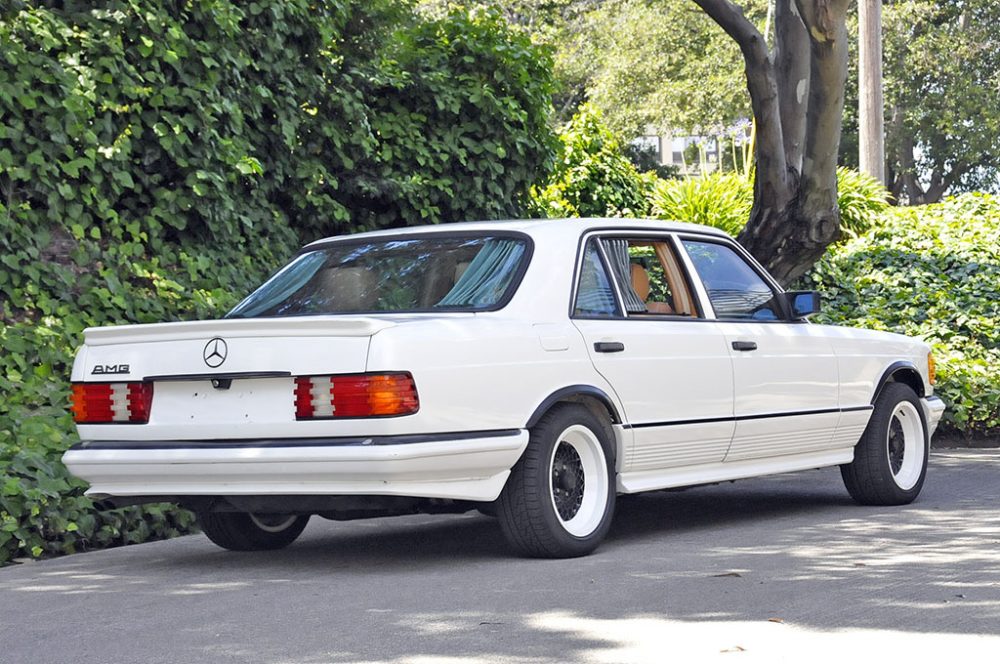 Year: 1982
Model: 500SEL
VIN: WDB12603712020167
Engine: 5.0 liter V8
Transmission: 4-speed automatic
Mileage: 99,327 mi
Price: Buy It Now $32,000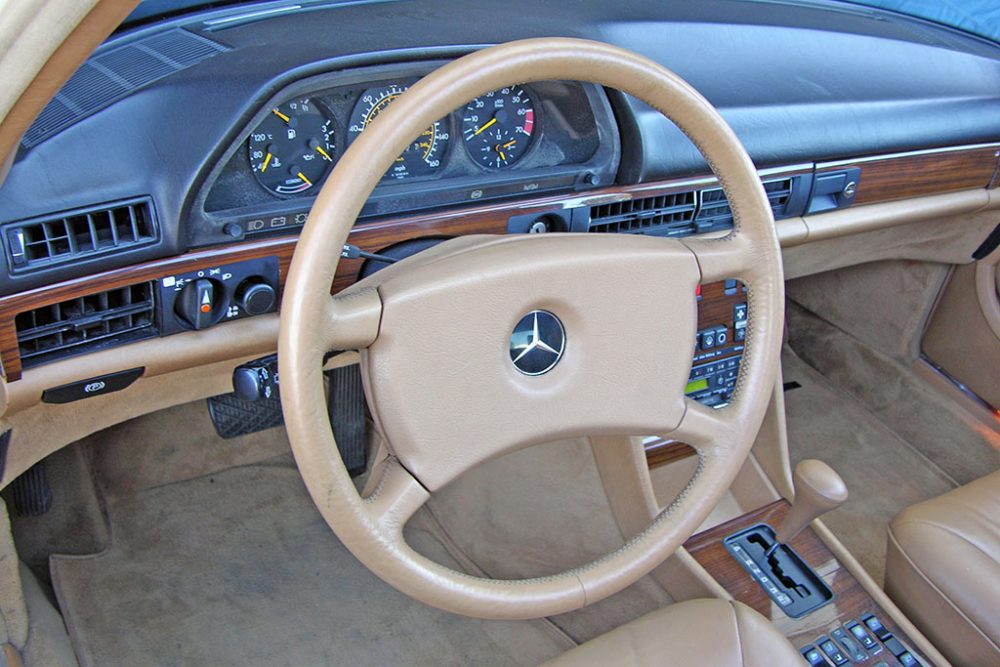 1982 500SEL – Factory AMG build – ID# WDB12603712020167.
Classic White(737)/Palomino(234) leather.

Engine #117963 02 204014 – Transmission #722311 02 204014 – Factory order #0 2 229 00128.
Tools – Handbooks – Original spare wheel/tire (Rial/Pirelli P6) – Two master keys and one wallet key.
99,327 miles indicated.

This is a very rare find:

A pre-merger Factory AMG build 500SEL that was ordered with virtually all options available from Mercedes.
It was then shipped directly to AMG for a one-off build for a private client that included the ultra-rare engine out power upgrade.

Special ordered for Mr. Ed Peller of Young Carl & Assc. in Northfield ILL. May 20, 1982 in the following specification:

221 LEFT FRONT SEAT, ELECTRICALLY ADJUSTABLE
222 RIGHT FRONT SEAT, ELECTRICALLY ADJUSTABLE
223 REAR SEAT BENCH ELECTRIC ADJUSTMENT
294 CURTAIN FOR REAR WINDOW
295 CURTAIN AT REAR DOOR LEFT AND RIGHT
406 SINGLE SEAT WITH ORTHOPAEDIC FRONT SEAT BACKREST, LEFT/RIGHT
410 SLIDING ROOF, ELECTRICALLY OPERATED
430 HEADREST IN THE REAR, LEFT AND RIGHT
440 TEMPOMAT (CRUISE CONTROL)
452 TWO-TONE HORN
470 ANTI-LOCK BRAKING SYSTEM (ABS)
487 HYDROPNEUMATIC SPRING SUSPENSION ALL AROUND
504 OUTSIDE REARVIEW MIRROR, RIGHT; ELECTRICALLY CONTROLLED; L.H.D
510 RADIO MB WITH TRAFFIC NEWS DECODER (VK), WITH RDS (BECKER)
531 AUTOMATIC ANTENNA
543 SUN VISOR WITH VANITY MIRROR, ILLUMINATED, LEFT AND RIGHT
570 FOLDING ARMREST, FRONT
581 AUTOMATIC CLIMATE CONTROL
590 HEAT-INSULATING GLASS, HEATED REAR WINDOW PANE (LAMINATED GLASS)
600 HEADLAMP WIPER/WASHER
611 COURTESY LAMPS FOR FRONT AND REAR DOORS
640 15-HOLE LIGHT ALLOY RIMS
673 HIGH-CAPACITY BATTERY
870 ELECTRIC SEAT HEATER FOR LEFT FRONT SEAT
871 ELECTRIC SEAT HEATER FOR RIGHT FRONT SEAT
877 READING LAMP IN THE REAR

The car was shipped from Mercedes-Benz in Stuttgart directly to AMG in
Affalterbach with 65 km on the odometer for the following modifications:

Front Spoiler – Rocker extensions – Deep rear apron – Rear spoiler – AMG label – All plastic exterior parts painted white.
All chrome parts painted black – Grille star removed and hole filled – Rial alloy wheels installed – Steering wheel covered in leather.
Gear shift knob covered in leather – Power increase 45-55 HP (5.0 liter big valve tuning kit) – 3.27 rear axle ratio.
Black wheel arch moldings – Rial wheels w/black centers and white rims – 225/50 VR16 Pirelli P6 tires.

Every modification you see on the car is precisely documented on the AMG documents.
The total cost of this highly optioned 500SEL including the AMG modifications totaled over $62,000.
This included flying the car to the US once completed.

EPA/DOT certification was carried out in August 1982.
The car was delivered to Mr. Peller on August 26,1982.

Documentation includes:

EPA/DOT releases w/full retrofit details – AMG invoices – Laboratory testing correspondence.
Hand written preliminary sales orders – Illinois vehicle tax invoice – Hand written AMG upgrades estimate.
Original bill of sale – Vehicle service contract – Misc. personal documents from the original owner .
And the 500 km cylinder re-torque reminder placard! And much more.

Incredibly, the car remains today essentially unaltered from the day it was completed at AMG and shows 99k miles on the clock.
The decals with AMG's recommended Bosch spark plug for the uprated engine are still on each cam cover.

Misc. paint flaws – Excellent panel fit and gaps – Solid structure – Misc paintwork over the years.
No accident evidence – Chrome black out black paint flaking in some areas – Headlamps/tail light lenses in good shape.
Euro emergency triangle – Above average paint depth and gloss – MB glass throughout.
Radio/power antenna/cruise control/clock/interior lights/door locks/heated seats all function – Power rear seat functions.
Driver's seat does not move through all power functions – Sunroof functions – Hydro-pneumatic suspension raises and lowers.
Rear suspension strut(s) leak. Just out of long term storage in Illinois.
Our recommissioning included:

All new suspension accumulators – New brake hoses – New Falken 225/50 R16 tires – Service.
Cam cover gaskets – All fluids checked.
Runs and drives reasonably well – Sold 'as-is' with misc. blemishes and technical needs.
Note: the driver's door arm rest and release handle will be installed prior to delivery – waiting on a new handle.

Not available for sale in California unless to a licensed dealer/wholesaler.

Call for more details. Roy Spencer @ 650-343-7980 – Pre-purchase inspections available locally.

Global shipping gladly arranged.
This 500SEL can soon be inspected at my facility in Burlingame, CA – 5 minutes south of SFO
Providing exceptional cars to the global Mercedes-Benz community for 29 years.

Be sure to scroll fully through both the description field and the page to see all 80+ images.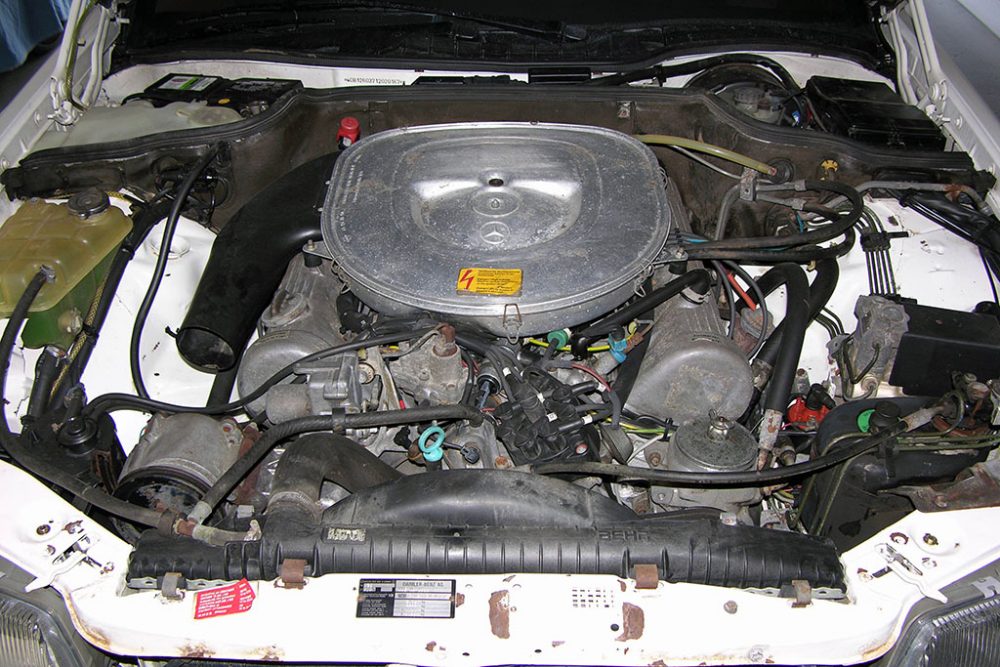 I don't even know where to start with this one. This is a Euro-spec car with all the extra little goodies including the hydro-pneumatic suspension carried over from the W116 6.9. At the time and when in working order, a brilliant design. When it isn't working, expensive enough to make your eyes water. Everything else in on this car as well. Air horns, rear window blinds, electric rear seats, orthopedic front seats, everything. The fact this car went to AMG for even more is nuts to me. To pay $11,000 just for 50 horsepower seems like insanity today considering what we get out of $1,200 ECU tunes. The other thing is this body work. If the owner would of ordered this car in black and not white, you'd have a line of people for this car. Instead it looks like a panda bear. The history is cool and all, but this color combo is rough even today where "80s retro" is cool again.
So how much? $32,000. I don't even know how you'd value something like this. The condition is so-so and those expensive rear shocks are leaking that will be a four-figure bill. You basically have to be the world's biggest AMG fan to even consider it and even someone like myself who writes about them on the internet would have a hard time loving this car. I think this car finds a home, and hopefully it can get it back to its former glory. It sure isn't a bad example to start with if you want something different.
– Andrew