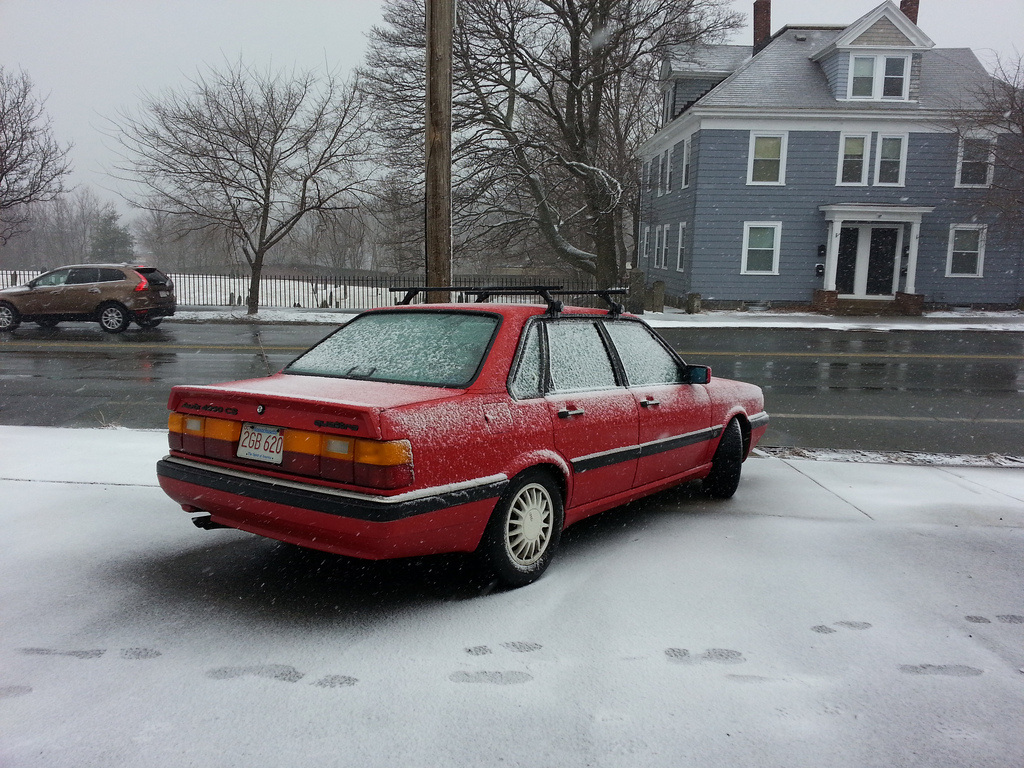 As a general rule, we don't feature project cars on GCFSB.com, but occasionally a rare case comes up that warrants attention. Such is the case with today's 1987 Audi 4000CS Quattro. Just as with the 90 20V quattros I wrote up the other day, finding a good example of one of these workhorses is quite hard. In general, they were ridden hard and put away wet, and when coupled with serious depreciation they have mostly faded into the corners of people's minds. Despite this, the 4000CS Quattro remains the blueprint for Audi's sales success – while the Turbo Quattro Coupe gained most of the attention, it was really the 4000 (80 in ROW) that brought the quattro drive train to the masses. Today's example is one of the last of the B2 chassis to arrive in the U.S., a Tornado Red snow machine: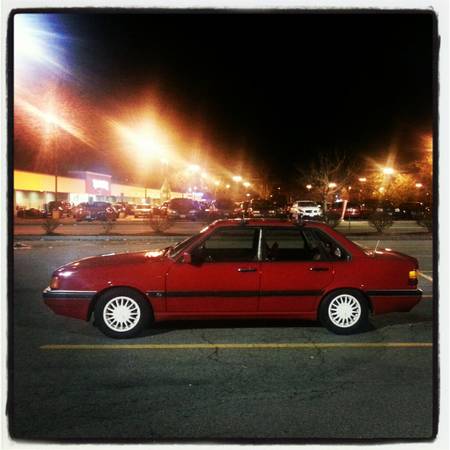 Year: 1987
Model: 4000CS Quattro
Engine: 2.2 liter inline-5
Transmission: 5-speed manual
Mileage: 200,000+ mi
Price: $3,000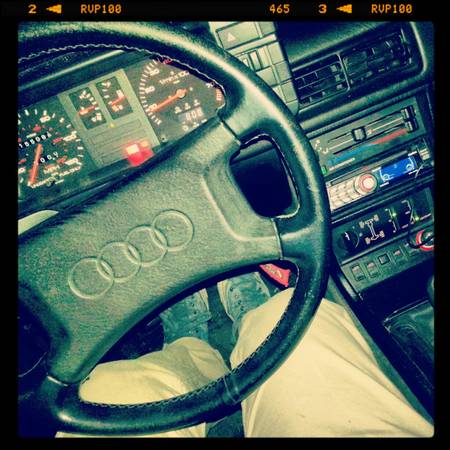 Selling my '87 Audi 4000CS Quattro, this is a clean maintained 4000 with all of the desirable options. A true find for the right enthusiast. Just a little over 200k on the shell. Original owner was an Audi specialist in NH and I purchased it from the second owner who had it for more than a decade. I am going to start with the bad, I do not need to sell this car, just came across an opportunity to purchase a vintage rally car and I would like to go in that direction.

Car runs and drives but has a serious oil leak. It needs the valve cover gasket replaced. I have the part but have not replaced it yet as I also have a rebuilt head, ported. polished with a 272 cam and VW GTi 16v lifters to go on it and wanted to do it all the same time. Also has a noisy throw out bearing, but does not effect the operation of the clutch. Now the good…. (much longer list….) Rust repaired, both sides painted

-Red Leather…. Two (of 100 ever made!) complete sets, one drivers seat has bolster damage and one passengers seat is pretty trashed. Full sets of door cards for both.
-Quattro Script cloth seats…. Two complete sets front/rear and door cards. One mint the other 7 out of 10
-Two sets of stock wheels one painted white with good snow tires (Firestone Winterforce)
-One set of 15×7 Ronal R8's with Dunlop's
-Old School Jamex Lowering Springs
-Euro Glass Housings, wired with H4's
-CD player that matches the factory red interior lighting
-Working Sunroof.
-Factory trip computer in perfect working order.
-New Windshield
-Recent brakes, all OEM Audi Calipers
-All recent fuel lines under hood

Uninstalled parts…..
-Good spare 2.2 had good compresion, 150k pulled out of a parts car
-Ported/Polished head with 16V GTi lifters and a Blausport 272 Cam, ready to bolt on.
-Full upper gasket set
-Blausport throttle body
-Blausport rear sway
-Short throw shifter
-OEM mud gaurds
-Boxes of spares

Link to the Bring a Trailer ad from when I bought the car a little over two years ago….http://bringatrailer.com/2011/03/03/1987-audi-4000-cs-quattro/

$3,000 with Ronals and all parts. Negotiable otherwise. Roof rack in pics not avail. Brad 978-790-0234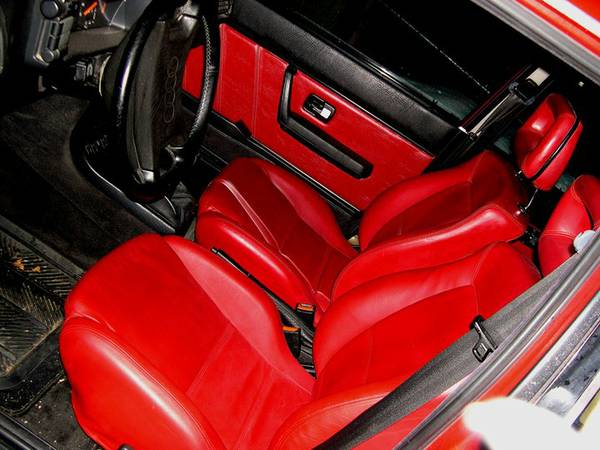 Like the Audi S6 Avant I wrote up the other day, this car has had some enthusiastic owners. The collection of parts is really one of the more impressive ones posted on one of these cars that I've ever seen. Work like the rust repair is something most 4000 owners don't undertake but is a massive benefit for the next owner – rust on the rear arches is very common on these cars. The red interior, while not for everyone, is one of the more desirable and sought after interiors on this car, and it comes with two sets! Euro lights and a bunch of go-faster parts are also great, but the gems are the 15×7 Ronal factory option wheels; they can be found, but are pricey when you track them down.
These are pretty simple cars that can be an easy DIY project if you're mechanically inclined, and most if not all of the parts are there to make this a really solid car on a reasonable budget. With the glut of parts included, you can pick your favorite color combination and sell the extra parts – between the wheels and interiors, you could fairly easily recoup at least half of the purchase price if not more. If you really wanted a great snow car or ice racer, they just don't get much better than this!
-Carter