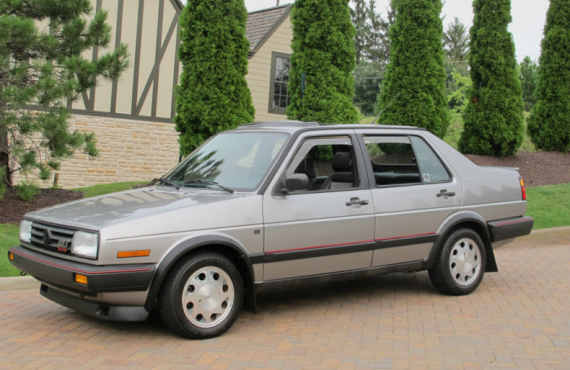 Today we bring you what is, hands down, the nicest MkII Jetta I've ever seen. And no, it does not have a twin-turbocharged 3.2l, all-wheel drive or slammed suspension. It is stock in a beautiful way, completely optioned-out as a GLI 16V with the Recaro Trophy interior. You'd be hard-pressed to find any signs that it's covered even the conservative 90k miles put on over the past 25 years. For 21 years it was a babied weekender and it shows! If MkII Volkswagens are your thing, you should start looking at flights to Ohio.
Year: 1988
Model: Jetta GLI 16V Trophy
Engine: 1.8 liter inline-4
Transmission: 5-speed manual
Mileage: 90,571 mi
Price: No reserve auction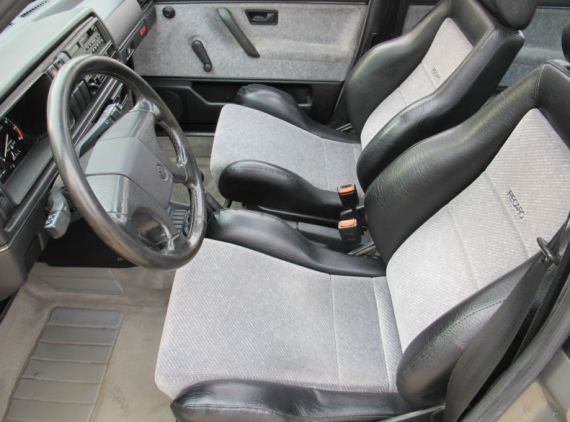 You are looking at my 100% stock 1988 Volkswagen Jetta GLI with ONLY 90,571 miles. This GLI is in pristine condition inside and out. I am the 3rd owner of this time capsule, the second owner bought it in 1992 with 29,900 miles and kept in a garage for the next 21 years seldomly driving it only on the weekends (less then 3000 miles a year).

This GLI comes equipped with the following options:

-1.8L 16v motor (124hp)

-Manual transmission

-Sunroof

-TROPHY INTERIOR

-Power Recaro seats

-working A/C

-MFA trip computer

-4 wheel disc brakes

This GLI is in 100% original and in stock factory condition and has not been modified or molested in any way. It has all the original factory performance options, even the front air dams that collect air and cool the front calipers are still hooked up and ready for action! The exterior is very clean with no signs of bubbles or paint fading. The undersides of the doors are clean and the shock towers look like the day the came off the assembly line.

The TROPHY interior is in fantastic shape! The power driver and passenger Recaro seats are spotless. The drivers seat is supple and hugs your backside like a glove. There are no rips, tears, or significant signs of wear. The crank sunroof slides back with ease and will give you a great hairdo while your carving up the turns on your local back country road. The suspension feels tight and sure footed, 4-wheel disc brakes provide the stopping power for the 124hp 16v power plant and the clutch actuates where it should with no issues.

This GLI is a true throwback and a blast to drive!

This car is 25 years old and as such it is not brand new. Please expect normal issues of wear and tear consistent with the age of the car, but also keep in mind this is one of the nicest 1988 cars I've seen in my life. There are some very minor oil leaks and the car takes a minute or so to run really smoothly when cold.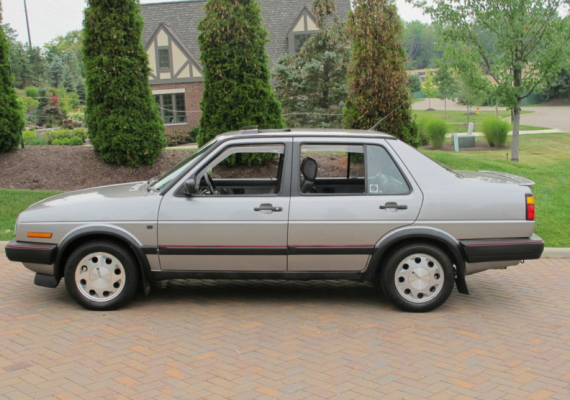 The factory tricked-out nature of this car (not to mention year) are reminiscent of the near-and-dear E28 M5. I love it and am extremely impressed at how beautifully the exterior and interior have been maintained. If this were an M5, it might be pushing $30k, but it's not – it's a Volkswagen. Bidding is very active but the price is still low. The GLI may forever be overshadowed by its little brother, but I've always loved it. Special, low-mileage, and well cared for, if its price stays within four digits I think it's an awesome buy.
-NR