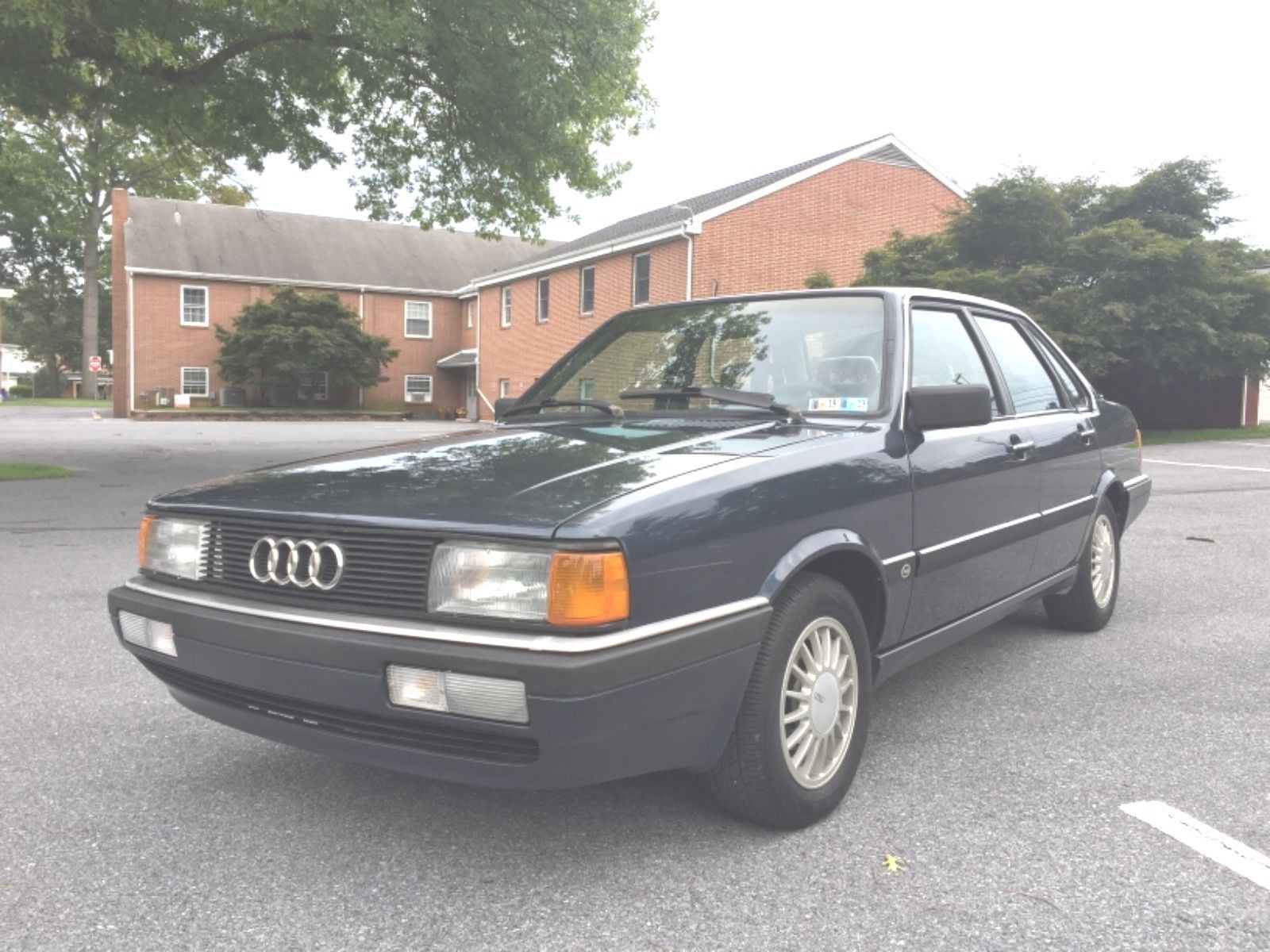 Update 9/26/18: This pristine 4000S has sold to a reader!
While I'm a big fan of the Audi B2 chassis, I don't spend much time looking at or for the low man on the totem pole – the 4000S. If you read my Audi badging rant from a while ago, you'll remember that there was no model below the "S" offered here, so the 4000S was the base model. Although these were the least powerful B2s on offer, in manual form they could keep up with the Coupe GT because they were also the lightest of the chassis here. Power came from a 1.8 inline-4 borrowed from the GTI and GLI Volkswagens, but it was mounted longitudinally like all B2 motors. Even though they were down on power to the 5s, the inline-4 also had 20% less motor hanging out front, making them fairly nimble. Like their 5-cylinder GT brethren, you had a choice between a 5-speed manual or the venerable 3-speed automatic that appeared in everything from the Vanagon to the Porsche 944. They were also the cheapest Audi you could buy in the 1980s. Though we often look at 4000 quattros, the reality is that about 75% or more of any given model year's sales were front drivers. 1987 saw 9,043 out of 11,972 sold in this configuration. These appeared to be bought primarily by older women who wanted a more refined sedan but weren't ready to buy the W201 Mercedes-Benz or E30 BMW. Much more often than their all-wheel drive counterparts, or even the GT, clean examples of the prolific 4000S pop up for sale: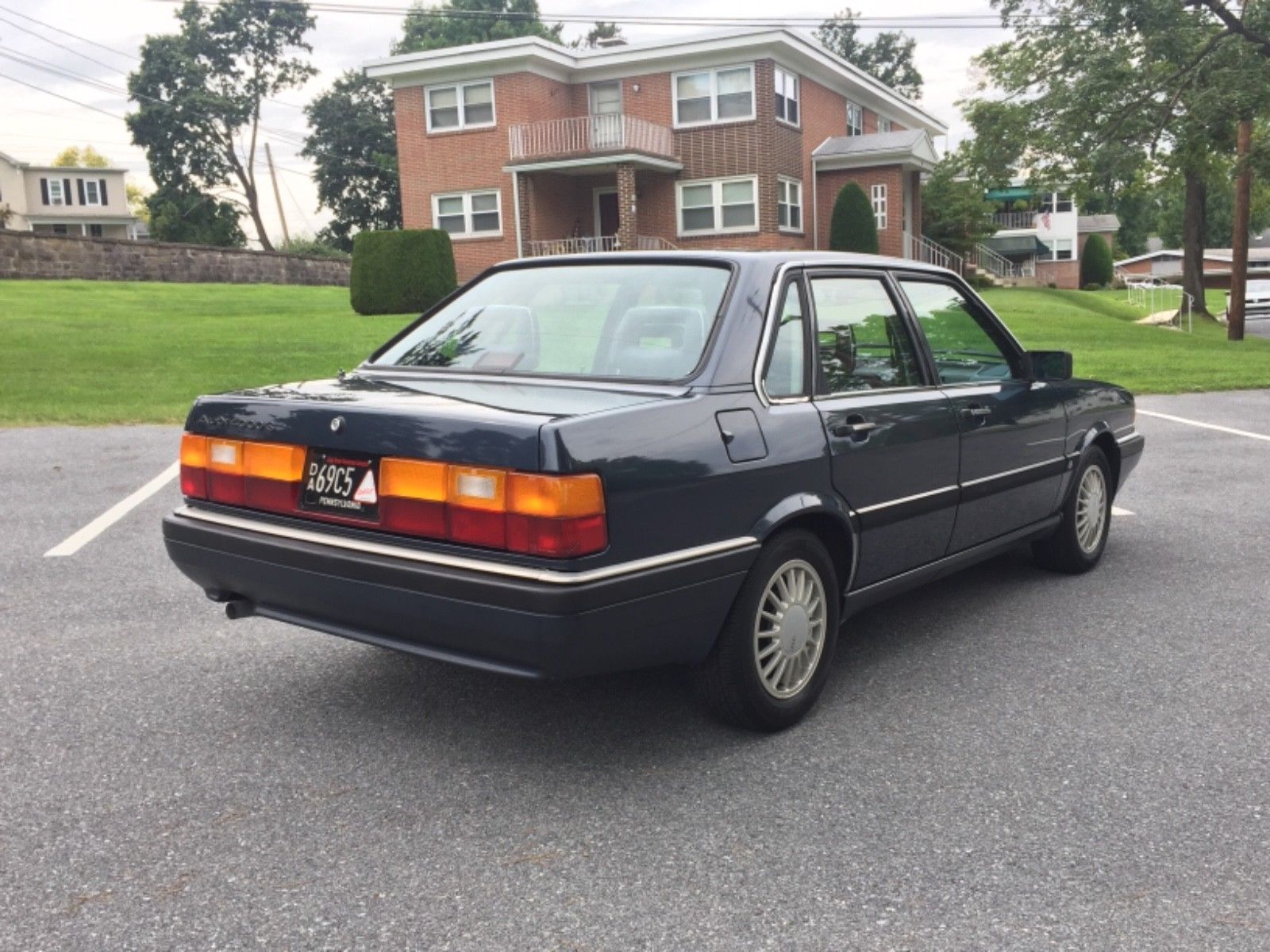 Year: 1987
Model: 4000S
Engine: 1.8 liter inline-4
Transmission: 3-speed automatic
Mileage: 55,435 mi
Price: Reserve Auction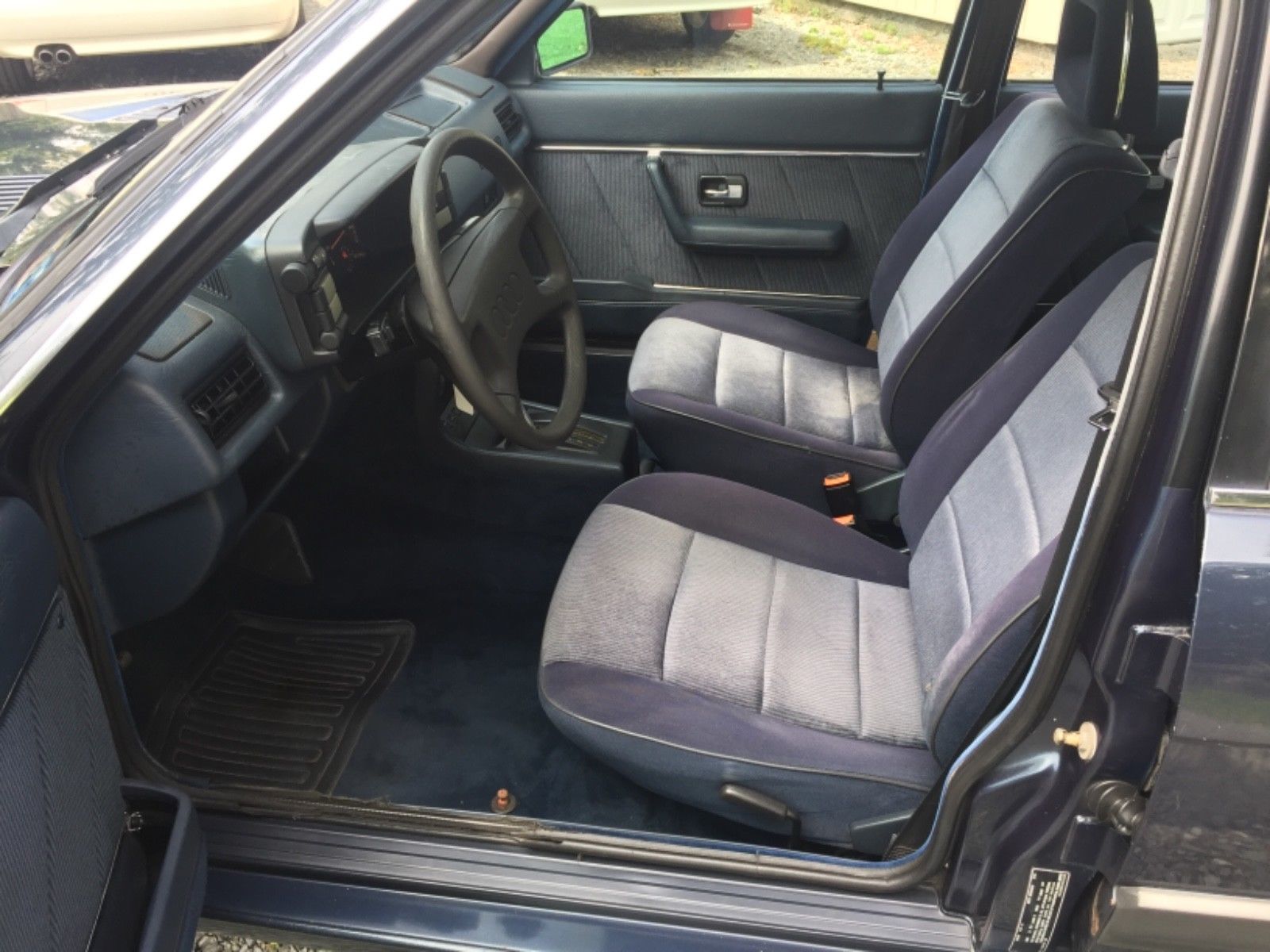 You are bidding on a 1987 Audi 4000 S with a 1.8L 4 Cylinder engine with an automatic transmission with only 55k original miles and virtually no rust!! This was a one owner vehicle from new till the original owner passed away and it was donated to an auction. I bought it and put many hours into it making sure everything worked properly again and completely went over it. Here is a following list of everything that I have done:

New Cat back exhaust, New front brake pads and rotors, brake fluid flush, replaced LR wheel cylinder, rear brake shoes like new, Both outer cv joint boots, both outer tie rod ends, RF wheel bearing and Ball Joint, Drain fuel tank and new fuel filter, flush coolant system along with a new heater valve and replaced with the same G11 Coolant. Fresh Oil Change along with a new Air Filter, New Spark plugs, Cap and Rotor. New Sunroof seal and had the sunroof panel professional painted while off of the car and both the tilt and retract functions work great.

Here is some of the notable things about the car: Both Power mirrors work in all four directions, All power windows work very nice with all of the switches. A/C works great and cold, original power antenna works and power door locks work. Radio works but some of the buttons are a little sticky. The cruise control works great with all of the functions working properly, set, decel, accel and resume. All of the paint appears to be original with no signs of repairs with the exception of the sunroof panel which I painted. Overall the paint is very nice but its certainly not perfect. There are random chips, couple tiny dents and few spots of discoloration, I tried to show as much as I could in the pics in the link below. The Hankook tires are in excellent shape with 8/32 tread up front and 7/32 in the rear, wheels are perfectly straight and balanced and cleaned up really nice inside and out. Original tool bag and jack lives behind the spare tire. Original front license plate bracket included that was never mounted with no holes in front bumper.

Here are some issues with the car: Clearcoat on the roof behind the sunroof is started to come off which can be seen in the pics. The driver seat side bolster foam is deteriorating and should be sent to an upholster to be built back up and there is also a small hole on the left side. Dash has some cracks in it which can be seen in the pics. The driver side floor mat has a hole where your heal rest and the left side is torn along with the door seal at the bottom where the previous owner drug there foot across while getting in and out. Also when the title was transfered to me, the mileage reported is slightly off, my title says 55807, the car currently has 55435. Basically at the time of transfer the car had 55307 and they misread the 3 for an 8 on the paperwork. I dont think is a big deal, off by less then 400 miles.

Having owned and owning a URQ and many 4000 quattos, I am very surprised how enjoyable this car is to drive. It drives so nice and smooth. Through it in drive, set the cruise, crank the A/C and relax. This car is so nice and original especially for its age. I hate to use a word like rare for these cars, but the reality is none of them seemed to be left on the road since not many people took an interest in keeping the FWD 4k face-lift cars going. You really need to see this car in person to appreciate it. Please feel free to ask me any questions and let me know if you would like to schedule a time to look at it in person. Also I have many more pics that I couldn't post on this auction. Just message me for a link. Thanks!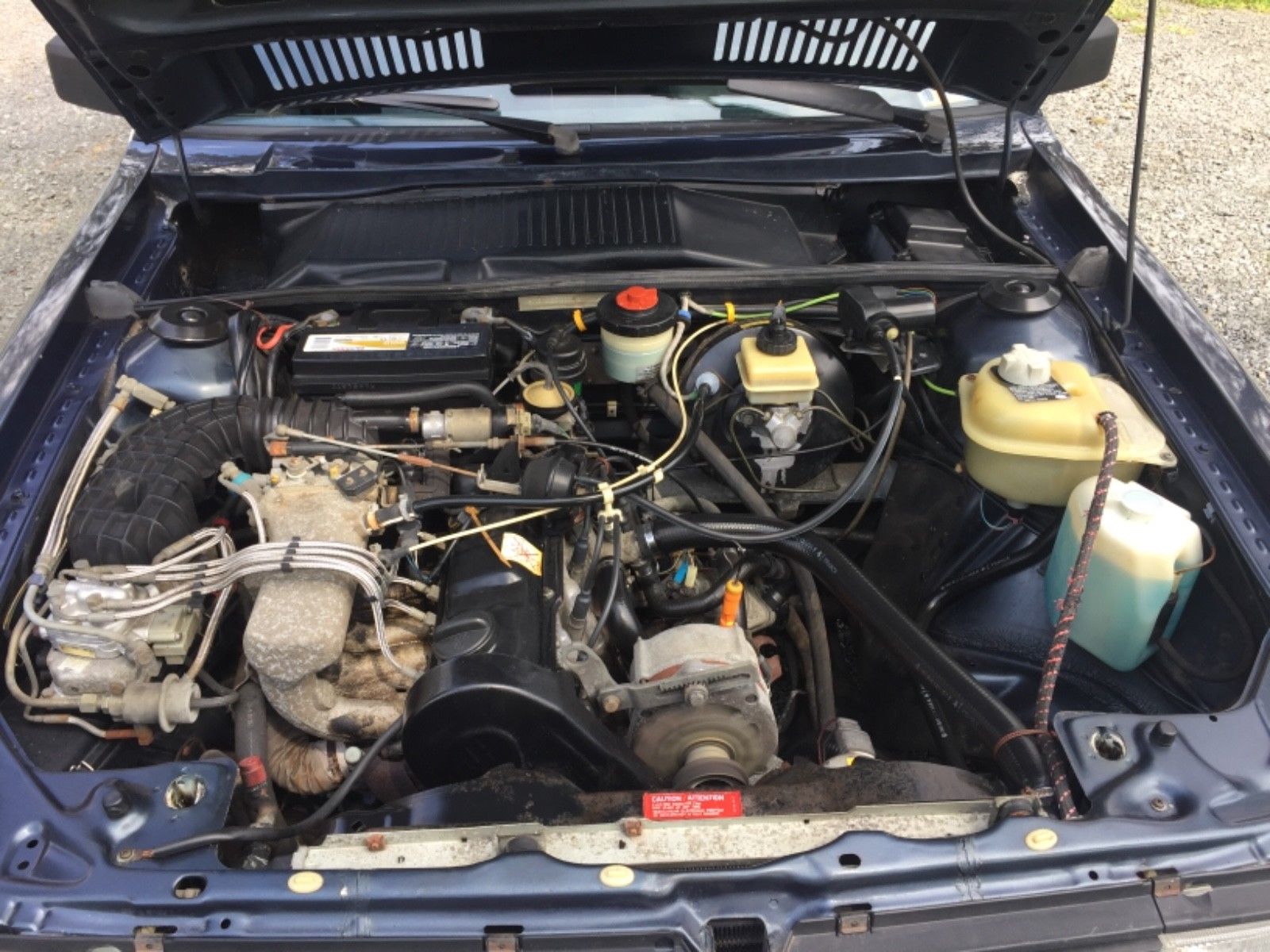 The color of this Type 81 appears to be Copenhagen Blue, a lovely but not often seen color on these cars. It's matched well with the Marine Blue Velour and blue dashboard. Although these were the entry level Audis, they were still fairly well equipped with a Blaupunkt radio, power windows and mirrors on most, if not all, later 4000Ss. Ronal R8s appeared here as well, though in 4x100mm version with a slightly flatter profile and smaller centers than the 4×108 version found on the Coupe GT and quattro versions. The sunroof, heated seats and leather interior were pretty much the only options available, unless you opted for the more expensive '4000CS' model. With upgraded brakes and a special interior, they're slightly more desirable than a normal 4000S, but still aren't very sought. This is one of the best 4000Ss out there, but my guess is that the value is only about $3,000 at most. It would be worth a bit more if it was a manual, but the GTs are really better looking and more fun (and evocative) to drive, so if you're into a B2 there are better options out there. Still it's neat to see the base Audi in this condition, so hopefully someone keeps it going!
-Carter