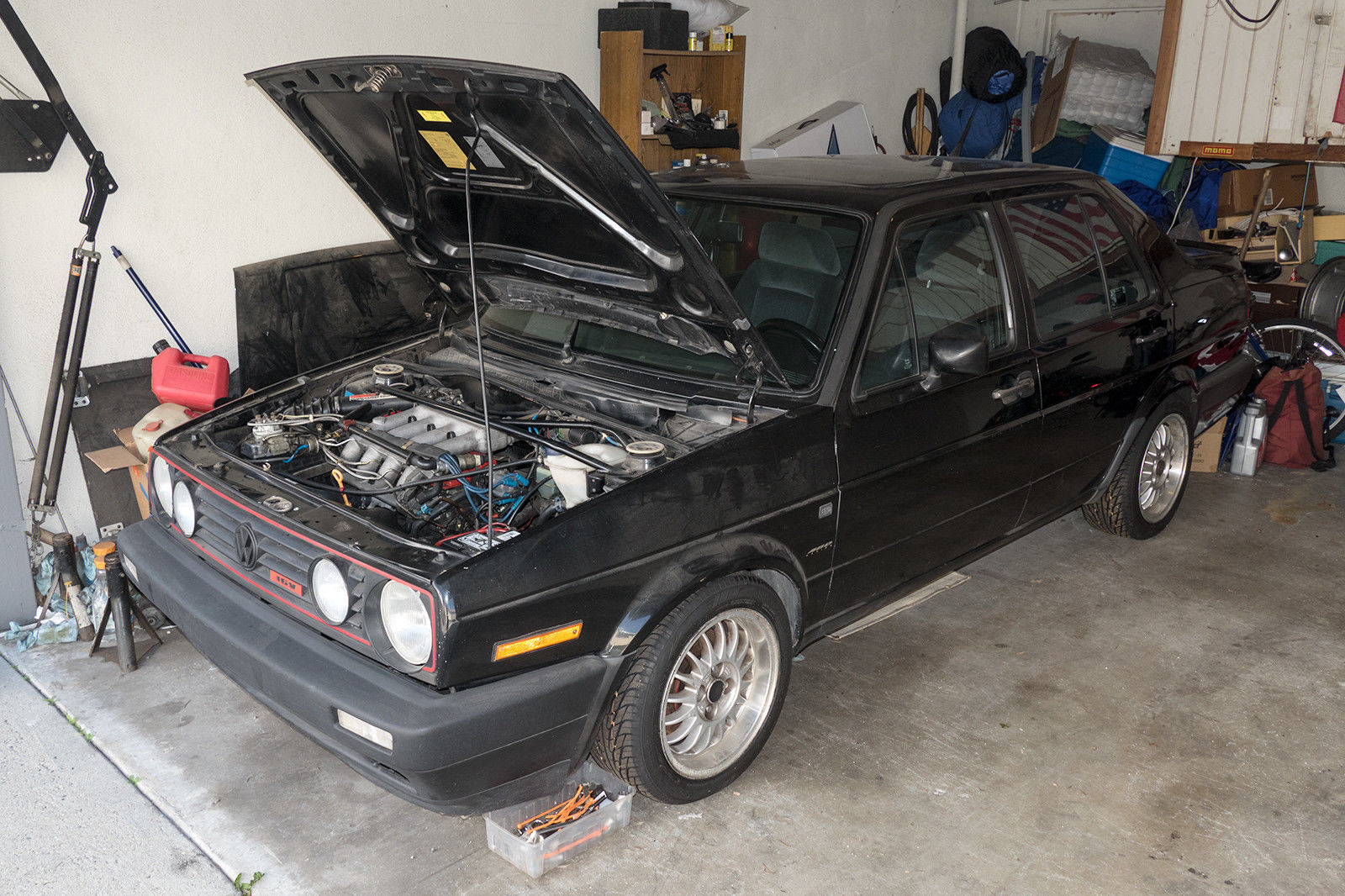 Update 8/30/18: The car has been relisted at $3,000 Buy It Now.
I keep chuckling as I come across A2 Jettas. I've already professed that they're not my favorite, yet interesting examples continue to pop up and they're simply too good to pass on. Today's may buck that trend, however, as it's a non-original, non-running example. So what's it doing here? Well, because of how it was built and how it appears today, it was worth a closer look. With a 1.8 PL 16V swap, a great set of Ronal wheels and some other VW-chic mods, is this a Jetta worth saving?
Year: 1986
Model: GLI
Engine: 1.8 liter inline-4
Transmission: 5-speed manual
Mileage: 186,000 mi
Price: $3,000 Buy It Now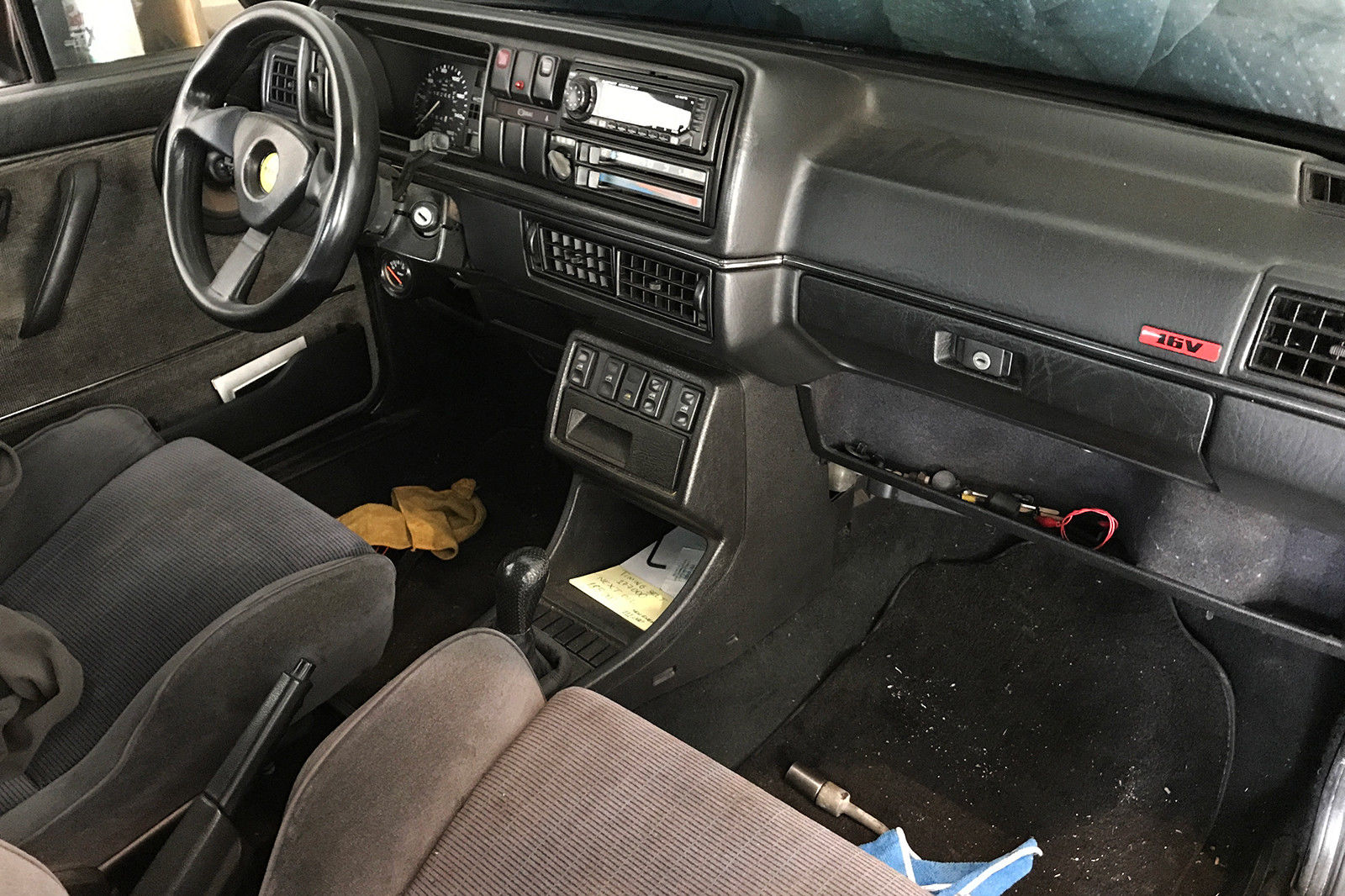 LOCAL PICKUP A MUST, CAR MUST BE TOWED ON A FLATBED OR TRAILER.

Selling a 1986 Jetta GLI in very good condition. My car was built is Germany in 1985;
I bought it from the original owner in Riverside in 1995, drove it for 7 years, and have had it
under non-operational status since 2003.
It's been in my garage, undriven, for the past 15 years.
I tried to get it running on my own, so I changed both fuel pumps and filter, brand new synthetic oil and filter, new spark plugs, distributor cap and rotor, new coolant temperature sensor, a brand new BOSCH battery, and four brand new Nitto 195/50/15 tires. I also bought a used fuel distributor from Germany because the plunger was stuck on mine.
I'm not getting fuel to the distributor, even though I can hear the pump whine every time I turn the ignition.
The car is being sold as is; I decided that I don't want to put the time into getting it back on the road, and I could really use that garage space for my other car.

I'm sure I'll forget some parts, but here's some of the stuff I have in the car:
Recaro seats, big bumpers, GTI quad grill, Momo steering wheel, Sparco pedals, 1992 deck lid, Bilstein shocks, Ronal 15×7″ R8 rims with 28mm offset, 11″ Corrado brakes, upper and rear strut tower bars, Techtonics
cat back exhaust, short shift kit, Scirocco Mk1 single wiper arm. The original 8V engine was replaced by a 16V. The short block was built around 1998 by Renner Tuning, and I have just over 70K miles on it; it runs strong and has never given me
any problems. The car drove perfectly up until the day I retired it.

$3500 OBO

Again, the car is under non-operational status, so it must be taken away on a flatbed truck.
This is a California car, always garaged, original paint still shiny; great project for anyone looking for an early German A2 Jetta GLI.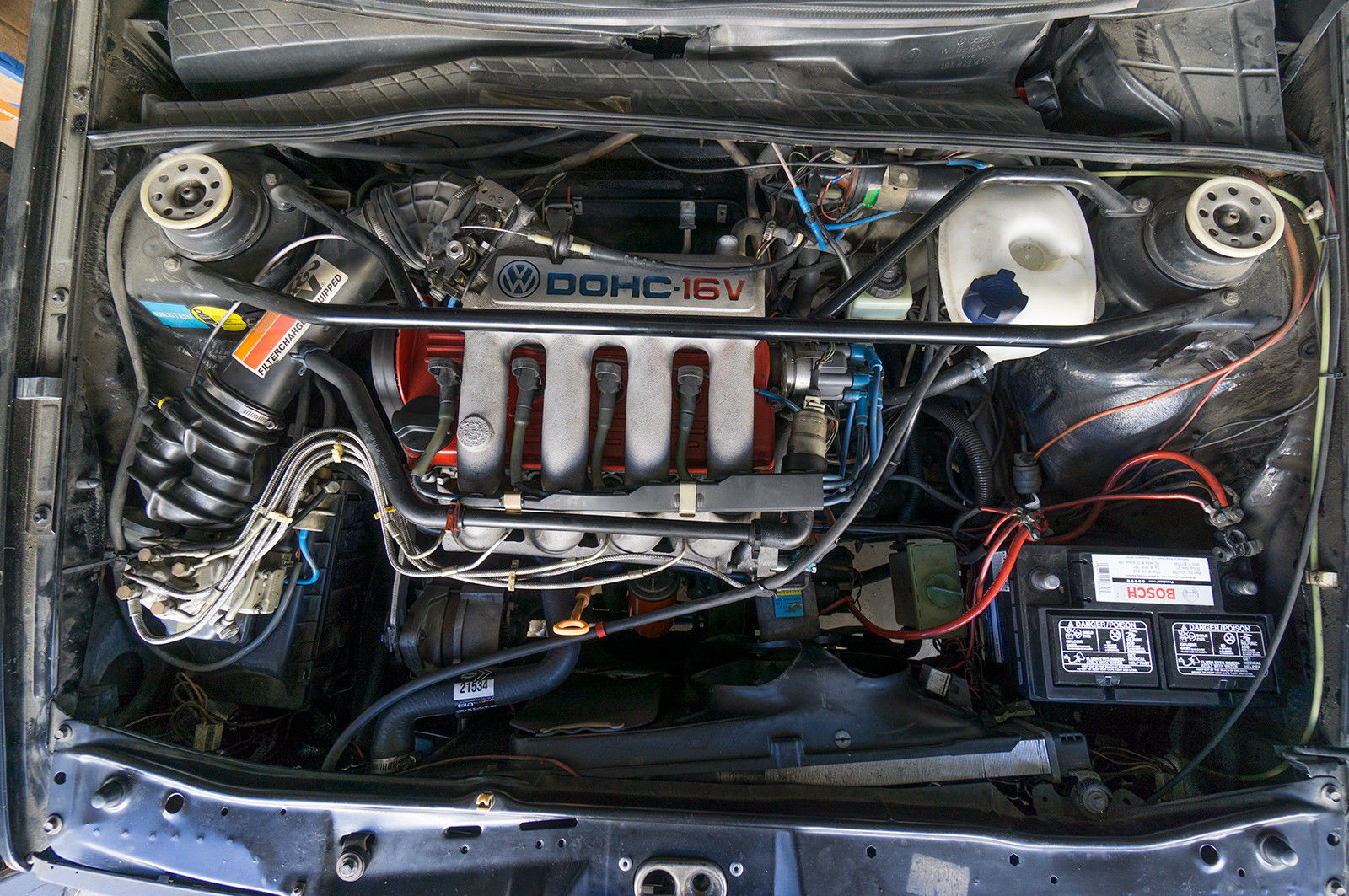 To me, the answer to the introductory question is a firm yes. A German-built GLI originally, the 16V swap was popular for a time and more correct than the ubiquitous VR-swap. The car has a long list of popular 90s mods. The Ronal R8s are fantastic and hard to find in low-offset form like this. The 4 headlight grill and single wiper from a Scirocco were hot items, as was the 'Big Bumper' swap. The car retains the early split-window doors and lacks the later flares and rocker covers, though that stands out less on the all-black outside. Techtonics was the spot to turn to if you wanted a nice and affordable exhaust, and inside the Recaro Trophy interior is fantastic. The car appears clean and though it has a lot of miles, it looks nice and is claimed to be original paint. The only trick will be to get the car running again, so this is the perfect scenario for someone who doesn't mind plugging away on the fuel delivery problem. However, the issue I have is the price. As we've seen, you can get a nice A2 Jetta in running shape for less than $3,500, so buying one that doesn't run and needs to be flatbedded at that rate seems silly at first. While it has a bunch of cool parts, even if you add them up I'm not sure you're coming much ahead on that front. You'd be taking a gamble at the asking price that this is an easy fix – if it's not, you might be better off holding out for a later 2.0 GLI or a decent VR swap.
-Carter