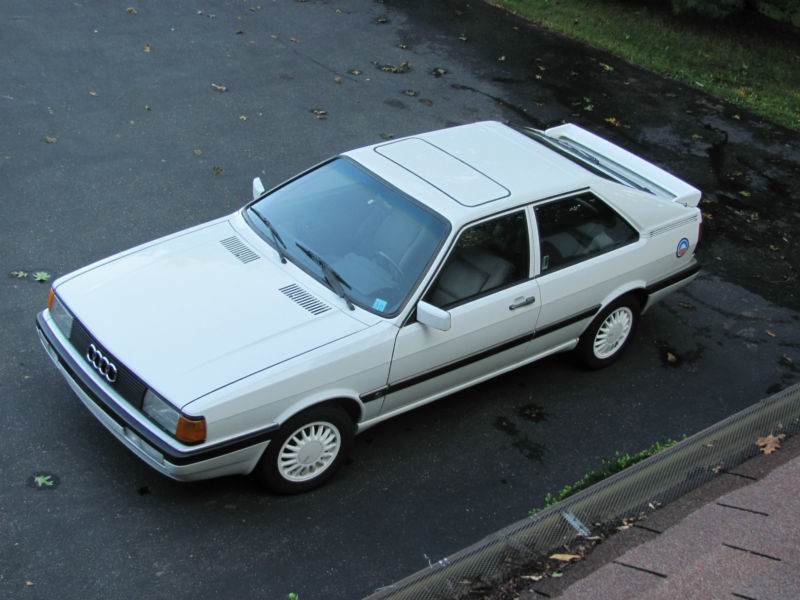 Since I've come aboard GCFSB.com, I've really wanted to write up an Audi Coupe GT. In fact, long before I started writing for the blog, I wanted people to appreciate these cars more. Perhaps it's because I've owned a long string of Coupes, or perhaps it's because not many people even know what they are. I missed the white 87 Special Build Paul wrote up later in the month. I found this particularly disappointing since I love the Alpine White Coupe GTs, especially the CE 1986 and SB 1987.5 with their color matched trim. Still, I always keep my eye out for another, so I was greatly excited to see a clean Tornado Red 1985 pop up on eBay – only to see that Paul had grabbed that one too! Not dissuaded, I challenged him to a "Coupe-off" and found another white 1987 Coupe GT Special Build on eBay. Now, I've owned two Oceanic Blue coupes (85 and 86), a 85 Zermatt Silver, a 86 Tornado Red one, and my current Black 1986 GT, but I've still always wanted one of the triple Alpine White models, and even more so one of the last of the run, a Special Build 1987: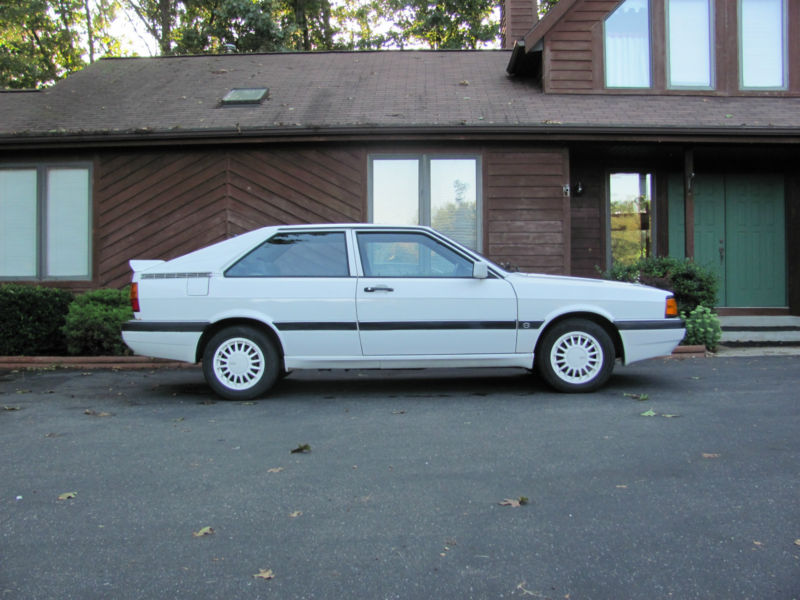 Year: 1987
Model: Coupe GT "Special Build"
Engine: 2.3 liter inline-5
Transmission: 5-speed manual
Mileage: 200,720 mi
Price: Reserve auction, $2,000 opening bid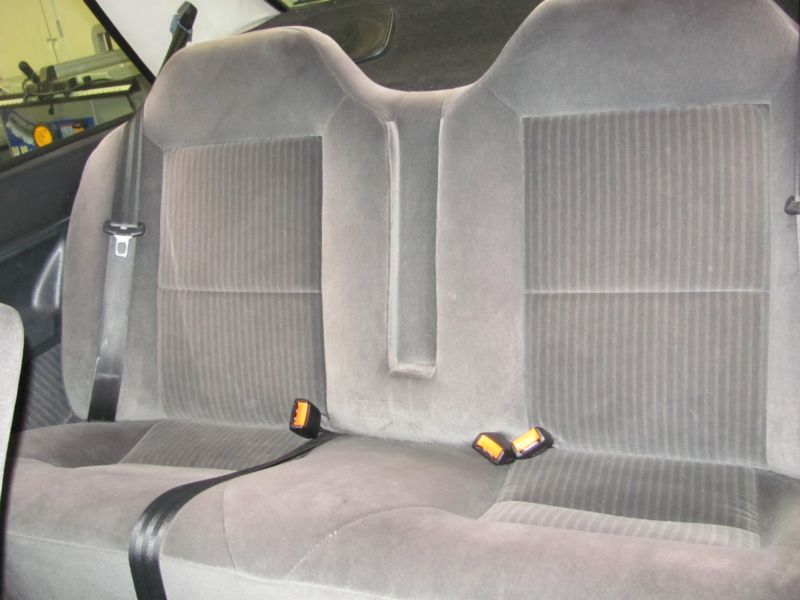 This is a survivor, pretty much original except for front, adjustable coil over springs with shocks and the Momo steering wheel but the original parts also come with. Runs great and looks distinctive! Of 1,600 Special Build editions built, about 850 were imported to the USA. They use some of the heavier 5000 drive train pieces like the inner CV joint and transmission. This is the successsor to the famous ralley cars that ran all wheel drive with a turbo 2.2 engine. Advantage here is much more reliable and economical. (You don't really intend to ralley, do you?) The GT Coupes were voted among the best handeling cars of their time and still do pretty well with modern tires. Original Ronal 14″ wheels white powder coat makes them easy to keep clean.

The Special Build came in 3 colors with the trim including the spoiler and wheels matching body color; white, black and red. They have a heavy duty 5 speed transaxle, four wheel disc brakes, digital dash which incorporates a computer read out of mileage, range, etc. The 5 cylinder 2.3 ltr. NG high compression engine has multi-port electronic fuel injection and a larger throttle body that gives 130 H.P. from the factory. Audi started using this in the new of the lines in 1988. I regularly get 26 +mpg on the highway, but I tend to drive a little fast.

New are the battery and starter. The tires have less than 1000 miles on them and are performance 195x60x14″ BFG G Force Super Speed.tires. I installed new front wheel bearings and strut bearigns when I converted to the coil over front shocks a couple of years ago, so they are virtually new, too.

No obvious rust, dents or scratches; although he car is 25 years old and has been used so there are a few very minor chips and things. Original paint still shines. I had the front of the hood repaired to remove rust on teh front edge 3 years ago. Seats are fine, clean and with little apparent wear. Dash is not cracked. All instruments and controls work except for the right side window, the malfunction is in the counsel switch, I think. Check out Forutitude website for more information.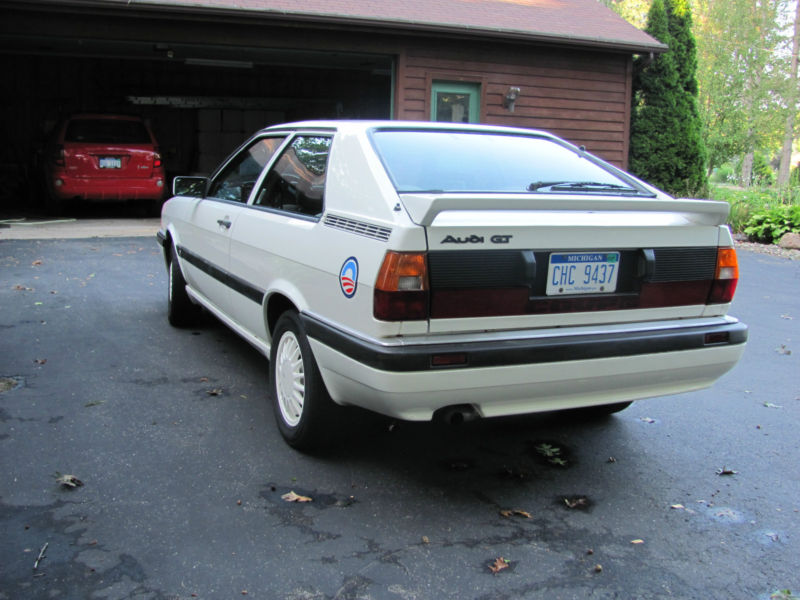 I'll be honest – I think I'm over telling everyone what a great car the Coupe GT is. I'm tired of dragging out the old magazine reviews where it was one of the ten best cars and proclaimed the best handling GT car. I'm tired of telling people that it's an affordable classic. I'm through explaining why a stock Coupe GT will beat a stock U.S. spec Quattro around a track without four wheel drive or a turbo. I'm not even sure why I've defended Audi's honor, considering they barely acknowledge this car existed. From now on, I'm going to agree with all of the typical Audi commenters, so let me sum this up in a few sentences.
"It's got 200,000 miles. Who would buy a car with 200,000 miles? It's sure to break before you even buy it, and then repeatedly every time you look at it. All Audis are horrible. It will cost you the best part of a million dollars to own this car for anything more than a month. It's sure to rust away to nothing by the end of the week. A good friend of mine once owned an Audi, and after it raped him and killed most of his family, it stole his identity and charged up a storm in Eastern Europe. This car would be great with a quattro conversion. What, no turbo? The RS4 is the only Audi worth looking at."
Okay, now that I've gotten that out of my system, about this car. It's one of the rarest of the Audi Coupe GTs. The 87 Special Build cars are indeed special and were the highest performance version of the car, and it's more than capable of holding it's own against most of its contemporaries. It appears to be in great shape and cared for, minus the one poorly placed political sticker that may be hiding something. I've owned enough of these to know the window "switch" issue could be diagnosed quickly – pop out the ashtray, wiggle the switches out of place and swap the switches to find out if it's the harder to replace regulator, or perhaps the wires broke in the door. Otherwise, it looks like this car is ready to be a fun driver. I bought my current car with 192,000 miles on it 15 years ago, and it's still running strong. Although there is little dealer and manufacturer support, there is an avid community to back these cars up and keep them running. Parts are reasonably cheap, they look good, get respectable mileage, and are fun to drive. But please, keep thinking they're horrible and don't buy them up, because I've seen what happened to the E30, and I'd like to be able to afford one of these Special Builds one day.
-Carter