Writing on this blog is dangerous for me, because every week I seem to have some car I'm focusing on that has me considering trading my current ride for. The gorgeous BMW M6 we featured last week has me running the numbers in my mind and considering going back to where my motoring memories began, with an '80s BMW. If the M6 is Mr. Hyde, you could consider this L6 the more tame Dr. Jekyll. A one year only model, the L6 was a luxury edition of the 635CSi, with an extensive leather interior that featured a full leather dashboard and even a leather headliner. The 3.5 liter engine was the same as in the 635CSi, though. With such a short production run, few of these L6s are hanging around these days, which made this particular car in classy Luxor Beige catch my eye.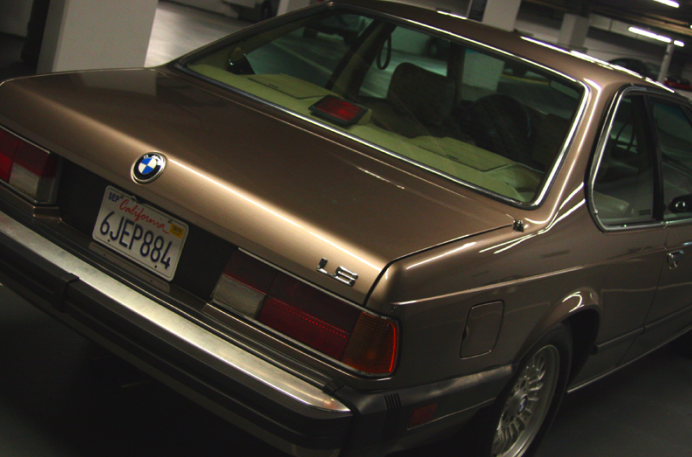 This 1987 BMW L6 635csi was originally sold at Seattle BMW with the original owner until 2005. Continuous ownership history is known and documented, and the car wears all luxourbeige paint and shows zero structural or surface rust according to the seller. It now has 100,500 miles, factory options include sunroof and automatic transmission. All service records date back to approx. 2005 and are included. The vehicle has been freshly tuned including recent service for fuel filter, full oil change, chassis service and power steering hose replacement.

The luxourbeige paint is in 7/10 condition and is religiously washed/waxed/polished. The body is very straight and the only defects include a small dent on the hood, DR side cracked mirror casing and a protruding defrost vent in the upper dash. These are small enough that they do not come through in photos but I wanted to mention it.

Purchased in the Summer of 2009 and driven as my daily driver without an issue or drama. Maintained with BMW parts at a highly reputable independent shop (Bimmer Clinic in Reseda, CA). I recently bought a Prius for work travel and unfortunately don't have the garage room that this car deserves.
The original tan leather interior is in 8/10 condition. It has a very clean headliner and all leather dash, and all switches, lights and functions work superbly. Unusual in these cars is the very supple and clean dash pad without any tears or cracks. Original leather seats are supple and without discoloration or cracks and tears, but there is a slight wear mark in the DR seat base.

The powerful 3.5 liter I-6 engine runs out well in town and on the highway. It offers very good throttle response and fuel economy. There are zero leaks/drips/seeps and runs as it should. Clean trunk, looks rarely if ever used, the same for the backseat buckets. Original and 100% complete tool kit in the trunk. The car has a clean title and recently passed the stringent California smog test with ease (good for 2 years).

In addition to standard diagnostic engine and transmission service, RECENT MAINTENANCE HISTORY INCLUDES:

Replaced battery and alternator (12/11)
Replaced main control relay (6/11)
Adjust 6 cylinder valve; install new gasket, cam plugs, spark plugs and breather hose (6/10)
Replace corroded thermo time switch and transmission coolant line (3/10)
Replaced aux fan resistor, fuel filter, oxygen sensor and brake master cylinder (1/10)
Replaced fuel pressure regulator (8/09)

The E24 6-series holds a cult following that has become more and more vocal around the automotive world recently. Admired for the unmistakable landshark aesthetic, the best engineering BMW had to offer and unadulterated 80s charm. Wish I had an extra garage for this beauty.

$11,900 negotiable
The thing that amazes me about this L6 is the leather interior. It's practically spotless. The greenhouse is rather large on this car so it is no mean feat to keep the all leather interior from cracking, especially parts like the dashboard. The previous owners surely must have give this car the time and attention it deserved. While not as valuable as a similar vintage M6, the rest of the E24 range is appreciating mildly, as people begin to wake up to the modern day classics. With one owner for 18 years, a full service history and mileage that isn't over the top, I would say the asking price is perfectly reasonable for this car. Given the seller is flexible, if the new owner could get another $500 to $1,000 off, this L6 would be well bought.
-Paul