I had mixed feelings when I read the news of pending legislation requiring new vehicles come equipped with black box recorders starting in 2015. Cars these days have a lot of electronic equipment in them, some of which is handy, and some that just adds unwanted excess to curb weight figures. But now the move to have big brother riding along with me has me strongly leaning towards not buying a new vehicle after this mandate goes into effect. No matter, though, as I am a big fan of the classics.
One of my favorites is the BMW E24 6 series, specifically the ones breathed on by BMW Motorsport. The M6 was an exciting mix of strength and luxury that only a select number of enthusiasts ever got a crack at. With under 2,000 brought to the US market have ever gotten a crack at one, as fewer than 2,000 were built for the US market for 1987 and 1988. This example for sale in California is a nice, lower mileage original with the Bavarian Autosport self-leveling suspension delete.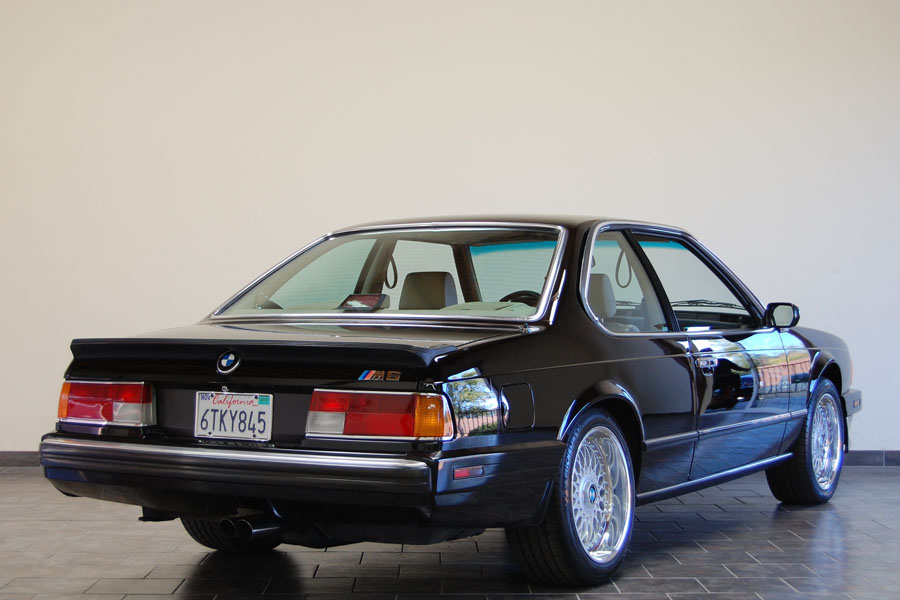 1988 BMW M6 – Black – Ideal Coupe. BMW Motorsports' S38b35 straight six engine delivering 256hp. 5-speed Getrag transmission. Recently had exhaust replaced from the cat back with factory parts. No rips or tears in seats. Full set of freshly refinished OEM Style-5 wheels just installed. Nearly-new 235/45R-17 Michelin Pilot Exalto A/S tires fitted. Troublesome self-leveling suspension just replaced with Bavaria Autosport self-leveling elimination kit. Stock springs/shocks replaced with new Bilstein HD shocks and H&R Sport springs. Bilstein/H&R setup forms a great combination of ride and handling. Only 1,632 M6 models were built to U.S. specifications.
An M6 like this is a vehicle I could imagine myself driving for the rest of my life. It's fast, practical and is quite a looker in basic black. Good examples command strong value these days; with average examples bringing anywhere from $15,000 to $30,000. With about a week left and bidding around $15,000, I'd estimate this one in the low $20,000 range, as it has reasonable mileage and some critical maintenance items squared away.
-Paul