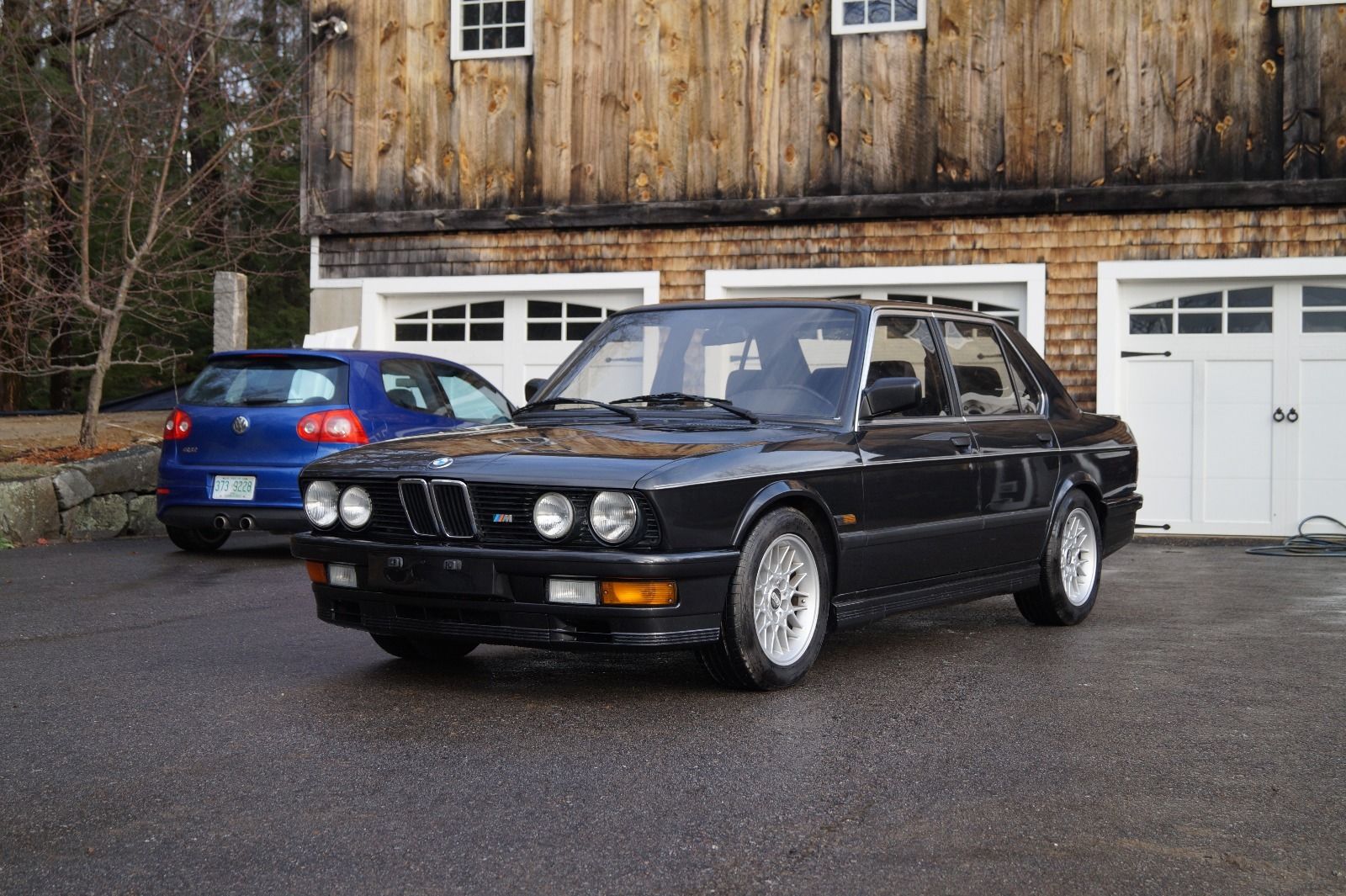 While BMW Motorsport GmbH has a lengthy reputation for conceiving and building some of the most legendary icons of the 1980s, since their inception they've also had their hand in clever badge-engineered products intended to bring the magic of M to a larger audience. Starting with the E12 in the 1970s and continuing through today, first to hit the market was the "M535i". Effectively, these were standard 5-series models with M-Technic bits added for a splash of style, but they lacked the higher-performance "S" (or M88/3, in the case of the M5) motors of their more potent siblings. But they certainly looked the part, with hunkered-down exteriors with deep chin spoilers, side skirts and rear valance and spoiler. Special M-Technic wheels were added to the E28 model which channeled aspects of the M1's Campagnolo design coupled with hints of the original 1972 Turbo concept wheels. Inside a sport interior was met with more M-Tech details. Just as today, though mechanically these cars were appearance packages rather than performance-oriented, they're nonetheless quite special indeed: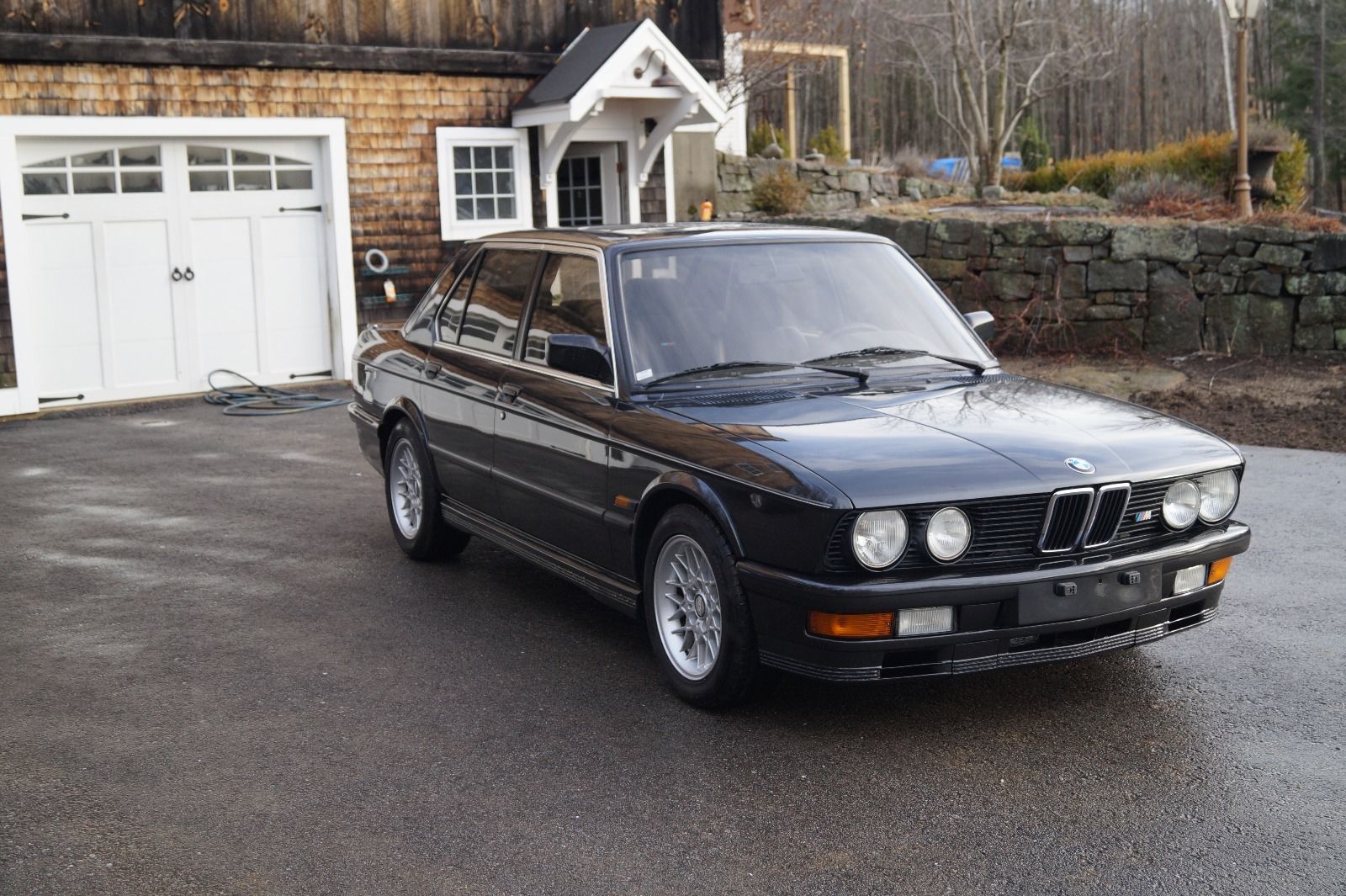 Year: 1987
Model: M535i
Engine: 3.4 liter inline-6
Transmission: 4-speed automatic
Mileage: 109,704 mi
Price: No Reserve Auction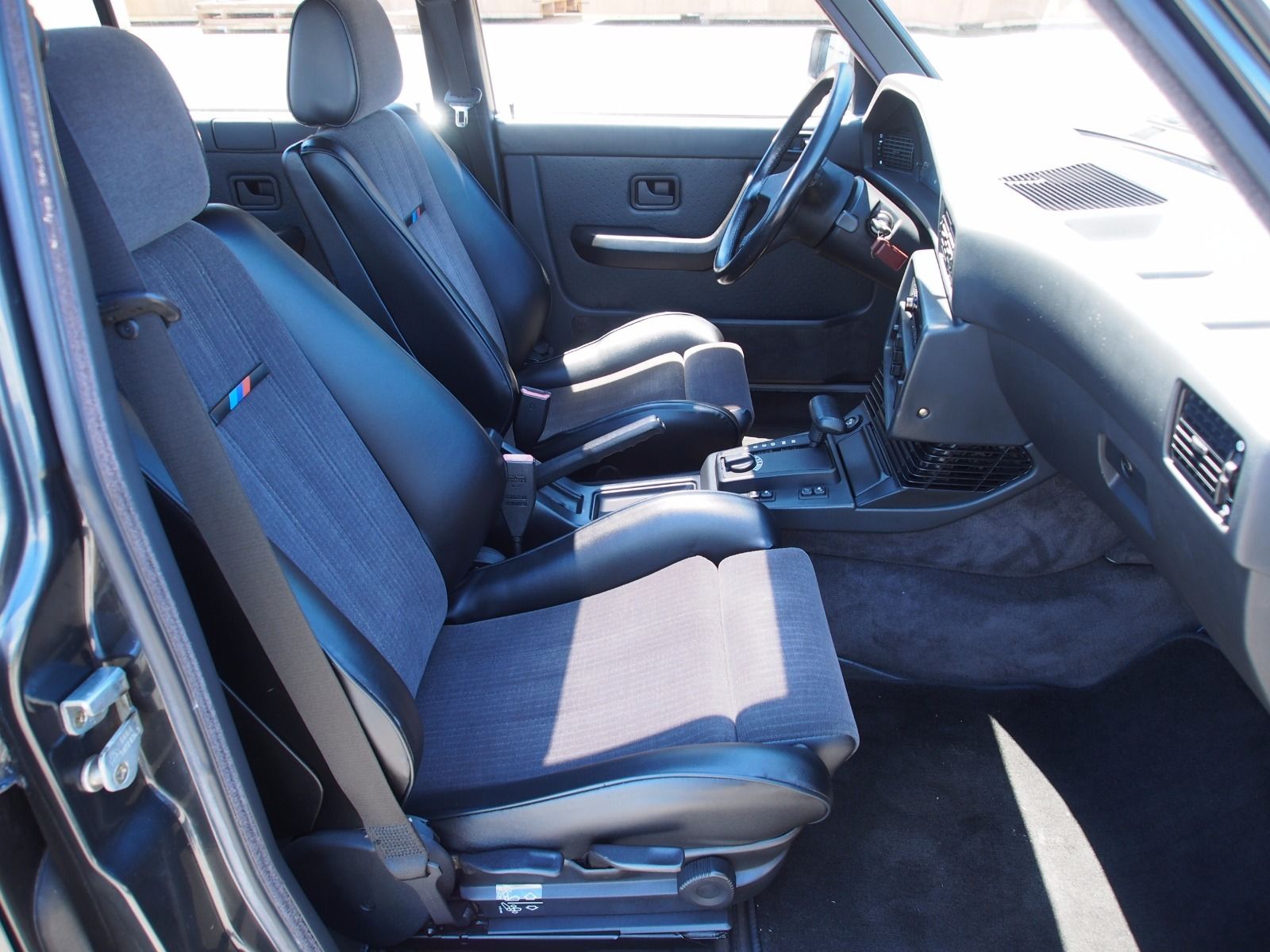 Hey Ya'll – thanks for taking a peak at my true import 1987 BMW M535i, M30B34. It's a Japanese spec DC89 (LHD catalyst, automatic): 1,140 produced internationally from 03/1985 through 09/1987. At 30 years old, this car certainly stands out amongst its brothers and sisters. Mechanically it's ready to turn key and go, daily or sunday, no CELs. She sounds awesome on idle or on the floor.

I'll split this up into two sections, the first being the background of this car (my knowledge and documentation), with the second being the work done to this car since import. Wanted to be very concise writing this up as I know what it's like to be on both ends of a sale.

This car originally came into my hands in November 2015. I had intentions of importing something else but I couldn't pass this up after it landed in front of my eyes. It was mightily important to me (with only a couple days left on sale) to verify originality of the technic-kit. As soon as my questions were answered, I purchased the car on the best impulsive decision of my life to date in the summer of 2015.

If you are familiar with importing, Newark and Boston are difficult logistically. I did RORO shipping to Baltimore from Tanaka, with the car arriving at my doorstep in November of 2015. To my surprise, a member of a BMW Club out of Tanaka owned it. Japanese culture grasped to "Americanized" or full-size cars since their ultimate status symbol post WWII. I'm sure after reading this (if you made it this far) you'll like try to browse for similar examples, 99.9% of which will be international or beat euro-specs. Car has the original title (Japanese and translated), all import documents, two keys and the original owner's manual.

Rather than storing this winter, I sent her to a local reputable shop out of Southern New Hampshire called DTM Autowerks. If you're familiar with east coast car culture, you may have seen their work at such shows like Wolfsgart and H2Oi. At this time the car had less than 110,000 miles and was ready for a revival. I spared zero expense to bring this car back to where it deserved to be, the following is a list of work done over the past two months. I have receipts for everything I've ever done with this car, including the recent inspection report.

Major/Mechanical:

· Engine/transmission were removed from car and separated from one another.

· Degreased and cleaned all exterior surfaced of the engine/transmission.

· Engine accessories were removed, valve cover, oil pan, timing cover, water pump and thermostat housing.

· Upon original inspection, slight cylinder leak. Cylinder head was removed and sent to a machine shop for a pressure test and inspection. With a slight warp to head upon diagnosis, we had it rebuilt and machined true.

· Installed all NEW seals and gaskets including rear main seal, front crank sea, valve cover gasket, oil pan gasket and timing cover set… everywhere.

· Installed new water pump and thermostat.

· With the drivetrain out, engine compartment was cleaned.

· Reinstalled motor/transmission assembly.

· Installed new accessory belts and radiator hoses.

· An obvious oil change and cooling system filled.

· Car was run to temp to bleed air from cooling system.

· At conclusion, car was checked for leaks, not a drop can be found.

Brakes:

· Front = GOOD

· Rear = installed new rotors/premium pads. Clean and lubricate caliper slides. Adjusted park brake, bleed system as needed and road tested ensure proper operation.

Exhaust:

· Replaced front pipe to manifold gaskets.

· Installed new rubber exhaust hangers.

· Slight patina near downpipe/tips.

Suspension:

· GOOD and TIGHT

· Installed new seals on the inner axle cups.

· Removed strut housing from vehicle to access/remove strut inserts to replace with new ones. All road tested for operation.

Interior:

· Almost zero issues, slight fading on drivers seat corner closest to door. No rips or tears ANYWHERE. To quote one of my friends today, "How does this look cleaner than my new Audi?"

· A slight 1cm crack in dashboard. All windows work flawlessly, including the huge sunroof and shade.

Miscellaneous:

· Sits on BBS RX's

· Aftermarket stereo/speakers – wiring issue causes them to work on and off.

· Aftermarket kill switch for battery in engine bay.

· Has been repainted but matched in history, key marks near gas lid. Otherwise amazing condition for age. Car had phone antenna mounted on trunk, since removed.

· Front bumper was professionally restored and painted, as it looked fatigued upon purchase.

· Original engine hood insulation was near non-existent, replaced with Bavarian-spec.

In summary, do or don't do me a favor before I slam this and register it for Alpha Class at Wolfsgart come July. I was told an E30 won last year…

I have big plans for the spring/summer of 2017, like many enthusiasts if your heart is somewhere else, you're going to follow it.

I haven't see one for sale in the U.S. in the past 6 months at least. If you find a similar example, I'll match the price. This is one of the cleanest M535i's out there, let alone an E28.

Please DM me with questions or concerns. Car is for sale locally and I reserve the right to end. For now it sits in an indoor garage and will be washed weekly. I have a folder of over 100 photos for serious buyers, however all in person visits are more than encouraged. Also, happy to assist with shipping, lots of domestic and international experience. Thanks for your time and consideration!
In terms of rarity, the seller's number is correct for the specific model (DC89) at 1,140, but doesn't tell the larger story – there were a total of 10,335 E28 M535is produced in various configurations. As far as I'm aware, the Japanese version does not hold any special place in enthusiast's minds; if anything, as one of the more prolific produced and made only in automatic form, it's perhaps slightly less desirable than a German market car. Dynamically, these M535is are effectively an appearance package. In this case, the standard 185 horsepower M30B34 is mated to a 4-speed ZF 4 HP 22. As a slight bonus, automatic-equipped M535is came with a limited-slip differential. The suspension could be upgraded to M-Technic suspension at extra cost, but it's not clear if this car had that option originally and I'd wager not. The biggest change outside was the addition of the M-Tech body kit and some blacked out bits; in Diamond Black Metallic 181 (as this car is presented), Shadowline was an option but this car didn't get that package, instead retaining some of the chrome trim. Missing are the original TRX 390mm x 165mm M-Technic wheels – expensive to buy tires for, but if you're looking to stand out from the E28 crowd and show this car, you'd want them. I normally appreciate BBS wheels and the RX is a top-notch model in the lineup, but they look a little too new and out of place given the rest of the presentation. Inside this M535i wears Anthracite Cloth 0129 / 0257, manual sport seats and the M-Tech 3-spoke wheel were standard, while items like the sunroof, on-board computer and air conditioning were options. The interior does truly look to be in excellent condition.
Condition wise, this car is far above an average example. The rarity of the package is coupled with a recent thorough mechanical sorting. While it's a bit unfortunate that the car has gone through the paint booth apparently more than once, generally the presentation looks very good. No rust is disclosed but you'll want to check the fenders on every E28 you consider. The electronic gremlins with the radio should be sorted but aren't a deal breaker. As the car sits, it's a lovely preservation-style E28. The combination of the M30 and 4-speed automatic make for a decent and comfortable cruising car; having spent many miles growing up with similar package E24 and E28 635CSi and 535i autos, they lack the finesse of the 5-speed but are still a nice car to be behind the wheel of. The seller has offered the car in no reserve format, but the opening bid indicates their mindset – at $17,500, it's one of the most expensive M30-equipped 5-series I've seen since they were effectively new.
However, I can understand where the seller is coming from on this one. After the expense of buying and importing a rare to find model in hard to find condition, they've undertaken expensive repairs to keep the car driveable. In that vein, this is a "buy me out" type of sale rather than someone looking to dump the car. Could you buy more 535 than this car for less? Sure, you can get a pretty nice U.S.-spec 535is 5-speed for about half the asking price, but it wouldn't be a real factory M535i, and it probably wouldn't be in the condition presented here. It also likely wouldn't have had the expensive mechanical refresh recently, or have as low mileage. Put these things together, and for the right person maybe the price makes sense – though I'll admit it's also a hard pill to swallow when the asking price is more than what my father paid for the E28 M5 he replaced that 635CSi with. But that was '93, and today both the used BMW and the M product lines are on fire, and if you want to play with the rarity of saying you've got a very limited production M-product from the 80s, this is the cheapest they come.
-Carter