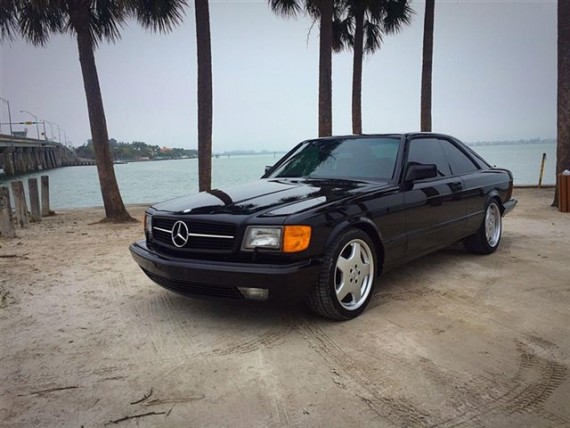 The W126 380 SE I wrote up yesterday got me back on a Mercedes kick and I quickly came across this badass '87 560 SEC. I've long thought that Benzes look best in black or white and I think this car in a garage next to yesterday's 380 SE would be a perfect garage. The big white cruiser for you and your friends and then this black coupe for you and one lucky passenger. The back seat can accommodate grown adults if need be as only 3 inches was shaved off the W126 SE chassis and the large doors make for easy passenger entry and exit. However, I think the vibe of this car is best honored with two people riding in style up front. The 560 SEC was Mercedes' statement car, the kind of vehicle reserved for the executive with a wild side. It cost more than its rivals like the Porsche 928S, BMW 635i and Jaguar XJS, something that I think actually helped it succeed. At this level of luxury there are those people will automatically assume the most expensive option is the best and I think in this case they would be right. I would rather have a 560 SEC than any other personal sport coupe from the era, even the M6. While I love that car, I don't think it has quite the same presence as this black beauty and sometimes presence (though rarely) beats performance. Sure we couldn't get our hands on a manual option here in the states but I honestly think that's ok because it this car is more of a mean city cruiser than a country road carver. Besides, the 4 speed automatic in this was quite ahead of it's time in that it had a topographical sensor that would let it know if the car was on an incline or decline. This allowed for impressive engine braking when coasting downhill and smooth starts without using the brake pedal when going uphill. Just one of the many pieces of technology that we take for granted today that was pioneered on the W126 chassis.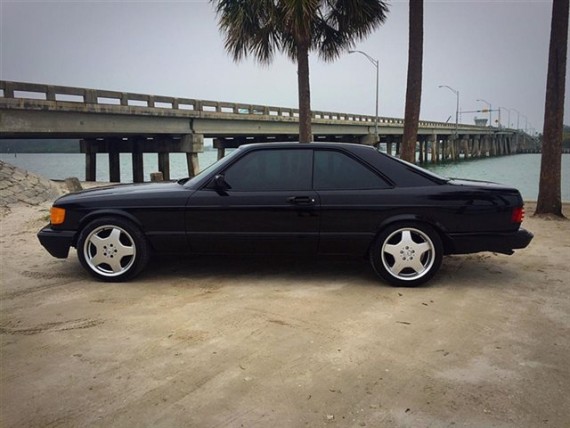 Year: 1987
Model: 560 SEC
Engine: 5.5 liter V8
Transmission: 4-speed automatic
Mileage: 98,479 mi
Price: $10,100 Reserve Not Met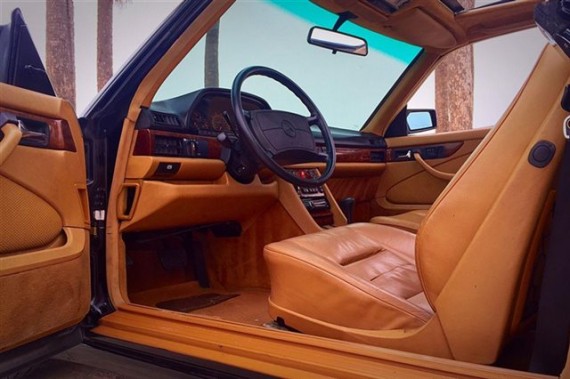 1987 Mercedes Benz 560 SEC

Excellent Condition Pillar-Less W126 Coupe

Metallic Black over Palomino Leather

5.5L V8

Automatic Transmission

98,479 Miles Since New

Close to $50,000 in recent service, Majority comepleted in the last 8 months!

Complete Brake System Service $3,600 in parts

Complete A/C System Service $5,300 in parts

Complete Fuel System Service $6,100 in parts

Complete Suspension Service $5,700 in parts

New Complete Exhaust $1,300

New Weather Stripping, Glass, Door Switches, Door Catches, & More $2,800 in parts

5 Spokes AMG wheels w/ Tires and Fresh Alignment $2,500

Complete Full Body Cosmetic Repsray $10,000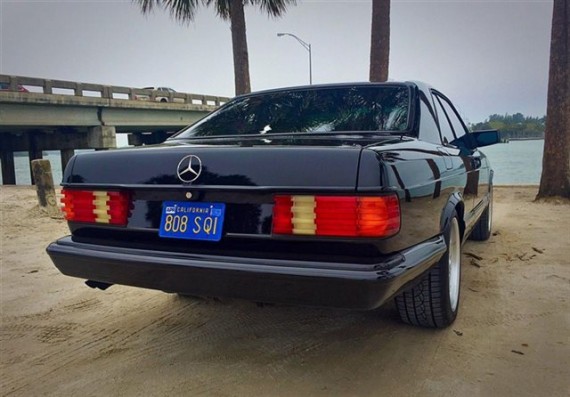 Lets talk about that Palomino leather interior and how nicely it contrasts with the black paint. The seller notes that the car has been re-sprayed purely for cosmetic purposes though I'd want to verify that is the case as it also has a rebuilt motor. I'm not jumping to any conclusions here but a respray and a rebuilt motor could spell trouble of the un-reported accident kind, just something to keep in mind in all transactions. If the seller is honest (and I have no reason to believe otherwise) then I'd say this is a car worth aggressively pursuing. These AMG wheels are among my favorite options for any Benz but they look particularly at home on the W126 chassis, coupe or saloon. The only thing that I don't really care for is the JBL thumpers in the back but not because they don't look good, simply because they eat up so much trunk space. I happen to thing their inclusion is kind of funny and fits the vibe of the car. If it were a different color combo I'd find them completely out of place but in this case, they almost work, almost.
So if you pull out the JBL window rattlers I think this is a very compelling package. The car has had had the brake, A/C and fuel systems serviced in addition to having a new exhaust installed, and suspension serviced which means self leveling rear suspension has been tended to. Basically somebody put a whole heck of a lot of time and nearly $50k into making this car top notch so again, extensive homework is required for piece of mind if you're considering taking it home. Should it fully check out and you decide to pull the trigger, a real pavement pounder will be at your disposal. The 5.6L V8 is lighter and more efficient than the already excellent 5.0L, you can thank the West German government wanting to protect German Forests for that. Though there was a loss of about 10% output from the use of a catalytic converter, the 560 was still up 68hp on the previous generation, producing a total of 300hp. Clap on a nice exhaust to let the engine breathe a bit more and the result is a truly fierce soundtrack, one that I could listen to all day long. With values generally falling around where the bidding is at and the reserve not yet met, I'm not sure how good of a deal this example will end up being but then again, a whole lot of money has been recently dumped into it so that could justify the premium. Ultimately it will come down to whether or not this thing is as cherry as it appears to be or whether it is just a grand illusion. Obviously I would hope that it is not the latter.
Cheers,
-Andrew