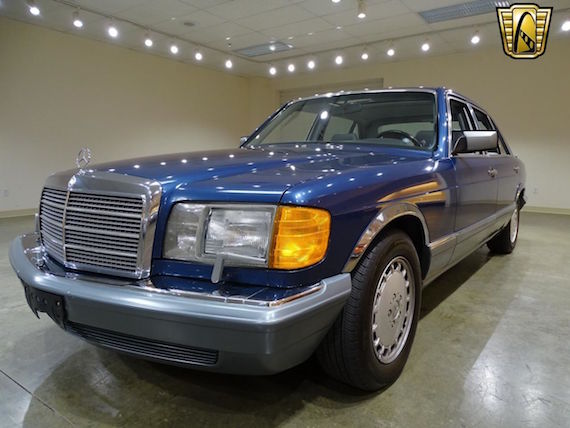 I've made no secret of my love for the W126 on these pages. Produced between 1979 and 1991, they date from a period when Mercedes-Benz produced over-engineered cars with an unrivaled reputation for durability and quality. The W126 sat at the top of the range, offering the highest levels of luxury, safety and refinement that money could buy. Whenever I see one on the road today, especially if it's in nice condition, I immediately think "old money." Many well-heeled owners, too attached to part with them and wealthy enough to afford the upkeep, simply held on to their cars, replacing parts as necessary. It's not unusual to see them being driven by their original owners, and buyers usually don't have to look too hard to find one-owner examples in good condition. With a $20k price tag and only 28k miles on the odometer, this one falls into "collector" territory.
Year: 1987
Model: 560SEL
Engine: 5.5 liter V8
Transmission: 4-speed automatic
Mileage: 28,847 mi
Price: $19,595.00 or Best Offer

For sale at Gateway Classic Cars in our St. Louis showroom is a 1987 Mercedes-Benzes 560 SEL. This would have been Mercedes' flagship vehicle as the 560SEL was the top of the line in 1987. This extra clean example has covered a modest 28,847 miles and they are actual to this car. Clearly this car was used sparingly and was certainly loved and cared for by its previous owners. Power comes from a 5.5 liter V8 that produces 276 horsepower and 317 lbs./ft. of torque. More than enough to propel this beast to highway speed. Top speed per Mercedes is 149 M.P.H. and 0-60 in 7.1 seconds. No too shabby for a 4,000 pound luxury car from the late 80s. Equipment on this luxury automobile has features that you still don't see on some cars today. How about the power reclining rear seats that ae also heated? There are also foot rest for the rear passengers, a rear leveling suspension, automatic climate control, driver and passenger air bags and the usual power windows, Power locks, Power front seats in addition to the aforementioned rear seats. Leather and wood grain are a norm for Mercedes and this one certainly has its fair share of it. The paint is a very eye catching Nautical Blue Metallic with gray leather interior. For more information on this time capsule of a Mercedes-Benz, call or stop by our St. Louis showroom.

FOREIGN MADE VEHICLE. The original VIN NUMBER for this vehicle is WDBCA39D2HA323875.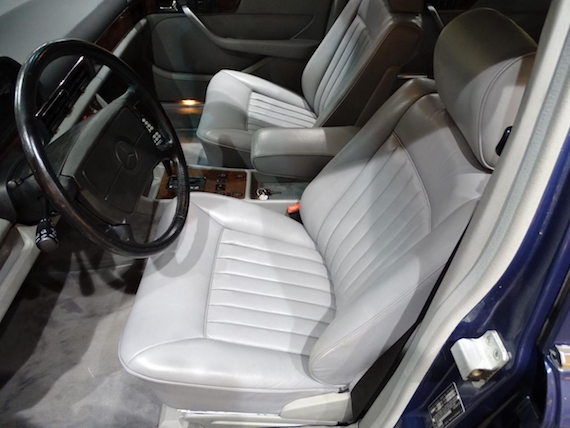 This car looks gorgeous in 929 Nautical Blue. A lovely color, we saw it on this 500SEC that Andrew wrote up a little while ago. All the chrome and exterior trim appears bright and tidy. I'm not a fan of the chrome wheel arches. But other than that, I can't fault the exterior. The leather gray interior looks equally clean. Even though it's a 1987 model, the car comes with some remarkably modern equipment: a driver's airbag, heated front and rear seats, ABS and even an early carphone (the ad mentions a passenger airbag but it doesn't have one).
Potential buyers would want to have a good look under the hood to assess the condition of all the rubber that tends to rot with age. Some reconditioning may be necessary, even (or especially) on such a low mileage car. The hydropneumatic suspension system gives these 560s their magic carpet ride, but is expensive to fix when it fails and should be checked prior to purchase.
$20k is a lot of money for an old S-class. These cars aren't rare enough to be true collector's items, not yet anyway. But if you've got $20k to spare, and a garage to store this in for the next couple of decades, then perhaps you'll one day see a return on the investment.
– Craig