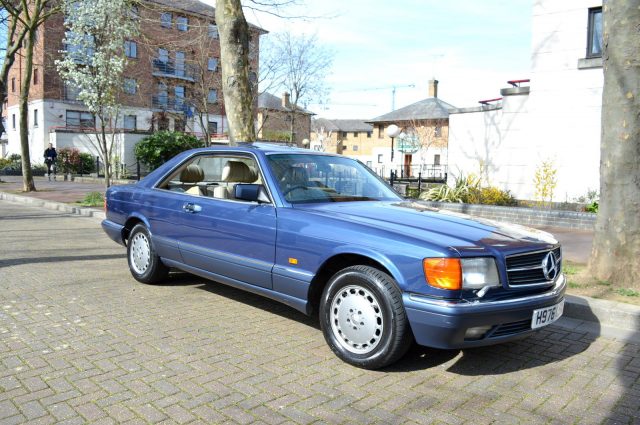 I probably don't feature as many vehicles from the other side of the pond as I should, but today's car is a great starting point. This 1990 500SEC for sale in London sports the amazing color of Nautical Blue and to make it even better, is for sale at a reasonable cost. But because this is a right hand drive car, there are a couple different things than what you are normally used to seeing on the C126.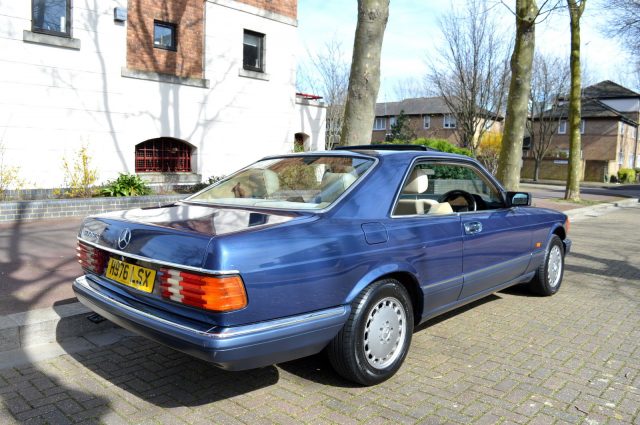 Year: 1990
Model: 500SEC
Engine: 5.0 liter V8
Transmission: 4-speed automatic
Mileage: 169,021 mi
Price: £6,250 ($7,840)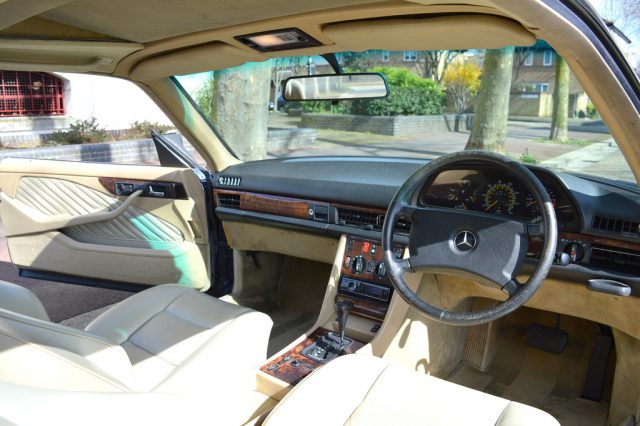 Flagship from the 90's Mercedes W126 500 SEC pillar-less Coupe. Finished in Nautical Blue, automatic gearbox. Covered 169,021 documented miles. HPI Clear. Options on this car from new include. Heated seats, electric front memory seats, air conditioning, self levelling steering wheel, electric mirrors, sun roof, cruise control and two tone horn. Tool kit and first aid kit present.

Recently acquired this car however, due to business commitments it has to sell. The previous owner lovingly looked after the car and had it in his ownership for the past 12 years. The vehicle was dry stored in a garage, hence it presents in very good condition with 169,021 miles. It has its original book pack and service book including 3 sets of keys. The service book is fully stamped (Mercedes history up to 96k and independent specialist thereafter) and there are accompanying service invoices to verify the provenance of this outstanding car. In addition, the service file has old MOT certificates.

The Mercedes-Benz W126 was a series of S-Class automobiles manufactured by Mercedes-Benz between 1979 and 1992. Premiering in September 1979 as the successor to the W116 line, the W126 was the second generation to officially bear that prestigious designation, an abbreviation for the German Sonderklasse or "special class." It introduced many Mercedes-Benz safety innovations, including the first seatbelt pretensioners.
The W126 was initially offered with straight-six, V8, and a turbocharged diesel engine for the sedan. A C126 2-door coupé versions was introduced in September 1981.

The W126's twelve-year production run between 1979 and 1991 was the longest of any S-Class generation since the first "S" designated top-class models were built in the mid-1950s, the 300 S and 300 Sc.

Please call to arrange a viewing – 07703 662 064 – Matthew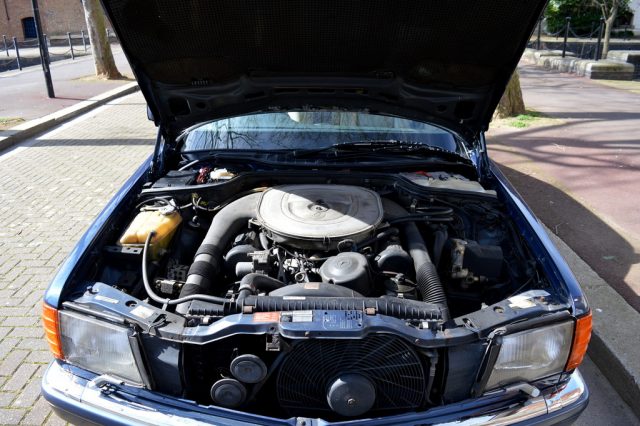 I'm glad I found this car because it shows how different cars are optioned in different parts of the world. This is actually a 500SEC which means it's the five liter V8 as opposed to the 560 with the 5.5 liter that North Americans got in the later years of the W126 SEC. The 560SEC, as well as a 420SEC, was also available in the UK for purchase in right hand drive models. What's interesting is inside the car you have a non-airbag steering wheel and manual climate control but you do get heated front seats. Another interesting thing with the right hand drive cars is the parking brake release is a giant pull handle as opposed to a small lever that is flush with dash. It's all the things that make these cars different from one market to another but I guess you were none the wiser if you bought this thing new in 1990 to being with.
Otherwise, this is a really nice example. The paint is spectacular and the interior is surprisingly very clean for having almost 170,000 miles on it. One thing is highly overlooked is that these cars still have 'euro' bumpers despite having the same shape as North American spec cars. The euro bumpers protrude out from the rest of the body far less than what you are normally used to seeing. It gives the profile of the car a much more compact look and in the eyes of most, it's more attractive.
The price of the car is only £6,250 ($7,840) and that raised an eyebrow. Like Carter's S6 4.2 Avant and Craig's M5, this example seems like a heck of a deal. If this was a left hand drive car in the US, you could easily ask over $12,000 for it seeing how the market for clean SECs is taking off.
– Andrew