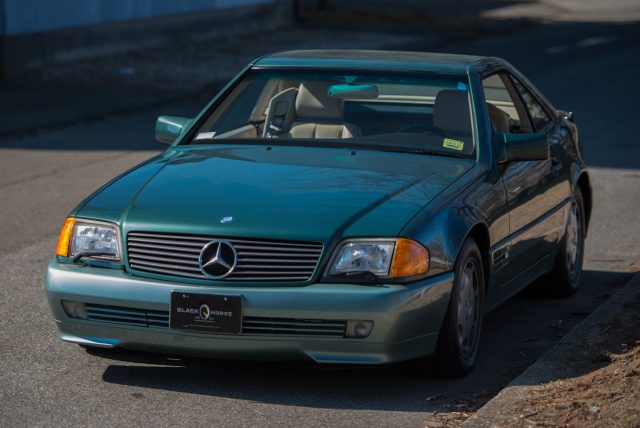 1993 was a huge year for the Mercedes-Benz SL in North America. For the first time in its 39 year history, the Sportlich-Leicht was being produced with a V12 engine. The 600SL was graced with a massive aluminum block 6.0 liter with forged steel connecting rods that produced nearly 400 horsepower. This was 80 horsepower more than the M119 V8 from the 500SL of the same year. Of course, you paid a premium for the extra four cylinders. The 600SL base MSRP in 1993 was a staggering $120,000 (over $200,000 in 2017 buying power) compared to $98,000 for the 500SL. But in my opinion, you definitely got your moneys worth. These were handsome, practical cars that you could depend on — unlike your friends with V12 Jaguars and Ferraris.
This R129 for sale in Connecticut looks to be a great example of the first year V12 cars and it's in my favorite color of Spruce Green Metallic. It's not a perfect example and has a couple minor flaws but most importantly it looks well-cared for because for as stout as the M120 V12 is, it still needs its regular maintenance and repairs.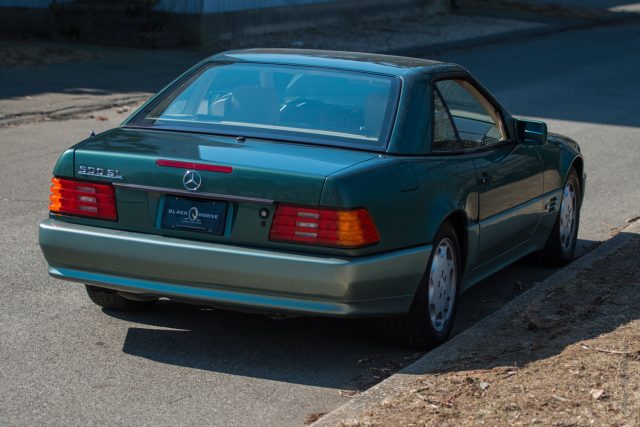 Year: 1993
Model: 600SL
Engine: 6.0 liter V12
Transmission: 4-speed automatic
Mileage: 75,375 mi
Price: Reserve Auction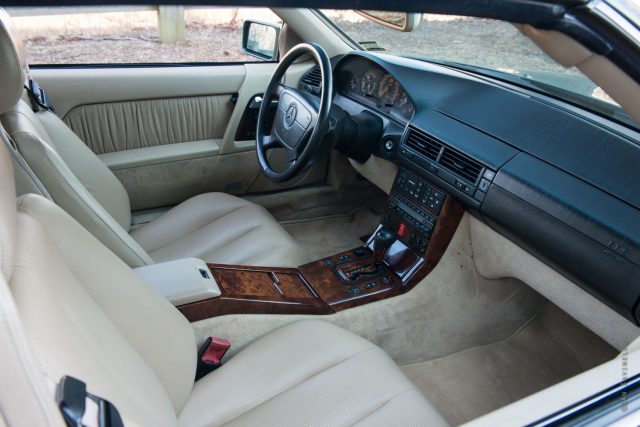 This Mercedes Benz 600SL is a future classic that has had extensive restoration work performed. In 1993 when this SL was sold, it represented the pinnacle of luxury and performance, 24 years later this car retains all of its original style and character and is a bargain when you consider the refinement and features that come with this car that originally had an MSRP of over $100,000.

The owner of this 600SL maintained the car flawlessly and invested in cosmetic and mechanical work to keep this car in peak running condition. The seats were recovered and the top was replaced which give this car great curb appeal. The transmission was recently replaced so the car shifts and drives great. This car comes with extensive documentation of both the restoration work that was performed and records of scheduled maintenance being performed on time and by professionals. The Carfax on this Mercedes is perfect!

This car was owned and cared for by a true connoisseur of Mercedes-Benz automobiles which is reflected by its pristine condition. This is a great opportunity to own a V12 Mercedes-Benz!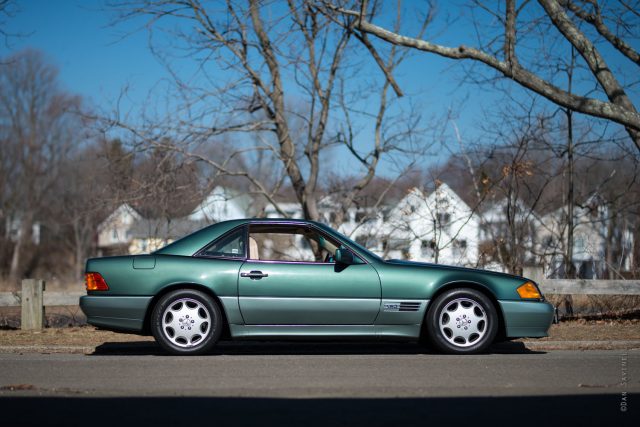 I really like this car. Spruce Green suits this car really well and the early 1990's design language is highlighted well. It gets away from the standard black paint that is often neglected by this point and isn't as garish as something like red. I enjoy the tan interior as a nice contrast to the green paint while the burl wood looks to be crack-free and has a nice shine to it. The carpeting in the driver's side footwell could use a deep scrub as well as an extracting and it looks like there was a car phone mount that was drilled into the carpet that left behind multiple holes. I'm really disappointed that the seller, a dealer of rare and unique vehicles, didn't bother to take photos of the soft top and open the hood to show that wonderful V12. I'm sure that can be arranged, but why would you make things difficult in the first place?
I'm going to go out on a limb here and say this car won't even sniff the reserve that is set for this auction. Not because it isn't worth it but rather you can't expect people to bid with confidence if you leave out key photographs and don't show any of the "extensive documentation" that this car has. One more odd thing about this car is that the last registration was from 2011 which isn't the something that inspires confidence in anyone. This car is less about actually trying to sell it with an auction and more about catching the eye of a serious buyer then proceeding with the transaction from there.
– Andrew