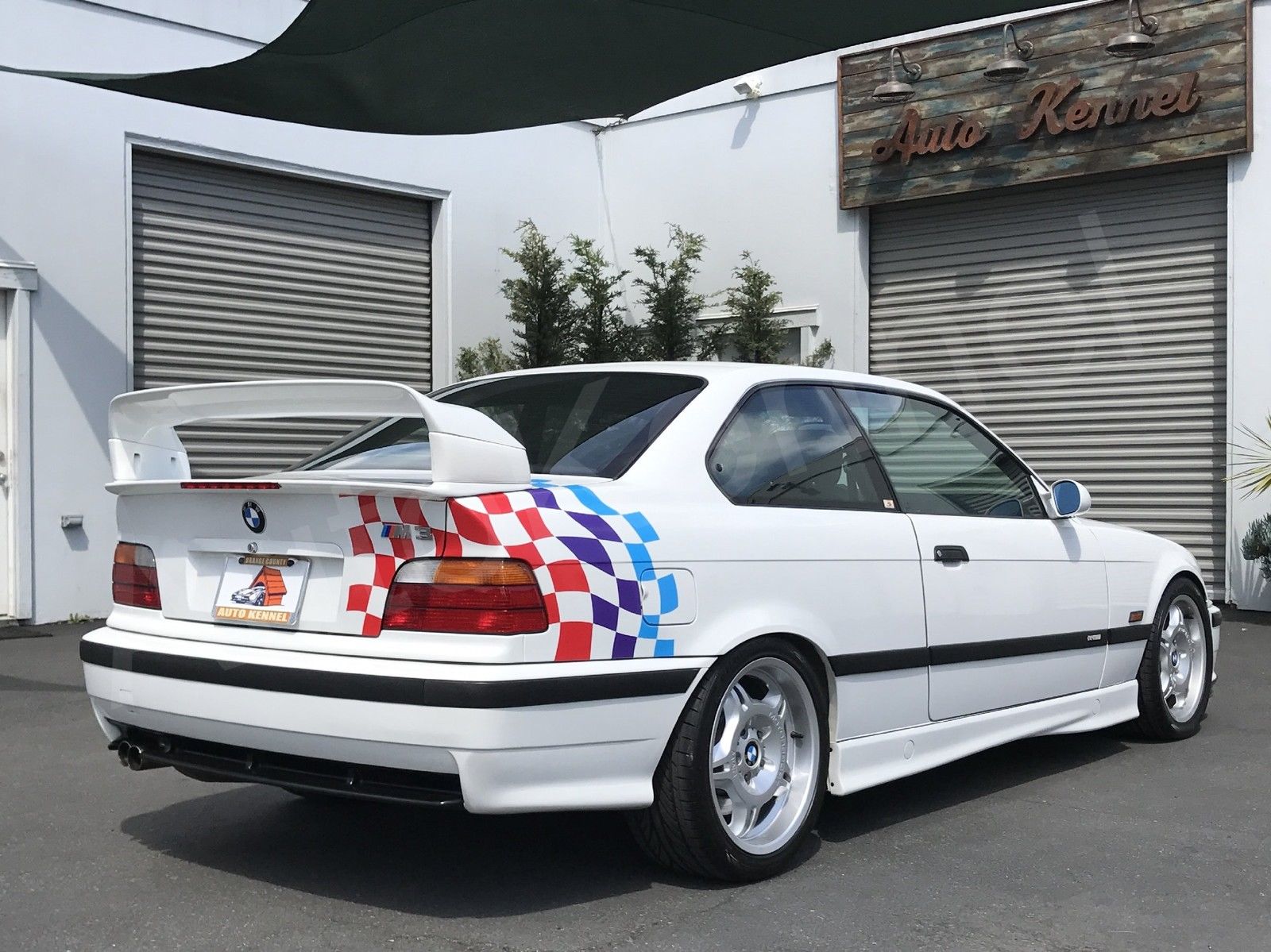 For some time, critics have claimed that the E36 chassis was just too prolific and not special enough to be considered by collectors. They weren't built well enough, they didn't have the pedigree of the E30 or the power of the E46, and since you could buy one on your local Craigslist for $5,000 (less, sometimes!), why the hell would you pay a premium for one?
It's been about a year and a half since we last looked at a M3 Lightweight. The ask was $90,000 on a model with below 30,000 miles, and it was no surprise that for many that ask was far too strong, though I suggested opportunities like that weren't going to come along every day. In that time, we've seen some big numbers start to roll in for special E36 variants, like the $65,000 Canadian Edition M3. But all expectations on the E36 market, and especially those on the Lightweight model, were thrown out the window this past March when a lower mile, all original example came up for auction at Amelia Island.
The price? After hot bidding and when the hammer finally fell, it hit $145,750. I was astounded, even though for years I'd been claiming these cars would increase in value in the not too distant future. What does that number mean for the rest of the run?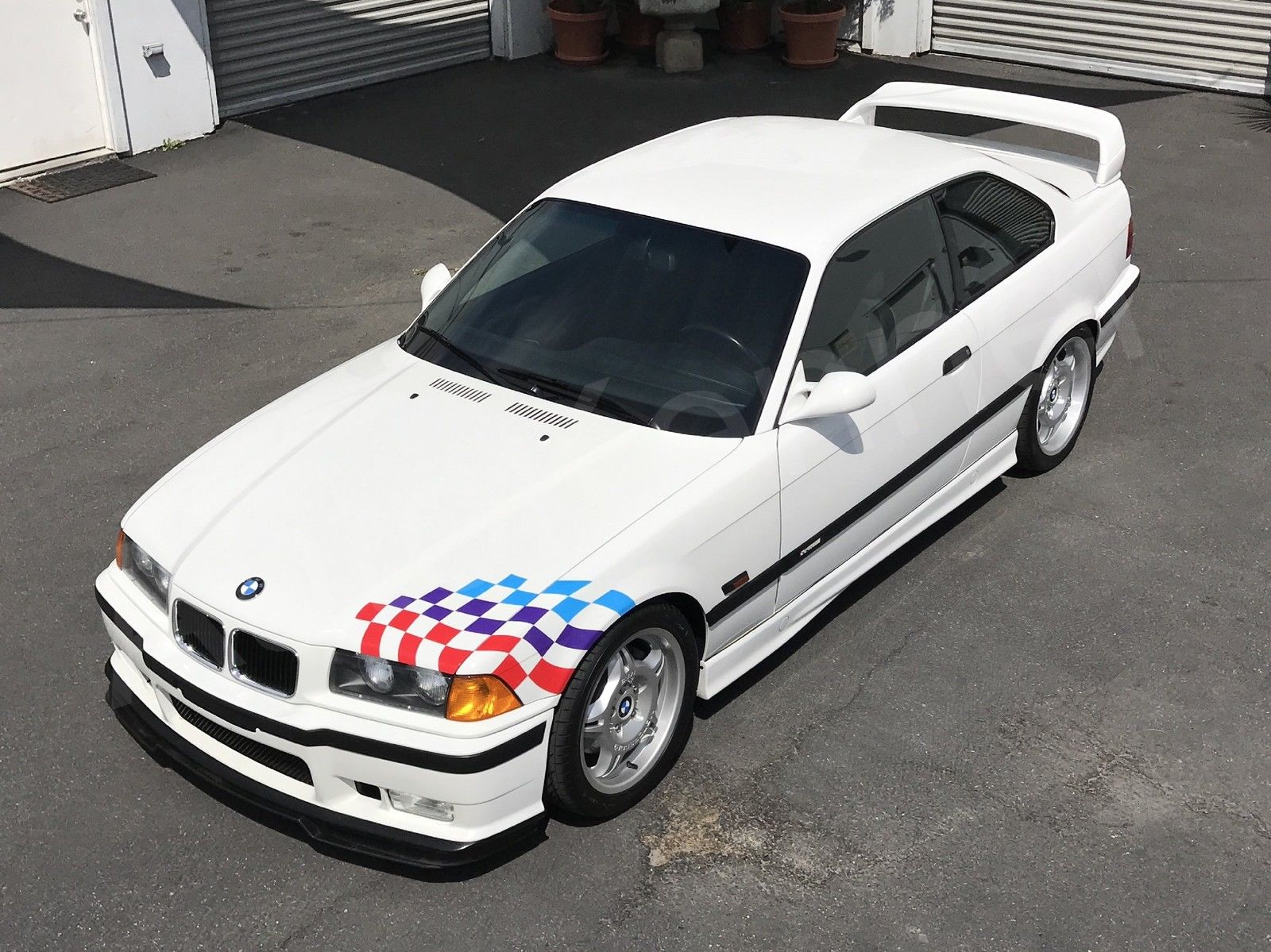 Year: 1995
Model: M3 Lightweight
Engine: 3.0 liter inline-6
Transmission: 5-speed manual
Mileage: 65,500 mi
Price: $74,990 Buy It Now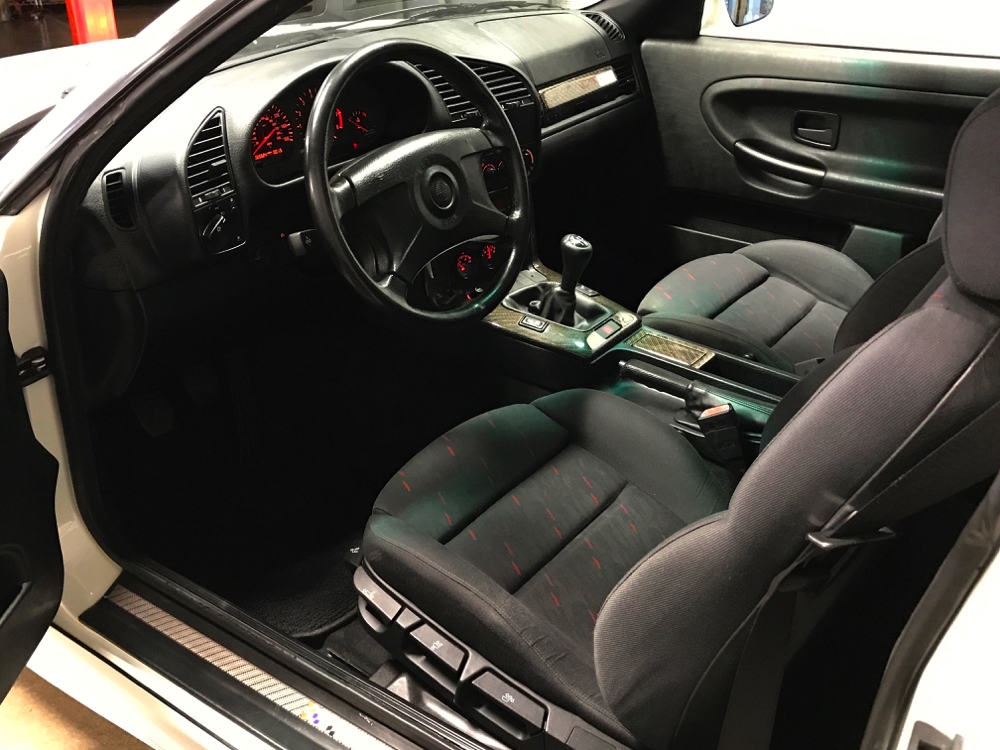 1995 BMW E36 M3 Lightweight (LTW / CSL) Fresh Engine Rebuild/Numbers Matching Complete Original LTW Package Kit Installed 2nd to Last M3 LTW Built 65,500 Original Miles Less than 500-Miles on Full Engine Rebuild Alpine White III (0300) on Black Hurricane Cloth (0638) 5-speed Manual Southern California Car since 2003 Clean and Clear California Title BMWCCA Member Owned Not very often does a low-production, race-bred, homologated collectible come along at a price under 6-figures. With approximately 120 produced for the world and only 70-85 coming to the U.S., it is no wonder these cars are becoming so sought after among collectors and enthusiasts. History of the Lightweight: The 1995 M3 Lightweight (BMW NA model code 9520) was produced between August of 1995 and October of 1995. This street-legal model eliminated several comfort and convenience items for weight reduction purposes (approximately 200 lbs lighter) and included aluminum doors. The M3 lightweight came with several performance upgrades based on the European M3 GT homologation series for worldwide GT racing. The U.S. models were homologated for the IMSA/Firehawk series and because of strict D.O.T. laws; they had to be sold with all the "go-fast" parts in the trunk. This particular example is the 2nd to last LTW ever built. Unfortunately, many of these cars went to pro race teams or club racers and very few unmolested examples remain. Estimates of remaining stock LTWs are around 2-dozen. Differences from a stock M3: Rear axle ratio of 3:23 Aluminum doors GT front spoiler with adjustable wind splitter and aero underbody panel Solid upper strut bar brace Underside X-brace Special sports suspension settings Trunk lid spoiler with removable risers BMW sports seats, cloth only Special interior materials and colors Forged magnesium alloy wheels Reduced sound and noise insulation Thinner carpet and no hood pad Alpine white with diagonal Motorsports flag decals Carbon fiber interior trim BMW Motorsport International logo integrated into doorsills, glove box, and body No radio No center console valet Trunk lid tool kit deleted No air-conditioning No sunroof Rare vinyl rear parcel shelf (pre-production part for a handful of examples) As was the case with many M3 CSL/LTWs, this example was initially delivered to BMWNA's racing arm PTG (Performance Technology Group) headed up by Tom Milner. PTG prepared the LTW kit for the trunk and performed any customization the dealer requested before being delivered. This example was built in October of 1995 and sold new on May 15th, 1996. It's the 2nd to last LTW built by BMW. The first owner kept this LTW for a little over 2-years/28k-miles before selling it to the 2nd owner. This owner was the oldest BMWCCA driving school instructor in America at the time. He was a long time enthusiast who was fanatical about proper service. He carefully studied all the issues that E36 M3s potentially could have and set out to rectify them. We have copies of his services as well as notes. The car was never raced and mostly used to show as well as give students rides at local school events. He kept the car for about 5-years before selling it to the current owner on June 19th, 2003 with about 42k-miles. The current owner is a long time BMW enthusiast as well. He continued to use the car for DE (driver education) events and weekend fun driving. Highlights of services performed by the 2nd owner include (most parts purchased from Turner Motorsports): Dinan lightweight clutch and flywheel Adjustable aluminum camber plates Adjustable/larger front sway bar Larger rear sway bar Solid aluminum rear shock tower mounts Stainless steel brake lines Metal impeller water pump Aluminum thermostat cover European M3 Oil Cooler Oil temp, oil pressure, and voltmeter gauges Highlights of current owner services include Replace all struts, shocks, springs, and mounts (KW coilover kit) Replace lower rear trailing arm bushings/ball joints Ground Control rear lower control arms Replace motor mounts Replace power steering hoses Rebuild brake calipers Reinforce rear sway bar, front subframe, rear shock tower, and upper front strut Replace lower front control arms with aluminum factory ones Remove dealer installed A/C system Installed finned differential cover Upgraded fuel pump Replaced driver side axle New shifter and all bushings Replaced SRS control unit New airbox At the end of 2016 (less than 500-miles ago), this LTW had a full motor rebuild. The work was performed by Mino Iorgoveanu of Achilles Motorsports. Mino started his career in the 70's as a mechanic for factory Renault and Fiat rally teams. He moved to the U.S. in the 80's and has been building BMW motors ever since. Domestically, he is responsible for building some of the fastest and most winning BMW race team engines. Highlights of the engine work include: Valve job New pistons and cylinders All new gaskets/seals New valve guides, rod bolts, and rod/main bearings Resurface head Clean, bore, and hone original block Polish crank New fuel injectors New fan, shround, and fan clutch Replace most hoses New coils/plugs Replaced exhaust manifolds muffler midpipe Well over $10,000 was just invested in the engine rebuild. We just had Bullet Performance, one of SoCal's top independent BMW service centers, perform a complete inspection. They found the car to be in very good condition with no signs of abuse. They performed the following services: Replaced power steering pump and hoses New throttle position switch Replaced shifter, bushings, and all associated parts Replaced Axle In total, $2,000 was just spent with Bullet making sure the car was ready to go to market. I'm a huge fan of these BWM LTW's. I've been fortunate to own two of them (yes, kicking myself for selling them a while ago) as well as helping my friends sell another 10 of them. The challenge I've had with these cars is that if they are too perfect and the miles are too low, what can you do with them? You certainly can't drive them on fun weekend canyon runs, where they are a blast. You simply detail them and putt to your local Cars and Coffee event. What I love about this one is it is still very original, but can be enjoyed for some fun/guilt-free driving. The paint looks great with minimal signs of use. The hood has been repainted as well as the right front fender being cleared coated. The rest of the paint is original and verified with a paint meter. All the metal panels are original including the aluminum doors and have their proper VIN stickers. The Motorsport wheels are wearing tires with at least 75% tread life remaining. The brake pads and rotors are new all the way around. There is clear bra on the front bumper as well as some older road chips. The interior is in equally nice condition. The rare seats are in great shape with minimal signs of wear and no tears. The dash is perfect with no cracks or warping. The headliner, door panels, and carpet all look fresh. All the gauges work properly along with the lights. The pixels on the trip computer are also going out (very common part to fail…good condition used units are easily available at less than $100). Furthermore, this example has the extremely rare pre-production textured polymer rear parcel shelf panel. Only some of the very early examples had this part. We have consulted with several LTW/CSL experts and they believe that since this was one of the last units built, they just used this part since they still had it in inventory. This part is truly unobtainium.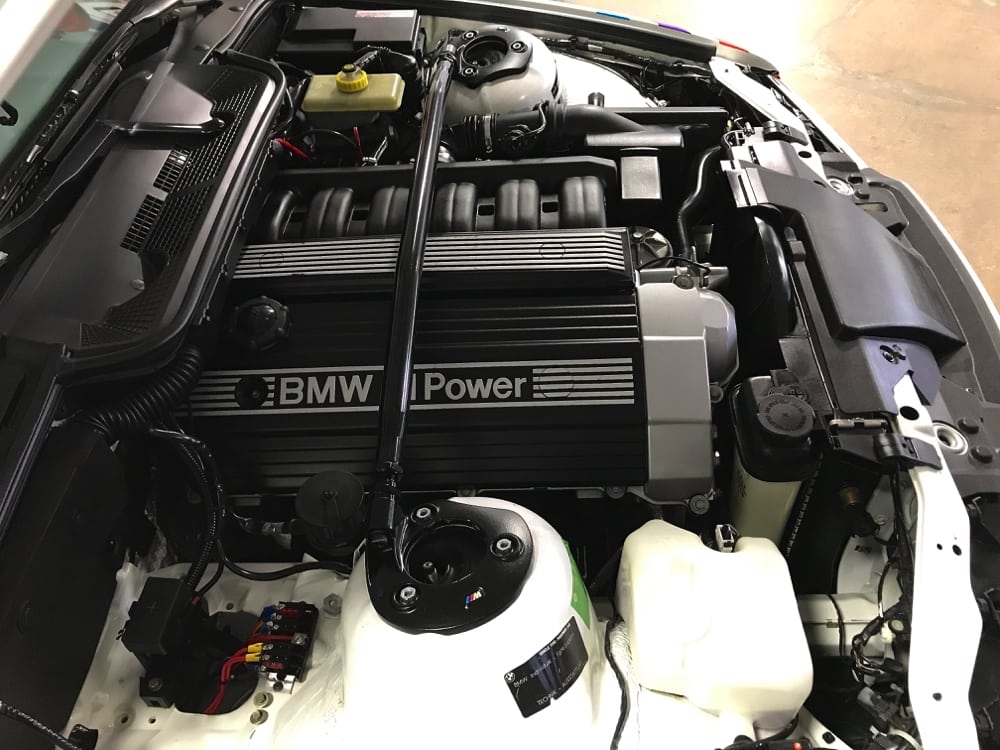 Auto Kennel once again does a great job documenting what's special about each car, and also disclosing what's occurred to each example. This one isn't perfectly original and has undergone quite a few modifications, yet it keeps the original appeal of the no-frills package in tact. Miles are reasonable and, as the seller states, not so low that you're going to worry about each time you turn the key. Condition appears to be very good throughout.
What made the Amelia Island car so appealing was that it was, effectively, one of the few completely original examples left. As I said in the last post, I remember when these cars were launched well, and just in my little circle of BMW HPDE instructor friends, several examples turned up at the track at every event, and few remained stock. While there weren't a lot of these cars to begin with, even since new several people assumed they'd be collectable and so today it's not impossible to find them. In fact, Enthusiast Auto Group currently has no less than three on offer. Compared to those models, this one is a little more modified but also cheaper than all three, despite mileage in the middle of the group. The closest in condition and mileage, once again like that 2015 post, is $10,000 more than this one.
A year and a half ago, it felt like $90,000 was as high as the M3 market could go. Now we're a full 50% past that. Would it be outrageous to claim that $150,000 is the ceiling? While it's hard to conceptualize one eclipsing $200,000 in a short period, in 2015 I would have said the same thing about $100,000. In this market, who knows where the top is, and when the bubble may finally burst.
-Carter