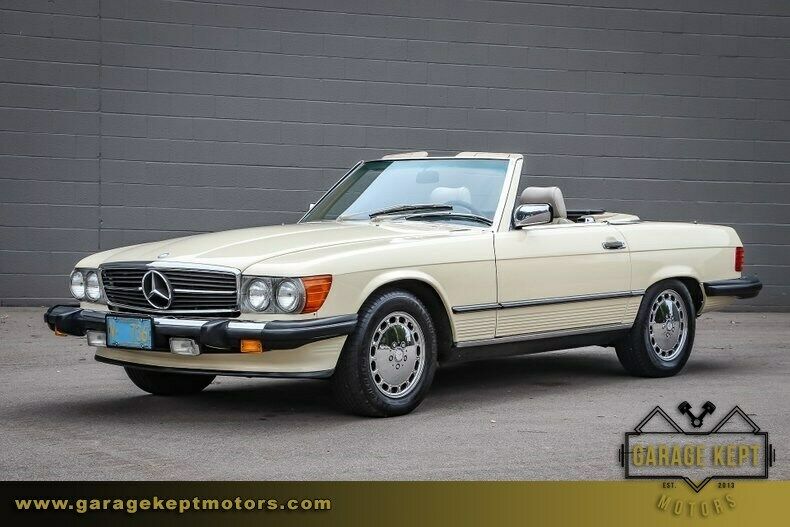 Last week I took at a look at a Mercedes-Benz E350 in a very interesting color that drew an above average reaction in the comment section. Personally, I wasn't a fan of the shade, but some enjoyed it and at the end of the day, I'm just glad they still offer some crazy colors. Today, I wanted to take a look at another Mercedes-Benz in a maybe not so popular color, but a lot easier to sallow.
This 1987 560SL is finished in Ivory, and that name pretty much nails it. It is an off-white, eggshell, beige, kind of color. Exciting? No. Understandable on a luxury convertible in 1987? Very much so.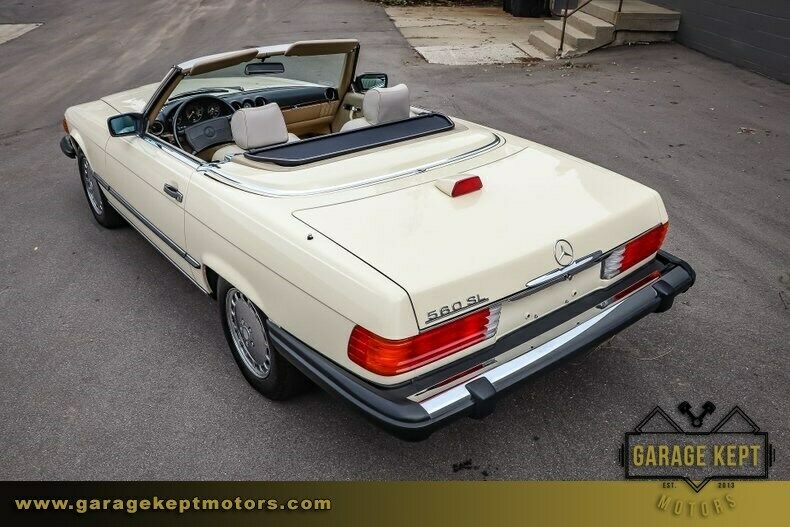 Year: 1990
Model: 560SL
VIN: WDBBA48D9HA067303
Engine: 5.5 liter V8
Transmission: 4-speed automatic
Mileage: 97,606 mi
Location: Grand Rapids, Michigan
Price: $17,900 Buy It Now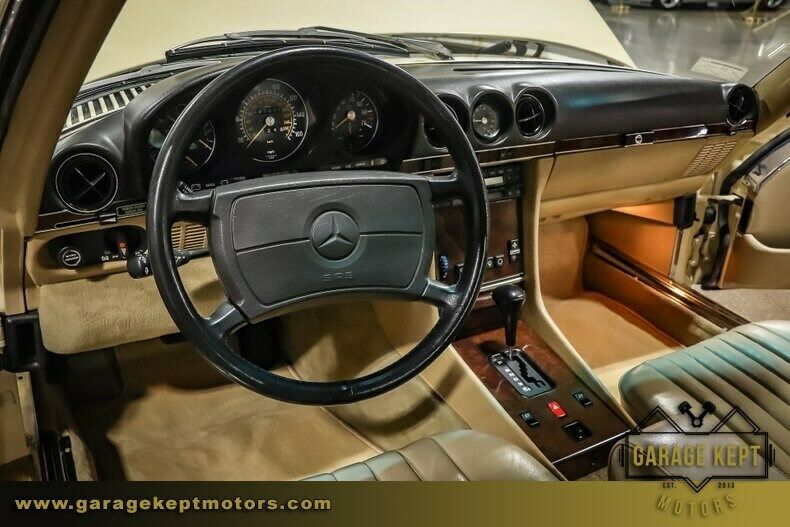 1987 Mercedes-Benz 560SL Roadster

– Oregon Car, Rust Free
– 5.6L/238HP V8
– Hard and Soft Top
– Wind Screen
– Recent Mechanicals: Rear Pads, Steering Stabilizer, Shifter Bushings, Front Shocks, Battery, Black Convertible Top
– Extremely Clean and Well Cared For.

(Please note: If you happen to be viewing this 1987 Mercedes-Benz 560SL on a website other than our GarageKeptMotors site, it's possible that you've only seen some of our many photographs of this vehicle due to third-party website limitations. To be sure you access all the more than 185 photographs, a short walk-around-and-startup video, and a link to its accident-free Carfax report, please go to our main website: GarageKeptMotors.)

"The 560SL has maintained its reputation as a powerful, reliable, well-appointed, classically-styled luxury automobile…." –Hagerty, February 2019

Hagerty continued their respectful 560SL review: "The 560SL was the last in the venerable R107 series (also known as the W107)…. In 1986, Mercedes shipped its most powerful SL of the decade, and of the chassis type, to the United States. At 3781 pounds, the 560SL was also the heaviest of the SLs, but its new 5.6-liter V-8 engine-with 227 horsepower and 287 lb-ft of torque-had little trouble with the extra weight. In fact, it had a top speed of about 140 mph."

With all the characteristic Mercedes model-improvement- a new rear suspension, a limited-slip differential to better handle the extra power, anti-lock brakes, leather upholstery, an alarm system, and an airbag-the 560SL maintained its lofty, most-desired position in the Stuttgart automaker's lineup. The model also maintained its status-symbol reputation. As Jim Mateja, the automotive writer for the Chicago Tribune, put it: "If recognition and having the common folk gawk enviably as you pass are high on your list of priorities, then get thee into a Mercedes-Benz 560SL."

Offered here in ivory-exterior paint-over-light-tan-leather is a perfectly understated luxury Mercedes two-seater. An Oregon car for most of its life, the condition of the cosmetics and the mechanicals of the car show how consistent and quality maintenance of these classic automobiles can extend their life almost indefinitely. With 97,000 accident-free miles (a mere 2,700 miles per-year on average), it's clear this 560SL was always a special-night-out, trip to the college football game, or fall-color-tour conveyance, rather than an everyday driver. And that's good news for its next owner.

The car's exterior retains a new appearance. Body-panel fit shows perfect factory tolerances. Paint is uniformly shiny and un-faded, including on the removable hardtop (its roll-around carrier appears as-new). Brightwork, including the chromed wheels, Mercedes emblem centered in the front grille, and side-mirror caps is virtually flawless. Rubber trim, proper emblems, lenses and windshield glass show no obvious wear or damage. The black-fabric convertible top is free of wear signs or rub marks, is properly fitted, and its clear-plastic "windows" are 100%… clear. This 560SL could never have been left for any extended period in direct sunlight. Not surprisingly, owner literature is included in the sale.

The car's interior continues the evidence of exceptional owner care over the years. Every surface is free of signs of careless use, much less abuse. Leather seating surfaces are without rips, tears, or even much evidence of use. Similarly, the dash instruments (note the unfaded needles on the gauges), console-mounted shifter, door trim (even when viewed from below), steering wheel, factory Becker Grand Prix audio system, champagne-colored carpeting and Mercedes-embroidered carpet mats all show very little evidence of wear or fading. Wood trim-a highlight of any Mercedes vehicle from this era-on the console and dash is free of any cracks or noteworthy surface wear, and retains its properly glossy finish.

Under the hood, the engine bay is complete, clean, and properly fitted out. As with the remainder of the car, there is no sign of any significant modifications from stock. In the same way, the car's undercarriage is free of damage or signs of abuse.

The remarkable stock condition of this 560SL is faithfully presented in the more than 185 high-definition photographs together with a short walk-around-and-startup video available at the GarageKeptMotors site. That said, there is no substitute for an in-person, up-close inspection. We encourage such inspections by interested parties at our Grand Rapids, Michigan showroom. We ask only that an appointment be made by phone or email in advance. Our showroom is not open to the public.

The "Buy-the-best-one-you-can-find" standard for classic-car purchasers is more than met by this beautiful 560SL. Mercedes cars of the eighties are known for their assembly quality and long life. Given its remarkable condition and obvious upkeep, this particular luxury tourer promises many more miles, and many more years of impressing its drivers, passengers, and onlookers. So Car and Drivers advice from 2014 rings true: "Budget permitting, we'd seek out the last of the R107s, the better handling and fleeter 560SL."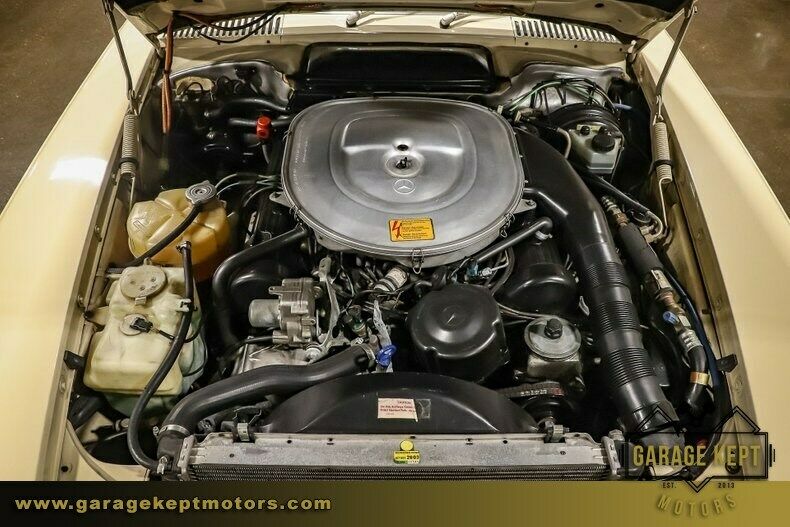 A classic 1980s example if I've ever seen one. The Ivory paint, light tan interior, and of course the chrome wheels. Clichés aside, this does actually look like a nice example. The selling dealer states everything functions as it should, and even the normally tired interior looks tidy. I think this one is priced fair at $18,000 given the mid-teens is usually the ballpark for 560SLs with some miles on it, so this one wouldn't be a bad buy at all. I personally probably won't sign up for this one, but if Ivory is your color, here you go.
– Andrew