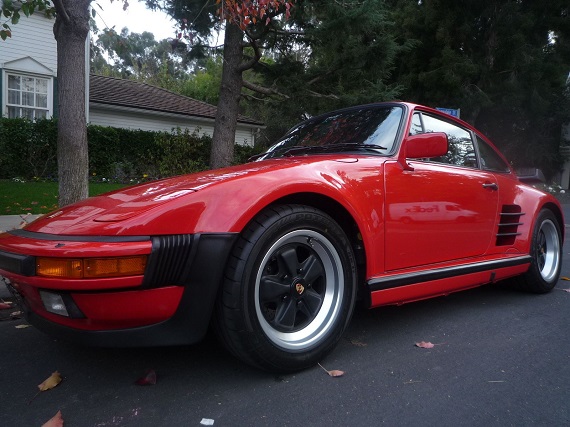 The 1987 Porsche 930 Slantnose Coupe we featured back in January 2015 has come back up for sale. Nothing much appears to have changed over that year and a half as it's still being offered by the same seller, has a similar – though slightly higher – price tag, and only 200 extra miles on the clock. The market went through a bit of a roller-coaster since the last time this 930 was featured and I will be interested to see if it now sells.
The below post originally appeared on our site January 24, 2015: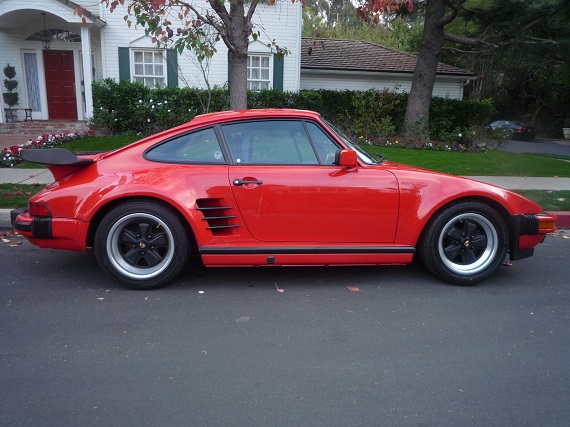 This car provides a nice contrast with yesterday's Ruf BTR. While the Ruf wasn't completely original, and thus a bit less expensive than we might expect, it still provides captivating performance that any standard 930 would struggle to replicate. It also was quite a bit cheaper than the car we see here. Each illustrates the unique variety available in the '80s when it seemed as if automotive excess was really beginning to hit its stride. The Slantnose, derived from the Porsche 935 racer, was offered as a factory option for the 930 through Porsche's Sonderwunsch Programm beginning in 1981. They have developed a very love/hate following among current enthusiasts, but their strength on the market seems fairly secure. As the 930 in general continues to rise in value, these rare variants lead the way commanding significant premiums over the standard model.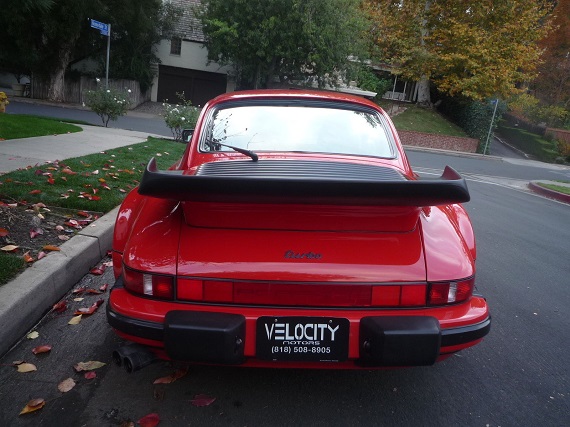 Year: 1987
Model: 911 Turbo
Engine: 3.3 liter turbocharged flat-6
Transmission: 4-speed manual
Mileage: 32,100 mi
Price: $159,999 Buy It Now
1987 Factory 505 930 Slantnonse Turbo Coupe. One of the best 930 Turbo's we have ever come across.
1 owner for almost 20 years. Taken, over by the 2nd owner from 2007 until now. Both owner's took immaculate care of the car.
The interior looks like it has less than 10,000 miles on it!
Guards Red/Black
32,000 Miles
2 owners
Raised Steering Hub, Sports Seats, Limited Slip

Certificate of Authenticity and Window Sticker
Books, Records, Compressor, Jack
Immaculate condition!
Over $10,0000 recently spent on 30,000 mile service, new clutch, new transmission service and a host of other items. Car is mechanically superb!

One of the best for Sale! Car appears to be all original except for right quarter panel which was painted probably for cosmetic reasons.
Call alex at 310-742-5540
$159,999
more inventory at velocityporsche dot com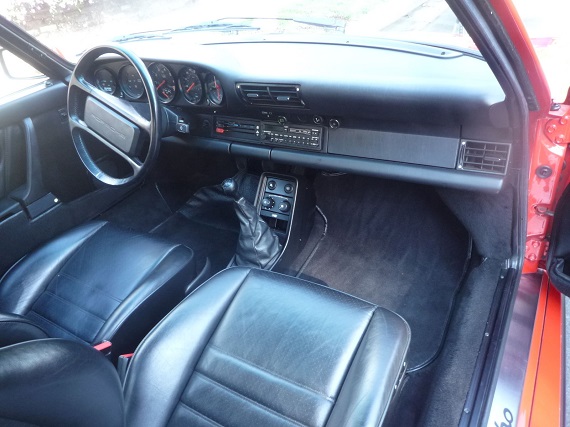 We've come across a decent number of low-mileage examples of the 930 Slantnose so it appears there were quite a few owners who decided early on that these cars would spend their lives in the garage. Like most of those this one appears in the sort of condition that we'd expect and the addition of the sports seats is always a nice perk. It definitely would be worthwhile to investigate the reason this car had its quarter panel repainted to insure it was, indeed, purely for cosmetic reasons. I am counted in the group that has a particular fondness for a 930 Slantnose Coupe. They aren't subtle by any means, but they fall within the category of the poster car and really nice ones always send a little shiver up my spine. That's really what this car and the Ruf BTR are about. They are excessive, in appearance and in performance, though each to its own particular degree.
-Rob